From episode #227, The Case of the Thermal Thief
The yacht featured in the Dion home movie seen near the beginning of this episode is a
schooner named Dirigo II. The ship has been restored and has been recently available
for charter. Learn more at the Dirigo Sailing and Horizons West websites.
From D. A. Supernaw: "This photo was taken on 2-10-07 at Berth #1, Alamitos Bay,
Long Beach, CA. The location is just South of the Harbor Master's Dock that was
featured in episode #212, also shot in 1964. This is probably the best shot I can get
until the Dirigo II is moved next month. Notice the stern is no longer painted white
and the home port no longer reads 'San Francisco.' "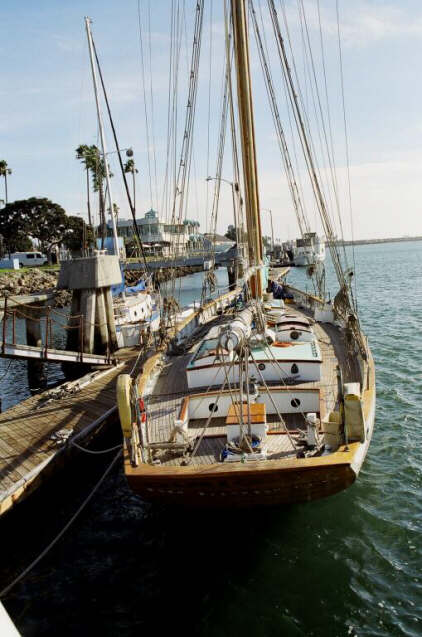 The location trivia page for #212, TCOT Missing Button, can be found here. The
Dirigo II can be seen in a wider view of the first picture on that page. From D. A.
Supernaw regarding this picture: "I know I sent you this shot before because you
used a close up of the Harbor Master's Dock and office on your website. What I
did not realize when I sent it to you was that the Dirigo II could be seen in the shot.
It is at the first berth to the right of the Harbor Master's Dock." Here's that picture
again, cropped less and annotated.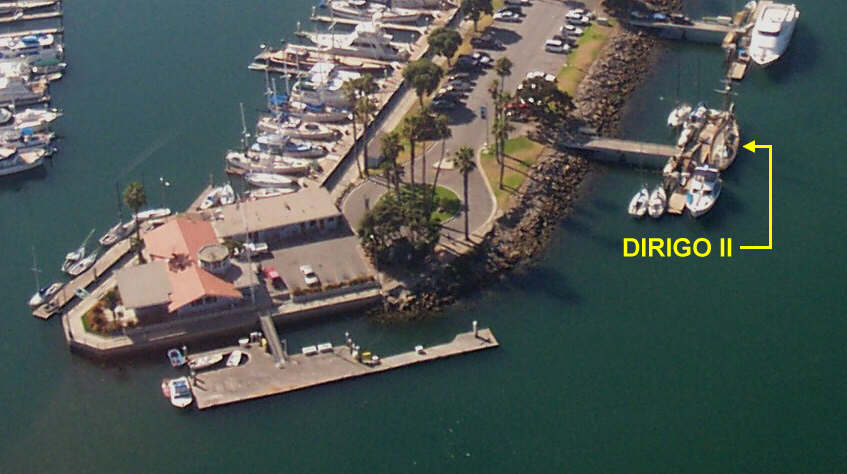 Here are a few shots of the Dirigo II from the "home movie" scene in #227.