<< Provocative Protege | Episodes | Loquacious Liar >>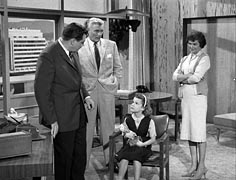 #104: The Case of the
Nine Dolls
Original Airdate: 11/19/60
From The Perry Mason TV Show Book (Revised)
Perry has been planning a fly-fishing vacation in Scotland for three years, and this time he's going to let nothing stand in his way. But Della tells him there's a client waiting outside that he'll fall in love with. When he sees seven-year-old Peggy Smith, he does.
Peggy lives at a boarding school and is searching for her identity, since she has no idea who her real parents are. A search of birth records leads Perry to believe that Peggy is the daughter of Clark Lawson and Margaret Jeffers Lawson. Margaret was the daughter of wealthy Courtney Jeffers, a crotchety old man who disowned Margaret after she eloped. Margaret died shortly after Peggy was born. Jeffers relents when he sees Peggy and quickly embraces her, even changing his will to leave everything to her. The next day, Jeffers is found dead, killed with a poker.
Now Peggy gets involved helping another member of the family to be cleared of Jeffers's murder—a unique episode with a melancholy ending.
Fans. will spot John Banner, Sergeant Shultz of Hogan's Heroes, in this episode.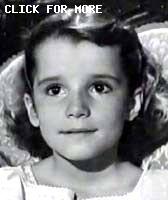 Opening
Starring Raymond Burr
in The Case of THE NINE DOLLS
Based Upon Characters Created By Erle Stanley Gardner
Barbara Hale as Della Street
William Hopper as Paul Drake
Ray Collins as Lt. Tragg
Trailing
Directed by William F. Claxton
Written by Jonathan Latimer
Seeleg Lester | Producer
Gail Patrick Jackson | Executive Producer
Arthur Marks | Associate Producer
Produced by The CBS Television Network in association with Paisano Productions
Jackson Gillis | Story Consultant
Raymond Burr as Perry Mason
Barbara Hale as Della Street
William Hopper as Paul Drake
Ray Collins as Lt. Tragg
Cast
Maggie Mahoney as Linda Osborne
Jeanette Nolan as Emma Benson
Laurie Perreau as Peggy Smith
Frances Helm as Helene Osborne
John Bryant as Larry Osborne
Gage Clarke as Edgar Benson
Francis X. Bushman as Courtney Jeffers
John Banner as A. Tobler
Robert Karnes as Deputy D.A. Chamberlin
Nelson Leigh as Judge
Eleanor Audley as Headmistress Lorimer
Fred Essler as Mr. Kringle
James Chandler as Sgt. Willoughby
Eugene Borden as Swiss Waiter
Uncredited Actors
George E. Stone as Court Clerk (sighted by gracep 10/25/2010)
Crew
Art Seid, A.C.E. | Assistant to the Producer
Production Supervisor … Dewey Starkey
Director of Photography … Frank Redman, A.S.C.
Art Direction … Lewis Creber
Assistant Director … Morris Harmell
Film Editor … John D. Faure
Casting … Harvey Clermont
Makeup … Irving Pringle
Hair Stylist … Annabell, S.C.H.
Wardrobe Supervision … William Zacha, Evelyn Carruth
Set Decoration … Charles Q. Vassar
Sound Effects Editor … Gene Eliot, M.P.S.E.
Music Editor … Gene Feldman
Properties … Ray Thompson
Production Sound Mixer … Herman Lewis
Script Supervision … M.E.M. Gibsone
Sound … Glen Glenn Sound Co.
Titles and Opticals … Pacific Title
Perry Mason \ A Film Presentation
A CBS Television Network Production
Anomaly: Jeanette Nolan, listed as Emma Benson, is called Martha on two occasions and Mrs. Benson the rest of the time.
Laurie Perreau makes her only appearance on Perry here playing the lead role, Peggy Smith. Laurie Perreau had a very abbreviated acting career in the 60s, but most people remember her more famous sister Gigi Perreau. Gigi Perreau, who also appeared in two episodes of Perry was a very active child actor in movies and on television. Submitted by PaulDrake 33, 21 August 2009.
The venerable Eleanor Audley makes her second appearance her. You may know her better as the voice of a wicked stepmother (Cinderella) or an evil fairy (Sleeping Beauty) in the movies. See trivia item for episode #42, TCOT Pint-Sized Client. Curiously enough, in both episodes, Mason's client is a child. Submitted by gracep, 10/25/2010.
Sightings: If you are lucky you might catch a glimpse of "Miss Carmody" and Distinguished Gentleman #1 in the courtroom gallery. Find out who they and other regulars are, and the mystery behind them, here. Submitted by gracep 10/25/2010.
Two cups from the Curious Coffee Set make an appearance in the restaurant in Geneva. More info here. Submitted by daveb, 12/30/10.
Location: The building in the opening shot is Los Angeles City Hall. At the time of the original airdate of this episode, this edifice was the tallest building in L.A. We see it in nearly every episode through Perry's office window, and it is frequently seen in many other TV series, including Dragnet.
CARS. No Cast Cars but four Incidental Cars, all small European imports, are parked in front of Westcroft School early in the episode. The nearest is possibly a (a) light-colored 1958-'60 Fiat 500, and the furthest away is definitely a (b) medium-colored Volkswagen Beetle. These cars indicate the strong and growing demand for small economy cars in the US at that time, a demand that was largely filled by European automakers. It also appears that the average visitor to Westcroft didn't drive a Caddy (assuming that the Staff parked behind the school). Submitted by Gary Woloski, 22 Sep 2012.
Comments

Edit
<< Provocative Protege | Episodes | Loquacious Liar >>