<< Envious Editor | Episodes | Fickle Fortune >>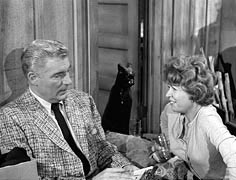 #109: The Case of the
Resolute Reformer
Original Airdate: 01/14/61
From The Perry Mason TV Show Book
This boozy, off-center episode has Perry rather unbelievably representing a citizen's group in hearings on a proposed aqueduct to be named after county engineer William Harper Caine. There is some question as to the acceptability of the proposed route, and Perry gets a stop work order until a section of Manzanita Canyon can be checked for an underground spring.
But this story has more to do with murder than drainage. Eventually, Caine needs Perry's help when Roger Quigley, the project's chief contractor, is murdered.
We get a good look at just how fast Paul can be on his feet. During the investigation, the detective is nearly seduced by a rum-soaked floozy and breaks the record for the 100-yard dash to escape her clutches.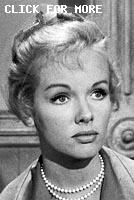 Opening
Starring Raymond Burr
in The Case of THE RESOLUTE REFORMER
Based Upon Characters Created By Erle Stanley Gardner
Barbara Hale as Della Street
William Hopper as Paul Drake
Ray Collins as Lt. Tragg
Trailing
Directed by Arthur Marks
Written by Samuel Newman
Seeleg Lester | Producer
Gail Patrick Jackson | Executive Producer
Arthur Marks | Associate Producer
Produced by The CBS Television Network in association with Paisano Productions
Jackson Gillis | Story Consultant
Raymond Burr as Perry Mason
Barbara Hale as Della Street
William Hopper as Paul Drake
Ray Collins as Lt. Tragg
Cast
Richard Eastham as Deputy D.A. Parness
Diana Millay as Debra Bradford
John Hoyt as William Harper Caine
Douglas Dick as Peter Caine
James Westerfield as Roger Quigley
Phillip Terry as Lawrence Kent
Byron Palmer as Charles Sistrom
Maxine Stuart as Grace Witt
John McLiam as Councilman William Daniels
Hardie Albright as Supervisor Albert Johnson
Tom Harkness as Judge
Charles J. Conrad as Dr. Auerback
Tony Hughes as Jack Parrish
Dennis Quinn as Lewis Bergdorf
Bert Stevens as Ronald Arthur
Dean Casey as Henry Bartlett
Joe McGuinn as Lt. Lew Kaufman
Gisele Verlaine as Waitress
Uncredited Actors
Robert Wegner as Spectator at Supervisors Meeting
Crew
Art Seid, A.C.E. | Assistant to the Producer
Production Supervisor … Dewey Starkey
Director of Photography … Frank Redman, A.S.C.
Art Direction … Lewis Creber
Assistant Director … Morris Harmell
Film Editor … John D. Faure
Casting … Harvey Clermont
Makeup … Irving Pringle
Hair Stylist … Annabell
Wardrobe Supervision … William Zacha, Evelyn Carruth
Set Decoration … Charles Q. Vassar
Sound Effects Editor … Gene Eliot, M.P.S.E.
Music Editor … Gene Feldman
Properties … Ray Thompson
Production Sound Mixer … Herman Lewis
Script Supervision … M.E.M. Gibsone
Sound … Glen Glenn Sound Co.
Titles and Opticals … Pacific Title
Perry Mason \ A Film Presentation
A CBS Television Network Production
Sightings: Nobody! Except maybe Pencil Mustache Man in the restaurant between courtroom scenes. Profile only. Not sure it was him. Submitted by daveb, 10/12/10.
+ Not so fast! In the corner of the courtroom gallery sits "Miss Carmody," the only one of our favorite frequent faces to make a field trip to San Marcos for the hearing. Submitted by gracep, 10/30/2010.
There are six actors credited who are, unless I missed something, unidentifiable based on episode content. They are John McLiam, Hardie Albright, Tony Hughes, Dennis Quinn, Bert Stevens and Dean Casey. I believe they are all seen at the board of supervisors meeting. Two are behind the raised table and have lines; four are seated at a table below and don't have lines. I believe one of the four is Bert Stevens. Submitted by daveb, 10/13/2010.
+ That is definitely Bert Stevens at the table. There is a picture of Hardie Albright in the database, but I cannot see him at the meeting. As for Dean Casey, he played a Det. Sanchez in an earlier episode (#92), but he does not appear in the photo database. Submitted by gracenote, 7/5/2011.
The "chairman of the board" of supervisors has many lines and a desk name plate in front of him marked "S.H.MOODY," yet there is no Moody in the credits. Submitted by daveb, 10/13/2010.
Lt. Tragg (Ray Collins) although credited, does not appear in this episode. Submitted by gracep, 10/30/2010.
Deleted Scenes: The entire scene of Paul Drake fleeing from a floozy (as described in the summary) is not included in the syndication print. Additionally, the restaurant scene between courtroom scenes above is not included. Submitted by gracep, 10/31/2010.
Uncredited Actors: Robert Wegner appears a spectator to the hearing of the Board of Superivsors. Submitted by gracenote, 7/5/2011.
Once again during the final scene, everybody enjoys a hot beverage from the Curious Coffee Set. Submitted by gracenote, 7/5/2011.
CARS. (1) 1961 Buick LeSabre Convertible, white, top down, Peter Caine. This is the first Non-Chrysler-Corp 1961-model-year car to appear in PM.
Paul needs a Galaxie of Wit to Dodge Grace (ouch). Submitted by Gary Woloski, 2 Oct 2012.
Comments

Edit
Hooray! Della briefly wears her monogrammed dress this episode! Ed Zoerner, 5/1/10.
I think it is especially wonderful and not at all unbelieveable that in this episode Perry Mason is representing a citizens' group making their voice heard. That's democracy in action! And concern for the environment to boot! Submitted by gracep 10/30/2010.
+ I'm also very impressed to see government in action over corporations. The hearing reminds me of some hearings going on today where I live, over hydraulic fracturing of the Marcellus Shale on certain properties to extract natural gas. I'm very impressed that this fictional government exercised its power when concerns about safety and contamination of drinking water were raised, whereas my real-life local government caved in to the energy company over objections of landowners and taxpayers. Submitted by gracep 10/30/2010.
I got all excited about a "lost" Mason episode when I saw "The Case of the Irresolute Performer" listed on the Zap2It.com TV listings for today. Not being able to find such a title here on the Wiki, I wondered if somehow I'd never seen it. MeTV (and TV Guide) were slightly better with "The Case of the Irresolute Reformer" which might have been more recognizable. alan_sings, 6/29/2012.
<< Envious Editor | Episodes | Fickle Fortune >>