<< Torrid Tapestry | Episodes | Misguided Missile >>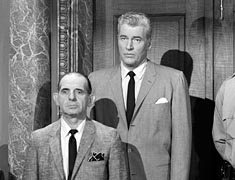 #119: The Case of the
Violent Vest
Original Airdate: 04/29/61
From The Perry Mason TV Show Book
For Herman Albright it's a case of being in the wrong place at the wrong time, wearing the wrong clothes. Perry is called on to defend a pretty fashion model who's accused of murdering Herman, a typical would-be masher/ad exec.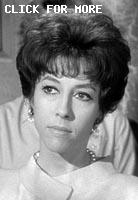 Opening
Starring Raymond Burr
in The Case of THE VIOLENT VEST
Based upon Characters Created by Erle Stanley Gardner
Barbara Hale, William Hopper, William Talman, Ray Collins
Trailing
Directed by Lewis Allen
Teleplay by Robert C. Dennis
Story by Jackson Gillis
Art Seid | Producer
Gail Patrick Jackson | Executive Producer
Produced by The CBS Television Network in association with Paisano Productions
Jackson Gillis | Story Consultant
Raymond Burr as Perry Mason
Barbara Hale as Della Street
William Hopper as Paul Drake
William Talman as Hamilton Burger
Ray Collins as Lt. Tragg
Cast
Myrna Fahey as Grace Halley
Hayden Rorke as Walter Caffrey
Sonya Wilde as Joy Lebaron
Erik Rhodes as Herman Albright
Joe Cronin as Buddy Frye
Dorothy Green as Ida Albright
Rosemary Eliot as Vicky
Frank Jenks as Barman
Richard Gaines as Judge
Barbara Pepper as Mrs. Diamond
Bill Erwin as Superintendent
Robert Harrow as Young Man
Sam Flint as Welkes
George E. Stone as Court Clerk
Uncredited Actors
Don Anderson as Photographer's Assistant

Crew
Production Supervisor … Dewey Starkey
Director of Photography … Philip Lathrop, A.S.C.
Art Direction … Lewis Creber
Assistant Director … Robert G. Stone
Film Editor … Richard H. Cahoon, A.C.E.
Casting … Harvey Clermont
Makeup … Irving Pringle
Hair Stylist … Annabell
Wardrobe Supervision … Ed McDermott, Evelyn Carruth
Set Decoration … Charles Q. Vassar
Sound Effects Editor … Gene Eliot, M.P.S.E.
Music Editor … Gene Feldman
Properties … Ray Thompson
Production Sound Mixer … Herman Lewis
Script Supervision … M.E.M. Gibsone
Sound … Glen Glenn Sound Co.
Titles and Opticals … Pacific Title
Perry Mason \ A Film Presentation
A CBS Television Network Production
Sightings: Today we are introduced to "Sasha Magaloff" the tailor, who is actually quite pivotal. This is the name by which we are tracking him in the "Who Is That?" section of this wiki. Submitted by gracep, 11/10/2010.
+ In this episode we also see more such regulars outside the courtroom. Distinguished Gentleman #1 holds the door for Tragg and the widow after she identifies the body at the morgue. "Miss Carmody" works as a secretary-receptionist at the Caffrey-Ennicks Advertising Agency and smiles at Perry as she hands him the phone. Both of them leave work in time to sit in the gallery for the hearing—along with Little Old Lady #1 and Quiet Old Man #2. Submitted by gracep, 11/14/2010.
+Distinguished Lady #4 is on Burger's side in the back row. Bill767, 1/6/16.
Uncredited Actors: Don Anderson joins as a Photographer's Assistant. Bill767, 1/6/16.
Barbara Pepper, who plays the nosy neighbor, was an old friend of Lucille Ball from her Ziegfeld Follies days, and so she appeared in small parts and as an extra in many I Love Lucy episodes. She led a hard life and died young, alas. Submitted by gracep, 11/14/2010. + Barbara Pepper was also known as "Doris Ziffel" in both Petticoat Junction and Green Acres. She was also in a Three Stooges short "Three Smart Saps" (1942). - Submitted by HamBurger, 09/20/2014
Hmmm, she seems to have been cut from the MeTV version I just watched. Or maybe I missed her. They talked about a neighbor lady witness, but I never saw here. (Green Acres fan here) --yelocab 26FEB19
Walter, bartender at the Trinidad, was capably played by Frank Jenks. He looked really familiar, although I could not place him from my own knowledge; IMDB tells us, however, that he was in a million minor movies, plus a few large ones such as His Girl Friday and Swing Time, and a lot of early TV, up to his early death in 1962 (not long after this PM appearance). JohnK, 9 October 2015
The tattersall vest for which the episode was named appears to be the same one worn by Wilmer Beaslee (Richard Deacon) in Ep#106, "TCOT Red Riding Boots." Submitted by mohansen, 07/13/2012.
+Interestingly, the same vest seems to pop up again in "TCOT Surplus Suitor" (Episode #172)--worn by the very same actor, Hayden Rorke, who convinced the ill-fated Herman Albright to wear the vest in this episode. Submitted by BobH, 20 August 2017.
+Also worn by Harry Collins in episode 179 The Case Of The Skeleton's Closet. jfh 20Sep2017.
+And worn again by Sidney Weplo in "TCOT Bouncing Boomerang" (Episode #192). Submitted by BobH, 22 November 2017.
Goof: When Albright meets Joy Lebaro at the Trinidad, the bar clock says it's 10:35, but Albright's watch is set at 9:15. Submitted by Eric Cooper, 7 April 2011.
Just ONE CAR: Herman Albright's medium-color 1961 Buick LeSabre 4-Door HardTop. This model was Buick's most popular in 1961. 37,790 were built, price $3228. A basic full-size '61 Ford was $2261, same for Chevy was $2262. Added by Gary Woloski, 11/20/12.
Albright's watch tells the time as 2:42. I assume they were filming at 2:42 pm rather than 2:42 am. Added by Bob Sutton 8/7/2014.
After the judge adjourns court for the day, Della, Perry, and Paul discuss matters over some refreshment courtesy of the Curious Coffee Set at his office. During the wrap-up scene, everything is explained whilst everyone enjoys more coffee from the same set at Miss Halley's apartment. Submitted by gracenote, 7/9/2011. o talk on the phone.
Recycled newspaper: The newspaper Joy had at the beauty parlor came from episode 8 TCOT Crimson Kiss. Submitted by H. Mason 11/9/14
Also recycled were "comps" of a couple of magazine covers in the studio, at 5:30 or so on the DVD -- Aitken's Home Magazine, from TCOT Envious Editor. JohnK, 4 January 2016
Go South, Young Lady the bartender's inspection of Miss Lebaron's CDL reveals her to be from Oakland: this is, I believe, the first mention of the city in the series - and one of very few that will occur - which seems curious given its proximity to San Francisco - which appears frequently - and the fact that it was California's fourth largest city at the time (OTOH Long Beach fares little better, and it's LA's neighbor.) Submitted by Notcom, 101415.
This is the second of three PM directing credits for Lewis Allen, who was born in England in 1905...MikeM. 9/14/2016
This is the first of two PM appearances for Sonya Wilde, who starred as a mixed-race woman in the film "I Passed For White" in 1960...MikeM. 12/21/2016
This is the second of four PM appearances for Myrna Fahey, who appeared in 34 episodes of Father Of The Bride playing the character Katherine "Kay" Banks...MikeM. 12/21/2016
Erik Rhodes was born in the Oklahoma Territory in 1906 and passed in Oklahoma City in 1990 at the age of 84...MikeM. 9/20/2017
+ Mr Rhodes appeared in several Ginger Rogers-Fred Astair movies and, according to Wikipedia, was quite adept at emulating a wide range of linguistic accents. IMHO, Mr Rhodes aged quite well. jfh 20Sep2017.

Character Names The Barman's name is Walter Clement, the photographer's full name is Vicky Dolen. jfh 07Feb2019
Comments

Edit
Grace Halley's contract is an interesting snapshot of 1950s/60s values and expectations. It wasn't unusual for a married woman to be disqualified from many jobs (sometimes not officially), including schoolteaching. While that is unfair, when we see what happens to people like Britney Spears and Charlie Sheen, maybe at least the "moral turpitude" clauses in contracts should be brought back. Submitted by gracenote, 9/16/2011.
Grace didn't need a lawyer. She seemed to know she was in violation of the contract. Her living arangements and Buddy's comments about being tired of sneaking around showed that. If she wanted to break the contract all she had to do was have Mr. Frye move into the apartment or just inform the company of her status. Submitted by H. Mason 11/9/14
I think that the Grace character wanted to break the contract on her own terms: had the company known of her marriage, she might have been terminated and even accused of 'playing up' to Herman Albright - once one is suspect of deception, then other crimes can be suspected of you. Submitted by MikeReese, 12/11/2015
We must assume Caffrey arranged to meet Joy at the bar and told her to look for someone wearing that particular vest. Would't Albright's rather naive and completely unsuspecting behaviour have been a tipoff all was not what it seemed? DOD 10/02/18
Questions: Did Debutante Cosmetics get a new advertising agency? Did they keep Grace as Miss Debutante? Submitted by H. Mason 11/9/14
Ugh. Is 'Ida Albright' about as unpleasant a wife as a woman could get? And is 'Herman Albright' the most naive husband? I wonder, is a spouse (or more specifically, a husband) really responsible for their mates' gambling debts? I would have told 'Ida' that she could box with the Outfit boys (I'm from Chicago, so I KNOW) all she wanted ... wonder how much life insurance 'Ida' had? And as far as 'Herman' is concerned, my mother used to say, "There's no fool like an old fool", about such matters - well, a guy can dream, can't he? Submitted by MikeReese 11/27/14
I didn't understand that too. If she was such an unpleasant wife, he should have just handed her to the Casino guys and said "she wrote the bad checks, she's your problem."--yelocab 26FEB19
Classic Line when Ida Albright is identifying her husband's body, and Tragg pursues the issue of the namesake vest, she replies "he wouldn't be caught dead in that!" (Given the commonality of the remark, we'll never know if black humour was intended by the writers or not, but the way the scene is played leaves the viewer well aware of irony of the remark.) Submitted by Notcom, 120115.
... and note how 'moved' Ida Albright is by her husbands' death .. Submitted by MikeReese. 12/11/2015

Dorothy Green looks a lot like Whitney Blake (TCOT Restless Redhead, TCOT Black-eyed Blomde). jfh 07Feb2019

Once in the main show, and again in the wrap-up, it was mentioned that the police knew that Herman Albright had been "shot by a woman" (and the whole case turned on that). How does a woman shoot? Underhand? Maybe it was the wimpy .25 caliber automatic brought to bear. "You shoot like a girl" sounds like a schoolyard taunt. JohnK, 9 October 2015
<< Torrid Tapestry | Episodes | Misguided Missile >>