<< Torrid Tapestry | Episodes | Misguided Missile >>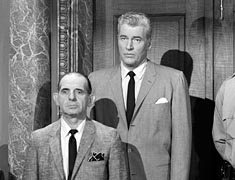 #119: The Case of the
Violent Vest
Original Airdate: 04/29/61
From The Perry Mason TV Show Book
For Herman Albright it's a case of being in the wrong place at the wrong time, wearing the wrong clothes. Perry is called on to defend a pretty fashion model who's accused of murdering Herman, a typical would-be masher/ad exec.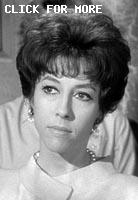 Opening
Starring Raymond Burr
in The Case of THE VIOLENT VEST
Based upon Characters Created by Erle Stanley Gardner
Barbara Hale, William Hopper, William Talman, Ray Collins
Trailing
Directed by Lewis Allen
Teleplay by Robert C. Dennis
Story by Jackson Gillis
Art Seid | Producer
Gail Patrick Jackson | Executive Producer
Produced by The CBS Television Network in association with Paisano Productions
Jackson Gillis | Story Consultant
Raymond Burr as Perry Mason
Barbara Hale as Della Street
William Hopper as Paul Drake
William Talman as Hamilton Burger
Ray Collins as Lt. Tragg
Cast
Myrna Fahey as Grace Halley
Hayden Rorke as Walter Caffrey
Sonya Wilde as Joy Lebaron
Erik Rhodes as Herman Albright
Joe Cronin as Buddy Frye
Dorothy Green as Ida Albright
Rosemary Eliot as Vicky
Frank Jenks as Barman
Richard Gaines as Judge
Barbara Pepper as Mrs. Diamond
Bill Erwin as Superintendent
Robert Harrow as Young Man
Sam Flint as Welkes
George E. Stone as Court Clerk
Crew
Production Supervisor … Dewey Starkey
Director of Photography … Philip Lathrop, A.S.C.
Art Direction … Lewis Creber
Assistant Director … Robert G. Stone
Film Editor … Richard H. Cahoon, A.C.E.
Casting … Harvey Clermont
Makeup … Irving Pringle
Hair Stylist … Annabell
Wardrobe Supervision … Ed McDermott, Evelyn Carruth
Set Decoration … Charles Q. Vassar
Sound Effects Editor … Gene Eliot, M.P.S.E.
Music Editor … Gene Feldman
Properties … Ray Thompson
Production Sound Mixer … Herman Lewis
Script Supervision … M.E.M. Gibsone
Sound … Glen Glenn Sound Co.
Titles and Opticals … Pacific Title
Perry Mason \ A Film Presentation
A CBS Television Network Production
Sightings: Today we are introduced to "Sasha Magaloff" the tailor, who is actually quite pivotal. This is the name by which we are tracking him in the "Who Is That?" section of this wiki. Submitted by gracep, 11/10/2010.
+ In this episode we also see more such regulars outside the courtroom. Distinguished Gentleman #1 holds the door for Tragg and the widow after she identifies the body at the morgue. "Miss Carmody" works as a secretary-receptionist at the Caffrey-Ennicks Advertising Agency and smiles at Perry as she hands him the phone. Both of them leave work in time to sit in the gallery for the hearing—along with Little Old Lady #1 and Quiet Old Man #2. Submitted by gracep, 11/14/2010.
Barbara Pepper, who plays the nosy neighbor, was an old friend of Lucille Ball from her Ziegfeld Follies days, and so she appeared in small parts and as an extra in many I Love Lucy episodes. She led a hard life and died young, alas. Submitted by gracep, 11/14/2010.
The tattersall vest for which the episode was named appears to be the same one worn by Wilmer Beaslee (Richard Deacon) in Ep#106, "TCOT Red Riding Boots." Submitted by mohansen, 07/13/2012.
Goof: When Albright meets Joy Lebaro at the Trinidad, the bar clock says it's 10:35, but Albright's watch is set at 9:15. Submitted by Eric Cooper, 7 April 2011.
After the judge adjourns court for the day, Della, Perry, and Paul discuss matters over some refreshment courtesy of the Curious Coffee Set at his office. During the wrap-up scene, everything is explained whilst everyone enjoys more coffee from the same set at Miss Halley's apartment. Submitted by gracenote, 7/9/2011.
Just ONE CAR: a 1961 Buick LeSabre 4-Door HardTop, medium color, Herman Albright. This model was Buick's most popular in 1961. 37,790 were built, price $3228. A basic full-size '61 Ford or Chevy was $2261 or $2262. Added by Gary Woloski, 11/20/12.
Comments

Edit
Grace Halley's contract is an interesting snapshot of 1950s/60s values and expectations. It wasn't unusual for a married woman to be disqualified from many jobs (sometimes not officially), including schoolteaching. While that is unfair, when we see what happens to people like Britney Spears and Charlie Sheen, maybe at least the "moral turpitude" clauses in contracts should be brought back. Submitted by gracenote, 9/16/2011.
<< Torrid Tapestry | Episodes | Misguided Missile >>