<< Misguided Missile | Episodes | Grumbling Grandfather >>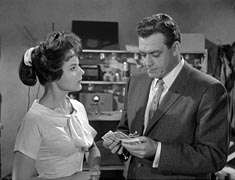 #121: The Case of the
Duplicate Daughter
Original Airdate: 05/20/61
From The Perry Mason TV Show Book
A weird family affair—featuring switched identities, extortion, and $2 million—leads to a murder that even has Perry confused.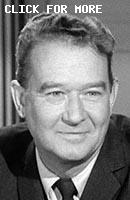 Opening
Starring Raymond Burr
in Erle Stanley Gardner's
The Case of THE DUPLICATE DAUGHTER
Barbara Hale, William Hopper, William Talman, Ray Collins
Trailing
Directed by Arthur Marks
Teleplay by Sam Newman
Arthur Marks | Producer
Gail Patrick Jackson | Executive Producer
Produced by The CBS Television Network in association with Paisano Productions
Jackson Gillis | Story Consultant
Raymond Burr as Perry Mason
Barbara Hale as Della Street
William Hopper as Paul Drake
William Talman as Hamilton Burger
Ray Collins as Lt. Tragg
Cast
Don Dubbins as Hartley Elliott
Anne Helm as Glamis Barlow
Walter Kinsella as Carter Gilman
Kaye Elhardt as Muriell Gilman
Joyce MacKenzie as Nancy Gilman
Willis Bouchey as Judge
Dick Whittinghill as Glenn McCoy
Harlan Warde as Connors
Nelson Olmsted as Cartman Jasper
Michael Fox as Autopsy Surgeon
Don Harvey as Sheriff
George Selk as Maurice Fellows
Charles Stroud as Court Clerk
Uncredited Actors
Lee Miller as Sgt. Brice (spotted by gracep 11/17/2010)
Don Anderson as a Courtroom spectator.
Crew
Production Supervisor … Dewey Starkey
Director of Photography … Robert G. Hager, A.S.C.
Art Direction … Lewis Creber
Assistant Director … Gordon Webb
Film Editor … Richard H. Cahoon, A.C.E.
Casting … Harvey Clermont
Makeup … Irving Pringle
Hair Stylist … Annabell
Wardrobe Supervision … Ed McDermott, Evelyn Carruth
Set Decoration … Charles Q. Vassar
Sound Effects Editor … Gene Eliot, M.P.S.E.
Music Editor … Gene Feldman
Properties … Ray Thompson
Production Sound Mixer … Herman Lewis
Script Supervision … M.E.M. Gibsone
Sound … Glen Glenn Sound Co.
Titles and Opticals … Pacific Title
Perry Mason \ A Film Presentation
A CBS Television Network Production
Sightings: A few favorite frequent faces show up in the courtroom gallery today: "Miss Carmody," back row, prosecutor's side; Little Old Lady #1, far corner, prosecutor's side; Distinguished Gentleman #1 near the Lady; and Quiet Old Man #1, in front of "Carmody" and near the Gentleman. The Little Old Lady has on a different hat today, too—much darker than usual. Read more about them all here. Submitted by gracep, 11/17/2010.
Uncredited Actors: Don Anderson joins our court as a spectator as Glamis is called to the stand. Bill767, 1/6/16.
Anomaly: Although only listed as "Autopsy Surgeon," Michael Fox is, once again, Dr. Hoxie. Even Burger addresses him as such. Submitted by gracep, 11/17/2010.
The Curious Coffee Set makes two appearances in this episode. First in the opening scene and later in Perry's office. Submitted via email from Evelyn, posted by daveb, 7/24/2011.
Served: For the third time Perry was given a subpoena. It also happened in episodes 17 and 30. Submitted by H. Mason 11/10/14
Case Closed!: Just as in episode 87, TCOT Singing Skirt, Perry solved the murder just before he was to be seated on the witness stand. Submitted by H. Mason 11/10/14
This is the only PM appearance for Anne Helm, who was born in Canada and just celebrated her 78th birthday on 12 Sep 2016...MikeM. 9/16/2016
Comments

Edit
This is one bizarre episode in that we never see the victim, nor do we meet one of the prime suspects. Posted by Kenmore, 12/14/2009.
+Also in episode #1, TCOT Restless Redhead, murder victim Harry Merrill aka Lester Gladden was never shown. Added by H. Mason 11/10/14
Fans of early TV will recognize Walter Kinsella as Happy McMann, proprietor of the tobacco shop frequented by Martin Kane, Private Eye. Submitted by francis, 4/19/12.
Although he's frequently offered or handed beverages, this is one of the very few times Mason is seen actually drinking one; in this episode he enjoys a highball with Della. Submitted by francis, 4/19/12.
Paul's convertibles sure are snazzy, but it seems strange he would sit in a convertible, with the top down, in plain sight of everyone, while conducting an undercover operation (in this episode, staking out the Gilman house). Submitted by 65tosspowertrap, 10/3/2013.
Willis Bouchey really chews up the scenery in this episode as the Judge. He looks and sounds like he should be on the Supreme Court! He is my favorite Perry Mason judge. Submitted by 65tosspwertrap, 10/3/2013.
Don Dubbins' character, Hartley Elliot, says "I refuse to answer" repeatedly on the witness stand. In episode 168, TCOT Prankish Professor, once again his character says "I refuse to answer" on the witness stand. Submitted by 65tosspowertrap, 11/9/2013.

Indeed, as noted above, not only do we never see (1) the victim, Vera Martell, but we also do not see many of the other people involved in the convoluted plot: (2) Stephen Barlow, (3) Phyllis Monroe, (4) G.W. Monroe, and (5) Joe Yemen (who might possibly have changed his name to G.W. Monroe). And poor Muriell has little to do, other than to provide one more duplicate daughter. Submitted by Fifty-Niner on 11 August 2011.
And, adding to the bizarreness mentioned above, the shot of the revealed killer's grasping, clutching hands. They seem to float, disembodied in space against a black background - wonder if they actually belonged to the actor who played that role? Submitted by MikeReese, 11/22/2013.
<< Misguided Missile | Episodes | Grumbling Grandfather >>