<< Crying Comedian | Episodes | Pathetic Patient >>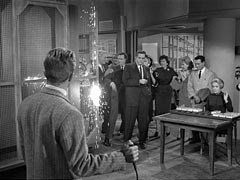 #129: The Case of the
Meddling Medium
Original Airdate: 10/21/61
From The Perry Mason TV Show Book (Revised and Amplified)
Bonnie Craig is accused of dispatching her cousin, an aspiring poet who claims to channel the writing of her late brother, Thomas Leslie Walker, another would-be bard and the subject of a wealthy, vulnerable, grieving mother's obsession.
Perry comes up with another of his demonstrations—this one involves both ESP and a 22,000-volt contraption known as the Faraday Cage—to defend his client and solve a related mystery.
Opening
Starring Raymond Burr
in The Case of THE MEDDLING MEDIUM
Based upon Characters Created by Erle Stanley Gardner
Barbara Hale, William Hopper, William Talman, Ray Collins
Trailing
Directed by Arthur Marks
Written by Samuel Newman
"Perry Mason"
Art Seid | Producer
Gail Patrick Jackson | Executive Producer
Jackson Gillis | Associate Producer
Produced by The CBS Television Network in association with Paisano Productions
Samuel Newman | Story Consultant
Raymond Burr as Perry Mason
Barbara Hale as Della Street
William Hopper as Paul Drake
William Talman as Hamilton Burger
Ray Collins as Lt. Tragg
Cast
Virginia Field as Sylvia Walker
Kent Smith as Dr. Arthur Younger
Mary La Roche as Helen Garden
Sonya Wilde as Bonnie Craig
Karl Held as David Gideon
Paul Smith as Michael Craig
Ann Carroll as Elaine Paisley
Lea Marmer as Princess Charlotte
James Forrest as Philip Paisley
S. John Launer as Judge
James Chandler as Sgt. Bradley
Dr. Andrija Puharich as Dr. Andrija Puharich
Crew
Director of Photography … Robert G. Hager
Art Direction … Lewis Creber
Assistant Director … Gordon Webb
Film Editor … John D. Faure, A.C.E.
Casting … Harvey Clermont
Makeup … Irving Pringle
Hair Stylist … Annabell
Wardrobe Supervision … Ed McDermott, Evelyn Carruth
Set Decoration … Charles Q. Vassar
Properties … Ray Thompson
Production Sound Mixer … Herman Lewis
Script Supervision … M.E.M. Gibsone
Titles and Opticals … Pacific Title
Clary DE-60 Computer furnished by Clary Corporation
Perry Mason \ A Film Presentation
A CBS Television Network Production
This episode features a Clary DE-60 Computer furnished by the Clary Corporation of San Gabriel, California. Very cool at the time I imagine. Posted by daveb, 9/1/10. Some pictures and more here.
This is dashing Karl Held's third appearance as David Gideon. The first was in #122, TCOT Grumbling Grandfather. He will make six more appearances as this character. Submitted by gracep, 11/22/2010.
The presence of Dr. Andrija Puharich marks one of the few times a character plays himself in the series—perhaps in this case to give the episode, dabbling in the paranormal, a little relevance and credibility. Dr Puharich appeared in and consulted for a short-lived series in the 1960s called One Step Beyond, the forerunner of today's anthologies that re-enact "real stories" of the supernatural. This show was a rival to Serling's The Twilight Zone. Submitted by gracep, 11/29/2010.
Seen and featured in the laboratory scenes, in a rare appearance on network television, a Faraday Cage! The normal purpose of which is to shield the things inside from higher frequency electromagnetic fields outside. Having worked with these things in a past life, its use here makes little sense to me. Especially as there is no evidence that any communications, let alone electromagnetic, is going on between test subjects that could be blocked (thereby verifying its existence). Why the cage should be electrified at 22,000 volts (is that AC?) makes even less sense. It does make for a nice show however. Submitted by daveb, 12/1/2010.
At the beginning of this episode, there is a shot of mansion on a cliff overlooking the ocean. There is a thunderstorm going on. Cut to a shot of the night sky, and a bolt of lightning cuts across the screen accompanied by thunder. The scene changes to a shot of two gravestones, the names close enough to be read. Then the scene cuts to the outside of a mansion in the middle of pouring rain. These shots are identical to the beginning of the episode TCOT Sleepy Slayer, with the exception that the Sleeply Slayer omits the shot of the two gravestones. Submitted by Charles Richmond, 1/20/13.
Sightings: A few recurring spectators dropped by the courtroom hear about the occult. "Sasha Magaloff" sits in the back row behind Mr. Craig, Dr. Younger, and Sylvia Walker. Behind Mr. Craig (and next to Magaloff) "Miss Carmody" takes it all in. Pencil Mustache Man appears (blurred) in a cutaway of the defendant, and next to him is Quiet Old Man #2. Submitted by gracep, 11/29/2010.
This episode has NO CARS. Other than the shots of the spooky mansion and gravestones, there are no outdoor scenes either. No Wonder. It's pouring out there! Added by Gary Woloski 1/22/13.
Comments

Edit
At least once during the incidental music to "Meddling Medium" we can hear an homage to the theme music of The Twilight Zone. Submitted by gracep, 11/29/2010.
The rather inappropriate desire Philip expresses for his first cousin seems rather daring, even for today! And this marks the second time we see a quasi-incestuous situation, the first being a nephew-aunt affair (see this comment). Submitted by gracep, 11/29/2010.
This is absolutely one of my favorite episodes. It has both gothic and sci-fi elements and even mild horror. The first half is gothic—the house, the rainstorm, the writing, even the book of poetry—and the second is all sci-fi—the paranormal tamed and rationalized for your reassurance—but it's still fun! Submitted by gracenote, 13 June 2011.
Anyone familiar with scientific research of the time shouldn't be surprised at Puharich's presence here. There was, for a brief time, serious interest in both the science fact and fiction worlds into "Psi" power. The test cards, the Faraday cage and the computer all figured into a serious attempt to ascertain if there was such a thing. This business never quite goes away, there is an excellent Columbo that deals with the related phenomemon of "remote viewing." Submitted by MikeReese, 12/1/2011.
It's amazing to anyone today that it was perfectly acceptable for a man 'after a drunken rage' to take a 'fast drive'. No one turned a hair when that was said. Submitted by Rickapolis 05/02/2012
Instead of showing the scheduled episodes 129 and 130 today, Hallmark Movie Channel showed episode 1, Perry Mason Returns, of the two-hour modern PM series. Apparently HMC did not notify FIOS TV, which gave program info for the original shows. Submitted by MikeM, 1/28/2013
Hallmark Movie Channel is showing this episode as the first of a Saturday PM marathon today. Submitted by MikeM, 2/16/2013.
<< Crying Comedian | Episodes | Pathetic Patient >>