<< Negligent Nymph | Episodes | Baited Hook >>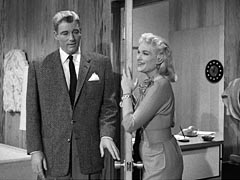 #13: The Case of the
Moth-Eaten Mink
Original Airdate: 12/14/57
From The Perry Mason TV Show Book
Morey Allen's restaurant is a regular eating spot for Perry and Della. But on this night, Morey has a problem: One of his waitresses has been struck by a car while fleeing the steak house after spotting a man stalking her. She's left behind a moth-eaten mink, which hints that she might be one of those enterprising waitresses who "mingle with the guests" after hours. If word of this gets to the press, Morey will be ruined. When the man who frightened the waitress in the first place is found murdered, Morey and the waitress are strong suspects.
Perry and Paul take up Morey's defense--there's a very funny scene when the pair "interrogate" a dumb blond bombshell witness--and the episode climaxes with Tragg and the real murderer shooting it out in Perry's office.
+The shootout was Rare: Raymond Burr stated in a Charlie Rose interview that the series showed "the results of violence" rather than actual incidents of it [50th Anniversary DVD]. Mike Bedard 4.7.15
++ The only other episode I can think of where we see someone being shot is the season nine remake of this one. Are there any others? Duffy, 4-7-2015.
+++ Besides TCOT Moth-Eaten Mink and TCOT Sausalito Sunrise, the following episodes show people getting shot: TCOT Nervous Accomplice (#3), TCOT Lost Last Act (#60), TCOT Clumsy Clown (#102), TCOT Capering Camera (#196), TCOT Silent Six (#252), TCOT Scarlet Scandal (#261), TCOT Fanciful Frail (#265), and TCOT Final Fadeout (#271). Submitted by D. Tlougan, 4/29/15.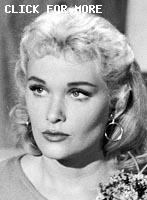 Cast
Douglas Kennedy as Sgt. Jaffrey
Robert Osterloh as Morey Allen
Kay Faylen as Dixie Dayton
Than Wyenn as Frank Hoxie
Roxanne Arlen as Mae Nolan
Grandon Rhodes as Judge Lennox
Marc Krah as George Fayette
Connie Cezon as Gertie
Brian Hutton as Parking Attendant
Jack Gargan as Bailiff
Lyn Guild as Drake's Operator
Uncredited Actors
Don Anderson as Policeman (sighted by Ram Anand, 5/5/10)
Comments

Edit
The episode opens with an establishing shot of a long, busy boulevard at night. We see a sign at the right that says Mayflower. That's the old Mayflower Hotel at 535 S. Grand Avenue in Los Angeles. For a modern view, see here. In the episode, we're looking roughly south on the street in the direction of W. 6th Street. Today the hotel is called "Checkers," and it's in a canyon of large, ugly buildings. LA was a lot nicer in Perry's day. billp 1/12/09.
In the final scene, why didn't Perry and company ask for Mae to be their waitress? Submitted by H. Mason 9/30/14.
Why do Perry and Paul have the same odd-looking headboard on their beds? Submitted by scarter, 1/20/15
There were some interesting Money amounts for 1957: a $1,000 Retainer & a $100 Bail Bond. Amendment 8: "Excessive BAIL shall not be required, nor excessive fines imposed, nor cruel and unusual punishments inflicted [taken word for word from the 1689 English Bill of Rights]." Mike Bedard 4.7.15
<< Negligent Nymph | Episodes | Baited Hook >>