<< Posthumous Painter | Episodes | Left-Handed Liar >>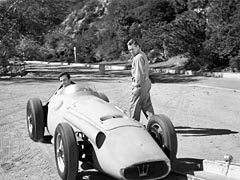 #133: The Case of the
Injured Innocent
Original Airdate: 11/18/61
From The Perry Mason TV Show Book
Life on the fast track finds Perry defending Walter Eastman, a racecar buff who is accused of murdering his European driver.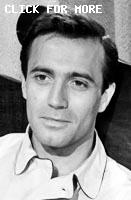 Opening
Starring Raymond Burr
in The Case of THE INJURED INNOCENT
Based upon Characters Created by Erle Stanley Gardner
Barbara Hale, William Hopper, William Talman, Ray Collins
Trailing
Directed by Bernard L. Kowalski
Written by Paul Franklin
"Perry Mason"
Art Seid | Producer
Gail Patrick Jackson | Executive Producer
Jackson Gillis | Associate Producer
Produced by The CBS Television Network in association with Paisano Productions
Samuel Newman | Story Consultant
Raymond Burr as Perry Mason
Barbara Hale as Della Street
William Hopper as Paul Drake
William Talman as Hamilton Burger
Ray Collins as Lt. Tragg
Cast
John Conte as Kirby Evans
Frank Maxwell as Dr. Mooney
Audrey Dalton as Kate Eastman
Alejandro Rey as Vincent Danielli
Wesley Lau as Lt. Anderson
Jess Barker as Walter Eastman
Linda Lawson as Erin Mooney
Phil Arthur as Ralph Townley
Raymond Bailey as Dr. Bell
Noel Drayton as Ellis
S. John Launer as Judge
Pitt Herbert as Autopsy Surgeon
Cindy Ames as Secretary
Lee Miller as Sgt. Brice
Uncredited Actors
Bert Stevens as Courtroom Spectator
Crew
Director of Photography … Robert G. Hager
Art Direction … Lewis Creber
Assistant Director … Robert G. Stone
Film Editor … John D. Faure
Casting … Harvey Clermont
Makeup … Irving Pringle
Hair Stylist … Annabell
Wardrobe Supervision … Ed McDermott, Evelyn Carruth
Set Decoration … Charles Q. Vassar
Properties … Ray Thompson
Production Sound Mixer … Herman Lewis
Script Supervision … M.E.M. Gibsone
Titles and Opticals … Pacific Title
Perry Mason \ A Film Presentation
A CBS Television Network Production
One unusual fact about this episode: Della does not have a single line of dialogue! She is on screen a fair amount, but utters not a single word. The only time her voice is heard at all is when she chuckles along with everyone else at the fade-out. Note: This observation came from a televised episode; Della may indeed have had some lines edited out for commercial time. Submitted by Ed Zoerner, 4/1/2009.
No, Della speaks not a word in the DVD version either. Submitted by francis, 4/29/12.
+ Della can say more with a side-long glance or raised eyebrow than most women can say in an entire sentence! Submitted by DellaFan, 10/10/2013.
Sightings: The Little Old Lady in a Hat hasn't moved from her spot since the previous episode. You first see her as Hamilton Burger questions the coroner. As we cut to the gallery, she can be seen in the back row. Submitted by Kenmore, 9/13/2010.
Uncredited Actors: The inconspicuous Bert Stevens appears in the courtroom gallery, looking rather puzzled.Submitted by gracep, 12/2/2010.
Anomaly: Although the race-car engine designer is a professor and credited as Mooney, Walter Eastman addresses him as Mooney, and the lieutenant and others refer to him that way, too. Submitted by gracep, 12/2/2010.
+ And the Italian driver calls him "Professor." JohnK, 14 October 2015
Location: Since the show likes locations to pull double duty, I suspect the Tudor house 3 minutes into this episode (probably in Hancock Park) is also the Tudor 3 minutes into "TCOT Unwelcome Bride." Also 6 minutes into "TCOT Unsuitable Uncle" it is supposed to be the house at 801 Stanhope Road. Submitted by Eric Cooper, 26 May 2011.
Lt. Tragg (Ray Collins) appears only in the credits, but luckily Lt. Anderson (Wesley Lau) is on the job. Submitted by gracenote, 6/21/2011.
+ Checks written from accounts at some branch of Wilshire Bank were also seen in episodes 84 and 99. Added by H. Mason 11/14/14
+ As with most car crashes we see in PM, the car that winds up in the ravine is clearly not what we started with in the scene. The stock-footage wrecked car has gained decals (4) and lost its roll bar. JohnK, 14 October 2015
This is the only PM writing credit for Paul Franklin, who wrote additional dialogue for Reefer Madness in 1936...MikeM. 10/4/2016
This is the only PM appearance for Audrey Dalton, who was born in Ireland...MikeM. 1/10/2017
Comments

Edit
For me, there is a real plot hole here, because none of the events that unfold in this episode would have happened if Mrs. Eastman had simply divorced her husband. Her reasons (not wanting to sully his name) despite his philandering, just don't hold water, especially if he has cut her off financially to boot! Submitted by gracep, 12/2/2010.
As the owner of two rotary-engine-powered cars over the years (a 1982 Mazda RX-7 and a 1993 Mazda twin-turbo RX-7, which I still own and drive), I couldn't believe my ears when I heard Walter Eastman tell Perry about the rotary engine in the race car ("no valves, no pistons, no cams..."). This episode was made only four years after the first prototype rotary ("Wankel") engine was built in Germany, and three years before the first production rotary-powered car was offered for sale! Someone on the Perry Mason production staff must have been a car or racing buff; I would think very few people would have heard of the rotary engine in 1961. Sadly, due to high emissions, poor gas mileage, and reliability problems (I'm on my third engine in my '93 RX-7), the rotary engine has never fulfilled its promise. Submitted by 65tosspowertrap, 10/10/2013.
'65tosspowertrap's' comment couldn't be more pertinent - I just read that Mazda has once again put off reintroducing a rotary powered car. Their most recent model with their 'Renesis' engine was dropped a year or so ago. The Ro80, one of the first rotary cars, didn't do all that well, finally being dropped and the company being bought by Audi. Oddly, in Chicago, where I live, there was a service station on the near South Side (down the street from Home Run Inn pizza, if you know what I'm talking about) that had a Ro80 on it's lot for several years - station and car are long gone now! Submitted by MikeReese, 12/6/2013.
One of the more unusual courtroom confession scenes, with an ample slice of ham, as the guilty party changes abruptly from a seemingly benign figure into a grinning psychotic manipulator obsessed with his own cleverness. Submitted by BobH, 28 December 2015.
+For his performance in this critical scene, the actor becomes eligible for the 1961-62 season's Robert H. Harris Award. Unfortunately, Mr. Harris himself couldn't give him a run for his money, not having made even one guest appearance during the entire season. Submitted by BobH, 21 January 2017.
Is it my imagination or do actors Jess Barker, who plays Walter Eastman in this episode, and Hugh Marlowe, who appears in numerous other Mason episodes, have incredibly similar voices? Submitted by BobH, 14 January 2016.
<< Posthumous Painter | Episodes | Left-Handed Liar >>