<< Unwelcome Bride | Episodes | Shapely Shadow >>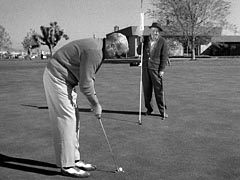 #138: The Case of the
Roving River
Original Airdate: 12/30/61
From The Perry Mason TV Show Book
When Perry is called on to settle a land claim in Manzana Valley, he soon finds himself involved in a murder case when the key witness in the boundary dispute is blown up by a homemade bomb and our hero's client is charged with the killing.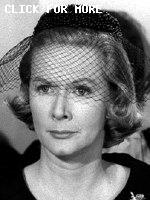 Opening
Starring Raymond Burr
in The Case of THE ROVING RIVER
Based upon Characters Created by Erle Stanley Gardner
Barbara Hale as Della Street
William Hopper as Paul Drake
Ray Collins as Lt. Tragg
Trailing
Directed by Jerry Hopper
Written by Samuel Newman
"Perry Mason"
Arthur Marks | Producer
Gail Patrick Jackson | Executive Producer
Jackson Gillis | Associate Producer
Produced by The CBS Television Network in association with Paisano Productions
Samuel Newman | Story Consultant
Raymond Burr as Perry Mason
Barbara Hale as Della Street
William Hopper as Paul Drake
Ray Collins as Lt. Tragg
Cast
Sarah Marshall as Judy Bryant
Bruce Bennett as Matt Lambert
Paul Fix as Prosecutor
Philip Ober as Harvey Farrell
Karl Held as David Gideon
June Vincent as Chloris Bryant
J. Pat O'Malley as Seth Tyson
Harry Carey, Jr. as Frank Deane
Kelly Thordsen as Sheriff Ward Vincent
Robert Lowery as Amos Bryant
Dirk London as Neil Gilbert
Sherwood Price as Ralph Ordway
Lewis Martin as Judge Libott
Ed Prentiss as Judge Holmes
Crew
Director of Photography … Robert G. Hager
Art Direction … Lewis Creber
Assistant Director … Robert G. Stone
Film Editor … John D. Faure
Casting … Harvey Clermont
Makeup … Irving Pringle
Hair Stylist … Annabell
Wardrobe Supervision … Ed McDermott, Evelyn Carruth
Set Decoration … Charles Q. Vassar
Properties … Ray Thompson
Production Sound Mixer … Herman Lewis
Script Supervision … M.E.M. Gibsone
Sound … Glen Glenn Sound Co.
Automobiles Supplied by … Ford Motor Company
Titles and Opticals by … Pacific Title
Perry Mason \ A Film Presentation
A CBS Television Network Production
Location: The courthouse is in fact Santa Monica City Hall which does have some court rooms. Submitted by Eric Cooper, 3/30/2009. Pictures here and here.
+ The Manzana Valley is once more the setting for Perry's case in ep#186, TCOT Decadent Dean. The "Manzana County Court House" seen in that episode (23:09) is an older and much smaller building than the courthouse used in this episode. Added by Gary Woloski, 2/5/14.
According to the IMDb, the real name of actor Dirk London is Ray Boyle. Submitted by gracep, 12/7/2010.
Although credited, Ray Collins (Lt. Tragg) did not appear. Submitted by gracep, 12/7/2010.
Both Harry Carey, Jr. and Pat O'Malley were regular cast members in Disney's Spin and Marty series. Submitted by Masonite, 7/11/2011.
Word of the day: Perry Mason used the word "riparian," which refers to river banks and/or adjacent wetlands. Submitted by gracenote, 7/12/2011.
+ See"geographical questions" Comment, below, for illustrations. Added by Gary Woloski, 2/7/14.
Deliciously dapper David Gideon (Karl Held) delights us again with his carefully memorized detailings of legal doohickeys and, of course, his dandy dress and dazzling smile. Eight appearances down, one to go. Submitted by gracenote, 7/12/2011.
Character Names: Although Paul Fix is credited here only as "Prosecutor," we know from Fix's other four PM appearances that his character's last name was always Hale, and his first name was either Jonathan ("TCOT Barefaced Witness") or Darwin ("TCOT Angry Mourner"). He was mainly used when Perry would try a case outside of the city. Submitted by cgraul, 11/9/2011.
CARS. (1) 1961 Mercury Commuter 4-door station wagon, white, "Manzana Valley Inn" logo on doors, Lic No VNE 546, Matt Lambert ("Uncle Matt" to Judy). Half-way through the episode Della drives this car in a re-enactment of events to determine timings.
One background car: the white 1961 Ford Fairlane 4-Door Sedan in opening sequence parked beside the "MANZANA VALLEY AIRPORT" sign. Added by Gary Woloski, 2/18/13.
Comments

Edit
The opening credits are a little different in that the title, "Based upon characters created by Erle Stanley Gardner" takes up the greater part of the screen. In previous episodes, it is to the right of the Justice statue, just like the episode name. Submitted by gracep, 12/7/2010.
This was one of the more convoluted episodes in that most of the discovery occurred in the courtroom, and the events that led up to the murder were quite an entanglement—very difficult to follow. Submitted by gracep, 12/7/2010.
I thought that fans of "J. Pat O'Malley", playing Desert Rat Seth Tyson in this episode, would enjoy seeing and hearing him in his previous career as "Pat O'Malley", British tenor and principal vocalist with "Jack Hylton and His Orchestra". Here is Pat at age 32 in a portrait made by Maurice Seymour, Chicago's "Photographer to the Celebrities", in Spring 1936 (Back of photo here). The photo was taken just a few weeks before the end of the eight-month-long 1935/36 Jack Hylton tour of America. When Hylton returned to England, Pat stayed in America, taking on the initial "J." to distinguish himself from the other Pat O'Malley already in American film.
You can see and hear him on this 1931 Pathe Newsreel in a rehearsal session of the song "Choo Choo" - the final HMV recording made on 3 Feb 1931 is dubbed onto this video. Pat is the taller fellow in white shirt and tie, no vest, and is the vocalist furthest to the left when the backup trio joins him. Bandleader Jack Hylton is the middle man (jacket & tie) in the trio.
Here's a couple more Pat O'Malley vocals with Jack Hylton:
* We Just Couldn´t Say Good-Bye, 1932 ('60s Psychedelic Lyrics!)
* By A Waterfall, 1933 (should have been playing on a radio in TCOT Roving River!)
The Official Jack Hylton Website is here. "click to enter" then listen to downloads, etc.
A thumbnail sketch of Maurice Seymour Photographers is here, scroll half-way down to fourth item.
Submitted by Gary Woloski, 9 Oct 2011.
I like this episode but the prosecution's theory of the crime in my opinion was preposterous! A 28-year-old woman wants to kill someone so she builds a bomb? In 1 day, with no evidence that she knew how, could get the materials, or had ever done anything illegal in her life? There was no internet back then--believe it!--so she'd at least have had to make a trip to the library, then the hardware store, and then carry it around all day without fear of it blowing up in her golf bag in David's car. She's so independent she probably thought if a man could build a bomb, so could she. Perry should have lectured her about her independence before the crime! But i wonder, is there a resort in Manzana Valley? Near the lime mines? Submitted by DyNama 12/13/2013
+ For authoritative answers to any geographical questions about Manzana Valley you would have to ask Samuel Newman what he was imagining when he wrote this episode. See ep#186 Trivia, "Familiar Names" for an explanation. A possibility for the filmed locale is Apple Valley in San Bernardino County. Check out the lime mines, golf courses and the desert riparian habitat of The Mojave, a roving river that's upside-down & backwards. Added by Gary Woloski, 2/5/14.
<< Unwelcome Bride | Episodes | Shapely Shadow >>