<< Crippled Cougar | Episodes | Melancholy Marksman >>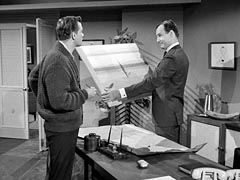 #146: The Case of the
Absent Artist
Original Airdate: 03/17/62
From The Perry Mason TV Show Book
An offbeat episode starring Victor Buono as a philosophical deadbeat artist and Zasu Pitts—the silent film star—as Daphne Whilom.
Pete Manders (Wynne Pearce) has his ups and downs. He's been offered Zingy, a popular comic strip for a song, but finds out the reason the purchase price is so low is to appease him for the loss of his "lovebird," Leslie, who's flying the coop. She's running away with previous Zingy owner, Gabe Philips, a man with two private and separate identities.
When Philips is murdered, Perry visits a hip little artists' colony in Port Harmony to dig up the dirt on the victim's alias, Otto Gervaert.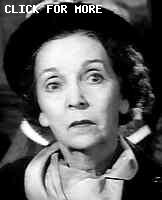 Opening
Starring Raymond Burr
in The Case of THE ABSENT ARTIST
Based upon Characters Created by Erle Stanley Gardner
Barbara Hale as Della Street
William Hopper as Paul Drake
Ray Collins as Lt. Tragg
Trailing
Directed by Arthur Marks
Written by Robert C. Dennis
"Perry Mason"
Art Seid | Producer
Gail Patrick Jackson | Executive Producer
Jackson Gillis | Associate Producer
Produced by The CBS Television Network in association with Paisano Productions
Samuel Newman | Story Consultant
Raymond Burr as Perry Mason
Barbara Hale as Della Street
William Hopper as Paul Drake
Ray Collins as Lt. Tragg
Cast
Zasu Pitts as Daphne Whilom

Richard Erdman
as Charles (Monty) Montrose
Victor Buono
as Alexander Glovatski
Jay Barney
as Harry Clark
Wesley Lau
as Lt. Anderson
Arline Sax
as Fiona Cregan
Wynne Pearce
as Pete Manders
Pamela Curran
as Leslie Lawrence
Carl Don
as Myer
Lane Bradford
as Arnold Buck
Bill Zuckert
as Judge
Barney Phillips
as Newburgh
Mabel Rea
as Girl
Patrick Waltz
as Court Clerk
Wes Bishop
as Agnew
Marshall Kent
as Man
Ann Staunton
as Woman
Uncredited Actors
Don Anderson as Party Guest #1
Bert Stevens as Party Guest #2
Bess Flowers as Party Guest #3
Lee Miller as Sgt. Brice
Crew
Director of Photography … Robert G. Hager
Art Direction … Lewis Creber
Assistant Director … Gordon Webb
Film Editor … John D. Faure
Casting … Harvey Clermont
Makeup … Irving Pringle
Hair Stylist … Annabell
Wardrobe Supervision … Ed McDermott, Evelyn Carruth
Set Decoration … Charles Q. Vassar
Properties … Ray Thompson
Production Sound Mixer … Herman Lewis
Script Supervision … M.E.M. Gibsone
Sound … Glen Glenn Sound Co.
Automobiles Supplied by … Ford Motor Company
Titles and Opticals by … Pacific Title
Perry Mason \ A Film Presentation
A CBS Television Network Production
BARBARA HALE PASSES AT THE AGE OF 94. The news is reporting that Barbara Hale passed on 1/26/2017*, at her home in Sherman Oaks CA. Thank you, Barbara, for all the wonderful work you have left behind for us...MikeM. 1/27/2017
 *(Which would have been William Hopper's 102d Birthday. Noted by Notcom 012817).

The Crying Cherub painting from #89, TCOT Crying Cherub, can be seen in Otto Gervaert's studio. Submitted by Xanthippe Svanström, 11/30/2004.
+ The Crying Cherub can also be seen in #187, TCOT Reluctant Model, in Goring Gilbert's studio. Submitted by daveb, 11/22/2007. + Also, seen on Gervaert's studio wall is the supposed Karl Van Hooten The Purple Woman, from the Case of the same name. Submitted by dwhite, 12/3/2011.
The painting that Otto Gervaert picks up in his studio can also be seen in #187, TCOT Reluctant Model, and #260, TCOT Sausalito Sunrise. See appearances here. Submitted by daveb, 11/22/2007.
Location: In the opening scene, there is a view of a dimly lit building with the words "Merry Go-Round" on it. This is the Looff Hippodrome on the Santa Monica Pier. The La Monica Ballroom at the pier is seen in the background as Paul and Perry drive to Otto's place. Submitted by Eric Cooper, 3/25/2008. Some pictures and vidcaps here and here.
Location: Otto's place as seen in 2009 courtesy Eric Cooper, 5/1/2009. See here.
Uncredited Actors: Don Anderson is among the guests at Gabe Phillips' going-away party. From the number of times he appeared as a party guest, I think we can assume that Anderson owned his own tuxedo. Submitted by FredK, 3 Nov 2010.
+ Bert Stevens and Bess Flowers turn up at the same party. Quite a shindig! Later, Lee Miller appears in several scenes as Sgt. Brice. Submitted by gracenote, 7/19/2011.
Sightings: At least one recurring courtroom spectator made the field trip to Port Harmony to watch Perry Mason in action, namely Distinguished Gentleman #1 despite his busy work schedule. I suppose the others couldn't make it. Submitted by gracep, 12/22/2010.
+ Besides that, the Gentleman removed his toupee and reprised his role from "TCOT Violent Vest" as the creepy morgue attendant, this time turning up a sheet for identification. Submitted by gracenote, 7/19/2011.
+ At a restaurant, Distinguished Lady #3 drinks and smokes at a table near Perry, Della, Paul. The camera pans by her table just before theirs. Submitted by gracenote, 7/20/2011.
Is this yet another episode without Ray Collins as Lt. Tragg, despite receiving credit in the opening and trailing titles? (Yes.) Submitted by gracep, 1/7/2010.
Don't Bogart that joint… In the opening sequence while Myer and Glovatski are conversing under the pier, they are sharing what appears to be marijuana joint. Very much in keeping with "artist colony" life style. Weed makes another appearance in Episode 57 "TCOT Jaded Joker." While Lt. Tragg questions Buzzie sitting at the piano in Danny Ross's apartment, Buzzie is kind enough to offer the "Shamus" a toke. Submitted by Mason Jar, 7/25/2011.
Music: Horst Jankowski's "A Walk In The Black Forest" (see TCOT Missing Melody) is used as background music in the café scene with Perry and Della. Submitted by Mason Jar 7/25/2011.
Music: There is no formal music credit, indicating that most, if not all, of the score came from CBS stock music. A great moment, however, comes from Phillips return to Part Harmony, having been lured there on the phone. The repeated staccato chords greatly add to the suspense as he approaches the apartment house. Submitted by dwhite, 12/3/2011.
Unsolved Mysteries: What happened to the second bullet? Submitted by H. Mason 12/1/14
Moved Body: In the previous 145 episodes the body of the murder victim was moved approximately 30 times. This case set a record. The body was moved about 120 miles. Submitted by H. Mason 12/1/14
Lane Bradford: Usually seen in many low budget westerns and usually on the wrong side of the law, appeared in this story as Port Harmony police Sgt. Buck. Submitted by H. Mason 12/1/14
This is the first of two PM appearances for Arline Sax. In her second appearance she would be billed as Arlene Martel. She reportedly acquired the Martel name when she lived on Martel Avenue in Los Angeles...MikeM. 10/21/2016
This is the only PM appearance for Pamela Curran, who appeared in three episodes of the television series "Laramie"...MikeM. 1/27/2017
Comments

Edit
Zasu Pitts was just delightful. Old silent-film stars have an expressiveness about them that post-talkie actors just cannot seem to emulate. Submitted by gracep 12/22/2010.
"Very well. I repudiate myself!" This quote from Glovatski when he is testifying is one of my favorites from the entire series. It's great to see Victor Buono (a published poet, by the way) have fun with the dialogue of his character. Submitted by Ed Zoerner, 7/8/2011.
+ You said it! You know you are going to enjoy a TV show when you see Victor Buono on the screen! Submitted by gracenote, 7/19/2011.
This was most interesting to see, not one, but four 'suspicious' actors in this show. Mark Roberts, Richard Erdman, Victor Buono, and Arline Sax almost always mean trouble—if they're in anything, they're either doing dirt or so close to it they're dusty!! Submitted by MikeReese, 12/1/2011.
The usually careful Perry Mason touched the car door when he examined the body of the murder victim. Submitted by H. Mason 12/1/14
<< Crippled Cougar | Episodes | Melancholy Marksman >>