<< Playboy Pugilist | Episodes | Hateful Hero >>
#157: The Case of the
Double-Entry Mind
Original Airdate: 11/01/62 Revised
From The Perry Mason TV Show Book (Revised)
Mild-mannered Sandy Sandover has meticulously embezzled $201,000 over many years; but it's a double-cross and the double-murder of the woman who has his wife's old job that make all the trouble for him.
Sandy's wife is unjustly accused of the crime and hires her old friend Perry Mason to go to trial for her.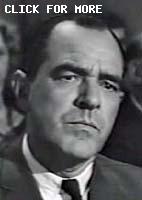 Opening
Starring Raymond Burr
in The Case of THE DOUBLE-ENTRY MIND
Based upon characters created by Erle Stanley Gardner
Barbara Hale, William Hopper, William Talman, Ray Collins
Trailing
Directed by Allen H. Miner
Written by Jackson Gillis
Arthur Marks | Producer
Gail Patrick Jackson | Executive Producer
Jackson Gillis | Associate Producer
Samuel Newman | Story Consultant
Raymond Burr as Perry Mason
Barbara Hale as Della Street
William Hopper as Paul Drake
Wiliam Talman as Hamilton Burger
Ray Collins as Lt. Tragg
Wesley Lau as Lt. Anderson
Cast
Stuart Erwin as Clem Sandover
Karl Weber as Frank Sellers
Jack Betts as Enos Watterton
Paul Tripp as Steven Banks
Virginia Christine as Beth Sandover
Joan Staley as Sally
Kathleen Hughes as Lita Krail
Richard Reeves as Potkin
Grandon Rhodes as Judge
Pamela Branch as Typist
Uncredited Actors
Don Anderson as Uniformed Armor Car Guard (posted by gracep 10/25/2010)
Crew
"Perry Mason"
Director of Photography … Robert G. Hager
Art Direction … Lewis Creber
Assistant Director … Gordon A. Webb
Film Editor … John D. Faure
Casting … Harvey Clermont
Makeup … Irving Pringle
Hair Stylist … Annabell
Wardrobe Supervision … Ed McDermott, Evelyn Carruth
Set Decoration … Charles Q. Vassar
Properties … Ray Thompson
Production Sound Mixer … Herman Lewis
Script Supervision … Cosmo Genovese
Theme Composed by … Fred Steiner
Automobiles Supplied by … Ford Motor Company
Perry Mason
Produced by the CBS Television Network
In association with Paisano Productions
Continuity Error: Watch the briefcase in the opening sequence. Clem puts it on the desk with the handle facing towards the desk chair. When next seen, the briefcase has magically turned around, ready for Clem to fill it with money. Submitted by daveb, 11/25/2007.
Location: The interior seen in the opening is that of the Bradbury Building. The large center opening has been used in many show shots. Show picture and more here. Submitted by Mitch English, 1/11/2006.
Uncredited Actors: Don Anderson appears as one of the uniformed armored car guards who pick up the money that the frantic Sandy Sandover barely manages to return to his office. Submitted by FredK, 25 Oct 2010.
Sightings: Sitting in the back row of the courtroom gallery, "Miss Carmody" takes in another triumph for Perry. Read about her and other recurring spectators. Submitted by gracep, 1/10/2011. - You can also add the "Little Old Lady in the Hat", "Quiet Old Man" and "Pencil Mustache Man" to the list of courtroom spectators. Submitted by Kenmore 1/03/2012
Joan Staley was the centerfold Playmate for November, 1958. See here (SFW). She retired following a horse-riding accident a few years after filming this episode. Submitted by CGraul, 8/18/2011.
Location: As noted above, the famous Bradbury Building is used to great effect in this episode. Perhaps the most recent use of the Bradbury Building in film is in 2011's The Artist, which won the Academy Award for Best Picture. There is a symbolic scene in The Artist in which Peppy runs into George on her way up the Bradbury staircase (and to stardom), while George is on his way down. Stuart Erwin's stairway descent is also effectively used as symbolism in this episode of Perry Mason. Submitted by Fifty-Niner on 23 April 2012.
Comments

Edit
Stuart Erwin does an excellent job portraying a man in the grip of greed and guilt in this episode. This is quite a change from his earlier comedic roles. Personally, I will always associate him with the role of the unlucky-in-love hypochondriac Tommy Nash in the 1933 W.C. Fields film, International House. It's amazing that he had the range to seemingly have a total breakdown, complete with sweat and tears, in this Perry Mason episode. Submitted by Fifty-Niner on 23 April 2012.
<< Playboy Pugilist | Episodes | Hateful Hero >>