<< Stand-In Sister | Episodes | Lurid Letter >>
#162: The Case of the
Weary Watchdog
Original Airdate: 11/29/62
From The Perry Mason TV Show Book (Revised)
This is the episode where Della asks Perry how far he would go for a friend and then asks for $25,000. Della needs the money for her friend Janet Brent, who is being blackmailed. Edward Franklin, an employee of Janet's husband, has staged compromising photos of her in a motel.
At a party, Janet confronts Franklin and hits him with a small statue of a "weary watchdog." The police arrest Della when they find her driving Janet's car from the scene of the argument.
Franklin is dead, struck three times on the head with the statue. Janet claims she only hit him once and Perry believes her.
Perry takes the case knowing that if he loses, Della will go to prison as an accessory.
N.B. Spoiler removed. To view, click above link for original summary.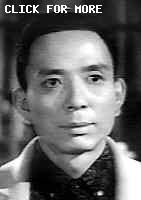 Opening
Starring Raymond Burr
in The Case of THE WEARY WATCHDOG
Based upon Characters Created by Erle Stanley Gardner
Barbara Hale, William Hopper, William Talman, Ray Collins
Trailing
Directed by Jesse Hibbs
Written by Samuel Newman
Art Seid | Producer
Gail Patrick Jackson | Executive Producer
Jackson Gillis | Associate Producer
Samuel Newman | Story Consultant
Raymond Burr as Perry Mason
Barbara Hale as Della Street
William Hopper as Paul Drake
Wiliam Talman as Hamilton Burger
Ray Collins as Lt. Tragg
Wesley Lau as Lt. Anderson
Cast
Mala Powers as Janet Brent
Doris Dowling as Zaneta Holmes
John Dall as Edward Franklin
Keye Luke as C. C. Chang
Wesley Addy as Alton Brent
Judy Dan as Trixie Tong
James Hong as Dean Chang
Kenneth Tobey as Asst. District Attorney Alvin
Philip Ahn as James Wong
Willis Bouchey as Second Judge
Robert S. Carson as Commodore Holmes
Beulah Quo as Mrs. Tong
Seamon Glass as Policeman
Tom Harkness as First Judge
Uncredited Actors
Bert Stevens as Charity Party Guest #1
Don Anderson as Charity Party Guest #2
Lee Miller as Sgt. Brice
Robert Wegner as Bailiff (spotted by Rich Erickson, 6/23/2010)
Sam Harris as Juror
Crew
"Perry Mason"
Director of Photography … Robert G. Hager
Art Direction … Lewis Creber
Assistant Director … Gordon A. Webb
Film Editor … John D. Faure
Casting … Harvey Clermont
Makeup … Irving Pringle
Hair Stylist … Annabell
Wardrobe Supervision … Ed McDermott, Evelyn Carruth
Set Decoration … Charles Q. Vassar
Properties … Ray Thompson
Production Sound Mixer … Herman Lewis
Script Supervision … Cosmo Genovese
Theme Composed by … Fred Steiner
Perry Mason
Produced by the CBS Television Network in association with Paisano Productions
"During the last act, Mason quotes a rule of law from Flynn vs Croates. I think this was a real case." Submitted by Bill Sullivan, 1/22/2006.
+ Indeed it was! A quick visit to Westlaw and a $14 search finds: Court of Civil Appeals of Texas, San Antonio, Flinn v. Krotz, March 30, 1927. This case does apply to Perry's situation as amicus curiae. Perry's citation, "293 South Western Reporter 625," is also correct. Submitted by daveb 11/26/2007.
The Curious Coffee Set makes another appearance as Della and her friend Janet wait in Perry's office. Submitted by gracep, 1/19/2011.
Uncredited Actors: Two familiar faces, Bert Stevens and Don Anderson (mostly with back turned), appear as charity party guests, but neither makes it to the courthouse. Robert Wegner, however, is a bailiff guarding the door in the elder Chang's trial, and he comes quite close to the camera near the end. Earlier, at Anderson's side during Mrs. Brent's arrest is the strong, silent Lee Miller as Sgt. Brice. Submitted by gracenote, 1/19/2011 & updated 7/23/2011. + A juror at Ms. Brent's trial is none other than the late Sam Harris, who, like Bess Flowers, has been in five Best Oscar pictures. We don't have him on our Uncredited Actors page, yet. Submitted by gracenote, 7/23/2011.
Sightings: Seated right next to Lt. Anderson at Janet Brent's trial is our beloved Little Old Lady #1. Down the hall at the other trial sits a keenly interested Pencil Mustache Man, who looks very pensive as Perry leaves the courtroom. Submitted by gracenote, 1/19/2011 & updated 7/23/2011.
Character Names: The elder Chang's given name, spelled "C.C." in the credits, is spelled "Cee Cee" on the menu of his restaurant (and in the closed captions of the syndication print). Submitted by gracep, 1/19/2011.
Kung Fu Connections:
+ Keye Luke, of course, is perhaps better known to baby boomers and Gen-X-ers as Master Po in the 1970s Kung Fu and to classic film buffs as Number One Son (or Lee Chan) in some of the Charlie Chan movies. Submitted by gracep, 1/19/2011.
+ Philip Ahn (James Wong) also was a regular on Kung Fu, in which he played Master Kan. Although actually Korean, in most of his 200 Hollywood roles he played Chinese. Submitted by cgraul, 12/14/2011.
+ James Hong played various characters in 9 episodes of "Kung Fu." He also played Evelyn's butler in the film "Chinatown" (1974) and the evil David Lo Pan in "Big Trouble in Little China" (1986). Submitted by catyron, 04/25/18
+ Beulah Quo appeared in 3 episodes of "Kung Fu." Submitted by catyron, 04/25/18. This is the only PM appearance for Beulah Quo, who had a Bachelor's degree from UC Berkeley and a Master's degree from the University of Chicago ... MikeM. 2/20/2017
Judy Dan was Miss Hong Kong 1952. Submitted by gracep, 1/19/2011.
+ This is the only PM appearance for Judy Dan, who was third runner-up in the 1952 Miss Universe Contest ... MikeM. 11/14/2016
+ And she did NOT appear in "Kung Fu." -- catyron, 04/25/18
Lt. Tragg did not appear in this episode even though Ray Collins was credited with the part. Submitted by gracep, 1/20/2011.
CARS. All except Cars (1a) & (3) are at the drive-in restaurant on "Vista Haven Road".
Background Cars. (a) unknown white convertible (top up), backdrop to Della sitting in Car(1).
There is no "Automobiles Supplied by …" closing credit. Added by Gary Woloski, 6/27/13.
Della testifies in this episode, as she did only two episodes earlier. Submitted by 65tosspowertrap, 11/5/2013.
+ This was Della's fifth appearance on the witness stand. (see episodes 8,30,63,160). She would be called to testify two more times in episodes 172 and 187. Submitted by H. Mason 9/25/14
Della's Impersonation: Della drives Janet Brent's car and was mistaken for Mrs. Brent when she was stopped by the police. Submitted by H. Mason 12/29/14
Della looks amazing, Janet is gorgeous, and Trixie is stunning! Several beauties in this episode! resubmitted by DyNama 9/30/2015
Della at Police HQ: Lt. Anderson's office was seen for the second time (episode 158). Lt. Anderson mentioned Della owned a car that was in a repair shop. That was the first time there was any mention of her owning a vehicle. Miss Street didn't seem to get arrested this time. She was arrested in episode 12 (TCOT Negligent Nymph) but the charges were dropped. Submitted by H. Mason 12/29/14
Perry's client on the stand: For the second time Mr. Mason put his client on the witness stand. It also happened in episode 150 (TCOT Counterfeit Crank). Mr. Burger was not shown questioning her. Submitted by H. Mason 12/29/14
Mr. Alvin: Actor Kenneth Tobey appeared as Deputy District Attorney Jack Alvin for the third and final time. He was the the same character in episodes 98 and 102. Submitted by H. Mason 12/29/14
Fu Shi: The statuette is not a watchdog. Its name in the west is generally given as Fu (or Foo) Dog, but it is actually a male Fortunate Lion or Fu Shi. In Buddhist cultures, it is called a Buddha Lion or Fo Shi. If carved in stone, it would be called a Shi Shi ("Stone Lion"), but it is bronze, so it is a Tong Shi ("Bronze Lion"). Specifically, it is the male of a mated pair of Fu Shi. The male holds a cloth ball beneath one front foot. The female holds a cub beneath one foot. The Western name "Dog" probably arose due to confusion over the Chow Chow breed of dog, which in China is called Song Shi ("Puffy Lion"), the Pekinese breed, which is called in Chinese Shi Zi Ghou ("Lion Dog"), or the Shih Tzu breed of dog, whose name also means "Lion Dog." Submitted by catyron, 04/25/18.
Comments

Edit
It seems to me that this one of the few episodes where the key part of the episode title, "The Weary Watchdog" is mentioned over and over again. Could the Kamakura Watchdog be weary from so much repetition? Submitted by gracep, 1/20/2011.
+See comment on The Purple Woman, #48! Submitted by Wiseguy70005, 2/8/13.
+It annoyed me to no end! It is a Fu Shi (Fortunate Lion) not a "Weary Watchdog" GRRRRR... Submitted by catyron, 04/25/18.
To my mind, nobody did smarm better than John Dall! Ed Zoerner 12/28/12.
+Amen to THAT! submitted by MikeReese, 2/8/2016
+Dall's blackmailer/extortionist Edward Franklin has to be one of the two or three most odious characters in series history, made even more so by Dall's terrific depiction of Franklin relishing his own malevolence. (An indication of the effectiveness of Dall's performance is that you can't wait until Franklin gets what's coming to him and then don't find the episode quite as interesting once he does get bumped off.) Submitted by BobH, 6 July 2017.
In the final scene Mr. Burger said "Mrs. Grant" instead of Mrs. Brent. Submitted by H. Mason 12/29/14
Anyone else annoyed when the DA, or Lt. Tragg--knowing Perry and his reputation, behavior and history of getting the true criminal--comes after him -- or in this case, Della- - as if he were some crooked, corrupt lawyer, flouting the law? I know it is done to add tension, but it seems out of character when they are otherwise friendly and respectable to each other. --yelocab 14MAR18

Really, watch the episode and then read this comment. I'll wait. Done? Okay, did you spot the problem with the name of the statue? It's revealed at the end. If you did, it might have given you a clue, or it might have absolutely pestered you throughout the episode. Submitted by gracenote, 7/23/2011.
+ Here's the spoiler more explicitly now. The name of the Watchdog was in Japanese, not in Chinese. (As they plainly said in the end, of course). If you recognized that, then probably much of the story was ruined for you, alas! This is one of two shows I found giving away too much in the very beginning. (The other time is #257, TCOT Midnight Howler). Submitted by gracenote, 1/26/2012.
+ Not me, I don't know my Asian well enough to recognize "Kamakura" as Japanese, not Chinese. With gracenote's comment in mind, I looked for an early revelation that the Watchdog was Japanese, but I didn't get one.
+ Thanks for commenting that Japanese surnames tend to be multi-syllabic while Chinese surnames are usually a single syllable, John Mason, I must admit I never noticed that before. resubmitted by DyNama 9/30/2015
+ Given the time period this show originally aired in, I think we could overlook the Japanese/Chinese confusion - how much did the average American know of the difference, or want to? The funny thing to me is that I had a Chinese friend in high-school, and we used to joke about race. One of his nick-names for me was 'Samurai Mike' (yes, that was well before the Chicago Bears Mike Singletary came along), and I called him 'Number-One Soul Brother'! He knew the 'Samurai' designation was Japanese - he didn't care, and neither did I! Submitted by MikeReese, 2/8/2016
+ I noticed it right away and i thought that either too big a clue was being given ... or the script writer had lamely conflated the two languages. Turns out it was the former, but, growing up in California, i happen to know Japanese from Chinese. Probably most viewers of that era, outside of California, would not have caught it. Submitted by catyron, 04/25/18.
I first read of the racket described in this episode in a RACKET SQUAD IN ACTION comic; although in the comic the people being swindled were German-Americans, the depictions of the two rackets - the racketeers in the RACKET SQUAD story are swindling emigres from Middle Europe by forcing them to hand over money to keep their family members alive - are almost exactly similar. In the RACKET SQUAD story, the criminals are thwarted by a man whose mother is supposed to be in a prison behind the Iron Curtain, but who had actually died several days prior to the blackmailers' arrival. . . Red Chief, 23/5/2017
Perry takes another risk here were he puts Alton Brent on the stand and challenges him to identify two carvings--which is which. Brent has a 50/50 chance of getting it correct, or he may actually know a bit about the carving styles to make a correct identification. Of course, Brent admits he can't id them--won't even try, and this gamble, again, turns out in Perry's favor. --yelocab 14MAR18
<< Stand-In Sister | Episodes | Lurid Letter >>