<< Prankish Professor | Episodes | Libelous Locket >>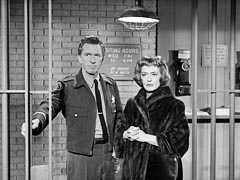 #169: The Case of
Constant Doyle
Original Airdate: 01/31/63
From The Perry Mason TV Show Book (Revised)
After Cal Leonard (Michael Parks of Then Came Bronson) is caught climbing the fence at Otis Industries, he tells the police to get Joe Doyle, a local attorney, to help him. But Doyle died two months before, so his widow—Constant Doyle, played by Bette Davis—who is also a lawyer, arrives to defend Cal instead.
For some reason, Lawrence Otis is a little too ready to drop the charges against young Leonard, and Constant Doyle is puzzled.
Constant gets a second crack at defending Cal, who can't seem to stay out of trouble these days. He is charged with murdering his cousin. She gets her nose rubbed in the dirt when she digs for evidence and finds some very distressing news about her late husband.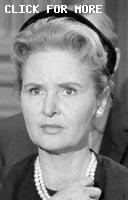 Opening
Starring Raymond Burr
With special guest star Bette Davis
in The Case of CONSTANT DOYLE
Based upon Characters Created by Erle Stanley Gardner
Barbara Hale, William Hopper, William Talman, Ray Collins
Trailing
Directed by Allen H. Miner
Written by Jackson Gillis
Art Seid | Producer
Gail Patrick Jackson | Executive Producer
Jackson Gillis | Associate Producer
Samuel Newman | Story Consultant
Cast
Bette Davis as Constant Doyle
Michael Parks as Cal Leonard
Peggy Ann Garner as Letty Arthur
Frances Reid as Miss Givney
Les Tremayne as Lawrence Otis
Neil Hamilton as Fred McCormick
George Mitchell as Desk Sergeant
Jerry Oddo as Steven Arthur
John Dennis as Police Lieutenant
Willis Bouchey as Judge
Dick Wilson as Prisoner
Marc Romaunt as Kid
Dorothy Edwards as Waitress
Gil Perkins as Watchman
Uncredited Actors
Don Anderson as Courtroom Spectator (spotted by gracep, 1/25/2011)
Burr's Absense: This is the first of four consecutive episodes that Raymond Burr will miss due to injury. He will be replaced by Bette Davis, Michael Rennie, Hugh O'Brien, and Walter Pidgeon. Submitted by PaulDrake33.
+ It was an operation, not an injury! The Appleton Post-Crescent newspaper for 11/6/62 reported that the network said that Burr "will enter a Los Angeles hospital for minor corrective surgery in December" and that "the company must make several shows during his convalescence without the star." See the Comments section below for more about this incident. Burr is seen briefly in all four episodes "recuperating." Submitted by daveb, 1/26/2011.
Dick Wilson makes his only Perry appearance in a small part as a prisoner. Dick Wilson was well known by baby-boomers as Mr. Whipple, the man who was forever telling women shoppers, "Please don't squeeze the Charmin." Submitted by PaulDrake 33.
Peggy Ann Garner makes her only Perry appearance here as Letty Arthur. Peggy Ann Garner is most famous for her role as Francie Nolan in the motion picture A Tree Grows In Brooklyn. In fact, she was awarded the Juvenile Oscar for 1946 for her performance. Submitted by PaulDrake 33.
This episode is at the present (September 2009) available on YouTube for viewing. Submitted by PaulDrake 33.
This is one of only three episodes titled "The Case of…" rather than "The Case of the…". The other two are "The Case of Paul Drake's Dilemma" and "The Case of a Place Called Midnight". Submitted by Kenmore, 9/24/10.
Sightings: Several courtroom regulars appear in this episode. On the prosecution side, the Little Old Lady in a Hat sits in the first row, the Pencil Mustache Man in the back row. And on the defense side, Quiet Old Man #1 sits in the back row. Submitted by Kenmore, 9/24/10
+"Miss Carmody" is seated behind Letty Arthur during courtroom gallery closeups. Submitted by alan_sings, 3 Oct 2010.
+ Be sure to check out all of these favorite frequent faces on the Who Is That? page. Submitted by gracep, 11/25/2010.
Tragg does not appear in this episode, despite receiving credit. Submitted by gracep, 1/25/2011.
Being a lady lawyer in the 1960s was challenging and uncommon. By 1970 only 3% of lawyers in the United States were women. Submitted by gracenote, 7/24/2011.
Comments

Edit
There is some uncertainty why Burr was "missing" from this episode and the following three. The Perry Mason TV Show Book (1987) says he was "in the hospital for minor dental surgery." The Ona L. Hill biography Raymond Burr (1994) says "he went into the hospital on December 10, 1962 for major surgery." She goes on to say, "He had been diagnosed with potentially cancerous intestinal polyps, which turned out to be benign. A part of his intestines was cut away and a Dacron tube inserted." I recall hearing from somewhere that, in later years, Burr denied cancer rumors about himself. Perhaps this explains the differing stories? The Hill story is supported by newspaper articles of the time. However, one article (Newport, R.I., Daily News, Feb. 11, 1963) says Burr "has been quoted as saying that they [the polyps] were cancerous." It goes on to say "he has declined any further statements beyond declaring that he was fortunate in all regards." Does anyone have any additional information? Submitted by daveb, 6/28/09.
+ Yes, but not reliable. Burr appeared on a later talk show and, while demurring at specifics, stated he had a physical difficulty which, while not serious, prohibited him from being able to stand or move comfortably. Not much help, is it? Submitted by CGraul, 9/5/2011.
These four "guest lawyer" episodes were the only episodes from the first six seasons not available in the original 195-episode syndication package of the 1970s. Other episodes not available were all but 4 episodes of the 7th season ("Deadly Verdict" was not shown), the entire 8th season and 16 episodes of the final season ("Dead Ringer" and "Twice-Told Twist" weren't shown but "Final Fade-Out" was). It wouldn't be until the mid-1980s until the other 76 episodes would be shown when TBS bought the rights. Submitted by Wiseguy70005, 6/15/12.
<< Prankish Professor | Episodes | Libelous Locket >>