<< Two-Faced Turn-A-Bout | Episodes | Golden Oranges >>
#172: The Case of the
Surplus Suitor
Original Airdate: 02/28/63
From The Perry Mason TV Show Book
Although just a corporation lawyer, Sherman Hatfield—played by Walter Pidgeon—takes the job of defending Hollis Wilburn, a woman accused of murdering her uncle. Paul Drake is hired for the footwork.
Interestingly, at one time in the early 1940s Pidgeon was almost hired to be the voice of Perry Mason in the popular radio series.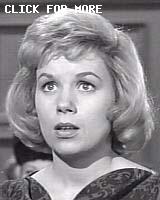 Opening
Starring Raymond Burr
With special guest star Walter Pidgeon
in The Case of THE SURPLUS SUITOR
Based upon characters created by Erle Stanley Gardner
Barbara Hale, William Hopper, William Talman, Ray Collins

Trailing
Directed by Jesse Hibbs
Written by Robert C. Dennis
Arthur Marks | Producer
Gail Patrick Jackson | Executive Producer
Jackson Gillis | Associate Producer
Samuel Newman | Story Consultant
Raymond Burr as Perry Mason
Barbara Hale as Della Street
William Hopper as Paul Drake
Wiliam Talman as Hamilton Burger
Ray Collins as Lt. Tragg
Wesley Lau as Lt. Anderson
Music composed and conducted by Van Cleave
Cast
Walter Pidgeon as Sherman Hatfield
Joyce Bulifant as Hollis Wilburn
James Best as Martin Potter
Carl Benton Reid as John Wilburn
Nellie Burt as Mrs. Abernathy
Linden Chiles as Vernon Elliot
Andrea King as Jean Crewe
Hayden Rorke as Gage McKinney
John Siegfried as Alex Gaussner
Lisa Davis as Receptionist
James Cross as Cabbie
Grandon Rhodes as Judge
Jean Harvey as Janitress
Russell Grieve as Cop
Uncredited Actors
Ralph Brooks as Burger's Co-Counsel (from IMDb)
Lee Miller as Sgt. Brice
Bert Stevens as Courtroom Spectator
Crew
[TBA]
Big time movie star Walter Pidgeon makes his only Perry appearance here filling in for the ailing Raymond Burr. Walter Pidgeon was twice nominated for an Academy Award in 1943 and 1944. Each time he played the husband of Greer Garson who was also nominated each year. Mr. Pidgeon lost out in 1943 to Jimmy Cagney and in 1944 to Paul Lukas. Submitted by PaulDrake 33, 9 September 2009.
Once again, Lt. Tragg (Ray Collins) does not appear despite his listing in the credits. Submitted by g, 1/28/2011.
Kentucky-born James Best is best known, of course, as the befuddled sheriff Roscoe P. Coltraine on the 1970s series The Dukes of Hazzard. A coal-miner's son, he often played bumpkins on TV and movies, and he owns his own production company now. Submitted by g, 1/28/2011.
Sightings: Pencil Mustache Man enters the courtroom and after looking around for a bit, watches Hollis and her attorney confer before the hearing. While Burger is interrogating a witness, however, we see that the Man has moved a few seats over. Distinguished Gentleman #1 sits on the back row on the defense side, and we can just discern Quiet Old Man #1 blurred in the back row on the other side. More on the "Who Is That?" page. Submitted by g, 1/28/2011.
Uncredited Actors: Sgt. Brice (Lee Miller) stands silently by in the hallway while Lt. Anderson confronts the grieving niece (and her attorney) in her parlor. Bert Stevens plays a courtroom spectator who walks in before the hearing. A special treat is Ralph Brooks sharing the table with Hamilton Burger during the trial. Submitted by gracenote, 7/26/2011.
Comments

Edit
"Janitress"? Really?!? Submitted by gracep, 1/27/2011.
<< Two-Faced Turn-A-Bout | Episodes | Golden Oranges >>