<< Skeleton's Closet | Episodes | Witless Witness >>
#180: The Case of the
Potted Planter
Original Airdate: 05/09/63
From The Perry Mason TV Show Book
In the farming community of Palmetto, gossip is a major form of recreation. Martin Walden's sister Frances uses this to break up his marriage. She pays Martin's nephew $1,000 to fake an affair with Andrea Walden. Martin, however, needs no encouragement to suspect his wife of adultery. He thinks she's been seeing an old flame, Nelson Tarr.
Martin and Tarr have bad blood and bad business between them, enough reason for the authorities to suspect one when the other is found dead.
Perry journeys to Palmetto to defend Tarr.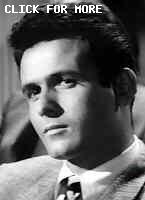 Opening
Starring Raymond Burr
in The Case of THE POTTED PLANTER
Based upon characters created by Erle Stanley Gardner
Barbara Hale, William Hopper, Ray Collins

Trailing
Directed by Jesse Hibbs
Written by Robert C. Dennis
Art Seid | Producer
Gail Patrick Jackson | Executive Producer
Jackson Gillis | Associate Producer
Samuel Newman | Story Consultant
Raymond Burr as Perry Mason
Barbara Hale as Della Street
William Hopper as Paul Drake
Ray Collins as Lt. Tragg
Cast
Constance Ford as Frances
Diane Brewster as Andrea Walden
Paul Fix as District Attorney Hale
Mark Goddard as Roy Mooney
Robert Bray as Martin Walden
Joe Maross as Nelson Tarr
Davey Davison as Melinda Tarr
William Allyn as David Pinter
Harry Lauter as Chris Hearn
Frank Behrens as Doctor Oldham
Robert Foulk as Delehanty
Allan Hunt as Jimmie Moore
David Macklin as Boy
Jaclyn Carmichael as Girl
Jamie Forster as Judge
Pepper Curtis as Receptionist
Richard Emory as Interne
Uncredited Actors
Bert Stevens as Courtroom Spectator (added by gracenote, 2/4/2011)
Crew
"Perry Mason"
Director of Photography … Robert G. Hager
Art Direction … Lewis Creber
Assistant Director … Robert G. Stone
Film Editor … Richard H. Cahoon, A.C.E.
Casting … Harvey Clermont
Makeup … Irving Pringle
Hair Stylist … Annabell
Wardrobe Supervision … Ed McDermott, Evelyn Carruth
Set Decoration … Sandy Grace
Properties … Ray Thompson
Production Sound Mixer … Herman Lewis
Script Supervision … Cosmo Genovese
Theme Composed by … Fred Steiner
Perry Mason
Produced by the CBS Television Network in association with Paisano Productions
Paul Fix makes the final, of five, appearances here on Perry playing District Attorney Hale. In four of the five appearances Mr. Fix's character name was Hale, and in one no name was given. In each episode he was the District Attorney, however each time he was practicing in a different city. Of course Paul Fix was better known for his role as a judge, the judge in To Kill A Mockingbird. Submitted by PaulDrake 33, 16 December 2009.
+ The painting in DA Hale's office looks like a picture of Franklin Delano Roosevelt. Mike Bedard 3/16/2017 MeTV airing.//
+ Fans of classic Westerns will remember Fix as Marshal Michah Torrance in the TV series The Rifleman. Submitted by francis, 6/13/12.
+ Paul Fix also played the first doctor on Star Trek with William Shatner. All three doctors from the original Star Trek have appeared on Perry Mason: John Hoyt, Paul Fix and DeForest Kelley. Submitted by Wiseguy70005, 6/16/12.
Perry and Della have coffee after court with innocent Melinda and a Curious Coffee Set. Submitted by gracenote, 9 February 2011.
For the last time this season, Ray Collins does not appear as Lt. Tragg, despite being billed so. Nice work if you can get it. Submitted by gracenote, 9 February 2011.
+Even odder: William Tallman's name is omitted from the credits, rightfully, since Hamilton Burger does not appear in this episode; but Ray Collins's name does appear, even though Tragg does not. -Submitted by 10yearoldfan, 21 Dec 2013.
+Not so odd. As written elsewhere it all depends on the actor's contract. After his arrest, William Talman's contract was changed that he would only be credited for episodes he appeared in (although one episode made a mistake by crediting him when he didn't appear). Ray Collins' contract always stated he would be credited regardless of whether he appeared on not and this continued until his death. Submitted by Wiseguy70005, 12/26/13.
A familiar jazz theme composed by Jerry Goldsmith can be heard in this episode. Originally composed for a CBS pilot years before, this music can be heard in several episodes of Perry Mason and The Twilight Zone. The full 3:13 track can be found on The Twilight Zone: The Original Television Scores Volume Four album (Varese Sarabande STV81192) and CD The Best of The Twilight Zone Original Television Scores Volume I (VCD47233). Submitted by Wiseguy70005, 6/16/12.
Anomaly: At 19:40, just before the near-collision, David Pinter's car is clearly driving on the left side of the road around a blind curve. Very bad driving for anyone, especially a trained lawyer. - Submitted by 10yearoldfan, 21 December 2013.
A Gavel: For the first time since episode 80 there was a gavel in the courtroom. A gavel was used at the school board meeting in episode 163. Submitted by H. Mason 2/11/15
Harry Lauter: This was his only Perry Mason appearance as Chris Hearn, the banker. Science fiction fans might remember him as a regular on Rocky Jones, Space Ranger. His most memorable sci-fi role was probably in The Day The Earth Stood Still. He was the lieutenant who reached for an empty holster after Klaatu picked up his damaged gift for the president. Submitted by H. Mason 2/11/15
+Harry Lauter was also one of the stars of "Tales Of The Texas Rangers", a series that ran during the 1958-59 season. Submitted by D. Tlougan, 2/20/15.
This is the only PM appearance for Diane Brewster, who was teacher Miss Canfield for the first season of Leave It To Beaver...MikeM. 12/8/2016
This is the first of two PM appearances for Mark Goddard, who was Lost In Space from 1965-1968...MikeM. 12/8/2016
+ Mark's other PM episode was Frustrated Folk Singer/# 226. Mike B.//
This is the third of five "unnamed" PM credits for Pepper Curtis, who was married to actor Howard Curtis...MikeM. 3/16/2017
Comments

Edit
TIME TUNNEL Perspective: Original "Potted Planter" viewers might have heard on MAY 9, 1963: "US performs nuclear test at Nevada Test Site," takemeback.to. Cold War themes sometimes appeared in PM episodes. Mike Bedard 2.18.15.
The question is: What is that huge structure on the skyline looming over the Tarrs' street in "Palmetto"?
I think we are seeing the superstructure of a collapsible or telescoping natural gas storage tank. See the 'gas holder' entry in Wikipedia (http://en.wikipedia.org/wiki/Gas_holder). Rory 10/24/13.
(and submitted by email on same date:)
The structure mentioned in the Trivia entry is actually a Natural Gas tank, called a 'gas holder'. http://en.wikipedia.org/wiki/Gas_holder . We HAD two telescoping holders in Framingham, Ma; where I grew up. From SkipF via email on 10/24/13.
+ This is fascinating stuff. You can sometimes see them on the opening panoramic shots of Dragnet, when Joe Friday is doing his "This is the city...Los Angeles..." travelogue. This might help you confirm their locations. What a tempting terrorist target they would be today. Submitted by 65tosspowertrap, 3-11-2014.

Bad Information: After it was revealed that Martin Walden aka Edward Montrose did not lose his money gambling, what did Paul mean when he said: "...Walden's a bad loser. He cries to the bartenders a lot..."? Submitted by H. Mason 2/11/15
Martin Walden, who was using the alias Edward Montrose in Las Vegas, could have been setting up an excuse for why he didn't have the money. But then, why didn't the bartenders gossip with the pit bosses or dealers? $20,000 in 1963 is like $155,000 in 2016. lowercase masonite, 3/5/16.
<< Skeleton's Closet | Episodes | Witless Witness >>