<< Witless Witness | Episodes | Shifty Shoe-Box >>
#182: The Case of the
Nebulous Nephew
Original Airdate: 09/26/63
From The Perry Mason TV Show Book (Revised)
Perry defends a seaman with two names who's been switching identities with another man.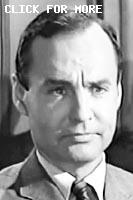 Opening
Starring Raymond Burr
in The Case of THE NEBULOUS NEPHEW
Based upon characters created by Erle Stanley Gardner
Barbara Hale, William Hopper, William Talman, Ray Collins

Trailing
On the DVD I have, the credits for this episode have been replaced by the credits from #233: The Case of the Sad Sicilian. That episode is from an entirely different season. Has anyone else ever noticed something like this on a Perry Mason DVD? [Added by BobwloCB.]
+Correct!!! My version also has the credits from #233 and the date stamp 1965 which is correct for The Case of the Sad Sicilian. HamBurger 7/29/2016
Directed by Arthur Marks
Written by Jonathan Latimer
Art Seid | Producer
Gail Patrick Jackson | Executive Producer
Jackson Gillis | Associate Producer
Samuel Newman | Story Consultant
Raymond Burr as Perry Mason
Barbara Hale as Della Street
William Hopper as Paul Drake
Wiliam Talman as Hamilton Burger
Ray Collins as Lt. Tragg
Wesley Lau as Lt. Anderson
Music composed and conducted by Van Cleave
Cast
Beulah Bondi as Sophia Stone
Ron Starr as John Brooks
Kate Manx as Irene Stone
Mark Roberts as Wayne Jameson
Hugh Marlowe as Ernest Stone
Ivan Dixon as Caleb Stone
Meg Wyllie as Nineveh Stone
Arthur Space as Leonard
Irene Tedrow as Sister Theresa
Kenneth MacDonald as Judge
William Woodson as Coroner's Physician
Linda Marshall as Young Nun
Kathy Willow as Stewardess
Crew
[TBA]
DVD Anomaly - On the DVD I have, the credits section shown for this episode is the one intended for episode #233: The Case of the Sad Sicilian. Added by BobwloCB 1/9/2015.
Veteran movie actress Beulah Bondi makes her only Perry appearance here playing Sophia Stone. She made a living playing Jimmy Stewart's mother. Ms. Bondi played Jimmy Stewart's mother 5 times—4 times in movies and once in his television show. Submitted by PaulDrake33, 16 September 2009.
Ivan Dixon made 2 other Perry appearances: TCOT Promoter's Pillbox ('62) & TCOT Shooting Star ('86 as the JUDGE); he was in an Ironside [IMDb]. Mike Bedard 2.23.15.
The new season begins with an appearance by the Curious Coffee Set, from which the mysterious seaman pretends to sip as he waits for Great-Aunt Sophia. Submitted by gracenote, 2/11/2011.
Sightings: Both Quiet Old Man #1 and Distinguished Gentleman #1 appear in the courtroom: the former as a spectator and the latter as court reporter. Submitted by gracenote, 2/12/2011.
Alas, Neither D.A. Burger not Lt. Tragg appears in this episode, notwithstanding the billing. Submitted by gracenote, 2/12/2011.
+ Correction: Actually, yes, Hamilton Burger is the prosecuting trial attorney in this episode. Submitted by cgraul, 9/22/2011.
Goof: Perry's "wireless" intercom box is missing from its usual place on the desk in the office scene with Nineveh Stone. Somewhat later, after Paul enters through the side door, the intercom has returned. Submitted by daveb, 4/14/2011.
Location: Double duty. The house the two sisters live in appears to be the same house the rich lady from "TCOT Bullied Bowler" lives in. Maybe it's a timeshare. The window patterns are different but check out the 2 very unique and unusual hanging lanterns by the front door. Also on the nightime scenes the porch light is in exactly the same place. The house is probably in Hancock Park which is again close to the studio. Submitted by Eric Cooper, 28 April 2011.
Location: I found the house! It's at 357 Lorraine Blvd in the Hancock Park section of Los Angeles. It was originally built in 1898 for Issac Newton Van Nuys who developed much of the San Fernando Valley. The house is about 12,000 sq ft and looks exactly the same. Even has the same unique porch light after 50 years. Submitted by Eric Cooper, 6 June 2011. Pictures here.
At the beginning, Ernest announces the aunts' ages as 73 for Sophia and 71 for Ninevah. The actual ages of the actresses, respectively: 74 and 46! You can tell the age difference if you look closely. Submitted by Ed Zoerner, 8/23/2011.
PLANES: The 4-engine jet that flies Perry and Paul to South Carolina at 23:50 appears to be an American Airlines Boeing 707-123B. If anyone knows more about planes than I do, feel free to correct me. -Submitted by 10-year-old-fan, 2 January 2014.
+ One of the few airlines that are still around today and WOW too that Perry and Paul have a couch to sit on in the plane...and way back in the 60's!!! ;-> Submitted by mesave31, 04/19/15.
Hallway Furniture: Once again there is a view outside of Perry's private door. The lamp was in episode 160, but not in episode 174. The picture was also seen in #174 but different in #160. There was usually something different each time the hallway was shown. Submitted by H. Mason
This is the only PM appearance for Ron Starr, who played Seaman Mannion in nine episodes of the television series Mister Roberts...MikeM. 12/12/2016
Comments

Edit
On the phone, Irene mentions her husband is in Ithaca, NY, at trapshooting contest. Ithaca is where they used to make Ithaca Guns (shotguns, that is), which Annie Oakley used. The brand still exists but the factory has been destroyed, replaced by a parking lot for student housing for Cornell Unversity. Many students and townies walk or drive along the rather steep Gun Hill Road, where the abandoned factory sat, decaying and probably polluting the groundwater, on their way to campus. Though long an eyesore, its demise is kind of sad, too. The smokestack that says "Ithaca Gun" is still there, however. Submitted by gracenote, 2/11/2011.
Two thumbs up for Della Street's spiffy new hairdo on this first episode of the new season. Submitted by gracenote, 2/11/2010. + DellaFan also approves! Submitted by DellaFan, 11/21/2013.
Kate Manx, the episodes "babe," died the year after this show aired at the young age of only 34. Submitted by cgraul, 9/22/2011.
On the DVD release of Season 7 Part 1, the credits which run at the end of this episode are actually the credits for episode #233, TCOT Sad Sicilian. Submitted by alan_sings, 8/21/2012.
+At 50:20, you can even see the copyright date as MCMLXV (1965). That was quite a goof by the DVD manufacturer. Thanks, Alan, for finding the episode the credits were lifted from. - Submitted by 10-year-old-fan, 2 January 2014.
Season 7 (63-64) is the last one for "Perry Mason" in the Top 30 ratings. It came in at #26 for the season. Submitted by Bill-W2XOY on 08/01/2013.
CARS: On a personal note, the 1963 Ford Galaxie 500 (very similar to the TAXI) was our family car as I was growing up. My dad was a Perry Mason fan. Perhaps the product placement really was effective! -Submitted by 10-year-old-fan, 2 January 2014.
+Just to be clear: The TAXI, Car(2) is a Galaxie, which has one trim line on the body side. The next level up was the Galaxie 500 with a double trim line plus seven hash marks just forward of the taillights. GSW.
+Thanks for the correction! My family car had the seven hash marks of a Galaxie 500, but the rear taillights of the Taxi look very much as I remember them. 10yearoldfan 18 January 2014
<< Witless Witness | Episodes | Shifty Shoe-Box >>