<< Deadly Verdict | Episodes | Reluctant Model >>
#186: The Case of the
Decadent Dean
Original Airdate: 10/24/63
From The Perry Mason TV Show Book
Perry goes back to school when an unlikely book-stealing case leads to sabotage, infidelity, and murder on the campus of Manzana Valley Prep School.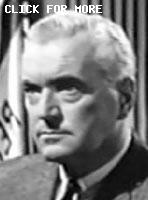 Opening
Starring Raymond Burr
in The Case of THE DECADENT DEAN
Based upon characters created by Erle Stanley Gardner
Barbara Hale, William Hopper, William Talman, Ray Collins

Trailing
Directed by Earl Bellamy
Written by Joseph P. Lamont and Samuel Newman
Arthur Marks | Producer
Gail Patrick Jackson | Executive Producer
Jackson Gillis | Associate Producer
Samuel Newman | Story Consultant
Raymond Burr as Perry Mason
Barbara Hale as Della Street
William Hopper as Paul Drake
Wiliam Talman as Hamilton Burger
Ray Collins as Lt. Tragg
Wesley Lau as Lt. Anderson
Cast
Milton Selzer as Dr. Aaron Stuart
Joan Tetzel as Marian Stuart
Lloyd Corrigan as Harvey Forrest
H. M. Wynant as Tobin Wade
Eddie Firestone as Jenkins
Paul Lukather as Chuck Emmett
Kelly Thordsen as Sheriff Ward Vincent
Blair Davies as John Marshall Baxter
Lauren Gilbert as Mr. Ryan
Stanja Lowe as Janet Gwynne
Richard Simmons as Mr. Ogden
Lewis Martin as Judge One
Albert A. Vail as Judge Two
Geraldine Wall as Mrs. Perkins
Rand Brooks as Ted Richert
Willis Robards as Mr. Baker
Tommy Alexander as John
Don Parker as Bruce Perkins
Shelley Ames as Grace Witt
Uncredited Actors
Lee Miller as Sgt. Brice
Don Anderson as Bailiff at Window
Crew
"Perry Mason"
Director of Photography … Robert G. Hager
Art Direction … Lewis Creber
Assistant Director … Robert G. Stone
Film Editor … Richard H. Cahoon, A.C.E.
Casting … Harvey Clermont
Makeup … Irving Pringle
Hair Stylist … Annabell
Wardrobe Supervision … Ed McDermott, Evelyn Carruth
Set Decoration … Carl Biddiscome
Properties … Ray Thompson
Production Sound Mixer … Herman Lewis
Script Supervision … Marshall Schlom
Theme Composed by … Fred Steiner
Automobiles Supplied by … Ford Motor Company
Perry Mason
Produced by the CBS Television Network in association with Paisano Productions
Richard Simmons (no, not the weight-loss guru) played alongside Raymond Burr in Rear Window. He played the "Man with Miss Torso." Submitted by billp, 15 November 2009.
Sightings: The omni-present Distinguished Gentleman #1 has once again made a field trip just to see Perry in action, this time at the evidentiary hearing in Manzana County Court. Read more about him and his fellow recurring spectators. Later, back in the Los Angeles County Courthouse, Pencil Mustache Man and Little Old Lady #1 and Quiet Old Man #1 appear in the gallery, all in one shot. Submitted by gracenote, 2/17/2011.
Uncredited Actors: At Dr. Stuart's arrest is Burr's stand-in, Lee Miller. The bailiff who closes the blinds during the showing of a movie in court is none other than Don Anderson. Read more about these frequently unacknowledged players. Submitted by gracenote, 2/17/2011.
Lt. Tragg (Ray Collins) appears only the credits (for the third time this season). Submitted by gracenote, 2/17/2011.
Location: Quick stop by Gulls Way in Malibu before going to Cliffside Resort. Gulls Way is featured in several other episodes. Submitted by Eric Cooper, 28 April 2011.
Repeat Characters: As mentioned above episode 138 had scenes in the fictional Manzana Valley. In that story actor Lewis Martin was Judge Libott (name in credits) and actor Kelly Thordsen was Sheriff Ward Vincent. Submitted by H. Mason 2/23/15
Repeat Actors: Lloyd Corrigan and Eddie Firestone were both in this episode and #159 "TCOT Dodging Domino". HamBurger 7/31/2016
This is the only PM appearance for Shelley Ames, who was the daughter of prominent actor Leon Ames...MikeM. 12/16/2016
Comments

Edit
Perry makes a great point about the law: "Mr. Baxter, I remind , the law helps the vigilant before those who sleep on their rights." Submitted by gracenote, 2/17/2011.
Why is this episode titled TCOT "Decadent Dean"? If he is the head of an independent secondary school, as he seems to be, then Aaron Stuart would be a Headmaster or Head of School -- possibly Principal or President. But not Dean. Submitted by HBM1043, 2/19/2014
Tobin Wade is the Decadent Dean, not Aaron Stuart. - Submitted by 10yearoldfan, 9 March 2014.
Location Names: Any relation between Cliffside Resort seen in this story and Cliffside Heights from episode 179 TCOT Skeleton's Closet? Submitted by H. Mason 2/23/15
SHERIFF is a BLENDED word: The King of England appointed a REEVE to administer a SHIRE/County (SHIRE + REEVE = SHERIFF) [Webster's Unabridged Dictionary]. Mike Bedard 2.27.15.
<< Deadly Verdict | Episodes | Reluctant Model >>