<< Bigamous Spouse | Episodes | Festive Felon >>
#189: The Case of the
Floating Stones
Original Airdate: 11/21/63
From The Perry Mason TV Show Book (Revised)
Juli Eng needs Perry's help when some precious stones her grandfather left her wind up missing, and the jewel thief who swiped them winds up dead. This episode returns to one of the Mason show's favorite settings: L.A.'s Asian community.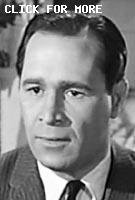 Opening
Starring Raymond Burr
in The Case of THE FLOATING STONES
Based upon characters created by Erle Stanley Gardner
Barbara Hale, William Hopper, Ray Collins
Trailing
Directed by Don Weis
Written by Robert C. Dennis
Art Seid | Producer
Gail Patrick Jackson | Executive Producer
Jackson Gillis | Associate Producer
Samuel Newman | Story Consultant
Raymond Burr as Perry Mason
Barbara Hale as Della Street
William Hopper as Paul Drake
Ray Collins as Lt. Tragg
Music Composed by Lucien Moraweck
Conducted by Lud Gluskin
Cast
Victor Maddern as Gilbert Tyrell
Irene Tsu as Juli Eng
Joyce Jameson as Lorraine
Gertrude Flynn as Agatha Culpepper
Walter Brooke as District Attorney
Ken Lynch as Wendel
Jerry Oddo as Ralph Iverson
James Forrest as Tudor Sherwin
James Hong as Louis Kew
Richard Loo as Mr. Eng
Bill Zuckert as Judge
Dale Ishimoto as Lao
Gil Stuart as Inspector Mac Ritchie
Walter Janowitz as Doctor Lefcourt
Baynes Barron as Chowen
Marshall Reed as Fisherman
Crew
"Perry Mason"
Director of Photography … Robert G. Hager
Art Direction … Lewis Creber
Assistant Director … Gordon A. Webb
Film Editor … John D. Faure
Casting … Harvey Clermont
Makeup … Irving Pringle
Hair Stylist … Annabell
Wardrobe Supervision … Ed McDermott, Evelyn Carruth
Set Decoration … Sandy Grace
Properties … Ray Thompson
Production Sound Mixer … Herman Lewis
Script Supervision … Cosmo Genovese
Theme Composed by … Fred Steiner
Harbor Sequences Photographed at … Consolidated Marine, Inc., Port of Los Angeles
Perry Mason
Produced by the CBS Television Network in association with Paisano Productions
Location: The bridge about 25 minutes into the episode is the Vincent Thomas Bridge in San Pedro. Submitted by Eric Cooper 25 June 10.
+ This bridge is also seen in #202, TCOT Arrogant Arsonist. Some pictures and more information can be found here. Submitted by daveb, 1/25/11.
Mr. Iverson, Ms. Culpepper, and Ms. Eng drink from the Curious Coffee Set on board the S.S. Ione. Then magically, the Set reappears at the Iversons' home. How curious! Submitted by gracenote, 2/22/2011.
The actress who played Juli Eng (which would have been spelled 'Ng' if she was from HK), Irene Tsu, played the lead in Flower Drum Song in 1961; later she played the mother of Harry Kim on ST:Voyager 50 years later (April 2001). Submitted by Lazarus0, 03/31/2016.
Uncredited Actors: The customs official inspecting Mr. Tyrell's baggage is none other than Don Anderson. He looks like he really wants to say something to him, but can't. Submitted by gracenote, 2/22/2011.
+ As Iverson leave's the ship's lounge, we can Bert Stevens sitting at a back table with some friends. Submitted by gracenote, 7/29/2011.
Sightings: Several favorite frequent faces appear in the courtroom gallery: Quiet Old Man #1, "Miss Carmody", Pencil Mustache Man (in the far the corner), and the beloved Little Old Lady #1. And who are they, you may well ask. Submitted by gracenote, 2/22/2011.
+ Look closely. In a wide shot of the inspections area, a bespectacled man holding a brunette woman's arm walks past a sign pointing to the information booth. That man is Distinguished Gentleman #1.
Lt. Tragg (Ray Collins) does not appear despite being billed. Submitted by gracenote, 2/22/2011.
Bill Zuckert Judged 4 Perrys, Captained 2 Columbos, Sheriffed an OK Corral Star Trek & Police Commissionered a Quincy, M. E. [IMDb]. Mike Bedard 3.3.15.
+ Actor Bill Zuckert was also a judge in two cases outside of Los Angeles in his previous appearances. (see episodes 146 and 167). Added by H. Mason 3/4/15
Dialogue: I counted no less than TEN instances of a character saying "Excuse me" in this episode. (I am including Gilbert Tyrell's "Excusez-moi, madame" when recognized by Agatha Culpepper, as he is first boarding the ship.) Submitted by Dan K., 1/27/16.
This is the only PM directing credit for Don Weis, who directed numerous television shows including 57 episodes of Ironside...MikeM. 12/21/2016
This is the only PM appearance for Irene Tsu, who also appeared in a single episode of Ironside...MikeM. 12/21/2016
This episode originally aired on Thursday, 21 November 1963, the evening before JFK was killed in Dallas...MikeM. 12/21/2016
Comments

Edit
I can see why the Summary describes this episode's setting as a favorite. The sets are rich, and the action takes place in Hong Kong and San Francisco, with nice establishment shots of Hong Kong. It's a rather different kind of plot for Perry Mason, too, long in development before the murder takes place. And I just love all the Chinese decoration. Submitted by gracenote, 2/22/2011.
I liked the location backdrop of Hong Kong as well, but Irene Tsu put a lump in my throat ... not just for her beauty, but that she bore a VERY strong resemblance to a Chinese-American girl I attended high school with. Need I say that my crush was quite major ... but more to the serious, I noted the rather imperious attitude the 'Mrs. Culpepper' character took toward 'Juli Eng'. She just met the woman, and is practically ordering her around? Some things don't weather well. Can you imagine that happening today? Submitted by MikeReese, 3/17/2016.
San Francisco was Raymond's jurisdiction as Detective Chief Ironside from 1967-75: the SF Police Officers wore 7-pointed badges. Mike Bedard 3.3.15.
By the way, the women's haridos are getting BIG by now (hey, it's 1963). I noticed lots of these time-consuming coifs on the ship. Let's just hope nobody got her hair wet. Submitted by gracenote, 2/22/2011.
I nearly fell out of my seat when I saw it: The framed print on the wall of Iverson's cabin—a pagoda—is exactly the same one that I saw every day growing up in our living room. My mother had gotten it from her travels in Japan. Submitted by gracenote, 7/29/2011.
"The SS Ione was just casting off." -- and the next shot is of the...SS President Wilson? Also, a big thank-you to gracenote and others for the many fascinating comments, which make these episodes even more enjoyable to watch. Submitted by masonite, 8/26/12.
One of the small joys of watching this show is the accumulation of actors we don't know, but they are, as one actor described himself to me, "an actor who works." We know the stars, but so many of them make a good living in small nameless parts in westerns and TV mysteries. Check out Marshall Reed ("Fisherman") or Walter Brooke ("district attorney") to see the credits of "actors who work." cgraul 11.23.14
What happened to Juli Eng's mother? It was mentioned early in the story that the diamonds were for Juli and her mother. She seemed to have been forgotten. Submitted by H. Mason 3/4/15
In the early 60s, lots of people tried to escape China when Mao took over. Some made it, some were killed in the attempt. Even more people were simply turned back. Juli's mother might have fallen behind and was either captured or killed, or, she might have been forced to remain in China. A lot of families were forcibly separated back then. Submitted by Lazarus0 03/31/2016
The Ms. Culpepper character (first name Agatha) reminded me of Miss Marple. I was waiting for her to help Perry solve the murder. Submitted by H. Mason 3/4/15
Gilbert Tyrell aka Colonel Chilton aka Marquis de Frontenac, while giving advice to Mr. Iverson on how to smuggle the diamonds into the USA, said: "don't submerge them in a jar of cold cream or toothpaste tubes." That was, without a doubt, a reference to episode 142 TCOT Glamorous Ghost. Submitted by H. Mason 3/4/15
TCOTFS & TCOT Glamorous Ghost have Parallels: a Maritime Smuggling ring & Customs Service reward-hunters. "The Constitution of the US went into effect on March 4, 1789. A bit more than 4 months later, on July 31,...the US Customs Service started operating, among the very 1st of the Federal agencies to come to life," the trac.syr.edu/traccus site observes. Mike Bedard 3.5.15.
<< Bigamous Spouse | Episodes | Festive Felon >>