<< Devious Delinquent | Episodes | Badgered Brother >>
#192: The Case of the
Bouncing Boomerang
Original Airdate: 12/12/63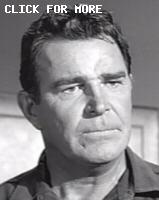 The latter part of the opening scene of the car driving to the ranch is also used in #248, TCOT Hasty Honeymooner. See here. Submitted by Adam Kamil, 8/2/2007.
+ At one point, Eula (Diana Millay) and Willard (Parley Baer) go out to the Chevy for a ride. Eula drives. Maybe it's just me, but does she have trouble getting the car moving? Since this is a base model, it may have "three on a tree" ( 3 speed column mount manual transmission). Perhaps Diana Millay wasn't too proficient in driving standards. If you look closely at the stripped down, 1950's Fords and Chevvies used in the various episodes,(taxicabs etc), many have 3 speed manuals. Submitted by Bill-W2XOY on 08/13/2013.
+ Speaking of cars, apparently the show's producers weren't crazy about sending the nice '63 Lincoln Continental driven by that "Texas millionaire" over the cliff; in that shot, a plain, older Ford was substituted for the fiery plunge. Submitted by Francis, 8 January 2013.
Location: The exteriors are of Upper Iverson Ranch in Chatsworth. About 17 minutes into the episode Eula and Nelson drive up to a cabin. That is the same cabin used in Episode #88. It was also used in the movie Tennessee Partner starring Ronald Reagan. Submitted by Eric Cooper 6 July 2010. More about the cabin can be found here.
When Eula (Diana Millay) checks with Barclift (Alan Hale) about having his bridgework done, Hale puts a hand to his right lower jaw near the back teeth and complains about how big it feels. Yet when Paul Drake inquires with Dr. Lewis (Nelson Ohlmstead) about the bridge, the dentist touches his upper jaw just to the left of center. In the one shot we see of the spare bridge, the tooth looks fairly large, more like one from the location Hale indicated. Submitted by FredK 4Nov2012
Comments

Edit
<< Devious Delinquent | Episodes | Badgered Brother >>