<< Badgered Brother | Episodes | Accosted Accountant >>
#194: The Case of the
Wednesday Woman
Original Airdate: 01/02/64
From The Perry Mason TV Show Book
Philip Stewart has done his time for manslaughter and is finally released from prison. Jack Mallory, an ex-insurance investigator, is convinced that Stewart knows the whereabouts of a stolen diamond worth $500,000. When Mallory is found murdered, only Perry stands between the ex-con and more time in the pen for another murder rap.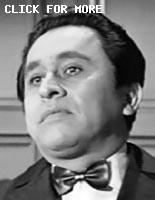 Opening
Starring Raymond Burr
in The Case of THE WEDNESDAY WOMAN
Based upon characters created by Erle Stanley Gardner
Barbara Hale, William Hopper, William Talman, Ray Collins
Trailing
Directed by Irving J. Moore
Written by Sam Neuman
Arthur Marks / Art Seid | Producers
Gail Patrick Jackson | Executive Producer
Jackson Gillis | Associate Producer
Samuel Newman | Story Consultant
Raymond Burr as Perry Mason
Barbara Hale as Della Street
William Hopper as Paul Drake
William Talman as Hamilton Burger
Ray Collins as Lt. Tragg
Wesley Lau as Lt. Anderson
Cast
Phillip Pine as Phillip Stewart
Lisa Gaye as Joyce Hadley
Douglas Dick as Lester Ormesby
Marie Windsor as Mrs. Helen Reed
Phyllis Hill as Mrs. Katherine Stewart
John Hoyt as Thomas Webber
Michael Pate as Jack Mallory
Alvy Moore as Cabbie
Ralph Manza as Amos Elwell
Morris Ankrum as Judge
Pedro Gonzalez Gonzalez as "Rosie" Dell
William Fawcett as Pawn Broker
John Cliff as Guard
Greta Granstedt as Manager
Bill Idelson as Ticket Agent
Uncredited Actors
Don Anderson as Courtroom Spectator
Crew
"Perry Mason"
Director of Photography … Howard Schwartz, A.S.C.
Art Direction … Lewis Creber
Assistant Director … Robert G. Stone
Film Editor … Richard H. Cahoon, A.C.E.
Casting … Harvey Clermont
Makeup … Irving Pringle
Hair Stylist … Annabell
Wardrobe Supervision … Ed McDermott, Evelyn Carruth
Set Decoration … Carl Biddiscombe
Properties … Ray Thompson
Production Sound Mixer … Herman Lewis
Script Supervision … Marshall Schlom
Theme Composed by … Fred Steiner
Automobiles Supplied by … Ford Motor Company
Perry Mason
Produced by the CBS Television Network in association with Paisano Productions
Location: About 14 minutes into the episode, right before the pawn shop scene, there is a nice street shot of Clifton's Cafeteria which has been a landmark at 648 South Broadway in Downtown Los Angeles since 1931. Founded by Clifford Clinton it reflected his Christian ethics by feeding 10,000 people free in a 90-day period during the Great Depression. Submitted by Eric Cooper, 2 July 2010.
+ (DVD 12:53-12:58) As well as Clifton's Cafeteria there are several other points of interest in this shot from the SouthWest corner of South Broadway & 7th Street with the camera pointed Northward on Broadway (because the street grid in LA's downtown core is oriented about 40° clockwise from North, on the map the view is from the West corner looking NorthEast). See "South Broadway & 7th Street" in the Comments section below for the other historical features. The presence of Cars (g) and (i) dates the filming of this shot to between late-September 1962 and 31 March 1963. The "Krazy-Kwilt" Comment in previous ep#193 explains the street grid orientation. Added by Gary Woloski, 6/9/14.
Goof: About 19 minutes into the episode, we see the exterior of a building at least 20 stories high. But once inside, we see the elevator only goes to 12 floors. Submitted by Eric Cooper, 2 July 2010.
+ The shot of the building exterior (DVD 15:12 to 15:18) sets the location for the offices of "Webber & Reed", presumably somewhere in Downtown LA. However, the film footage used here is of Lever House at 390 Park Ave @ E 54th St, New York City (floor count 24, a pioneer "glass curtain wall" design, constructed 1951-52 as "American corporate headquarters of the soap company Lever Brothers"). As the camera pans upward, the 1930s-era skyscraper to the Left and beyond the "Webber & Reed" building is the Du Mont Building at 53rd St and Madison Ave (floor count 42, completed 1931). The TV broadcast antenna on its roof is historic.See "Los Angeles Building Heights" in the Comments section for the steps leading to these findings. Added by Gary Woloski, 6/25/14.
Sightings: As Burger redirects the testimony of a witness, we find Distinguished Gentleman #1, Quiet Old Man #1, and "Miss Carmody" watching events unfold. A little later, we see a Pencil Mustache Man on the defense side of the room. Read more about these recurring but anonymous spectators here. Submitted by gracenote, 3/3/2011.
Phillip Pine played the genocidal Colonel Green in Star Trek's "Savage Curtain" opposite PM alums Barry Atwater/Prankish Professor (Vulcan Surak) & Lee Bergere/Murderous Mermaid (Abraham Lincoln). Mike Bedard 3.11.15.
Raymond Burr was in the 1946 movie San Quentin [IMDb RB Filmography]. Mike Bedard 3.11.15.
Uncredited Actors: In the final scene, Don Anderson and an escort exit the elevator that Perry awaits to board. (Anderson was also a courtroom spectator.) Submitted by gracenote, 3/3/2011.
For several times in a row now, Lt. Tragg (Ray Collins) has only appeared in the credits. Submitted by gracenote, 3/3/2011.
CARS. The listing of the very large number of background cars is limited to those I thought were most visible or significant. There are only three Cast Cars:
(1) A yellow 1964 Ford Custom 4-Door Sedan TAXI takes Katherine Stewart to San Quentin Prison in the opening scene and later for her second visit. It's the first 1964 model-year Ford to appear in PM (Dodge had the first '64 in ep#192).
(2) At 14:07 Phillip Stewart exits the pawn shop as Jack Mallory watches from his medium-color 1963 or 1964 Buick Electra 225 4-Door HardTop. Not enough is seen to determine which year Mallory's car is. Its bulbous side mirror matches the mirror on the linked '64 image but I believe that this is the "remote-control outside rear view mirror" option S7 ($11.78) which was available on both the '63 & '64 cars; see Gunnell p112 &115. The first Buick definitely identifiable as 1964 does not appear until Ep#201 so Mallory's is almost certainly still a '63.
(3) At 38:52 it's Perry's OLD 1962 Ford Galaxie 500 Sunliner top down, with the expired 1956-pattern YELLOW-plate Lic No XCF 015. This is another re-use of one of two Season 6 Hill Street Courthouse location-setters: this is the one with the line of traffic on Hill St and without Paul's

TBird

in the picture.
Background Cars. Cars (a)-(d) are in the opening shots as Katherine's taxi, Car(1), approaches the prison and pulls into visitors parking:
In the shot at South Broadway & 7th Street (12:53-12:58):
The Broadway & 7th view is immediately followed by a shot of Phillip approaching the pawn shop (12:58). The bottom of the screen is filled by a:
The location-setting shot for the offices of "Webber & Reed" at DVD 15:12 to 15:18 shows at least two recognizable cars, bottom-left:
On the weekend of 30/31 March 1963, the Los Angeles Metropolitan Transit Authority (LAMTA) ended use of electric-powered transit vehicles. All remaining streetcars and trolley buses were replaced by 200 "New Look" diesel buses. They were 100 Flxibles and 100 GM buses LAMTA had received in February '63 specifically for that purpose. These 200 buses made LAMTA's fleet of New Looks up to over 500, bought in stages since late 1959. The fleet was mixed at about half & half Flxible/GM because, although LAMTA preferred Flxible, the company was not able to supply the full numbers required (McKane, pp51-52). As of 1 April 1963, streetcars and trolley buses were gone from Los Angeles streets. After their departure, LAMTA was left operating the 500+ New Looks plus 175 GM Old Look (25 TDH-5103 and 150 TDH-4801) buses, all diesel. See: LAMTA Bus Spectacular (Dodger Stadium 30/31 Mar 63, youtube 6:27) and this Nathan Masters article. Added by Gary Woloski, 7/23/14.
Cold case / old case: Perry also solved the murder of David Reed - killed a year earlier. Submitted by H. Mason 9/27/14
Names: In episode 24 TCOT Deadly Double the murder victim was named David Reed and he had a wife named Helen. In this story the unseen murder victim was named David Reed with a wife named Helen. Submitted by H. Mason 3/9/15
Recycled newspapers: The newsman in Perry's office held a stack of newspapers with the partially visible headline: HEIRESS DEATH. That paper came from episode 185 TCOT Deadly Verdict. The paper Perry took to his desk was made for episode 182 TCOT Nebulous Nephew but not used in the story. It had the headline PATENT MEDICINE BABY LOSES STONE FORTUNE. The full front page can be seen in episode 204 TCOT Woeful Widower where it was supposed to be a New Orleans newspaper. Submitted by H. Mason 9/29/14
Address: Phillip Stewart's apartment was at 3506 Vista Haven #204. In episode 177 TCOT Elusive Element Austin Lloyd lived at the same address (no apartment number was given). Submitted by H. Mason 3/9/15
Banks: In court it was discovered that the Jakarta Diamond was in a safe deposit box at the Sherman Oaks Bank. That establishment paid $500,000 for the Volney Papers in episode 171 TCOT Two-Faced Turn-A-Bout. Submitted by H. Mason 3/9/15
Hallway: For the first time there was a water fountain visible outside of Perry's private door. Submitted by H. Mason 3/9/15
Comments

Edit
South Broadway & 7th Street. The shot from 12:53 to 12:58 of the DVD is from the SouthWest corner of South Broadway & 7th Street in Downtown L.A. The view is in a Northerly direction on S. Broadway (on the map, it's from the West corner looking NorthEast). From far to near (L→R), the business signs in the shot are:
Don't fail to notice the two sets of STREETCAR tracks running down the middle of Broadway (the little sports car is straddling one of the southbound rails). Broadway was the main streetcar corridor through the downtown LA core. The right-of-way was shared with buses; there's a "New Look"† transit bus and people lined up on the island out in the traffic, waiting to board the bus at the shared streetcar/bus stop.
Note the two LAPD Traffic Division officers in the intersection, each wearing white cap & gloves just like the officer who helped Miles (Billy Mumy) in Ep#183. Also, a bit of the foot of one of the two KRKD radio towers atop the Arcade Building one block North of the Palace Theater can be seen directly upwards from the "New Look" bus. Here's a marked air photo of the area; move cursor for labels.
See Seventh & Broadway: Photos of Downtown's Crossroads through the Decades by Nathan Masters. The streetview today: the façades & signs have mostly been preserved but the streetcar tracks are long gone! Added by Gary Woloski, 6/9/14.
† The bus pictured in the link, Seattle Transit No.552, is a 1963 Flxible model F2D6V401-1. 235 of this same model Flxible New Look bus were acquired by LAMTA and were operating in Los Angeles by the time this episode#194 aired. Seattle No.552 was one of 100 F2Ds ordered by Seattle, the 12th entry listed here; the 2nd, 9th & 11th entries comprise the 235 F2Ds for LA. One of the Seattle buses has been restored. GSW
Los Angeles Building Heights. The shot of the building exterior (DVD 15:12 to 15:18) sets the location for the offices of "Webber & Reed", presumably somewhere in Downtown LA. However, the film footage used here is of a location outside of the Greater Los Angeles area. Any search for this building in Los Angeles will be fruitless. Conclusive proof is given by the 1930s-era skyscraper to the Left and beyond the "Webber & Reed" building in the exterior shot. I count 30 visible upper stories and estimate 10-12 stories below that making this older building at least 40 stories in height, not counting the somewhat distinctive radio tower on its roof. This is more than triple the maximum building-height permitted in Los Angeles prior to 1957.
It seems incredible now, but LA's tallest building from the late-1920s until the early 1960s was Los Angeles City Hall (built 1926-28, 28 stories, 454 feet), as illustrated by this 1954 photo. Compare the 1945 & 2014 skylines in this Nathan Masters photo article (2014). The absence of skyscrapers was due to the 1904 City of Los Angeles imposition of a 13-story/150-foot building height limit. The Los Angeles County government soon extended the height limit to include LA's neighboring cities. City Hall was exempted from the limit by a public vote prior to construction. It wasn't until after the law was rescinded in 1957 that taller buildings sprouted in Los Angeles. Read more about it in Nathan Masters' article L.A.'s Changing Skyline (2012).
A bit of research indicated that this episode's shot of the "Webber & Reed" building was probably filmed outside of California. To track down the real-world identity and location of the building, note these further details:
The flag towards Screen Left appears to be the Stars & Stripes.
The latest cars in the shot are 1955 or '56 models, eg: there is a white/woody 1955 Ford Country Squire at the lower-Left.
The taxi passing the '55 Ford wagon is an exact match to this 1954 Checker A6 appearing in New York City scenes of the 1956 Columbia Pictures movie The Harder They Fall, right down to the 2-tone paint scheme and door markings.
(This episode's shot does not appear in The Harder They Fall : 104 minute version at tubeplus.me, from which end-credits are deleted.)
Use a few key words from above to do an internet search for images matching the "Webber & Reed" building of this episode. It seems impossible but you'll find it quickly.
The 12-floor elevator in this episode is, of course, perfectly in line with the pre-1957 LA building code. So is Perry's Brent Building (Downtown Standard Hotel) seen in many other episodes. If you noticed two Gargantuan Cylindrical Objects to the East (Right) of City Hall in some of the linked air photos and don't know what they are, see the Comments section of Ep#180. Added by Gary Woloski, 6/23/14.

Was anybody else expecting a reaction shot of Della when Perry and Katherine talked about her relationship with David Reed?
Perry: There was never anything between you and Reed?
Katherine: Only what grows between a man and his secretary in ten years......
She had another line then Paul spoke. Submitted by H. Mason 3/9/15
<< Badgered Brother | Episodes | Accosted Accountant >>