<< Badgered Brother | Episodes | Accosted Accountant >>
#194: The Case of the
Wednesday Woman
Original Airdate: 01/02/64
From The Perry Mason TV Show Book
Philip Stewart has done his time for manslaughter and is finally released from prison. Jack Mallory, an ex-insurance investigator, is convinced that Stewart knows the whereabouts of a stolen diamond worth $500,000. When Mallory is found murdered, only Perry stands between the ex-con and more time in the pen for another murder rap.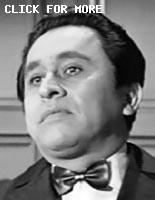 Opening
Starring Raymond Burr
in The Case of THE WEDNESDAY WOMAN
Based upon characters created by Erle Stanley Gardner
Barbara Hale, William Hopper, William Talman, Ray Collins
Trailing
Directed by Irving J. Moore
Written by Sam Neuman
Arthur Marks / Art Seid | Producers
Gail Patrick Jackson | Executive Producer
Jackson Gillis | Associate Producer
Samuel Newman | Story Consultant
Raymond Burr as Perry Mason
Barbara Hale as Della Street
William Hopper as Paul Drake
William Talman as Hamilton Burger
Ray Collins as Lt. Tragg
Wesley Lau as Lt. Anderson
Cast
Phillip Pine as Phillip Stewart
Lisa Gaye as Joyce Hadley
Douglas Dick as Lester Ormesby
Marie Windsor as Mrs. Helen Reed
Phyllis Hill as Mrs. Katherine Stewart
John Hoyt as Thomas Webber
Michael Pate as Jack Mallory
Alvy Moore as Cabbie
Ralph Manza as Amos Elwell
Morris Ankrum as Judge
Pedro Gonzalez Gonzalez as "Rosie" Dell
William Fawcett as Pawn Broker
John Cliff as Guard
Greta Granstedt as Manager
Bill Idelson as Ticket Agent
Uncredited Actors
Don Anderson as Courtroom Spectator
Crew
"Perry Mason"
Director of Photography … Howard Schwartz, A.S.C.
Art Direction … Lewis Creber
Assistant Director … Robert G. Stone
Film Editor … Richard H. Cahoon, A.C.E.
Casting … Harvey Clermont
Makeup … Irving Pringle
Hair Stylist … Annabell
Wardrobe Supervision … Ed McDermott, Evelyn Carruth
Set Decoration … Carl Biddiscombe
Properties … Ray Thompson
Production Sound Mixer … Herman Lewis
Script Supervision … Marshall Schlom
Theme Composed by … Fred Steiner
Automobiles Supplied by … Ford Motor Company
Perry Mason
Produced by the CBS Television Network in association with Paisano Productions
Location: About 14 minutes into the episode, right before the pawn shop scene, there is a nice street shot of Clifton's Cafeteria which has been a landmark at 648 South Broadway in Downtown Los Angeles since 1931. Founded by Clifford Clinton it reflected his Christian ethics by feeding 10,000 people free in a 90-day period during the Great Depression. Submitted by Eric Cooper, 2 July 2010.
Goof: About 19 minutes into the episode, we see the exterior of a building at least 20 stories high. But once inside, we see the elevator only goes to 12 floors. Submitted by Eric Cooper, 2 July 2010.
Sightings: As Burger redirects the testimony of a witness, we find Distinguished Gentleman #1, Quiet Old Man #1, and "Miss Carmody" watching events unfold. A little later, we see a Pencil Mustache Man on the defense side of the room. Read more about these recurring but anonymous spectators here. Submitted by gracenote, 3/3/2011.
Uncredited Actors: In the final scene, Don Anderson and an escort exit the elevator that Perry awaits to board. (Anderson was also a courtroom spectator.) Submitted by gracenote, 3/3/2011.
For several times in a row now, Lt. Tragg (Ray Collins) has only appeared in the credits. Submitted by gracenote, 3/3/2011.
Comments

Edit
<<<<<<< I'm watching this episode on the Hallmark Movie Channel. Thanks to Hallmark for broadcasting PM. However, something has changed about the shows recently. They show two PMs every weekday. They used to first air an odd number PM episode, then the sequential even number. But now the first show is an even number, the second the odd. Also, previously, the shows had commercial breaks at the original breaks. Now they break in the middle of scenes. Anyone know why these changes occurred? Submitted by MikeM, 9/21/2012
We're wondering the same thing. It's very annoying. But I have no idea why. Submitted by Rickapolis 9/21/2012
<< Badgered Brother | Episodes | Accosted Accountant >>