<< Careless Kidnapper | Episodes | Tandem Target >>
#209: The Case of the
Drifting Dropout
Original Airdate: 05/07/64
From The Perry Mason TV Show Book
Barry Davis, a college-dropout-turned-drifter, has problems keeping steady employment. Mayoral candidate/junk dealer Mort Lynch, once a friend of Barry's uncle, feels he owes the kid a favor and gives him a job.
Barry is still negative on meaningful labor, however. He quits his new job but quickly gets another, working as a reporter for a newspaper publisher who has a grudge against Mort Lynch. But when in the course of his reporting Barry learns that his uncle was a crook, he grows despondent. Things get worse when someone crushes Mort's skull with a monkey wrench, which is found in Barry's car.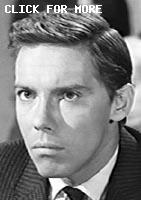 Opening
Starring Raymond Burr
in The Case of THE DRIFTING DROPOUT
Based upon characters created by Erle Stanley Gardner
Barbara Hale, William Hopper, Ray Collins
Trailing
Directed by Arthur Marks
Written by Jackson Gillis
Arthur Marks \ Art Seid | Producer
Gail Patrick Jackson | Executive Producer
Jackson Gillis | Associate Producer
Samuel Newman | Story Consultant
Raymond Burr as Perry Mason
Barbara Hale as Della Street
William Hopper as Paul Drake
Ray Collins as Lt. Tragg

Cast
Cynthia Pepper as Annalee Fisher
Malcolm Atterbury as Dell Harper
Carl Reindel as Barry Davis
Vaughn Taylor as Sanford Harper
Natalie Norwick as Miss Standish
Ted de Corsia as Mort Lynch
Neil Hamilton as Grove Dillingham
Blair Davis as Prosecutor
Harry Holcombe as Judge
House Peters, Jr. as Plainclothesman
Don Haggerty as Police Chief
Alex Montoya as Neighbor
Seamon Glass as Officer
Crew
"Perry Mason"
Director of Photography … Howard Schwartz, A.S.C.
Art Direction … Lewis Creber
Assistant Director … Gordon A. Webb
Film Editor … Al Clark, A.C.E
Casting … Harvey Clermont
Makeup … Irving Pringle
Hair Stylist … Annabell
Wardrobe Supervision … Ed McDermott, Evelyn Carruth
Set Decoration … Carl Biddiscombe
Properties … Ray Thompson
Production Sound Mixer … Herman Lewis
Script Supervision … Marshall Schlom
Theme Composed by … Fred Steiner
Automobiles Supplied by … Ford Motor Company
Perry Mason
Produced by the CBS Television Network in association with Paisano Productions
Paul examines a counterfeit 10-dollar bill. Later, Perry looks over the plate used by the counterfeiters. Oops! Maybe not. See here. Submitted by Markus Raab, 3/8/2003.
+ Additional information regarding the the printing plate has come to light! Use the link above to see it. Submitted by Roger Kirk, 1/1/2004, and Charles Richmond, 6/6/2004.
++ Aside from the plate being correctly oriented for offset printing, it looks more appropriate for something like Monopoly money than successfully-passable US currency. However, the ten dollar bill that Paul examines (at 24.09 of the 2012 Paramount DVD) looks like it has the signature of 1963-1966 Treasurer of the United States Kathryn O'Hay Granahan. This is a remarkable feat of counterfeiting, given that Paul later explains (around 41:45), "Seems some duplicate bills to that one Lynch had in his pocket were picked up, during the war, in South America." The 1933-1949 Treasurer was William Alexander Julian (wikipedia list). lowercase masonite, 4/2/16.
Inconsistencies?: When Paul Drake and Barry Harper are in the restaurant, Barry puts money in the jukebox, pushes a button and music starts without the record changer moving. Must have been the same record on the platter perhaps? HamBurger 9/4/2016
Location: Much if not all of the beach scenes were shot at Leo Carrillo State Beach in Malibu, CA. The final scene has them parked on the beach access road with PCH (barely visible) running horizontally and Mulholland Highway bisecting it in the background. Submitted by Eric Cooper and Linda Shockley, 23 July 2010. Some pictures here.
Sightings: Davis's apparent landlord, played by Distinguished Gentleman #1, leads Perry Mason to the young man's apartment. Later, a bespectacled Gentleman chats with a ladyfriend in a booth in bar. Submitted by gracenote, 3/21/2011.
Character Names: The plainclothesman's first name is Joe. Submitted by gracenote, 3/21/2011.
Although credited, Ray Collins makes no appearance. Submitted by gracenote, 3/21/2011.
Uncredited Actors: It's a little indistinct in the syndication print, but Don Anderson plays a uniformed officer who speaks to the plainclothesman at the junkyard. A little later he takes a piece of paper from the Police Chief at the scene of the crime. Submitted by gracenote 8/19/2011.
Although familiar to PM fans from his seven episode appearances, Neil Hamilton is most familiar world-wide from his role in the still-syndicated campy Batman series, in which he played Commissioner Gordon. Submitted by cgraul, 11/1/11.
Same Set: The exterior and interior of Mort Lynch's house in the current episode 209 is the same set used in the previous episode 208 for the home of Dr. Gregory Pelham. From the outside we can see the same door with vertical grooves and the window with vertical panels of six panes each (episode 208 at 1:30, episode 209 at 19:17). Inside, there is the same distinctive trim capital moulding on an ornamental column (episode 208 at 19:40, episode 209 at 19:27), the same door to the bedroom area of the house (episode 208 at 21:27, episode 209 at 23:13), and a refurbished fireplace in the same place (episode 208 at 20:34 and episode 209 at 23:16). Credit goes to my son, currently an 11 year old fan, for pointing this out. - Submitted by 10yearoldfan, 19 September 2014.
This is the only PM appearance for Cynthia Pepper, who had recurring roles on two television series, "Margie" and "My Three Sons"...MikeM. 1/18/2017
Comments

Edit
Hallmark Movie Channel broadcast episodes 208 and 209 in sequence today. Yesterday they aired 207 and 206 out of sequence. Submitted by MikeM, 2 Oct 2012
Among their many credits, House Peters, Jr. and Don Haggerty might have appeared together in the same production a few times. In this story they were both policemen. I remember them as adversaries in the classic Republic Pictures serial King of the Rocket Men. Peters was (good guy) Burt Winslow, Publicity Director for Science Associates. Haggerty was (bad guy) Dirken, the main henchman for the mysterious Dr. Vulcan (I. Stanford Jolley - episodes 83 and 111). It is available on DVD and worth watching if you like action. Submitted by H. Mason 4/5/15
During this season, you seem to get the feel that are now in the 60's with the younger guest stars and 60's style hair cuts with more contemporary interiors. Submitted by Perry Baby 10/9/16
<< Careless Kidnapper | Episodes | Tandem Target >>