<< Tragic Trophy | Episodes | Latent Lover >>
#221: The Case of the
Reckless Rockhound
Original Airdate: 11/26/64
From The Perry Mason TV Show Book
Ever since her husband died, Reba Burgess has managed his mine, located in Burgess, California. When things were slow, Reba kept the business going by securing loans, using a shoe-box full of uncut diamonds as collateral.
So when Carl Bascom, a shady business associate of her late husband, claims to have a signed agreement giving him a half interest in the mine, Reba contacts Perry. Paul travels to Burgess to check up on Bascom and is there when the man's body is found, shot and floating in a mining sluice. When the murder weapon is identified as belonging to Reba, Perry takes up her defense.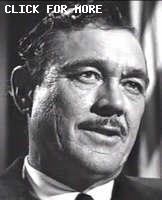 Opening
Starring Raymond Burr
in The Case of RESTLESS ROCKHOUND
Based upon characters created by Erle Stanley Gardner
Barbara Hale, William Hopper, Ray Collins
Trailing
Directed by Jess Hibbs
Written by Robb White
Arthur Marks \ Art Seid | Producers
Gail Patrick Jackson | Executive Producer
Jackson Gillis | Associate Producer
Samuel Newman | Story Consultant
Raymond Burr as Perry Mason
Barbara Hale as Della Street
William Hopper as Paul Drake
Ray Collins as Lt. Tragg
Music Composed by Richard Shores
Music Supervision by Herschel Burke Gilbert
Cast
Audrey Totter as Reba Burgess
Bruce Bennett as Malone
Elisha Cook as Reelin' Pete
Ben Johnson as Kelly
Doug Lambert as Kinder
Jeff Corey as Bascom
Donald Buka as Clark
Ted de Corsia as Polek
Roy Barcroft as Murphy
Lenore Shanewise as Mrs. Munger
Ralph Moody as Jenkins
Robert C. Gormley as Guard
Nick Nicholson as Police Sergeant
Harry Stanton as Judge
Uncredited Actors
Don Anderson as Courtroom Spectator
Crew
Director of Photography … John M. Nickolaus, Jr.
Art Direction … Lewis Creber
Assistant Director … Robert G. Stone
Film Editor … Richard H. Cahoon, A.C.E.
Casting … Harvey Clermont
Makeup … Irving Pringle
Hair Stylist … Annabell
Wardrobe Supervision … Ed McDermott, Evelyn Carruth
Set Decoration … Carl Biddiscombe
Properties … Ray Thompson
Production Sound Mixer … Herman Lewis
Script Supervision … George A. Rutter
Theme Composed by … Fred Steiner
Automobiles Supplied by … Ford Motor Company
Perry Mason
Produced by the CBS Television Network in association with Paisano Productions
Oklahoma born Ben Johnson makes his only Perry appearance here as Kelly. Ben Johnson won the Academy Award in 1971 for Best Supporting Actor, playing Sam The Lion in The Last Picture Show. Submitted by PaulDrake 33, 14 October 2009.
The Judge in this episode is played by Harry Stanton. This is not the more famous Harry Dean Stanton, who was 25 years younger than the judge. Submitted by PaulDrake 33, 14 October 2009.
+ Harry Isaacs Stanton was 1 of 9 actors who Judged 2 Perrys (his other case was Careless Kidnapper; IMDb: 45 Actor credits]. Mike Bedard 4.17.15
Elisha Cook appeared in the iconic "Maltese Falcon" (1941) & as Captain Kirk's defense attorney in Star Trek's "Court Martial" (1967) [IMDb: 217 Actor credits]. Mike Bedard 4.18.15
Roy Barcroft was the king of Republic Pictures' bad guys, playing many Western villains -- and even a Martian, in "The Purple Monster Strikes" movie serial, before going on to play a good guy in the Mickey Mouse Club's "Spin & Marty" series. Submitted by scarter, 5/6/15
Character Names: Malone's first name is Sal; Bascom's is Carl. Reelin' Pete's real name is Peter Bridwell. Submitted by gracenote, 4/15/2011.
+ALSO: Eight characters in the story were given a last name but no first name, including the killer. Added by H. Mason 4/13/15
++Actually, Malone's first name is Mal. jfh 03Feb2017.
++ During court (32:01 of the 2012 Paramount DVD), Prosecutor Clark calls for what sounds like, and is per the subtitle, Peter Bridewell. (Speaking of calls: Fingernails on a blackboard would sound like the call of the lark, compared to Clark's voice.) lowercase masonite, 04/20/16.
Names: This episode was the tenth time the murderer wasn't given a complete name. That doesn't include #85 where it wasn't sure if the killer used a nickname or if his parents gave him a different name. It also doesn't include #165 where the guilty person used a stolen identity throughout the story and a "real" name was never given. Submitted by H. Mason 4/13/15
Sightings/Uncredited Actors: Both Distinguished Gentleman #1 and Don Anderson appear as spectators in this out-of-town courtroom. Submitted by gracenote, 4/15/2011.
Location: Can't say for sure but I think the Burgess Mine is actually one of the entrances of the Bronson Canyon Cave which was used in tons of movies but most famously as the Bat Cave. Submitted by Eric Cooper 24 August 11
This is the only PM appearance for Audrey Totter, who had recurring roles on a few television series...MikeM. 2/3/2017
This is the only PM appearance for prolific character actor Jeff Corey, who served in the US Navy during World War II. After he was blacklisted in the 1950s for refusing to name names, Corey became an acting instructor, with many famous actors taking his classes...MikeM. 2/9/2018
Comments

Edit
An unintentionally funny moment about 19 minutes into the episode. Seconds after the 3 men enter a darkened cabin there is an embarrassing eruption as if someone passed gas. I'm sure it's probably the door closing off screen but it doesn't play that way. Submitted by Eric Cooper 12 August 10.
The actor playing the prosecutor is evidently a summa cum laude graduate of the Virginia Field of horrendous overacting! He's not enough to spoil an overall well-acted episode, though. Ed Zoerner, 1/29/12
The Perry Mason theme in the credits at the end was a different arrangement than previous shows Season 7 Vol 1, PerryBaby 6/12/13
The MeTV version cuts out the first couple of minutes of the armored truck on the way to the Burgess Ranch. Ed Zoerner, 12/23/13
+ I too have been watching the butchered MeTV Perry broadcasts. Forty-five minutes of Perry; fifteen minutes of promos and ads for reverse mortgages, catheters, Medicare, and ambulance-chasing lawyers. Submitted by Alan Smithee, 12/26/2013.
Polek tells Bascom that he ID'd Perry from his license plate. I'm surprised Paul, a private detective who conducts undercover/covert operations, would have his car registered in his name, and that he would use it while on a mission. Submitted by 65tosspowertrap, 12/27/2013.
A Sign of the Times: When Perry is in his hotel room he calls the front desk and asks who is in the room across from his. They tell him. I don't think they would in today's security-obsessed world. Submitted by Duffy, 6-4-2014.
+ It's Paul who calls the front desk and asks (about 17:43 of the 2012 Paramount DVD). Despite the armored guards outside the bank at the beginning of the episode, Burgess seems like a trusting town. Per Polek, during the court testimony (about 36:42 onward), "Someone claiming to have an appointment with Bascom, someone highly respected in this town, was given a key to his [hotel] room to wait for him there." lowercase masonite, 4/20/16.
Question: How did Della get to Burgess, California? Perry drove, Paul flew and Della appeared in court. Submitted by H. Mason 4/13/15
+ It looks like Paul was the one who drove. See above, "Polek tells Bascom...". Per Polek's conversation with Bascom (15:57 onward), "Name's Paul Drake. Private detective....Got it from his car license. Pretty easy to spot a bird like that, snooping around town. Worked for some big time L.A. lawyer. Mrs. Burgess's lawyer. Name of, uh, Perry Mason." After the murder victim is discovered, the next scene is of a plane flying (22:38), then Paul greets Perry in Perry's hotel room, evidently shortly after 3:30 AM. (Don't the residents mind the late-flying planes?) Della could have flown in with Perry. She of course would have her own hotel room. She shows up in court at 27:50. lowercase masonite, 4/20/16.
"A Feast for Old-Movie Buffs." This might not be the best PM episode, but it certainly has one of the best guest casts, especially for fans of 1940s and 1950s film noirs--Audrey Totter, Bruce Bennett, Ted de Corsia, Jeff Corey, and the great Elisha Cook--and Westerns--Roy Barcroft and Ben Johnson, the latter of whom seems never to have given a bad movie performance. Submitted by BobH, 17 January 2018.

Audrey Totter seemingly tries to play a hard-bitten widow, but becomes noticeably warm-hearted near the end. Whatever the actual reason, the producers look good by giving her and Mason favorite Bruce Bennett a scene of their own, alone, at the end of the episode. lowercase masonite, 4/20/16.
<< Tragic Trophy | Episodes | Latent Lover >>