<< Gambling Lady | Episodes | Grinning Gorilla >>
#238: The Case of the
Duplicate Case
Original Airdate: 04/22/65
From The Perry Mason TV Show Book
Ex-baseball player Herbie Cornwall is striking out at trying to make a living selling arch supports. His wife Millie is a little more successful. She's a very popular secretary for a prominent businessman. She's so popular, she's playing around with most of the executives in her office.
When Herbie visits his wife's office and catches her with one of her lovers, they argue, then Herbie picks up his briefcase and leaves. Later, he finds that it's the wrong briefcase; this case contains $72,000. Herbie suspects his wife is in on an embezzlement scheme and after a fire at her office destroys most of the accounting records, he's convinced. But before he can turn his wife in to the police, someone punches her ticket. Herbie is charged and Perry must come through in the clutch and get the ex-big leaguer off.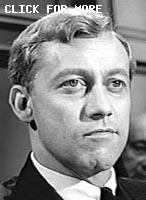 Opening
Starring Raymond Burr
in The Case of THE DUPLICATE CASE
Based upon characters created by Erle Stanley Gardner
Barbara Hale, William Hopper, William Talman, Ray Collins
Trailing
Directed by James Goldstone
Written by Philip Saltzman
Arthur Marks \ Art Seid | Producers
Gail Patrick Jackson | Executive Producer
Jackson Gillis | Associate Producer
Samuel Newman | Story Consultant
Raymond Burr as Perry Mason
Barbara Hale as Della Street
William Hopper as Paul Drake
William Talman as Hamilton Burger
Ray Collins as Lt. Tragg
Wesley Lau as Lt. Anderson
Music Composed by Richard Shores
Music Supervision by Herschel Burke Gilbert
Cast
Martin West as Herbie Cornwall
Don Dubbins as Burt Blair
Susan Bay as Millie Cornwall
Steve Ihnat as Charlie Parks
David Lewis as A. K. Dudley
Herbert Voland as Ernest Hill
Audrey Larkin as Miss Dahlbet
Dave Willock as Bartender
Douglas Dumbrille as Judge
Irene Anders as Elevator Operator
Robert Nelson as Detective
Don Lynch as Policeman
Gil Frye as First Technician
Larry Barton as Second Technician
Crew
Director of Photography … John M. Nickolaus, Jr.
Art Direction … Lewis Creber
Assistant Director … Robert G. Stone
Film Editor … Al Clark, A.C.E.
Casting … Harvey Clermont
Makeup … Irving Pringle
Hair Stylist … Annabell
Wardrobe Supervision … Ed McDermott, Evelyn Carruth
Set Decoration … Dorcy W. Howard
Properties … Ray Thompson
Production Sound Mixer … Herman Lewis
Script Supervision … Marshall Schlom
Theme Composed by … Fred Steiner
Automobiles Supplies by … Ford Motor Company
Perry Mason
Produced by the CBS Television Network in association with Paisano Productions
In the early scene where Herbie asks Millie for some money, look at the wallet that she pulls out of her desk. It's a wallet! Seems kind of odd, her being a lady and all that. A slip-up by the property master perhaps. Submitted by D. A. Supernaw, 9/21/2005.
Susan Bay makes her only Perry appearance here playing Millie Cornwall. Since 1989 Ms. Bay has been the wife of Mr. Spock, a.k.a Leonard Nimoy. Submitted by PaulDrake 33, 14 October 2009.
Steve Ihnat played would be galaxy conqueror Garth in the 1969 Star Trek episode "Whom Gods Destroy." Mike Bedard 2.7.15.
As Perry Mason makes a phone call from Dudley's office during a critical moment of the show, in the background we can clearly see a reproduction of A Girl with a Watering Can (1876) by Pierre-Auguste Renoir. Submitted by gracenote, 5/16/2011.
Sightings: The janitor who walks past Paul Drake's office door and begins mopping in front of the elevator is none other than Distinguished Gentleman #1—sans toupée. He looks annoyed when twice Herbie walks through where he has just mopped. Later the Gentleman, hairpiece re-donned, turns up in the courtroom gallery, along with Pencil Mustache Man and Quiet Old Man #1. Submitted by gracenote, 5/16/2011.
+ That might be Little Old Lady #2 also in the courtroom. She is wearing a large hat. Read more about all these favorite frequent faces, if you please. Submitted by gracenote, 9/5/2011.
Murder Method: Millie Cornwall was the tenth current murder victim that was strangled. Submitted by H. Mason 5/1/15
Brent Building: Another tenant was introduced, Paul's neighbor, the Kushy-Walky arch supports business. Submitted by H. Mason 5/1/15
Business For Perry: Paul sent another person suspected of murder to Perry Mason. This was the fifteenth time Mr. Drake sent either a client or acquaintance to the lawyer. Submitted by H. Mason 5/1/15
This is the only PM directing credit for James Goldstone, who would direct the "Ironside" television movie in 1967...MikeM. 2/28/2017
Comments

Edit
Once again we have no Ray Collins (Lt. Tragg) despite being billed. Has he appeared at all this season? Submitted by gracenote, 5/16/2011
+ His last appearance was in The Case of the Capering Camera, when his health had clearly declined. He died about ten weeks after this episode aired. Submitted by vgy7ujm, 29 January 2015.
This is another Case of the less Perry Scene time. Perry is not seen until quite late in the show with the guests doing most of the dialogue. Raymond seems stiff. This episode had a lot of good suspect characters for the last second surprise. There were several extreme close up shots as well and some looked blurry. Perry Baby 11/21/13
Paul's Suite: For some reason, throughout the series, the number of the Paul Drake Detective Agency was never given. In this story Drake's door and the adjacent business had no visible number. Thanks to a comment made by Gertie Lade in episode 31 TCOT Fiery Fingers we found out it was somewhere on the ninth floor. Submitted by H. Mason 5/1/15
When Herbie the ex-pitcher arrives home and angrily winds up and heaves the briefcase by the handle at the wall like an overhand 102-mph fastball, oh man that was perfection. MFrench 11/19/16
This is one of my favorite episodes - the smooth gestures the victim pulls off with the men she interacts with, including her husband, spoke louder than if she'd chewed the scenery. As an example, note the scene where she kisses him a few times .. but rebuffs him when he tries to kiss her. Cold blooded! Submitted by MikeReese, 6/12/2017
<< Gambling Lady | Episodes | Grinning Gorilla >>