<< One-eyed Witness | Episodes | Empty Tin >>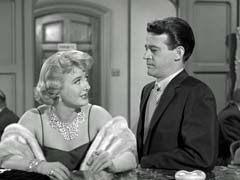 #24: The Case of the
Deadly Double
Original Airdate: 03/01/58
From The Perry Mason TV Show Book
Actress Constance Ford plays a dual role of sorts as a troubled woman living a double life. Helen Reed, a mild-mannered housewife by day, turns into Joyce Martel, a roaring harlot by night. Perry needs Joyce Martel's testimony to clear her brother of a murder rap. Helen Reed informs Perry that she can only recall her other half, Joyce, when her psychiatrist puts her under hypnosis.
A dramatic courtroom drama ensues, with Helen Reed turning into her double on the witness stand.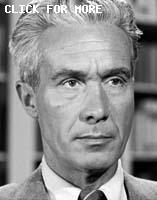 Opening
Starring Raymond Burr
in The Case of Deadly Double
Based upon characters created by Erle Stanley Gardner
Barbara Hale, William Hopper, William Talman, Ray Collins
Trailing
Directed by Andrew V. McLaglen
Written by Sam Neuman
Ben Brady | Producer
Produced by CBS Television in association with Paisano Productions
Gail Patrick Jackson | Executive Producer Sam White | Associate Producer
Raymond Burr as Perry Mason
Barbara Hale as Della Street
William Hopper as Paul Drake
William Talman as Hamilton Burger
Ray Collins as Lt. Tragg

Cast
Constance Ford as Helen Reed
Denver Pyle as Robert Crane
Carole Mathews as Cora Dunbar
Paul Langton as Harry Vance
Murray Hamilton as Johnny Hale
Abraham Sofaer as Dr. Maitland
Louise Truax as Sarah
Carleton G. Young as David Reed
Pierre Watkin as Judge
Frank Jenks as Cab Driver
Clark Howat as Sergeant Grant
Carlyle Mitchell as Dr. Desmond
Jack Gargan as Court Clerk
George E. Stone as George
Peter Opp as Johnson
Josef Elman as Tony
Kellogg Junge, Jr. as Tommy Reed
Uncredited Actors
Don Anderson as Courtroom Spectator
Kenner G. Kemp as Nightclub Patron at Bar (from IMDb)
Fred Kelsey as Courtroom Spectator (from IMDb)
Crew
Gene Wang | Story Editor
Production Supervisor … J. Paul Popkin
Director of Photography … Frank Redman, A.S.C.
Art Direction … Lyle Wheeler, Lewis Creber
Assistant Director … Wilbur F. McGaugh
Editorial Supervisor … Art Seid, A.C.E.
Film Editor … Richard W. Farrell
Makeup … Mel Berns
Hair Stylist … Annabell
Wardrobe Supervision … Dick James
Set Decorations … Walter M. Scott, Charles Q. Vassar
Properties … Ray Thompson
Production Sound Mixer … Robert O'Brien
Script Supervisor … Cosmo Genovese
This has been a CBS Television Network Production
Filmed in Hollywood by TCF Television Productions, Inc.
CARS: 1957 Cadillac convertible, black, white top up (Mason), 1957 Chevrolet 150 4dr sedan, V8, black (Police). From The Cars by Greg Cockerill.
Uncredited Actors: Don Anderson is one of the spectators in the courtroom. He's seated just behind the defense table and can be seen over Raymond Burr's shoulder in some reaction shots. Submitted by FredK 7 October 2010.

Sightings: Pencil Mustache Man is in Johnny's Bar when we first see Joyce. We see him again in court on Perry's side along with Distinguished Lady #4, Distinguished Lady #2 and Distinguished Gentleman #1. Submitted by BigBill767, Nov 12,2016.
Character Names: Johnny Hale's middle name is Davis. Submitted by gracenote, 9/2/2011.
+ Speaking of Murray Hamilton as Johnny Hale, I knew I had seen him in something else...I think he may be best known as the egotistical mayor Larry Vaughn in Jaws (and Jaws 2). Submitted by mesave31, 04/22/15.
++ "The Case of the Repeated Surname": MH played Emory HALE in "The FBI: Ninth Man" episode ['68: IMDb]. Mike Bedard 8.11.16
Syndicated cuts: Lt. Tragg and Sgt. Grant arriving at the Crest Apartments, their conversation and Tragg noticing Mason's car; Tommy saying prayers and Sarah taking him to bed; Mason going to Hale's office, knocking and finding Hale alone, showing him the half photo and their conversation and Perry leaving [This edit makes it seem like Perry arrives at the club, fiddles with a light fixture and just barges in without knocking and making it seem strange that Hale does not comment on Mason's entering without knocking or why he is there.]; desk clerk Johnson's testimony [Johnson leaving the stand can still be seen in the edited episodes] and Burger resting his case;
Additional Hallmark cuts: scene of "Joyce" in Hale's office after Hale brings her there; Joyce's description to Crane about nightmares being senseless and having no beginning or end; Mason asking Cora Dunbar about Reed's portrait; Crane recounting Helen's nightmare 25 years ago concerning a bread knife; Perry's question of Hale concerning custody rights, Burger's objection and the judge telling Hale to ignore the question; Burger stipulating to Dr. Maitland's qualifications; reaction shots from witnesses when Mason asks Helen to try an experiment; Helen telling Dr. Maitland how frightening and difficult it is to be accused of things you didn't do and Dr. Maitland saying she's coming along splendidly. Submitted by Wiseguy70005, 7/19/12.
I stopped watching the syndication ones on MeTV given they are chopped up so much. Once you see the full uncut, you real how much "ambiance" that is being left out. Submitted by Perry Baby 12/5/14.
Burger correctly identifies the murder weapon as a "Colt .45"; more specifically it is a Colt Pocket Positive,made until about 1940. Submitted by SteveP
+You must mean incorrectly on the .45 part as the Colt Pocket Positive is a .32 caliber. Submitted by HamBurger, 9/9/2017
It's for you, Mr. Mason: It's always a special moment when someone tracks down Perry in the field. This time he's cooling his heels at Reed Industries when Della finds him. Submitted by francis, 6/09/14.
Denver Pyle makes the first of six appearances on Perry Mason including the final episode: TCO the Final Fade Out. Submitted by Perry Baby 12/5/14

During Perry's first meeting in his office with Helen Reed and Robert Crane, there is a set of law book on the shelf behind Perry, the book nearest Perry (seen over his right shoulder) is turned upside down. An upside down book is shown again in the epilogue scene in episode 179, TCOT Skeleton's Closet. jfh 11May2017.

Pierre Watkin was 1 of 5 actors who Judged 3 Perrys; his 344 movie appearances included "Meet John Doe" & "Mr. Smith Goes to Washington" [IMDb]. Mike Bedard 4.22.15
This is the first of six PM episodes for writer Sam Neuman....MikeM. 8/10/2016
This is the first of seven PM episodes for British-born film and television director Andrew V. McLaglen...MikeM. 8/10/2016
This is the first of two PM appearances for Illinois-born Carole Mathews who, according to IMDb, had an uncredited movie role as a dancer in 1935 when she was fifteen. Carole Mathews passed in Murrieta CA in 2014 at the age of 94...MikeM. 5/23/2018
Comments

Edit
This is one of my least favorite episodes. Joyce Martel is loud, obnoxious, brassy, and thoroughly unlikeable. Submitted by PaulDrake 33, 12 July 2008.
I also don't care for this episode. The Joyce Martel character was too over-the-top. But, I suppose that's what the script called for. Actually, something like what Constance Ford (who played Reed/Martel) did in "Potted Planter" would have worked. It's a shame, too, because Abraham Sofaer is such a joy to hear. Submitted by billp, 1/18/2009.
+ Among his 139 IMDb credits, Burma-born Abraham appeared in 3 Perrys, 2 Time Tunnels, & 2 Star Trek VOICE roles (Spectre of the Gun, Charlie X). Mike Bedard 4.21.15
A small plot inconsistency: At one point mid-episode, Dr. Maitlan tells Perry that Helen Reed has "only recently" learned of Joyce Martel. But in the epilogue, Della says that Helen didn't know of Joyce at all! Submitted by Ed Zoerner, 5/18/2009.
+ But I was *just* watching the scene on MeTV where her brother tells Perry and Tragg (in Perry's office) that Joyce Martel was her sister's make believe/made up character as they were growing up, but I guess the point was that she did not know what Joyce actually did. She described what she experienced was like a "dream"/not real to her. Submitted by mesave31, 04/22/15.
Another inconsistency?: At about 30:20 on the 2006 Region 1 Paramount DVD, Dr. Maitland tells Paul that "Helen Reed doesn't smoke or drink. Joyce does both to excess." Given that both personalities are in the same physical body, why hasn't Joyce developed at least a craving for nicotine? (I wonder if the tobacco and alcohol companies are suppressing this method of abstinence.) Submitted by (lowercase, with a comma and period) masonite, 07/22/13.
+ Helen has an extreme allergy to fur, which is a physical reaction which has not transferred to Joyce, so it's possible that Joyce's nicotine habit has not transferred to Helen. jfh 04Jun2019

Unlike previous commenters, this is one of my favorite PM episodes! I think Constance Towers does a great job portraying both women, and the courtroom transformation is well-done. I definitely would have liked free-wheeling Joyce more than prissy Helen. Actually, lowercase-masonite, I have less problem with the 2 personalities having different craving for nicotine and alcohol than with the fur allergy--allergies are a physical thing, a reaction of the body to what it mistakenly thinks is an invader, I (allergic to horses) don't think any mindset could override that reaction. submitted by DyNama, 4/7/2014.
+ I have a problem with the fur allergy as well: I could see being allergic to a specific fur, but just "fur" in general seems implausible. The online literature on this is somewhat lacking, but what there is suggests that such is often an allergy to dander, proteins or saliva on the fur rather than the fur itself - which would presumably exist only on a living animal, not a pelt - so all of this IMHO suggests the allergy is psychosomatic...a manifestation of her repressed nature. Diagnosed (without a license) by Notcom, 083117.
I'm split over this episode -- the Joyce character is certainly enthusiastic, but not completely implausible (she reminded me of my second wife after she had had a few drinks). But I thought the courtroom scenes were pretty good, especially at the moment when she flips from Helen to Joyce. JohnK, 2 December 2015
I think this is the first episode that is not taken straight from an E.S. Gardner story. It seems they wanted to ride the coattails of Three Faces of Eve, which was released a year earlier. JohnK, 2 December 2015
Why haven't we heard from DellaFan on this epilogue? Della does a wonderful model's spin at the end and is definitely purring! Wow! Submitted by DyNama, 4/7/2014.
+ Great minds think alike, DyNama! She looks terrific! DellaFan, 4/8/2014.
++ I was referring to a comment DyNama had made--now (for some reason) gone--about how foxy Della looked at the end of the episode wearing the fur. DellaFan, 4-22-2015.
+++ Don't know why it went missing! Don't know why my signature links to a non-existent profile either. DyNama 9/30/2015

In the epilogue, Perry instructs Paul to return the fur to Robert Crane. Paul should return the fur to its rightful owner, Helen Reed. jfh 04Jun2019

"Homicide won't need a Joseph to Interpret this Dream," Perry tells Paul: Genesis tells the dream insights that led Joseph to become Pharaoh's Vizier. Mike Bedard 4.22.15

Wrong Street: When questioning John Hale, Mr. Burger asked if he had visited Helen (Joyce) at her apartment on Waverly Place. Joyce lived at the Crest Apartments at 622 S. Barry. Submitted by H. Mason 4/23/15
"Alternate" a 2007 episode of Law and Order - Special Victims Unit dealt with similar topics. They called it "Dissociative Identity Disorder". Submitted by H. Mason 4/23/15
<< One-eyed Witness | Episodes | Empty Tin >>