<< Fatal Fortune | Episodes | Cheating Chancellor >>
#244: The Case of the
Candy Queen
Original Airdate: 09/26/65
From The Perry Mason TV Show Book
Her business is good, her motto is "Eat sweet and thin," but life is not all sweetness for the beautiful "Candy Queen," Claire Armstrong. Mark Chester, Claire's boyfriend, has stolen her inherited candy formula to pay back his gambling debts. Her cousin Wanda helps frame Claire for murdering blackmailer Harry Arnold.
This sticky case is one of Perry's favorites. This is the time where he investigates Claire's candy factory, nibbles for clues, and has the real murderer eating out of his hand in the courtroom.
And remember Paul trying to give Claire a box of candy at the airport to impress her?
Suggested Correction to Summary Paul gives Claire a box of candy shipboard, not "at the airport". jfh 08Mar2017.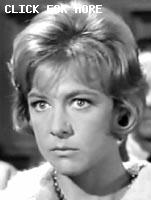 Opening
Starring Raymond Burr
in Erle Stanly Gardner's The Case of THE CANDY QUEEN
based on The Case of The Silent Partner
Barbara Hale, William Hopper, William Talman
Trailing
Directed by Jesse Hibbs
Teleplay by Orville H. Hampton and Robb White
Arthur Marks \ Art Seid | Producers
Gail Patrick Jackson | Executive Producer
Ernest Frankel | Story Consultant
Orville H. Hampton | Associate Story Consultant
Raymond Burr as Perry Mason
Barbara Hale as Della Street
William Hopper as Paul Drake
William Talman as Hamilton Burger
Richard Anderson as Lt. Steve Drumm
Dan Tobin as Terrence Clay
Music Composed and Conducted by Richard Shores

Cast
Nancy Gates as Claire Armstrong
Patricia Smith as Wanda Buren
Nina Shipman as Carol Olin
Robert Rockwell as Ed Purvis
H. M. Wynant as Tony Mario
John Napier as Mark Chester
John Archer as Harry Arnold
Kenneth MacDonald as Judge
Kitty Kelly as Landlady
Walter Mathews as Intern
William Boyett as Detective
Lee Miller as Sgt. Brice
Sam Flint as Old Man
Charles Stroud as Court Clerk
Russ Whiteman as Steward
Bebe Kelly as Hat Check Girl
Uncredited Actors
Don Anderson as Plainclothesman
Arthur Tovey as Courtroom Spectator
Crew
Director of Photography … John M. Nickolaus, Jr.
Art Direction … Lewis Creber
Assistant Director … Gordon A. Webb
Film Editor … Richard H. Cahoon, A.C.E.
Casting … Harvey Clermont
Makeup … Irving Pringle
Hair Stylist … Annabell
Wardrobe Supervision … Bob Wolfe, Evelyn Carruth
Set Decoration … Carl Biddiscombe
Properties … Ray Thompson
Production Sound Mixer … Herman Lewis
Script Supervision … Hazel W. Hall
Theme Composed by … Fred Steiner
Perry Mason
Produced by the CBS Television Network in association with Paisano Productions
This episode of Perry Mason (TCOT Candy Queen) and the first season episode TCOT Silent Partner (#6, 1.6) are both based on the same Erle Stanley Gardner novel titled The Case of the Silent Partner. So this current episode is often considered to be a "re-make" of the first season episode TCOT Silent Partner. See repeated episodes here. Submitted by Charles Richmond, 26 April 2013.
Anomaly: H. M. Wynant, listed as Tony Mario, is called Tony Earl or Mr. Earl in the show.
Uncredited Actors: Once more Don Anderson appears as a plainclothes policeman. Though he has no lines, he's right behind William Boyett in the raid on the gambling house. Don and two uniformed men actually apprehend the Candy Queen fleeing from the murder room. Submitted by FredK, 11 January 2011.
+ It's difficult to miss Arthur Tovey, King of Extras, sitting behind William Anderson in the courtroom gallery. He's the lean, placid elderly gentleman next to H.M. Wynant. (We don't have him on our Uncredited Actors page yet, but perhaps soon…) Submitted by gracenote, 5/11/2011.
+The dark haired young brunette was in the courtroom again on the first row on prosecutor's side second from the left end. In this episode, the gallery did not change seating positions between days. Perry Baby 12/8/13
Irony: Patricia Smith played Wanda Buren in this episode. "TCOT Candy Queen" was the *only* Perry Mason episode she appeared in. The irony is: Patricia Smith was a diabetic. She battled diabetes for 65 years until her death of a weakened heart in 2011. Submitted by Charles Richmond, 8 March 2011.
Stalled in his Hollywood career, Kenneth MacDonald wrote a pamphlet entitled "THE CASE OF KENNETH MACDONALD" and "distributed it to as many producers as he could. The ploy worked; he started getting jobs at most of the studios...He is probably best remembered as a foil for many of Columbia's comedy teams...particularly The 3 Stooges [IMDb]." That website states that he presided in 32 PM episodes (11.8%) from #2/"Sleepwalker's Niece" to 271/"Final Fade-Out." Mike Bedard 2.10.15.
Elusive Entry: Concealed in back of the Royal Beach FINE FOODS restaurant is a good-sized casino floor, bustling with gung ho gamblers. But to gain entry, even the manager has to sneak in through a janitor's closet and pull a secret lever. How did all those patrons get in there? And where would they have parked their cars unnoticed? Maybe they came in buses to an underground garage. JohnK, 15 November 2015
This is the second of two PM appearances for Nina Shipman, who has a music degree from Cal State University, Los Angeles...MikeM. 3/8/2017
Perry must have anticipated a short day in court. He parked in a 2 hour parking zone in front of the courthouse. Submitted by Kilo 1/19/2018.
This is the fifth of five PM appearances for John Archer, who also appeared twice on "Ironside"...MikeM. 3/14/2018
Comments

Edit
This episode is essentially a remake of episode #6 (TCOT Silent Partner). It changes some of the details (candy business instead of orchid business, etc.), but the major plot points are all the same. I prefer #6, myself. Submitted by Ed Zoerner, 8/29/09.
This is one of the few episodes from the last several seasons that occasionally recaptures some of the noirish undertones that were largely lost near the end of the show's run. For example, the scenes outside Harry Arnold's gambling joint and Wanda Buren's apartment harken back to the first several seasons' somewhat grittier, noirish Los Angeles, depicted even more effectively in Episode 6 ("TCOT Silent Partner"), mentioned above by Ed Zoerner. Submitted by BobH, 14 July 2016.
Employees at the candy factory are careful to wear hairnets, but handle the candy with bare hands. The Brent Building is an architectural oddity - balconies from the inside, but none on the outside. Can't say I care for H.M. Wynant's attempt at "tough guy" talk. He and Walter Burke have the distinction of having played victims, suspects, and prosecutors over the years. DOD 3/16/18
Funny reaction (IMHO of course <grin>): Paul is calling "the poisoning" into the police and he seriously/somberly says that she is in real bad shape, then suddenly gets very happy (and smiles big) as he thinks he recognizes the voice on the other end, and says "Is that you Steve?"! LOL! Submitted by mesave31, 02/16/15.
<< Fatal Fortune | Episodes | Cheating Chancellor >>