<< Impetuous Imp | Episodes | Hasty Honeymooner >>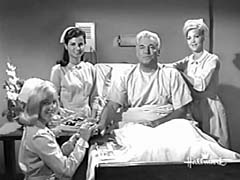 #247: The Case of the
Carefree Coronary
Original Airdate: 10/17/65
From The Perry Mason TV Show Book
This is the episode where Perry asks Paul about his bedside manner, then sends him off to investigate the increase in heart attacks for the Safeline Insurance Company.
Perry appears to have gone too far when he tries to prove convalescent fraud and pushes an ex-fighter to his limit. The guy dies of a heart attack.
Perry suspects he was poisoned but the insurance company suspects Perry…of murder.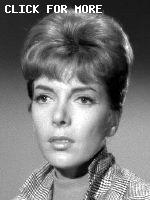 Opening
Starring Raymond Burr
in The Case of THE CAREFREE CORONARY
Based upon characters created by Erle Stanley Gardner
Barbara Hale, William Hopper, William Talman
Trailing
Directed by Jesse Hibbs
Written by Orville H. Hampton
Arthur Marks \ Art Seid | Producers
Gail Patrick Jackson | Executive Producer
Ernest Frankel | Story Consultant
Orville H. Hampton | Associate Story Consultant
Raymond Burr as Perry Mason
Barbara Hale as Della Street
William Hopper as Paul Drake
William Talman as Hamilton Burger
Dan Tobin as Terrence Clay
Music | Richard Shores

Cast
Robert Emhardt as Arthur Wendell
Bruce Bennett as Reve Watson
Benny Baker as Jerry Ormond
Whit Bissell as Dennison Groody
David Lewis as Wallis Lamphier
Lawrence Montaigne as Dr. Chauncy Hartlund
Hal Baylor as Jack David
Joseph Sirola as Dr. Raul Caudere
Shirley Mitchell as Marilyn David
Tracy Morgan as Doreen Wilde
Dan Seymour as Nappy Tyler
Alexander Lockwood as Deputy
William Woodson as Dr. Willard Sholby
Tommy Farrell as TV Reporter
Jay Weston as News Reporter
Uncredited Actors
Crew
Director of Photography … John M. Nickolaus, Jr.
Art Direction … Lewis Creber
Assistant Director … Gordon A. Webb
Film Editor … Richard W. Farrell
Casting … Harvey Clermont
Makeup … Irving Pringle
Hair Stylist … Annabell
Wardrobe Supervision … Bob Wolfe, Evelyn Carruth
Set Decoration … Carl Biddiscombe
Properties … Ray Thompson
Production Sound Mixer … Herman Lewis
Script Supervision … Marshall Schlom
Theme Composed by … Fred Steiner
Automobiles supplied by … Chrevrolet Division of General Motors Corp.
Perry Mason
Produced by the CBS Television Network in association with Paisano Productions
Location: Right after the scene where Della says Paul is dying, there's an establishing shot of a building. It's the L.A. County USC hospital in Boyle Heights known as "Big County." See here. Submitted by Mitch English, 5/21/2005.
Location: Los Angeles Memorial Sports Arena. An establishing shot of the arena appears early in the show. See here. Submitted by Scott Pekeris, 7/1/2005.
Location: About 36 minutes in, Paul says he's on Sycamore and Sunset Blvd. in Hollywood, and lo and behold he is. If you look to his left you can see a woman with some kids and to the left of them you can see the Travelodge at 7051 Sunset. It is still there. See Google maps street view here. Want more proof? Look closely at the top corner of the building. You can clearly see the little "sleepy bear in PJs," which was Travelodge's logo in the 1960s, painted on the top left corner of the building. Posted by Eric Cooper, 9/2/2009. Some pictures here.
Location: About 37 minutes in Paul gets dropped off at the YMCA which is still at 1553 N. Schrader Blvd. in Hollywood. If you look closely you can see "1553" on the building as Paul enters. The YMCA would be about 8 blocks east of the previous Sycamore and Sunset location. Posted by Eric Cooper 9/2/2009. Some pictures here.
Location: About 8 minutes in we see the exterior of Nappy's and a sign below it that I think reads "Sunset Grill." If so, that would be the place made famous by the Don Henley song of the same name. The place still exists next door to Guitar Center on Sunset but it has been drastically remodelled, and I can't find a vintage photo to compare. Anyone have a photo? Submitted by Eric Cooper, 17 September 2010.
+ No photo, but the sign definitely says "SUNSET GRILL." But it looks so temporary; could that really have been standing for forty-six years? Submitted by gracenote, 5/14/2011.
Uncredited Actors: Don Anderson appears as a Paul Drake operative in this episode. Don and William Hopper keep Jerry Ormond (Benny Baker) under observation at the construction site. Submitted by FredK, 11 January 2011.
+ In a subsequent scene, Anderson plays a patron at Clay's Grill who leans back to stare as something happens. Submitted by gracenote, 5/14/2011.
Sightings: At the doctor's office, our "Miss Carmody" plays the nurse who retrieves the oxygen and consoles Mrs. David. Submitted by gracenote, 5/14/2011.
Credit anomaly: Alexander Lockwood, identified as "Deputy" in the episode's closing credits, actually plays the Coroner who presides over the inquest. Submitted by alan_sings, 1/18/2013.
Comments

Edit

It seems as though the authenticity of Dr. Caudere's credentials would have been addressed earlier in the proceedings than Perry's examination. Since the plot rather hinges on this, to my mind this weakens an otherwise fun episode. Submitted by Ed Zoerner, 1/31/11
<< Impetuous Imp | Episodes | Hasty Honeymooner >>