<< Hasty Honeymooner | Episodes | Wrathful Wraith >>
#249: The Case of the
12th Wildcat
Original Airdate: 10/31/65
From The Perry Mason TV Show Book (Revised)
Bill Williams makes his final appearance on Perry Mason playing a losing football coach named Burt Payne. Burt and his wife, Ellen, own the Wildcats professional football team. Burt wants to sell his 10 percent ownership to a group of investors and even gets a down payment from them. However, Burt needs his wife's approval, and she is not interested. After Ellen meets with one of the buyers aboard a train, Burt is apparently killed in an explosion.
The episode climaxes with a chase scene filmed at the Los Angeles Coliseum. Perry actually runs as he and Paul pursue a shadowy figure who provides the key to the case.
Youngish members of the L.A. Rams, including well-known quarterback Roman Gabriel, appear as themselves throughout the episode. Character actor Karl Swenson wins the award for "Worst Imitation of an Eastern European Accent in a Dramatic Series."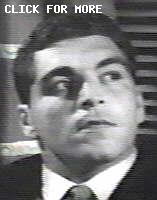 Opening
Starring Raymond Burr
in The Case of THE 12 WILDCAT
Based upon characters created by Erle Stanley Gardner
Barbara Hale, William Hopper, William Talman
Trailing
Directed by Jesse Hibbs
Written by Ernest Frankel
Arthur Marks \ Art Seid | Producers
Gail Patrick Jackson | Executive Producer
Ernest Frankel | Story Consultant
Orville H. Hampton | Associate Story Consultant
Raymond Burr as Perry Mason
Barbara Hale as Della Street
William Hopper as Paul Drake
William Talman as Hamilton Burger
Richard Anderson as Lt. Drumm
Music | Richard Shores

Cast
Mona Freeman as Ellen Payne
Bill Williams as Burt Payne
Regis Toomey as Andy Grant
John Conte as Jud Warner
Karl Swenson as Unk Hazekian
Robert Quarry as Casey Banks
Roy Roberts as Harvey Skeen
Clark Howat as Team Doctor
Willis Bouchey as Judge
George Cisar as Bartender
Ivy Bethune as Mrs. Frye
Tommy Farrell as Reporter
Patrick Riley as Police Officer
Lee Miller as Sgt. Brice
Sue England as Receptionist
Howard Wright as Conductor
Lindon Crow as Assistant Coach
Joe Scibelli as Himself
Bill Munson as Himself
Don Chuy as Himself
Roman Gabriel as Himself
Cliff Livingston as Himself
Marlin McKeever as Himself
Mel Profit as Ski
Paul Power as Reporter
Crew
Director of Photography … John M. Nickolaus, Jr.
Art Direction … Lewis Creber
Assistant Director … Gordon A. Webb
Film Editor … Richard W. Farrell
Casting … Harvey Clermont
Makeup … Irving Pringle
Hair Stylist … Annabell
Wardrobe Supervision … Bob Wolfe, Evelyn Carruth
Set Decoration … Carl Biddiscombe
Properties … Ray Thompson
Production Sound Mixer … Herman Lewis
Script Supervision … Marshall Schlom
Theme Composed by … Fred Steiner
Perry Mason
Produced by the CBS Television Network in association with Paisano Productions
At 25 (in addition to the principal cast), this episode has the largest credited cast size of the series. Submitted by daveb, 5/1/2007.
Near the end of the episode, Lt. Drumm stands at one of the exit tunnels watching Perry and Paul as the crowd files past him. Don Anderson, with his familiar hairstyle and the thick-rimmed spectacles he often wore in the later episodes, is just barely recognizable among the football fans. Submitted by FredK 21 April 2012.
Comments

Edit
When her husband falls down drunk, Ellen asks the team to do what you should never do from someone with a drinking problem, namely, clean him up and put him to bed. Then to compound the problem, she asks the coach to give him tranquilizers as they carry him to his berth. What were people thinking? Submitted by gracenote, 5/19/2011.
The Summary claims that "Perry actually runs as he and Paul chase a shadoway figure," but in fact that is probably Lee Miller, Burr's stand-in, who jumps out of the bushes. It's kind of confusing because it appears to be Sgt. Brice who is doing the chasing at first, and then it becomes Perry Mason. Submitted by graceote, 5/19/2011.
Speaking of Sgt. Brice, the producers gave Lee Miller a little tribute in this episode. In a moment unrelated to anything in the script, Sgt. Brice drops by the table in Clay's Grill where Perry, Paul and Della are sitting and flirts a bit with Della. A brief and most charming gesture. Submitted by francis, 3/28/13.
<< Hasty Honeymooner | Episodes | Wrathful Wraith >>