<< Vanishing Victim | Episodes | Sausalito Sunrise >>
#259: The Case of the
Golfer's Gambit
Original Airdate: 01/30/66
From The Perry Mason TV Show Book (Revised)
Chick Farley is an obnoxious golf pro at an exclusive golf club. Farley never did make it on the big money circuit; it was his wife, a former real pro golfer, who did. Now, he's just living off her past glory. He's also supplementing his income with a little blackmail enterprise calculated to help him keep his job as local pro.
One night, Farley discovers that someone has been stealing from the pro shop. He calls club member Hamilton Burger at his home to tell him about the theft. While Farley's on the phone, someone takes a sand wedge to his skull. Perry is called on to defend Farley's assistant, Jim Harrell, who had motive, opportunity, and a mean trap shot.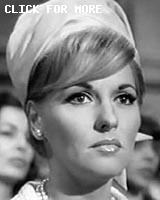 Opening
Starring Raymond Burr
in The Case of THE GOLFER'S GAMBIT
Based upon characters created by Erle Stanley Gardner
Barbara Hale, William Hopper, William Talman
Trailing
Directed by Jesse Hibbs
Story by John Elliotte Bast
Teleplay by Orville H. Hampton
Arthur Marks \ Art Seid | Producers
Gail Patrick Jackson | Executive Producer
Ernest Frankel | Story Consultant
Orville H. Hampton | Associate Story Consultant
Raymond Burr as Perry Mason
Barbara Hale as Della Street
William Hopper as Paul Drake
William Talman as Hamilton Burger
Richard Anderson as Lt. Steve Drumm
Music | Richard Shores

Cast
Carl Reindel as Danny Bright
Nancy Kovack as Dina Brandt
Harry Townes as Erwin Brandt
Phyllis Hill as Alma Farley
Dennis Patrick as Chick Farley
Don Dubbins as Bill Vincent
Alan Reed, Jr. as Jim Harrell
Bartlett Robinson as Edward "Pat" Patterson
Gertrude Flynn as Rosalind - Mrs. Hedrick
Regina Gleason as Rosalie
Byron Morrow as Judge
Bill Brundige as Announcer
Ted Stanhope as Butler
Maurice Wells as Golf Official
Bud Perkins as Photographer
Maureene Gaffney as Operator-P.A. Voice
Crew
Director of Photography … John M. Nickolaus, Jr.
Art Direction … Lewis Creber
Assistant Director … Gordon A. Webb
Film Editor … Richard H. Cahoon, A.C.E.
Casting … Harvey Clermont
Makeup … Irving Pringle
Hair Stylist … Annabell
Wardrobe Supervision … Bob Wolfe, Evelyn Carruth
Set Decoration … Carl Biddiscombe
Properties … Ray Thompson
Production Sound Mixer … Herman Lewis
Script Supervision … Marshall Schlom
Theme Composed by … Fred Steiner
Automobiles supplied by … Ford Motor Company
Perry Mason
Produced by the CBS Television Network in association with Paisano Productions
Anomaly: Although spelled D--n-n-y in the credits and the closed captions, everyone calls Carl Reindel's character "Denny" or "Den." Submitted by gracenote, 6/3/2011.
Uncredited Actors: A bespectacled Don Anderson dances with his lovely escort at the post-tournament banquet. He's among those who thoughtlessly laugh when someone is pushed into the fountain. Submitted by gracenote, 6/3/2011.
Sightings: Squirreled in the recesses of the courtroom sits an observant Quiet Old Man (#1). Submitted by gracenote, 6/3/2011.
Comments

Edit
For nearly nine seasons Raymond Burr has sported the same general hairstyle until this episode. Here, is hair is now parted along the side and swept over, a style that would continue for the rest of the season and into his "Ironside" days. Submitted by Kenmore 10/24/2012
Does ANYONE do nasty as well as Dennis Patrick? You almost want this sadist (Chick Farley) to get it. And Perry's final line (to the guilty one) sounds almost satirical - 'You had to have done it - it could only have been you.' Submitted by MikeReese 5/17/2013
<< Vanishing Victim | Episodes | Sausalito Sunrise >>