<< Sausalito Sunrise | Episodes | Twice-Told Twist >>
#261: The Case of the
Scarlet Scandal
Original Airdate: 02/20/66
From The Perry Mason TV Show Book (Revised)
Perry and Paul want to go fishing, but a murder gets in their way. Elaine Bayler is a woman who has been serving as a "patroness" for a young musician named Donald Hobart. She's also the wife of the Scarlet Center's leading citizen, Richard Bayler, who is a client of Perry's.
Elaine is being blackmailed. Someone wants $10,000 or else they'll tell her husband that she's been having an affair with Hobart. Elaine drives out to Scarlet Point with Donald to leave the money, but is brutally shot and killed. The sheriff arrests the musician, but the story twists when Hobart is released and his girlfriend, Cynthia Perkins, is charged with the crime. Perry successfully defends her, but pays a steep price: By the time he's through, fishing season is over.
TV fans will recognize Will Hutchins of Sugarfoot, the successful Warner Brothers TV Western of the 1950s, in the role of musician Donald Hobart.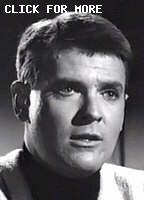 Opening
Starring Raymond Burr
in The Case of THE SCARLET SCANDAL
Based upon characters created by Erle Stanley Gardner
Barbara Hale, William Hopper
Trailing
Directed by Jerry Hopper
Written by Kenneth M. Rosen
Arthur Marks \ Art Seid | Producers
Gail Patrick Jackson | Executive Producer
Ernest Frankel | Story Consultant
Orville H. Hampton | Associate Story Consultant
Raymond Burr as Perry Mason
Barbara Hale as Della Street
William Hopper as Paul Drake
Music | Richard Shores

Cast
Will Hutchins as Donald Hobart
Gene Evans as Moose Dalton
Luana Patten as Cynthia Perkins
Mala Powers as Elaine Bayler
Lloyd Gough as Richard Bayler
Clint Sundberg as Aaron Chambers
Richard Devon as Ed Kesko
Dee Pollock as Howard Bayler
Connie Gilchrist as Natasha
Blair Davies as C. A. Woodmire
William Keene as Judge Seymour
Walter Stocker as Charlie Horgan
Carl Prickett as Mark
Jack Swanson as 1st Deputy
Alex Bookston as 1st Reporter
Paul Sorensen as 2nd Deputy
Pat McCaffrie as 2nd Reporter
Crew
Director of Photography … John M. Nickolaus, Jr.
Art Direction … Lewis Creber
Assistant Director … Gordon A. Webb
Film Editor … Richard H. Cahoon, A.C.E.
Casting … Harvey Clermont
Makeup … Irving Pringle
Hair Stylist … Annabell
Wardrobe Supervision … Bob Wolfe, Evelyn Carruth
Set Decoration … Carl Biddiscombe
Properties … Ray Thompson
Production Sound Mixer … Herman Lewis
Script Supervision … Marshall Schlom
Theme Composed by … Fred Steiner
Automobiles supplied by … Ford Motor Company
Perry Mason
Produced by the CBS Television Network in association with Paisano Productions
Location: The County Courthouse early in the episode is actually the Malibou Lake Clubhouse which still exists. The Clubhouse has been used in several Perry Mason episodes like episode #113. Malibou Lake is also featured in episode #45 and 195. Posted by Eric Cooper, 9/21/2009.
About 34 minutes into this 1966 episode, Paul, Perry, and Della go to Natasha's and you can clearly hear the 1965 #1 hit "Downtown" play in the background. Posted by Eric Cooper, 9/21/2009.
Location: At the same time that Downtown plays, Paul checks the car registration of Cynthia Perkins. Her address is listed as 1416 No. La Brea. This is an inside joke. That address was not only the home of Perry Mason's production company Paisano Productions from 1961 to 1966 but also where Raymond Burr often slept during the filming of episodes. It was originally Charlie Chaplin studios but is currently home to Jim Henson Productions. Submitted by Eric Cooper, 5 October 2010.
Sightings: Even though the preliminary hearing is not in Los Angeles, both Little Old Lady #1 makes the trip out to the country to be part of the spectators. A somewhat older Distinguished Lady #3 might be there as well. More about these and other favorite frequent faces. Submitted by gracenote, 6/4/2011.
Will Hutchins portrayed Dagwood Bumstead in the second Blondie sitcom in 1968. The first Blondie series (1957) starred Arthur Lake, the Dagwood of the movie series. Submitted by Wiseguy70005, 6/15/12.
Comments

Edit
Interesting spin in this show. Don Hobart is the first suspect - but Perry makes it clear that he's going to get to the truth .. and boy, does he. So ... and this show is the first time I can think of that Perry is not only speechless, but pretty darn ticked off, as well, when it ends. Posted by MikeReese, 5/17/2013
<< Sausalito Sunrise | Episodes | Twice-Told Twist >>