<< Misguided Model | Episodes | Crafty Kidnapper >>
#269: The Case of the
Positive Negative
Original Airdate: 05/01/66
From The Perry Mason TV Show Book
Retired general Roger Brandon is all set to head an anticrime commission when a man named George Emory claims to have compromising photos of Brandon's wife Laura. Unless Brandon refuses the position, Emory will launch a smear campaign against the woman.
General Brandon has never backed down from a fight before, and he doesn't intend to this time. Deciding to fight the problem head on and trusting his wife implicitly, Brandon calls Emory's bluff. The good news is that someone kills Emory. The bad news is that the killer did a neat job of framing the general for the murder.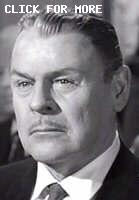 Opening
Starring Raymond Burr
in The Case of THE POSITIVE NEGATIVE
Based upon characters created by Erle Stanley Gardner
Barbara Hale, William Hopper, William Talman
Trailing
Directed by Jesse Hibbs
Teleplay by Robert E. Kent
Story by Robert E. Kent and Robert Yale Libott
Arthur Marks \ Art Seid | Producers
Gail Patrick Jackson | Executive Producer
Ernest Frankel | Story Consultant
Orville H. Hampton | Associate Story Consultant
Raymond Burr as Perry Mason
Barbara Hale as Della Street
William Hopper as Paul Drake
William Talman as Hamilton Burger
Richard Anderson as Lt. Steve Drumm
Music | Richard Shores

Cast
Brian Donlevy as General Roger Brandon
Bettye Ackerman as Laura Brandon
Parley Baer as Frank Cummings
Dabbs Greer as Bill Cotton
Simon Scott as Stanley Overton
Anthony Hayes as Warren Cotton
Ted de Corsia as George Emory
John Gallaudet as Judge
Jim Drum as Photographer
Tom Allen as Police Officer
Crew
Director of Photography … John M. Nickolaus, Jr.
Art Direction … Lewis Creber
Assistant Director … Gordon A. Webb
Film Editor … Richard H. Cahoon, A.C.E.
Casting … Harvey Clermont
Makeup … Irving Pringle
Hair Stylist … Annabell
Wardrobe Supervision … Bob Wolfe, Evelyn Carruth
Set Decoration … Carl Biddiscombe
Properties … Ray Thompson
Production Sound Mixer … Herman Lewis
Script Supervision … Marshall Schlom
Theme Composed by … Fred Steiner
Automobiles supplied by … Ford Motor Company
Perry Mason
Produced by the CBS Television Network in association with Paisano Productions
Sightings: Turning up in the courtroom gallery to watch Perry pull a rabbit out of this hat are Quiet Old Man #1 and our "Miss Carmody." More about them here. Submitted by gracenote, 6/15/2011.
Continuity Error: Note the lighting when the lamp is turned on in the first scene. The lighting in the blackmail photo (supposed taken at that moment) is completely different. Submitted by cgraul, 1/25/2012.
Weren't the blackmail photos taken before Warren turned on the lamp? ("The infrared bulb must have been out of sync with the shutter" for 1 of the 3 photos.) That's when his and Laura's embrace matches the photo that we see. Still, a remarkably good photo considering the circumstances. Submitted by (lowercase, with a comma and period) masonite, 10/29/13.
Although the titles of the episodes are usually centered, in this episode "Positive" is aligned to the left while "Negative" is aligned to the right. Submitted by Wiseguy70005, 6/27/12.
The widely seen character actor Dabbs Greer made his last of 8 appearances on Perry Mason as Bill Cotton. Submitted by Perry Baby 2/4/14
+ Simon Scott, born Daniel Scott Simon, made the last of his 5 Perry appearances in this episode. Mike Bedard 3.14.15.
++"Baerly Present." This is also the last of Parley Baer's six appearances on the show. In each and every one of those appearances, he played neither defendant nor victim nor murderer, but rather "innocent" suspect. Submitted by BobH, 2 October 2017.
This is the only PM writing credit for Robert Yale Libott, who was a graduate of Stanford and of UCLA Law. Libott balanced a legal career in patents and entertainment law with a writing career in radio, television and films...MikeM. 4/17/2018
Comments

Edit
Out of all the possible fictitious place names, why did story writers Kent and Libott choose the name of real California city San Carlos as the corrupt town? It is in the San Francisco peninsula, about 360 miles north of Los Angeles, and had a population of 20,000-25,000 in the 1960s per the US census bureau. But per Kent and Libott San Carlos seems as savory as Bay City. Submitted by (lowercase, with a comma and period) masonite, 10/29/13.
Was Brian Donlevy ailing during the filming of the episode? His voice sounds like he had a serious throat condition, making speech difficult. He still has 6 years more to live, and about 9 more roles to play. Submitted by (lowercase, with a comma and period) masonite, 10/29/13.
+ When I first saw his initial scene (and moments before reading here), to me he sounded like he was having painful teeth issues. Several scenes later though he does not seem to be having the same speech issue. Also, I thought this was his worst deadpan/no emotion acting job in all of his Perry appearances. Just my humble .02' opinion of course. Submitted by mesave31, 03/18/15.
+ Of course you mean 2' [or $.02]. .02' is two hundredths (or two percent) of ONE cent. Submitted by Wiseguy70005, 3/28/18.
Brian Donlevy did die from throat cancer in 1972 so this may be a reason. Submitted by Perry Baby 2/4/14
<< Misguided Model | Episodes | Crafty Kidnapper >>