<< Crafty Kidnapper | Episodes | >>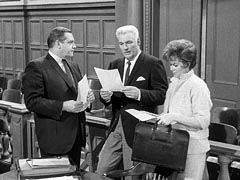 #271: The Case of the
Final Fade-Out
Original Airdate: 05/22/66
From The Perry Mason TV Show Book
In this final episode of the Mason series, the storyline is secondary. This is how a close-knit cast and crew say goodbye to their fans…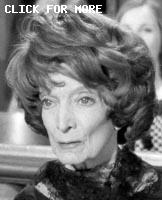 Opening
Starring Raymond Burr
in The Case of The Final Fade-Out
Based upon characters created by Erle Stanley Gardner
Barbara Hale, William Hopper, William Talman
Trailing
Directed by Jesse Hibbs
Written by Ernest Frankel & Orville H. Hampton
Arthur Marks \ Art Seid | Producers
Gail Patrick Jackson | Executive Producer
Ernest Frankel | Story Consultant
Orville H. Hampton | Associate Story Consultant
Raymond Burr as Perry Mason
Barbara Hale as Della Street
William Hopper as Paul Drake
William Talman as Hamilton Burger
Richard Anderson as Lt. Steve Drumm
Music | Richard Shores
Cast
James Stacy as Barry Conrad
Estelle Winwood as Winifred Glover
Jackie Coogan as Pete Desmond
Denver Pyle as Jackson Sidemark
Dick Clark as Leif Early
Gerald Mohr as Andy Rubin
Marlyn Mason as Erna Landry
Kenneth MacDonald as Judge One
William Tannen as Studio Guard
Margaret Shinn as Starlet #1
Linda Burton as Starlet #2
Maureen Crow as Adlib
Louis Elias as Stunt Man No. 1
Saul Gorss as Stunt Man No. 2
Lee Miller as Sgt. Brice
Uncredited Actors
Don Anderson as Police Officer
Erle Stanley Gardner as Judge Two
Gail Patrick Anderson as Courtroom Spectator
Crew
Director of Photography … John M. Nickolaus, Jr.
Art Direction … Lewis Creber
Assistant Director … Gordon A. Webb
Film Editor … Richard H. Cahoon, A.C.E.
Casting … Harvey Clermont
Makeup … Irving Pringle
Hair Styling … Annabell
Wardrobe Supervision … Bob Wolfe, Evelyn Carruth
Set Decoration … Carl Biddiscombe
Properties … Ray Thompson
Production Sound Mixer … Herman Lewis
Script Supervision … Marshall Schlom
Theme Composed by … Fred Steiner
Automobiles supplied by … Ford Motor Company
Produced by the CBS Television Network in Association with Paisano Productions
Uncredited Actors: Erle Stanley Gardner appears uncredited as the second judge in this episode. He was remembered in this role in an Associated Press wire-photo distributed with his obituary. Submitted by Thom Smith, N8DXR, 8/22/2004.
Denver Pyle was both a defendant and a victim in this episode. See the Statistics page for more info about defendants, murderers and victims. Submitted by daveb, date unknown.
Four members of the cast appear in the last episode, just as they had appeared in the first episode. Barbara Hale, Raymond Burr, William Hopper, and Lee Miller. Although Miller was not billed in the first episode, TCOT Restless Redhead, he appeared on screen several times, both as a policeman and as a spectator at the trial. Submitted by PaulDrake 33, 4 October 2009.
+ What about William Talman? Submitted by Wiseguy70005, 6/29/12.
When Denver Pyle is placed under arrest for murder he is shown being driven away in a police car, yet he is not in handcuffs as can be seen by the fact he is resting his arm on the car window ledge. Submitted by Craig, 2/3/2010.
Sightings: "Miss Carmody" is seated in two places in the gallery at once! She is clearly visible on the left end of the first row on the prosecution side during a wide view of the prosecution table. Moments later, she is on the defense side behind Leif Early during a closeup. Submitted by alan_sings, 3 Oct 2010.
+ She's not the only favorite to return for the last episode. Quiet Old Man #1 appears in the courtroom gallery, between Burger and Mason as they face off early in the first evidentiary hearing. In the second hearing, he returns along with Pencil Mustache Man. Read more about these and other favorite frequent faces on the "Who Is That?" page. Submitted by gracenote, 6/17/2011.
Uncredited Actors: In what could sum up his career on the Mason series, Don Anderson appears as an extra/stuntman in a police uniform participating in the gun battle in which Barry is killed. Submitted by FredK, 28 Nov 2010.
Perhaps fittingly, the first trial judge is played by Kenneth MacDonald who has the distinction of being the only actor, outside the main cast, to appear with billing in all nine seasons of the Mason series. In addition, he was the judge in the second series episode, TCOT Sleepwalker's Niece. While my favorite judge actor S. John Launer eked out a narrow 33 to 32 victory in the Judge Episode count, Mr. Launer did not appear until the second season, TCOT Curious Bride (#44).
Comments

Edit
The deep-voiced man referred to as Phil, the director, is not credited. Could he in fact be one of the real directors on the series? Submitted by gracenote, 6/17/2011.
<< Crafty Kidnapper | Episodes | >>