<< Blushing Pearls | Episodes | Paul Drake's Dilemma >>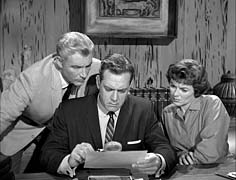 #74: The Case of the
Startled Stallion
Original Airdate: 10/31/59
From The Perry Mason TV Show Book
Wealthy but crippled rancher John Brant forecloses on Jo Ann Blanchard's mortgage and takes possession of her prize horse. Jo Ann goes to Perry for help; first, in getting the horse back, and second, when she's arrested for killing the rancher.
Although the murder was set up to look as if the horse killed Brant, a bloody jack handle was found in Jo Ann's car. Perry digs into the case and the deeper he goes, the stranger it gets.
However, nothing is as strange as the ending scene: Jo Ann, ever so grateful to Perry for getting her off, confesses that she cannot afford to pay him. Unmiffed, Perry simply says: "That's OK." Where can you find a lawyer like this today?
Opening
Starring Raymond Burr
in The Case of THE STARTLED STALLION
Based upon characters created by Erle Stanley Gardner
Trailing
Directed by William D. Russell
Written by Jonathan Latimer
Herbert Hirschman | Producer
Gail Patrick Jackson | Executive Producer
Produced by The CBS Television Network in association with Paisano Productions
Seeleg Lester | Associate Producer, Story Consultant
Arthur Marks | Associate Producer
Raymond Burr as Perry Mason
Barbara Hale as Della Street
William Hopper as Paul Drake
William Talman as Hamilton Burger
Ray Collins as Lt. Tragg
Cast
Paul Richards as Earl Mauldin
Elliot Reid as Terry Blanchard
Trevor Bardette as John Brant
Patricia Hardy as Jo Ann Blanchard
Melora Conway as Clara Hammon
Richard Rust as Peter White
Harry Tyler as "Pop" Abbott
Morris Ankrum as Trial Judge
Arthur Hanson as Coroner
John Harmon as Fingerprint Man
Don Dillaway as Charley Cass
Howard Hoffman as Minister
Holly Harris as Actress
Hal Hopper as Veterinarian
Dick Keene as Process Server
George E. Stone as Court Clerk
Lee Miller as Sgt. Brice
Uncredited Actors:
Jack Stoney as Bartender (from IMDb)
Crew
Art Seid, A.C.E. | Assistant to the Producer
Production Supervisor … Dewey Starkey
Director of Photography … Frank Redman, A.S.C.
Art Direction … Lewis Creber
Film Editor … John D. Faure
Assistant Director … Morris Harmell
Casting … Harvey Clermont
Makeup … Irving Pringle
Hair Stylist … Annabell, S.C.H.
Wardrobe Supervision … William Zacha, Evelyn Carruth
Set Decoration … Charles Q. Vassar
Sound Effects Editor … Gene Eliot, M.P.S.E.
Music Editor … Gene Feldman
Properties … Ray Thompson
Production Sound Mixer … Herman Lewis
Script Supervision … Robert Gary
Perry Mason
A CBS Television Network Production
Pendant alert!! Della once again wears her pendant with the letters D S written in script. Submitted by PaulDrake 33, 29 August 2008.
In a couple of scenes Paul wears a very dark suit coat—something that is rare for the private detective that perfers light-colored coats. Submitted by PaulDrake 33, 29 August 2008.
What's with all the H's in this episode? Cast members include Hal Hopper, Holly Harris, Howard Hoffman, Arthur Hanson, John Harmon, and Patricia Hardy. Someone must have told the casting director to go to H. Submitted by PaulDrake 33, 8 October 2009.
Sightings: A recurring courtroom spectator, known here as Quiet Old Man #1, sits…uh…quietly on the defendant's side. Distinguished Gentleman #1 is more difficult to see as he is either blurry or partially obscured by other actors, but he is also on the defendant's side. He reappears the next day on the prosecutor's side. Who are these recurring courtroom spectators? Submitted by gracep, 9/11/2010.
+ "Miss Carmody" is seated behind Clara Hammon during courtroom closeups. Submitted by alan_sings, 3 Oct 2010.
+ Quiet Old Man #2 appears behind Burger in the latter part of the hearing. Submitted by gracenote, 8/30/2011.
Uncredited Actors: Robert Wegner appears as a courtroom spectator. Scowling as usual at first, he actually smiles at a joke Burger makes at Mason's expense. Submitted by gracenote, 8/30/2011.
CARS. (1) 1957 Chrysler New Yorker 4-Door Sedan, white, med color roof, Clara Hammon, about the car here, note the "New Yorker" badge to rear of front wheel; (2) 1954 Ford Country Squire V8 Station Wagon Woody (fibreglass), med color w/roof-rack, Lic No KBU 642, Jo Ann Blanchard; (3) for the 1st time Sgt Brice drives Tragg in the extravagant 1959 Buick Electra 225 Four-Door HardTop, Lic No SFH 107, the car's only commonality with a normal police car being its color black (the duo is in this car again in Ep#78) and (4) 1959 Buick LeSabre 2door Sedan, med color, Veterinarian (inferred), Burger's car in Ep#83. Submitted by Gary Woloski, 3 Aug 2012.
Actor Paul Richards has not only appeared twice on Perry Mason, he also has appeared on The New Perry Mason and, in his last acting role, on Ironside. How many other actors have appeared in all three series? (Ones that comes to mind are Mary Ann Mobley, who was also in two episodes of Perry Mason and one each of the other series; and Carl Betz who appeared in one episode of each. Carl Betz also appeared (his last role) in Kingston: Confidential, Raymond Burr's third TV series!) Submitted by Wiseguy70005, 5/12/13.
Comments

Edit
Regarding the remarks in the summary, above: In the first place, Miss Blanchard didn't say she couldn't pay Perry; she said the horse Spin Drift couldn't, and there was no implication that she had not paid Perry for his service to her. It seems more likely that Perry was brushing off the laughable idea of getting a fee from the horse, too. Secondly, in lieu of the horse not paying, she gives Perry the title to his first foal and box seats to a race, so Mason is hardly working pro bono, for either Blanchard or her prize colt. (Still, what lawyer would give his client a gift "to remember us by," which is what he did at the beginning of the scene?) Submitted by gracep, 9/11/2010.
At 2:15 and again at 2:26 into the episode, when Clara Hammon is driving Earl Maulden away from their fake wedding, it's amusing to watch the street scene out the rear window: the car turns each corner long before she turns the steering wheel. Submitted by 10yearoldfan, 2 July 2012.
Also, at 2:57 Earl says to Clara, "Good luck, as the Reverend said." The Reverend really had said just that, after helping Earl into the car, as Clara drove away. Submitted by 10yearoldfan, 2 July 2012.
BAD EVIDENCE PROP. In court Tragg presents a casting of a tire imprint that he claims was made by "the Left Front wheel of Mrs Blanchard's station wagon" (32:30 of CBS/Paramount DVD). The casting indicates that the tire was heavily lugged like that of a farmer's pickup truck and, by comparison to Tragg's hand, was quite wide. Tragg's exhibit would have been made by a light-truck tire somewhat like this. Jo Ann's Country Squire can be seen to have standard passenger-car tires (7.10 - 15 for her car, tread shown here). I doubt that the wheel/tire that made Tragg's imprint could even fit inside the front wheel-wells of Jo Ann's car. Submitted by Gary Woloski, 3 Aug 2012.
<< Blushing Pearls | Episodes | Paul Drake's Dilemma >>