<< Wayward Wife | Episodes | Gallant Grafter >>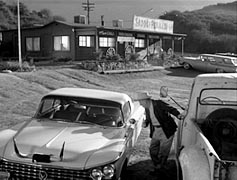 #83: The Case of the
Prudent Prosecutor
Original Airdate: 01/30/60
From The Perry Mason TV Show Book
This is the unique episode where Lt. Tragg is surprised to see Mason and Burger working on the same side.
While on vacation, Hamilton Burger introduces his fellow duck-hunters to Jeff Pike, an old friend who saved his life in a boating accident twelve years before. Now Jeff is in trouble and wants Hamilton's advice. Jeff and his son are at odds with a man who is later murdered. Since the L.A. District Attorney's office has jurisdiction, Hamilton disqualifies himself and asks Perry to defend his friend.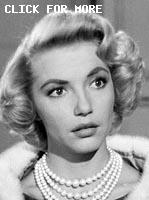 Opening
Starring Raymond Burr
in The Case of THE PRUDENT PROSECUTOR
Based upon characters created by Erle Stanley Gardner
Barbara Hale as Della Street
William Hopper as Paul Drake
William Talman as Hamilton Burger
Ray Collins as Lt. Tragg
Trailing
Directed by Robert Ellis Miller
Written by Jackson Gillis
Herbert Hirschman | Producer
Gail Patrick Jackson | Executive Producer
Seeleg Lester | Associate Producer, Story Consultant
Produced by The CBS Television Network in association with Paisano Productions
Arthur Marks | Associate Producer
Raymond Burr as Perry Mason
Barbara Hale as Della Street
William Hopper as Paul Drake
William Talman as Hamilton Burger
Ray Collins as Lt. Tragg
Cast
Philip Bourneuf as Asa Culver
J. Pat O'Malley as Jefferson Pike
Barbara Fuller as Joan Leonard
Ruta Lee as Vita Culver
Walter Coy as Denver Leonard
Dabbs Greer as Hal Kirkwood
Dennis Patrick as Prosecutor
Ron Foster as Fred Pike
Frank Albertson as Duck Hunter
S. John Launer as Judge
Michael Fox as Autopsy Surgeon
Edd Stoddard as 2nd Hunter
John Alonzo as Guitterez
Paul B. Kennedy as Court Reporter
Uncredited Actors
Lee Miller as Sgt. Brice (added by gracep 9/25/2010)
George E. Stone as Court Clerk (added by gracep 9/25/2010)
Robert Wegner as Courtroom Spectator (added by gracenote 11/20/2011)
Crew
Art Seid, A.C.E. | Assistant to the Producer
Production Supervisor … Dewey Starkey
Director of Photography … Frank Redman, A.S.C.
Art Direction … Lewis Creber
Assistant Director … Robert G. Stone
Film Editor … Richard H. Cahoon, A.C.E.
Casting … Harvey Clermont
Makeup … Irving Pringle
Hair Stylist … Annabell, S.C.H.
Wardrobe Supervision … William Zacha, Evelyn Carruth
Set Decoration … Charles Q. Vassar
Sound Effects Editor … Gene Eliot, M.P.S.E.
Music Editor … Gene Feldman
Properties … Ray Thompson
Production Sound Mixer … Herman Lewis
Script Supervision … M.E.M. Gibsone
Sound … Glen Glenn Sound Co.
Perry Mason \ A Film Presentation
A CBS Television Network Production
Location: "I believe the opening scene here is at the corner of Kanan Rd. and Agoura Rd. in the parking lot of a place called Whizins." Submitted by Mitch English, 10/2/2005.
+ Google map here. This is in Agoura Hills, CA. There was a Whizins restaurant at "Cornell Corners" near the time of the series. Today, the Whizins Shopping Center is located northeast of the intersection of Cornell Road and Agoura Road. This is about a mile east of Kanan Road. Submitted by daveb, 18 December 2007.
Location: I, too, thought the opening scene was Whizzins until I bought the DVD and on the cleaner, clearer copy saw the "Saddle Peak Lodge" sign. I've eaten at the Saddle Peak several times. It has gone from the roadside BBQ you see in this episode to five-star fine dining. It has a history with Hollywood types all the way back to Clark Gable. It's only a few miles from Malibou Lake which is a favorite location for Perry Mason episodes. For more information on the history of Saddle Peak Lodge go to their site here. Submitted by Eric Cooper, 2 September 2010. Some pictures here.
This is the only episode where Paul Drake does not appear. William Hopper appeared in 270 of the 271 episodes, more than any other person, even Perry himself. Submitted by PaulDrake33, 6/24/2008.
+ My records, and a quick check, show that Paul Drake did not appear in #80, "The Case of the Violent Village," either. Submitted by daveb, 6/24/2008.
+ Jim on the Perry_Mason Yahoo! group notes that Paul also was missing from #219, "The Case of a Place Called Midnight," as well. Submitted by daveb, 9/8/2010.
Hamilton Burger sits in the spectator gallery in this episode. He is also shown wearing casual clothing. Submitted by PaulDrake 33, 30 October 2009.
+In the courtroom scene in my copy, Burger wears a tie and a coat, not casual clothing, although he does indeed sit behind the bar.
Submitted by DocRushing on 01 August 2012.
+I think PaulDrake 33 meant that Burger was shown wearing casual clothing in this episode not necessarily in the courtroom. Submitted by Wiseguy70005, 11/10/13.
Where does GW get $48.50? I see only $48. Submitted by 10yearoldfan, 27 August 2012.
+ It cost Leonard $48 to register his '59 Buick "Convertable" on 8 Mar 59. But Gilman's Registration Form in Ep#86 indicates that on 23 May 59 it cost Gilman $48.50 to register his identical car. My object was to point out the anomalies on the Automobile Registrations in the series: every one of them I've read has at least one goofy entry on it. GW 28 Aug 2012.
Sightings: Courtroom regulars Little Old Lady in a Hat and Quiet Old Man #1 sit on the prosecutor's side, although they are most easily seen when court adjourns. When the hearing reconvenes, they are gone, but Distinguished Lady #2 fidgets quite a bit in the second row. Read about these and other recurring spectators here. Submitted by gracenote, 9/24/2010.
+ Almost missed one! Distinguished Gentleman #1 hides behind another spectator in the first part of the hearing, but if you look carefully you can see the tiniest bit of his face. (And in the second part, the Little Old Lady reappears, too, peeking between other spectators' heads, though you can scarcely see her.) Submitted by gracenote, 9/25/2010.
+ Room for one more! The aforementioned Gentleman serves at the concession stand behind Perry and Della as they talk with Ruta Lee. He brings them coffee to their table, too. Submitted by gracenote, 11/12/2011.
+ Also in the front row of the gallery (prosecutor's side) is the Cute Young Lady. In the back row on Perry's side, sitting right next to spectator Hamilton Burger, is Little Old Lady #2. Submitted by gracenote, 11/26/2011.
+ Room for one last addition as Miss Carmody watches from the front row behind the Prosecutor. Submitted by Bill767, 10/31/15.
Character Names: Michael Fox's character, listed as Autopsy Surgeon, is called Dr. Hoxie. Dennis Patrick's character, listed merely as Prosecutor, is called Darryl Teshman. John Alonzo's character's first name is Pedro. Submitted by gracenote, 9/25/2010.
+ I, too, would have gone with the Darryl spelling but the closed-captioning on the CBS/Paramount DVD gives the spelling as Darrel. Not being familiar with this spelling I looked it up in a baby book of names and the name was listed under Darrel with all other spellings such as Daryl and Darryl listed as variants. Submitted by Wiseguy70005, 11/10/13.
So Burger has been a hunter for at least 12 years according to this episode. However, in episode 3, "The Nervous Accomplice," aired only two years before, Burger didn't recognize a shooting stand calling it "that...whatever it is." Submitted by Wiseguy70005, 1/20/15.
RB played an Imprudent DA hounding Montgomery Clift's character in "A Place in the Sun" 6 years Before he became America's Quintessential Defense Attorney [IMDb]. Mike Bedard 3.8.15.
Comments

Edit
The priceless moment in the show is when Hamilton Burger mutters under his breath (but not so quietly that we can't hear it!) in response to Dennis Patrick's 'Prosecutor's' objections, "Shut up, you fool!" (From memory, not verbatim) And Dennis Patrick? I almost expected HIM to be found guilty! Submitted by MikeReese, 9 September 2012. + Actually Burger says, "Oh sit down be quiet". Submitted by HamBurger, 7/27/2014
That was a priceless moment, but another priceless moment was when Ruta Lee walked in to tell lies to Perry and Della in her skating outfit! She looks like a million bucks (actually $50,000!) in her short skirt and tight top! She puts the "figure" in "figure skating!" I imagine her outfit is a nice shade of peach. And when she testifies the first time, she keeps her mink coat on like it's freezing in the courtroom. Submitted by DyNama, 10/8/2014
Malibu or Malibou: It's interesting to note that when describing the community, it is spelled "Malibu" however when talking about the lake it is spelled "Malibou". Submitted by by HamBurger July 27, 2014, at 10:57 AM
Courtroom confession: This episode has IMHO the best/funniest confession outburst (I won't say who!). "I killed Leonard...I killed the BIG GAS BAG"!!! LOL! I play it back several times each time I see it! Submitted by mesave31, 10/21/14
Dennis Patrick makes his second of four appearances on PM to play the prosecutor in this episode but with pointed nose and smiling sneer he is always comes across and often plays the bad guy. He was especially devious in TCOT Golfer's Gambit later. Submitted by Perry Baby 5/2/15
<< Wayward Wife | Episodes | Gallant Grafter >>