<< Crimson Kiss | Episodes | Runaway Corpse >>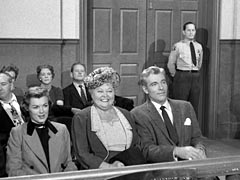 #9: The Case of the
Vagabond Vixen
Original Airdate: 11/16/57
From The Perry Mason TV Show Book (Revised)
A Hollywood producer hires Perry to get him out of trouble when a foxy young woman the mogul picked up hitchhiking turns out to be not only a blackmailer but also a witness to a murder the producer may have committed.
Note the change in title from Gardner's original "Vagabond Virgin," to the teleplay's "Vagabond Vixen." Quite a difference.
Cast
Robert Ellenstein as John Addison
Catherine McLeod as Lorraine Ferrell
Carol Leigh as Veronica Dale
Peggy Converse as Myrtle Northrup
James Anderson as Peter Handsell
Barbara Pepper as Mrs. Dale
Paul Cavanagh as Edgar Ferrell
Robert Carson as Sgt. Bent
Pierre Watkin as Judge Keetley
Perry Ivins as Print Man
Russell Trent as Neff
Jack Gargan as Court Clerk
Lee Miller as Deputy Sheriff
Uncredited Actors
Don Anderson as Bailiff
added by gracep 11/3/2010
CARS: 1957 Ford Skyliner retractable, black (Mason), 1957 Lincoln convertible, medium color, top down, 1957 Continental MkII, light color, 1957 Mercury 4dr sedan, medium color. From The Cars by Greg Cockerill.
+ Screenshots of the featured cars in the order they appear early in the episode:
Prop Anomaly. The prop "AUTOMOBILE REGISTRATION" for Addison's Continental incorrectly shows "License No. KYL-907"; we had just seen that number on the front and rear plates of Ferrell's Lincoln! "KYL 907" is also attributed to Ferrell's car by later courtroom dialogue. Also see "Prop Trouble" in Comments section. Submitted by Gary Woloski, 26 Apr 2012.
Continuity Error: The opening scene shows Veronica Dale and Peter Handsell exiting Peter's auto on the coast highway. Veronica has a sweater draped around her shoulders. In the closeup shots that follow, Veronica's sweater has disappeared. After that, Veronica again has her sweater again. Submitted by daveb, 5/27/2008. Updated by daveb, 10/3/2008. A vidcap here.
Location: About 16 minutes in, Perry gets a call: "Mason, I need your help. Meet me up at the house in Malibu. It's called Gull's Way. 26800 Pacific Coast Highway." Amazingly enough, this is all completely true and factually accurate! I drive by it all the time and that is exactly what it is called and exactly what the address is. Earlier in the episode, a girl runs down the hill from Gulls Way to a gas station which is still at the bottom of the hill. More of Gull's Way can be seen here. Submitted by Eric Cooper, 9/25/08. Posted by daveb. A vidcap and more here.
+ The beach back entrance to Gulls Way can also be see in Episode #66. Submitted by Eric Cooper, 6 January 2011.
Continuity Error: In the scene where Peter Handsell lets Veronica Dale out of the car, he gets out and, with appropriate dialog, unbuttons the top button of her dress. Seconds later, as he gets back in the car, we see the dress is buttoned up again. Shortly after he drives away, as she stands by the side of the road, her dress is unbuttoned again. Submitted by daveb, 10/1/08. Some vidcaps of the magical button here.
The script for "Vagabond Vixen" is dated 18 June 1957. The scripts of at least 8 other episodes are dated earlier. There's a good chance this was the 9th episode filmed. It's actually the 9th episode broadcast. Submitted by billp, 4 November 2009.
This episode of Perry Mason (TCOT Vagabond Vixen) is based on the Erle Stanley Gardner novel TCOT Vagabond Virgin. The season nine episode titled TCOT Golden Girls (#255, 9.14) is also based on this same ESG novel. So this ninth season episode is often considered to be a "re-make" of TCOT Vagabond Vixen. See here. Submitted by Charles Richmond, 26 April 2013.
Goof: "T" marks the spot. When Edgar Ferrell and Veronica Dale are at the Gull's Way hideaway and as they approach a desk/table near a window, you can plainly see a "T" on the carpet. This is Veronica's mark, and she sort of sidesteps to hit it. This curious lateral movement is what drew my attention to it. You can also see Edgar Ferrell's mark by the desk leg. They start to be visible at about 4:20 into the episode. Submitted by billp, 29 November 2009.
Uncredited Actors: Don Anderson plays the bailiff seated behind the court clerk. Submitted by FredK, 30 September 2010.
Location: About 33 minutes into this episode we see an excellent shot down Rodeo Drive in Beverly Hills where it deadends into the Beverly Wilshire Hotel. This hotel is most famous for being the Pretty Woman hotel where Julia Roberts stayed with Richard Gere. Submitted by Eric Cooper, 2 November 2010. Some pictures here.
Who's that in the portrait/poster opposite Myrtle Northrup's desk? (It's to Myrtle's right, above the filing cabinets.) Some have suggested it's Jayne Mansfield. Submitted by billp, 14 November 2010.
This episode marks the first of four episodes featuring Barbara Pepper, a former chorus girl (Ziegfeld Follies, no less) and good friend of Lucille Ball. She also appears in episodes #119, #134, and #168. Submitted by gracep, 11/14/2010.
Sightings: Distinguished Gentleman #1 appears as an elevator operator, and Pencil Mustache Man is one of the passengers in the final scene today. DG #1 apparently says "Second floor," while PMM chews gum and eavesdrops. Submitted by evelyne, 10 February 2011. More here.
Murder Date. One-quarter-way into the episode, Perry has Movie-Mogul John Addison write a cheque for Perry to issue to the payee later that same evening. At 13:46 (CBS/Paramount DVD) the cheque is seen to be dated April 26, 1957 (a Friday). At 18:06, Perry says that the murder had ocurred on the preceeding Tuesday, or April 23, 1957. On that specific date in LA there was an incredible but real-life Domestic Donnybrook involving exotic Peruvian singer Yma Sumac, Hollywood "Private Eye to the Stars" Fred Otash, Incas, Peruvians, a collie dog and a carload of cops from the DA's office. Jack Smith reported the incident in the next day's Los Angeles Times here (also see report here "The collie dog had the most fun"). Otash ended up suing Sumac for his fees in Oct 57, claiming "Yma didn't pay me for secretly watching her ex-husband". More about Jack Smith here.
John Addison's address shown on his car registration is a real residential address which is 3/4 mile from the Sumac household. Addison's address also appears on another car reg'n in Ep#95.
Fifty-five years later and Hollywood is still goofy! Submitted by Gary Woloski, 23 Apr, 2012.
Syndicated cuts: Scene of Handsell in Mason's office where Mason hands him the $2000 check; scene with Mason, Della and Lorraine; Tragg with Addison saying the judge will decide if Handsell's story is true; Veronica identifies the man who picked her up on the highway; Mason says Burger still has enough evidence to convict Addison. Additional Hallmark cuts: Scene of Mason getting Veronica out of jail; Scene in Mason's office where he tells Drake the plan to trap a blackmailer is not working and Della interrupts to tell Perry Sgt. Bent of Forgery wants to see him; a brief section of the print man's testimony where Perry asks him whether or not Addison's prints were put there before or after the murder and he replies that all he knows they were there. Submitted by Wiseguy70005, 7/16/12.
Comments

Edit
What's with this getting out of the wrong side of cars? First it's Peter Handsell when he drops Veronica off then it's John Addison at the service station. Maybe it's just me, but I'd rather walk around. Submitted by daveb, 10/1/08. A vidcap of John here.
+ I agree the sliding across the seat of the car is very odd. Even years ago, when it was a lot easier to do something like that, I can't recall a single instance of anyone sliding without a very good reason, e.g., the driver's side was next to a cliff or something. At the gas station, I know they wanted to position the car so Veronica could get in first and check the registration but even so ...? It seems to me for some bizarre reason they didn't want to reposition the camera for those scenes and shoot another few feet of film. Why? Submitted by billp 12/26/08.
The $100 Della gets from "Mrs. Dale" would be $736.56 in 2007. The $10000 Handsell wants translates to $73656.13. The $2000 check is $14731.23 in 2007. Submitted by billp 12/26/08
When Edgar Ferrell is driving Veronica Dale to the studio guesthouse, they go by a billboard. As near as I can make it out, it's an advert for "the world's largest gopher town." Do others agree with this? It is a bit hard to see. Apparently, it's in "San ?" Another billboard advertises the "Holiday House," apparently some sort of hotel. Do either of these ring a bell with anyone? Also, one of my pet peeves with actors and car driving with rear projection: they jiggle the steering wheel constantly. The impression I get when they do this is there's either something terribly wrong with the car's steering, the road or it's rear projection. Submitted by billp 12/28/08.
I think the hotel that Veronica's mother stays at courtesy Perry Mason is "The Town House," 639 South Commonwealth, Los Angeles. For more info, see here. The image of the hotel we see seems to be the rear side which faces South Virgil. Submitted by billp 1/11/09.
Although I know she's supposed to appear sexy to Ferrell, I find it a little curious that Veronica needs so little covering whereas Edgar is wearing a topcoat. Submitted by billp. 29 November 2009.
The title change from "Virgin" to "Vixen" is indeed troubling and ironic. In their attempt to be less offensive (presumably), the producers have changed the character of the vagabond woman in question from innocence to spitefulness. Less sexual, perhaps, but more insulting! Submitted by gracep, 10/9/2010.
Prop Trouble. The "AUTOMOBILE REGISTRATION" on the visor of Addison's '57 Continental MkII incorrectly reads "License No. - KYL-907, Make - LINCOLN, Type - CONT." Addison's plate number is unknown but it cannot be KYL 907 (seen on Ferrell's car). The other two entries should be: "Make - CONTINENTAL, Type - CONTINENTAL MkII" (or "Type - MkII").
Reason: From 1939-48 "Continental" was the top-of-the-line model of the Lincoln brand. This model was discontinued after '48. However, in 1955 Ford revived "Continental" as a separate brand (and Division of

FoMoCo

). For the US car model years 1956-57, "Lincoln" and "Continental" were separate Divisions of Ford Motor Company, each making quite different cars. During this period, Lincoln made a variety of models in the luxury price range (around $5K), whereas "Continental" only made ONE model (Continental MkII) which, at about $10,000, was "Luxury-Plus" and in the same class as Rolls-Royce.
Ford thus created its own "Brand Confusion" in the public mind. Also confused was the Perry Mason Prop Man who, I imagine, was told to produce a Car Registration prop for the "Lincoln Continental". He/she couldn't help but get it wrong, since a '57 "Lincoln Continental" didn't exist. [Note the Registration Fee of $248.00 on the form ($2K in 2012 dollars!): If authentic, I'm guessing that this was essentially a Tax levied at 2.5% of the purchase price.] Submitted by Gary Woloski, 28 Apr 2012.
<< Crimson Kiss | Episodes | Runaway Corpse >>