Exhibit 3 An aerial photo (click to enlarge) of the neighborhood from 5/31/94 courtesy the USGS and TerraServer USA. North is up. Resolution is 1 meter. Click for a full-sized view. The first sightline is in red and is the most accurate. The second is in green and is less accurate. It's distance to the right of the Los Angeles Times building is just a guess, but it gets us in the ballpark. Where these lines cross is the approximate location of the camera that took the office view photo. In the 50s, there were buildings along that side of Hill street. The area was a hill rising to the west. Hill street, get it?

The building the red line crosses at 3rd and Hill is a parking structure. At the time of the Perry Mason show, it was the seven-story F. P. Fay building. The building that the green line crosses just south of there is the Grand Central Market.

Evidence For The Location
To the left of the intersection of 3rd and Hill, on the south side of 3rd, is the location, at the time of the show, of the famous Angel's Flight funicular railway. In episode #262, The Case of the Twice-Told Twist, the opening scene takes place at the top of Angel's Flight, near the Olive street terminal. It's a night scene. As Perry parks his car, a darkened City Hall can be seen in the distance. The view is to the left of that seen from the office. During the scene, there are some nice shots of the railway in action. Unforunately, Perry and Della apparently are not on their way to the office. That would be too good to be true. Thanks to Susan at the Della-Perry group for pointing this scene out.

Angel's Flight was removed in 1969. Some years later, it was reconstructed a half block south. It reopened to the public in 1996.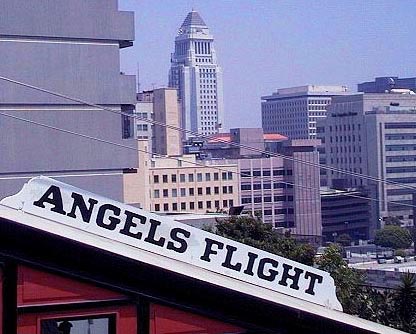 Exhibit 4 A photograph taken from about halfway up the Angels's Flight railway at the new location looking towards City Hall. The Los Angeles Times building is at the right. The view is similar to that from Perry's office.
Photo courtesy Richard J. Nemeth. Used with permission.