Show50
<< Fancy Figures | Episodes | Shattered Dream >>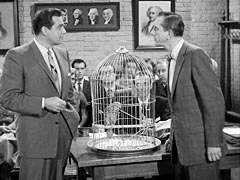 #50: The Case of the
Perjured Parrot
Original Airdate: 12/20/58
From The Perry Mason TV Show Book (Revised)
Bigamy, a double-talking parrot, and a sprinkling of familiar faces spice up this episode. Watch for Edgar Buchanan (Uncle Joe on Petticoat Junction) as Coroner Andy Templet and Joseph Kearns (the perpetually hassled Mr. Wilson on Dennis the Menace) as Edward Langley.
+ EB played "Judge" Edward Daley in "Lurid Letter"/'62. Mike Bedard 6.8.16
Yes, there is a talking parrot in this story, and it does wind up "testifying." The voice of the parrot is that of Mel Blanc, who also provided the voices for Bugs Bunny, Elmer Fudd, and a host of other Warner Brothers cartoon characters.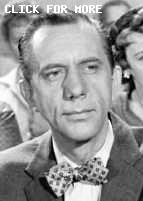 Trailing
Directed by William D. Russell
Teleplay by Marion Cockrell
Ben Brady | Producer
Produced by CBS Television in association with Paisano Productions
Gail Patrick Jackson | Executive Producer
Sam White | Associate Producer
Raymond Burr as Perry Mason
Barbara Hale as Della Street
William Hopper as Paul Drake
William Talman as Hamilton Burger
Ray Collins as Lt. Tragg
Cast
Edgar Buchanan as Andy Templet
Jody Lawrance as Ellen Monteith
Dan Barton as Richard Waid
Fay Baker as Stephanie Sabin
Robert E. Griffin as Fred Bascomb
Frank Ferguson as Sheriff Barnes
Joe Kearns as Mr. Langley
Jason Johnson as District Attorney R. Sprague
Maurice Manson as Charles Sabin
Pamela Branch as Helen Watkins
Jesslyn Fax as Court Clerk
Howard Culver as Rufus Bolding
Uncredited Actors (added by gracep)
Mel Blanc as Casanova the parrot (voice)
Maurice Manson as Arthur Sabin
Crew
Gene Wang | Story Consultant
Production Supervisor … J. Paul Popkin
Story Editor … Alice Young
Director of Photography … Frank Redman, A.S.C.
Art Direction … Lyle Wheeler, Lewis Creber
Editorial Supervision … Art Seid, A.C.E.
Film Editor … Otto W. Meyer, A.C.E.
Assistant Director … Robert G. Stone
Casting … Marvin Schnall, Harvey Clermont
Makeup … Richard Hamilton
Hair Stylist … Annabell, S.C.H.
Wardrobe Supervision … Dick James
Set Decoration … Walter M. Scott, Charles Q. Vassar
Properties … Ray Thompson
Sound Editor … Gene Eliot, M.P.S.E.
Production Sound Mixer … Robert O'Brien
Script Supervision … William E. Orr
Filmed in Hollywood by TCF Television Productions, Inc.
A CBS Television Network Production
CARS: 1956 Chevrolet 150 4dr sedan, light color (Taxi); 1958 Chrysler Windsor Town & Country 4Dr station wagon, medium color; 1958 Lincoln Continental Mark III Convertible, light color, top down, Lic No PHW 175; 1958 Cadillac convertible, black, white interior, top down (Mason). Cameos: 1955 Oldsmobile 88 Holiday Coupe 2-tone with a light-color 1951 Dodge Wayfarer 2Door Sedan. From The Cars by Greg Cockerill.
The courtroom in Logan City is a treasure trove of Presidential portraits. There are at least three pictures of George Washington. Also present are U.S. Grant, Andrew Johnson, Abe Lincoln, Thomas Jefferson, James Madison, and John Adams. There is one more portrait directly behind the front desk, but at no time is the face shown. Submitted by PaulDrake 33, 12 July 2008.
The court reporter/stenographer is Jesslyn Fax. She and Raymond Burr both appeared in the classic Rear Window. She was the sculptress. She also appears in TCOT Nervous Neighbor. Submitted by billp. 15 November 2009.
Location: The lake in Logan City is shown about 6 minutes and 20 minutes into the episode. In actuality it is Malibou Lake between Malibu and Agoura, CA. Malibou Lake is used quite often in the series. You can pretty much figure if Perry ever leaves the office for a lake it's Malibou Lake. It is featured in at least episodes #7, #26, #45, #71, #113, #195, #210 and #261. Posted by Eric Cooper 15 December 2009. More here.
Character Names: Criminologist Mr. Langley's first name is Edward. Submitted by gracep, 8/9/2010.
Casanova the Parrot and the un-named Impostor Parrot/Mel Blanc sounds like the Mel Blanc-voiced parrot on the Jack Benny Program. Court Reporter Jesslyn Fax, ("Just a minute, young man!"), appeared on The Jack Benny Program 8 times according to the IMDB. Any other Mason/Benny connections in this episode? Posted to Adam Kamil 07/05/2012
+ As a matter of fact, there is a NOTABLE connection to the Jack Benny show in this episode -- the presence of actor Joe Kearns, radio veteran, who played Jack's 'Vault' Guard both on radio and the tv series! Kearns had a pretty good career outside of being Jack's guard, it's well worth looking up! Submitted by MikeReese 7/26/2012
++ Another connection is Raymond Burr himself who appeared in character as Perry Mason in the episode "Jack on Trial for Murder" (November 5, 1961). Murdering a rooster, that is. Submitted by Wiseguy70005, 5/29/14.
+++ That Jack Benny episode featuring Perry Mason is a classic piece in which Burr shows fine comic timing. It's also a PM showcase, featuring familiar faces from the series: Frank Wilcox as the judge, Grandon Rhodes as a process server, and even George E. Stone as court clerk. This episode seems to be available only on VHS (I just scooped one up), but it's easy to find on YouTube. A must-see for fans of the show. Submitted by francis, 07/05/14.
++++ It is available in syndication/cable reruns although it may be hard nowadays to find a station that shows it, perhaps one of those "digital subchannel" networks like MeTV. The episode of Jack Benny I'd like to see is the "Twilight Zone Sketch" episode featuring Rod Serling but that episode seems to be one of the live episodes that aren't in the rerun package. Submitted by Wiseguy70005, 7/15/14.
Syndication cuts: Della reports that a club wants a lock of Perry's hair to auction off for a benefit [this sounds like a line that deserves to be cut]; Della feeding a squirrel, Mason noticing a wire tap, investigating its source, an empty cabin; Della arrives, reporting Paul is investigating phone calls from the cabin; scene with Bascomb, the Sheriff, DA Sprague and Ellen.
Additional Hallmark cuts: Part of Mr. Langley's theories at the cabin including walking to the fireplace, saying Sabin was killed a little after 11 on Tuesday after lunch and before cleaning the fish and the parrot interrupts him; Bascomb testifying he didn't see Sabin all week, driving by, seeing his car and looking in the window, and the coroner's remarks to the jury; as Langley is sworn in, the coroner's telling Mason that he wants Langley to give his theories even though Mason will object but Perry agrees and the coroner tells Langley to go ahead; Mason asking Langley if Sabin's being so hungry he ate or in a rush to put logs in the fireplace before cleaning the fish or putting logs the night before was logical and Langley's response that there are often trivialities that aren't consistent with the broad picture. Submitted by Wiseguy70005, 8/18/12.
After watching the DVD version and then seeing a syndicated version with all the cuts you really see how it just makes the stories hurried and less enjoyable. A lot of the quick personal interplay gets cuts first. Submitted by Perry Baby 2/3/15.
This is the third episode in a row where the murder victim is the husband in a bad marriage. I wonder about the next episode...Submitted by Duffy, 5-14-2014.
The parrot cage must have been moved when Sabin's body was. When Bascomb looks in the window the cage is at the corner of the chair. When the sheriff and Mason enter, the cage is now directly on the side of the chair. Submitted by Wiseguy70005, 5/29/14.
Both the novel and the episode state the murder took place in September. The cookbook found in the cabin has checkout dates throughout 1958 stopping in September so apparently the episode takes place in September 1958. However, the first date listed is in December 1958 which hasn't happened yet. Should have been December 1957. Also Mason tells Ellen the book was checked out on the 11th but the book clearly says the 9th. Submitted by Wiseguy70005, 5/29/14.
+ I researched the book and found that, as far as I could find, neither book nor author exists. OLEF641; 10/6/2017.
++ The book itself may have nothing more imaginative than "Cook Book" on it, but the author's name has ESG's style written all over it: Valentine Prosper...Gardner (or whomever) really out-Pitkined him(them)self on that one !! Notcom, 100617.
At 43:39 during Richard Waid's testimony, the audio goes silent about three times after he says "found my accounts short" as if an unwanted noise was edited out. Submitted by Wiseguy70005, 5/29/14.
Same hotel: Mrs. Sabin did not want to return to her husband's house so she stayed at the Windsor Hotel. Perry paid for Martha Dale to stay there in episode 9 TCOT Vagabond Vixen. Submitted by H. Mason 10/15/14
Newspapers: This story showed a front page headline on the Logan City Star-News. In episode 4 TCOT Drowning Duck the Logan City Sentinel appeared with the first front page newspaper headline in the series. Is one of the papers a weekly and the other daily? According to the sign in episode 16 TCOT Demure Defendant the population of Logan City was 4712. Does a town that size need (and could it support) two newspapers? Submitted by H. Mason 10/15/14
+ Newspapers were much more prevalent in that time frame, but, I think, even today small towns, especially ones that are kinda remote like Logan City apparently is, get better coverage from a "local". As for the question of supporting two papers, up until recently, the Kern Valley area of Kern County, California, with a population similar to Logan City, had two locals, the Sun and the Courier. OLEF641 11/22/2020
This is the only PM writing credit for Marion Cockrell, who passed in 1999 at the age of 90...MikeM. 9/15/2016
Consistency As noted above, this is the third appearance of Logan City - though the second was only a cameo - and although the Fourth Estate (perhaps) doesn't jive, in other ways there were matches: the exterior of the Courthouse (which actually looks like it might be a real building somewhere) seems the same, and the Courtroom is very similar (if unrealistic: exposed brick is unlikely even in a small, simple facility). Less plausible is the presence of a lake - since the other episodes either implicitly or explictly had LC in the desert...though the lake being set in the (presumably cooler) foothills above the city is possible. Noted by Notcom, 091616.
Maurice Manson was born in Canada and passed away in California, just like Raymond Burr...MikeM. 6/15/2017
This is the only PM appearance for Jody Lawrance (Ellen Monteith), who once shared a Van Nuys apartment with her father, stepmother, and stepsister, Norma Jean Baker, who would later be known as Marilyn Monroe. Jody Lawrence married in 1956 and divorced in 1961. She had one daughter by that marriage. Jody Lawrence re-married in 1962. She and her second husband had a son and a daughter. Jody Lawrance passed in Ojai CA in 1986 at the age of 55...MikeM. 6/27/2018
Perhaps the series' first "gimmicky" episode; at any rate it it the first - of only two - of the score of animal-related episodes where the animal actually has a part in the proceedings. Notcom, 071019.
Gavel Tally - Judge gavels for silence after the DA insists on havi g the parrot's utterances entered into the record. OLEF641 1/17/22
Comments

Edit
Not to be insulting but I've always thought actress Jesslyn Fax looked like Alfred Hitchcock in drag. Submitted by Wiseguy70005, 5/30/14.
I'm sorry, but when Ellen Monteith says she returned to the cabin to retrieve a slip, stockings, and a gun, I had to laugh. I suspect Mel Blanc also supplied the chattering of that squirrel - and whoever tapped that phone certainly didn't make make much effort to hide the wire. Perry wears a light color tie with a dark diagonal and small medallion. This is the first sighting of what will be about his most worn neckwear. Were libraries ever so casual about revealing patrons' book borrowing info? DOD 07/10/19
When I first saw this episode I felt that Mrs Sabin was guilty of something. The way she spoke in Perry's office when she and her daughter Helen went there just after her husband Charles was murdered was so over the top it seemed like she was trying to deceive Perry for some reason. By the way, this is one of my favorite episodes. I like the way Perry takes apart Mr. Langley's analysis of the murder. Submitted by Kilo 4/9/2018.
"...and the police think the parrot witnessed the murder." I wonder if Burr had trouble keeping a straight face saying that line? DOD 09/07/23

So is this another example of the murderer in an earlier scene pretending to be innocent when no one is watching? (Except us.) Submitted by Wiseguy70005, 8/18/12.
This episode is similar to "Angry Mourner" in that our murderer is someone angry about a real estate deal who pretends to discover his own crime. D OD 06/26/18
The premise about the parrot is pretty far fetched, I think. But there are a number of cases floating around currently where DA's are attempting to introduce statements picked up on devices or apps like Alexa and Siri. — submitted by judgebob1, December 14, 2020.
+ Or Zoom calls <cough> Toobin <cough>. Kilo 4/1/2021.
<< Fancy Figures | Episodes | Shattered Dream >>