Perry's Pen Set
From Jeff Richards
A recent picture of Perry's second pen set used from Season 2 to the end of the series.
More about Perry's pens courtesy Jeff Richards: "Perry's desk set in the first season was an older version of the PARKER 51 pen product (early 1950s). It was replaced the second season with a later 1950s version of the same set. In keeping with the time era (stylish 50s "modern" look) the design reflects the cars, clothes, furniture and architecture of the time. The base is black crystal and the two pens are fountain pens."
"The original cost of the set was $55 (2 pens, 2 holders, base, metal engraving plate). An optional Swiss SEMCA brand clock was available for $25."
"It would be interesting to know whether Parker (then of Janesville, Wisconsin) donated the set for product recognition or whether it was purchased by the producers for the program."
From Season 1, #13, TCOT Moth-Eaten Mink
The "old-style" pen set.
From Season 2, #52, TCOT Borrowed Brunette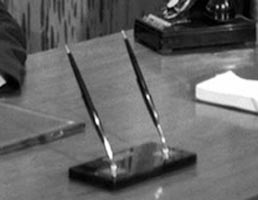 The modern pen set.
In #52, TCOT Borrowed Brunette, Jeff notes "I did a pause when Della removed one pen from the holder to fill out some records and could clearly see the point (nib) as she was writing/gesturing." Yes, these were fountain pens using real ink.
Learn more about the Parker Pen Company here and the "Parker 51" here.
The Judges Pen Set
From #52, TCOT Borrowed Brunette
More from Jeff: "The desk set on the judge's bench in the program opener is another brand: ESTERBROOK (less expensive than the Parker and also a fountain pen), which was very common in offices throughout and 50s and into the 60s."
This set appears, mostly, in the opening credits of the first three seasons. Learn more about Esterbrooks pens here.