From Episode 9, The Case of the Vagabond Vixen
Gull's Way
Much of the action in this episode appears to take place at Gull's Way. Here's the best vidcap of the building I found: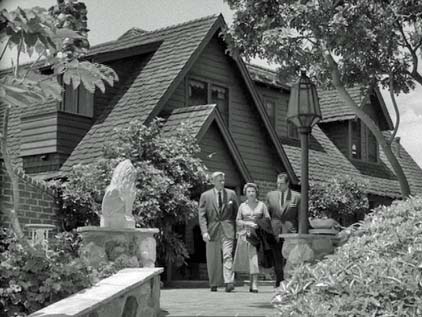 And here's a bird's eye view of the area courtesy Windows Live Maps Search. The building seen in the episode is to the right. Since it's the smaller of the two, I think it must be the guesthouse.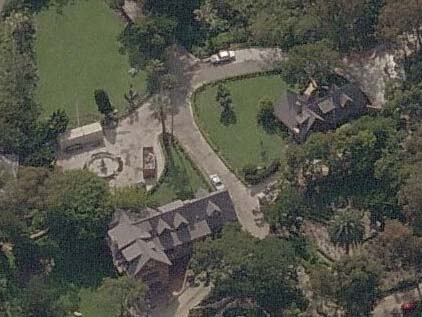 Courtesy Eric Cooper, and available on the web at various sites (one source is here), here's some background information on this location:
In 1943 Rick and Luella "Billie" Ulrich bought six acres of the oceanfront property at Latigo Point from Marblehead Land Co. for about $10,000. They added adjacent property bringing the total to eleven and one-half acres, covering most of the high ground above Latigo Shore Drive. The property includes a strip of beach between the ends of Latigo Beach Road and Malibu Cove Colony Road, separating the two neighborhoods.
Two houses were constructed, first an 1,840 square foot guesthouse completed in 1947 and then a grand 6,000 square foot, three-story brick main house completed in 1971, along with a beach house, caretaker's cottage, manicured gardens, statuary, fountains and a waterfall. The compound is known as known as Gulls Way, with its entrance at 26800 Pacific Coast Highway.
Gull's Way has been used as a location for hundreds of films and TV shows, including "Fantasy Island," "Hardcastle & McCormick" and "It's Only Money," starring Jerry Lewis. Rick Ulrich died in 1987 at the age of 86. In 1992 Billie, 91, arranged to donate the property to Pepperdine after her death in 1997. Pepperdine intended to use Gull's Way as a conference center, but could not get approval from City of Malibu for such as center in a residential neighborhood. Pepperdine listed the property for sale at $15 million in 2002. It is reported that Dick Clark bought it as an investment for an undisclosed sum.
The Service Station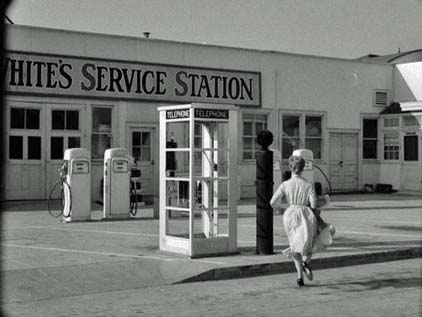 Magic Button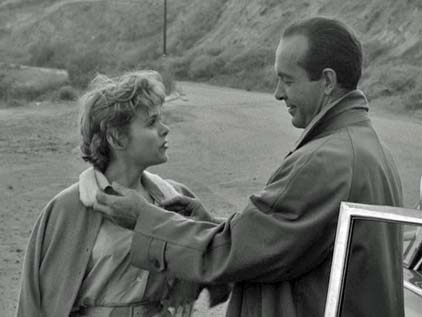 Peter unbuttons the button and opens her collar.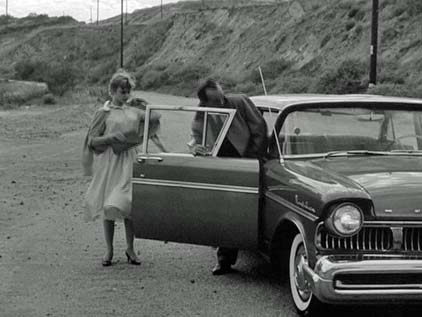 Magically modest again.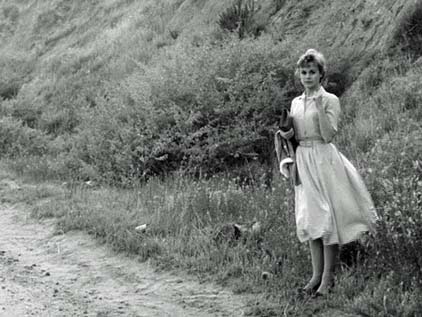 Unbuttoned again.
Missing Sweater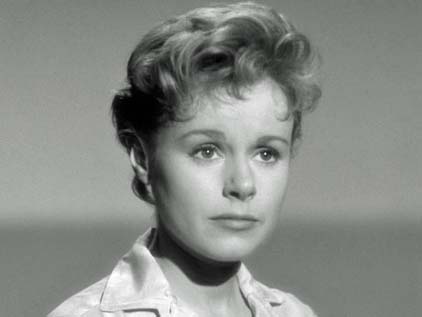 See! No sweater! She doesn't "actually" remove the sweater until Peter drives away.
Wrong Side!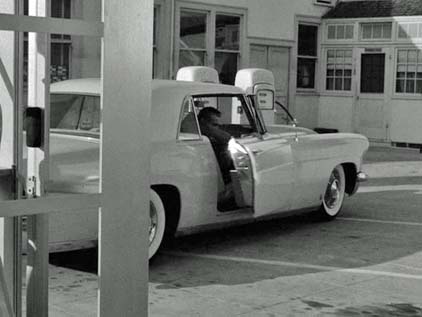 That's the hard way guy! OK, maybe it's just me. Nice car!
Beverly Wilshire Hotel
Thanks to Eric Cooper for reporting this. I've always wondered what that place was. Links from Eric: Pictures at the hotel site here and information at the Wikipedia.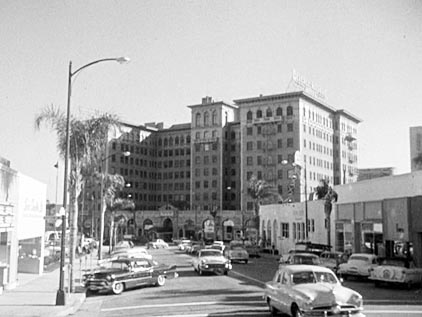 As seen in the episode.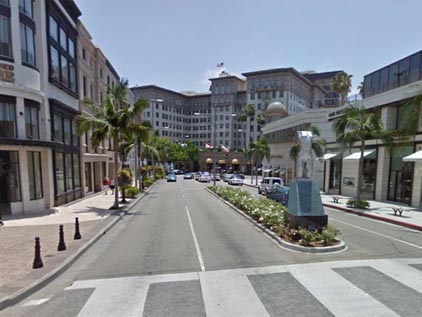 A recent view courtesy Google Street View.