William Talman was an essential member of the team that made the Perry Mason show the enduring success that it is. His performance as Hamilton Burger was outstanding. Karrin Kain, a contributor to the site, has put me in contact with Mr. Talman's son, actor and entrepreneur Tim Talman, who has graciously provided material for this remembrance page.
American Cancer Society
"I would also like very much, if it is at all possible to add to the site with regards to my father, information regarding the work he so courageously did on behalf of the American Cancer Society."
Video on YouTube Direct link to YouTube.
"My father did this in quite literally, the very last days of his life, and in doing so, I believe, saved many lives. It was the very first Public Service announcement of its kind speaking out against the perils of cigarette smoking. Of all the fine work he did as an actor, it is this one very courageous piece that is his legacy!"
Commemorative Stamp
"I am sure that you know that the Perry Mason series was honored last summer by the US Postal Service as one of 40 groundbreaking television shows in a commemorative series. My father and Raymond Burr appear on the stamp, which as you might imagine, is an incredible honor, not only for the show, but for my family as well!"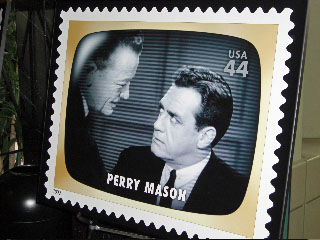 The Stamp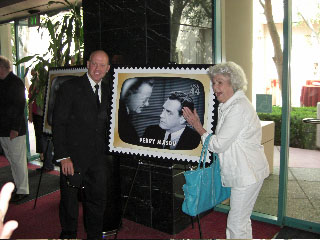 Tim, the Stamp and Barbara Hale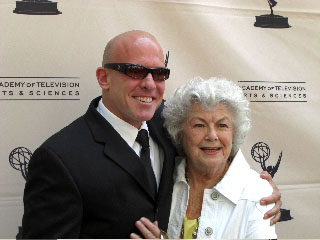 Tim with Barbara Hale
For more information about William Talman, read his chapter at the Perry Mason TV Show Book. Find more at the Internet Movie Database and the Wikipedia.