Show109
<< Envious Editor | Episodes | Fickle Fortune >>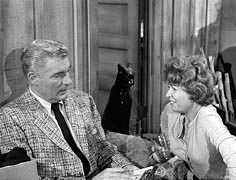 #109: The Case of the
Resolute Reformer
Original Airdate: 01/14/61
From The Perry Mason TV Show Book
This boozy, off-center episode has Perry rather unbelievably representing a citizen's group in hearings on a proposed aqueduct to be named after county engineer William Harper Caine. There is some question as to the acceptability of the proposed route, and Perry gets a stop work order until a section of Manzanita Canyon can be checked for an underground spring.
But this story has more to do with murder than drainage. Eventually, Caine needs Perry's help when Roger Quigley, the project's chief contractor, is murdered.
We get a good look at just how fast Paul can be on his feet. During the investigation, the detective is nearly seduced by a rum-soaked floozy and breaks the record for the 100-yard dash to escape her clutches.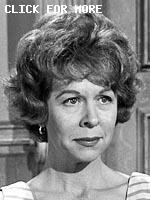 Opening
Starring Raymond Burr
in The Case of THE RESOLUTE REFORMER
Based Upon Characters Created By Erle Stanley Gardner
Barbara Hale as Della Street
William Hopper as Paul Drake
Ray Collins as Lt. Tragg
Trailing
Directed by Arthur Marks
Written by Samuel Newman
Seeleg Lester | Producer
Gail Patrick Jackson | Executive Producer
Arthur Marks | Associate Producer
Produced by The CBS Television Network in association with Paisano Productions
Jackson Gillis | Story Consultant
Raymond Burr as Perry Mason
Barbara Hale as Della Street
William Hopper as Paul Drake
Ray Collins as Lt. Tragg
Cast
Richard Eastham as Deputy D.A. Parness
Diana Millay as Debra Bradford
John Hoyt as William Harper Caine
Douglas Dick as Peter Caine
James Westerfield as Roger Quigley
Phillip Terry as Lawrence Kent
Byron Palmer as Charles Sistrom
Maxine Stuart as Grace Witt
John McLiam as Councilman William Daniels
Hardie Albright as Supervisor Albert Johnson
Tom Harkness as Judge
Charles J. Conrad as Dr. Auerback
Tony Hughes as Jack Parrish
Dennis Quinn as Lewis Bergdorf
Bert Stevens as Ronald Arthur
Dean Casey as Henry Bartlett
Joe McGuinn as Lt. Lew Kaufman
Gisele Verlaine as Waitress
Uncredited Actors
Robert Wegner as Spectator at Supervisors Meeting
Crew
Art Seid, A.C.E. | Assistant to the Producer
Production Supervisor … Dewey Starkey
Director of Photography … Frank Redman, A.S.C.
Art Direction … Lewis Creber
Assistant Director … Morris Harmell
Film Editor … John D. Faure
Casting … Harvey Clermont
Makeup … Irving Pringle
Hair Stylist … Annabell
Wardrobe Supervision … William Zacha, Evelyn Carruth
Set Decoration … Charles Q. Vassar
Sound Effects Editor … Gene Eliot, M.P.S.E.
Music Editor … Gene Feldman
Properties … Ray Thompson
Production Sound Mixer … Herman Lewis
Script Supervision … M.E.M. Gibsone
Sound … Glen Glenn Sound Co.
Titles and Opticals … Pacific Title
Perry Mason \ A Film Presentation
A CBS Television Network Production
Sightings: Nobody! Except maybe Pencil Mustache Man in the restaurant between courtroom scenes. Profile only. Not sure it was him. Submitted by daveb, 10/12/10.
+ Not so fast! In the corner of the courtroom gallery sits "Miss Carmody," the only one of our favorite frequent faces to make a field trip to San Marcos for the hearing. Submitted by gracep, 10/30/2010.
+ Yes, just a brief glimpse as Perry asks to recall a witness and the judge asks the DDA who says he has no objection. Submitted by Clothears 28-Jul-2021.
There are six actors credited who are, unless I missed something, unidentifiable based on episode content. They are John McLiam, Hardie Albright, Tony Hughes, Dennis Quinn, Bert Stevens and Dean Casey. I believe they are all seen at the board of supervisors meeting. Two are behind the raised table and have lines; four are seated at a table below and don't have lines. I believe one of the four is Bert Stevens. Submitted by daveb, 10/13/2010.
+ That is definitely Bert Stevens at the table. There is a picture of Hardie Albright in the database, but I cannot see him at the meeting. As for Dean Casey, he played a Det. Sanchez in an earlier episode (#92), but he does not appear in the photo database. Submitted by gracenote, 7/5/2011.
++ Bert Stevens was the older brother of Barbara Stanwyk. jfh 18Sep2018
The "chairman of the board" of supervisors has many lines and a desk name plate in front of him marked "S.H.MOODY," yet there is no Moody in the credits. Submitted by daveb, 10/13/2010.
Lt. Tragg (Ray Collins) although credited, does not appear in this episode. Submitted by gracep, 10/30/2010.
Deleted Scenes: The entire scene of Paul Drake fleeing from a floozy (as described in the summary) is not included in the syndication print. Additionally, the restaurant scene between courtroom scenes above is not included. Submitted by gracep, 10/31/2010.
+ One of my favorite episodes. When it shows up on the syndication circuit I always yell at the tube when they cut this scene. That whole Paul Drake scene is the best part of this episode. Submitted by HamBurger, 9/12/2021
Uncredited Actors: Robert Wegner appears a spectator to the hearing of the Board of Superivsors. Submitted by gracenote, 7/5/2011.
Once again during the final scene, everybody enjoys a hot beverage from the Curious Coffee Set. Submitted by gracenote, 7/5/2011.
+ The Curious Coffee Set actually appears TWICE in this episode! First, in the scene at the restaurant, the waitress, played by Gisele Verlaine, serves everyone from "the set" by pouring coffee from the Inland Glass Triangular Carafe. Then, in the final scene, "the set" migrates to Perry's office and Della pours coffee for everyone from the tall, narrow metallic carafe with the band around its neck and the butterfly handle. Submitted by catyron, 12/16/17.
CARS. (1) Peter Caine's white 1961 Buick LeSabre Convertible, top down. This is the first Non-Chrysler-Corp 1961-model-year car to appear in PM.
Paul needs a Galaxie of Wit to Dodge Grace. Added by Gary Woloski, 10/2/12.
Unusual guest-cast appearances: Maxine Stuart (Grace Witt) appeared in the classic The Twilight Zone episode "The Eye of the Beholder" as "deformed" patient Janet Tyler whose head was wrapped in bandages so only her voice was heard. (When the bandages were removed she was replaced with actress Donna Douglas of The Beverly Hillbillies.)...John Hoyt (William Caine) also appeared on The Twilight Zone in "The Lateness of the Hour," one of only six episodes to be videotaped rather than filmed...Diana Millay (Debra Bradford) appeared on the soap opera Dark Shadows as a phoenix who perishes in a fire but comes back to life every 100 years, appearing in episodes set in the 1800s and the 1900s...James Westerfield (Roger Quigley) appeared in one of the nine Ross Martin-less episodes of The Wild Wild West ("The Night of the Bleak Island") while Martin was recuperating from a heart attack in the final season. It was one of only two episodes in the entire series where James West did not have a secret-service partner...John McLiam (Councilman Daniels) appeared in all three of Raymond Burr's series including Ironside and Kingston: Confidential and also appeared in one of the few hour-long Twilight Zone episodes "The Miniature." Submitted by Wiseguy70005, 7/03/14.

It's for you, Mr. Mason: Paul calls Perry at Debra Bradford's apartment. jfh 18Sep2018
Paul Drake on the witness stand: For the third time we saw Paul testify. Perry did not object to the questions and did not ask any. He was previously on the stand in episodes 45 and 77. Submitted by H. Mason 11/5/14
This is the first of three PM appearances by Diana Millay. She worked as a child model for the Montgomery Ward catalog...MikeM. 8/31/2016
Maxine Stuart was married to Frank Maxwell, who was president of AFTRA from 1984-1989. Maxine Stuart passed in Beverly Hills in 2013, aged 94...MikeM. 8/31/2016
This is the third of seven PM appearances for Douglas Dick. According to Wikipedia, he retired from acting in 1971 and became a psychologist. He passed in 2015 at the age of 95...MikeM. 8/31/2016
This is the first of six PM Judge performances for Tom Harkness, who was born in England in 1888...MikeM. 12/7/2016
Him Too This is perhaps the show's only example of sexual harassment by a female. (Should we applaud the strike for equality or be doubly appalled ??) Notcom, 122817. "Yes." Submitted with a wink by Rickapolis 10/28/21
Folks should remember Richard Eastham (Deputy D.A. Parness) as the editor in the show Tombstone Territory that ran from 1957-1960 originally on ABC. He played Harris Claibourne, editor of The Tombstone Epitaph (an actual newspaper that still exists in limited form today). Submitted by HamBurger, 09/12/2021
Comments

Edit
Hooray! Della briefly wears her monogrammed dress this episode! Ed Zoerner, 5/1/10.
And she looks nifty in it! Submitted by DellaFan, 9/22/2013.
I think it is especially wonderful and not at all unbelieveable that in this episode Perry Mason is representing a citizens' group making their voice heard. That's democracy in action! And concern for the environment to boot! Submitted by gracep 10/30/2010.
+ I'm also very impressed to see government in action over corporations. The hearing reminds me of some hearings going on today where I live, over hydraulic fracturing of the Marcellus Shale on certain properties to extract natural gas. I'm very impressed that this fictional government exercised its power when concerns about safety and contamination of drinking water were raised, whereas my real-life local government caved in to the energy company over objections of landowners and taxpayers. Submitted by gracep 10/30/2010.
+ The character of Perry Mason was changed somewhat from the novels, especially the earlier ones. The Perry of the TV series was more "ethical" than Mason in the novels and the novel Perry would have been bored with representing a citizen's group. He often stated he liked the excitement and challenge of a murder case and the trial which resulted and often turned down cases that didn't involve a murder unless something personally interested Perry. Submitted by Wiseguy70005, 7/3/14.
That might explain why Burger and Tragg are sometimes gleeful when they think they 'caught' Mason in some unethical behavior. It doesn't make sense since Mason always wins his cases, finds the true culprit and never breaks the law. I wonder if that reflects more of the Mason from the novels, rather than the character in the TV show. --yelocab 11FEB19
I got all excited about a "lost" Mason episode when I saw "The Case of the Irresolute Performer" listed on the Zap2It.com TV listings for today. Not being able to find such a title here on the Wiki, I wondered if somehow I'd never seen it. MeTV (and TV Guide) were slightly better with "The Case of the Irresolute Reformer" which might have been more recognizable. alan_sings, 6/29/2012.
+ The Comcast Cable Guide on MeTV lists the episode title as "The Case Of The Resolute Performer" jfh 24Jan2019

That's a very strange door at 1244. Submitted by scarter 9/3/14

After Mr. Cain leaves Perry's office and Della re-enters to read Paul's report to Perry (at about the 17 minutes mark) Perry's eyes move as though he's reading along with Della on the cue cards. jfh 30Sep2019.

At the end of the story Mrs. Witt refunded $6,000 to Peter Caine and kept $3,000 for the land purchase. Peter still owned the land that was the only alternate site inside the canyon for the aqueduct. Submitted by H. Mason 11/5/14
Mrs Witt forged her dead husband's signature; the land sale thus would be void and the Caines off the hook. It would seem the entire $9,000 should have been returned. Boy, the Caines are naive. Peter never questions how Debra learned the Witte's entire life story overnight, and dad doesn't question making the check out to Debra. A couple of fish just waiting to be reeled in. The Curious Coffee Set makes two appearances; in the brief restaurant scene, where we also see that groovy triangular carafe, and the final office scene. Anyone else think Douglas Dick looks a bit like Michael Keaton, especially when he knits his brow? DODay 9/6/17

In this episode Douglas Dick looks more like Patrick McGoohan, especially the way he looked in Danger Man (Secret Agent Man here in the US), and some of the early Prisoner episodes. Submitted by Arisia, 03/12/18
The Caines strike me as extraordinarily naive; doesn't it seem odd to them that Debra should know so much so soon about the Wittes? DOD 09/20/18
Random thoughts: I really like this episode because I care about the characters under duress, Peter and his father. Mrs. Witt, with her nonstop smirking and giggling, makes me want to throw something at the screen. And Lawrence KENT? How can I not think of Clark Kent every time he's on the screen with his square features, slicked back dark hair, and thick black glasses? A kind of production joke? Interesting trivia: Kent was played by Phillip Terry, who was briefly (4 years) married to Joan Crawford. Submitted by JazzBaby, 9/3/2019.
<< Envious Editor | Episodes | Fickle Fortune >>