Show108
<< Larcenous Lady | Episodes | Resolute Reformer >>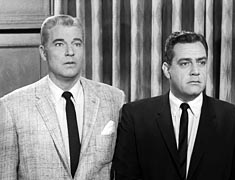 #108: The Case of the
Envious Editor
Original Airdate: 01/07/61
From The Perry Mason TV Show Book
Does pornography cause violence? Even Perry has a hard time with that one in this cheesecake-leads-to-murder episode.
James Coburn stars as Donald Fletcher, a vulturish moneyman who, after buying into a respected but financially troubled publishing house, has turned it upside down by changing its conservative publications into scandal sheets featuring pictures of nude women.
Edmond Aitken, whose family once controlled the publishing house, contacts Perry, only to learn that there isn't any legal basis to oust Fletcher. No problem. Someone does the family a favor and murders the yellow journalist/flesh peddler. Trouble is, the prime suspect is Edmond's wife Alyce, whom Fletcher had been blackmailing with "calendar photos" Alyce made in a moment of weakness.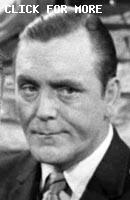 Trailing
Directed by Laslo Bendek
Written by Milton Krims
Seeleg Lester | Producer
Gail Patrick Jackson | Executive Producer
Arthur Marks | Associate Producer
Produced by The CBS Television Network in association with Paisano Productions
Jackson Gillis | Story Consultant
Raymond Burr as Perry Mason
Barbara Hale as Della Street
William Hopper as Paul Drake
Ray Collins as Lt. Tragg
Cast
Phillip Abbott as Edmond Aitken
James H. Coburn as Donald Fletcher
Paul Lambert as Ben Nicholson
H. M. Wynant as Deputy D.A. Sampson
Barbara Lawrence as Lori Stoner
Jennifer Howard as Milly Nash
Vinton Hayworth as Wendell Harding
Sara Shane as Alyce Aitken
S. John Launer as Judge
Sid Tomack as Rudi Tripp
Dave Willock as Jay Robinson
Jim Drum as 1st Reporter
Virginia Carroll as Mrs. Welch
Paul Power as Winslow
Donna Hayes as Girl
Harry Hollins as 2nd Reporter
George E. Stone as Court Clerk
Uncredited Actors
Robert Wegner as Door Bailiff
(spotted by g, 7/4/2011)
Crew
Art Seid, A.C.E. | Assistant to the Producer
Production Supervisor … Dewey Starkey
Director of Photography … Frank Redman, A.S.C.
Art Direction … Lewis Creber
Assistant Director … Robert G. Stone
Film Editor … Richard H. Cahoon, A.C.E.
Casting … Harvey Clermont
Makeup … Irving Pringle
Hair Stylist … Annabell, S.C.H.
Wardrobe Supervision … William Zacha, Evelyn Carruth
Set Decoration … Charles Q. Vassar
Sound Effects Editor … Gene Eliot, M.P.S.E.
Music Editor … Gene Feldman
Properties … Ray Thompson
Production Sound Mixer … Herman Lewis
Script Supervision … M.E.M. Gibsone
Sound … Glen Glenn Sound Co.
Titles and Opticals … Pacific Title
Perry Mason \ A Film Presentation
A CBS Television Network Production
Anomaly: Dave Willock, listed as Jay Robinson, is called Phillip Robinson in court by Deputy D.A. Sampson. Submitted Mitch English, 20 December 2007.
Continuity: When Lori Stoner is on the witness stand, the white streak in her hair is to the right of center. Later, in shots of her in the court seating area, the white streak is to the left of center. Submitted by Daniel Jones, 7/17/2007. Some pictures here.
Continuity: This is an addition to the Lori Stoner Continuity error listed by Daniel Jones - It's true that the white steak in the women's hair switched sides over the course of three courtroom scenes. But rather then it being a simple continuity error where the stylist forgot which side of her head she put the streak on it appears to be a goof in the editing room where someone dropped the piece of film containing the scene on the floor and when they picked it up it was turned "backwards" (from left to right, the woman's head was still at the top of the frame). Notice that her sheriffs badge looking brooch and the overlap of the coat's button flap and buttonholes are also reversed. The only way I can see this happening is that the film editor dropped the film and when they picked it up they had the emulsion side reversed producing this mirror image. If you go to the link Daniel included the author of that link suggests this was done on purpose to get a needed shot. Certainly a possibility but if so it's hard to think they would just ignore the fact that by faking the way she was looking (right v left) it would make the hair backwards, the brooch on the wrong side and the jacket button up backwards. Were they too cheap to just bring the audience back in, sit Lori down there, and film the scene properly?? Submitted Jim Delton, 10/17/2013.
+ Yes, this was/is a common practice in film. It is expensive to "reconvene" the actors and staff and recreate the lighting just to film a short scene where reversing the film would serve the purpose. There are a few episodes of Star Trek ("The Way to Eden" and "The Savage Curtain" come to mind) where William Shatner is shown backwards for a brief reaction shot. The part of his hair and shirt insignia can be seen on the wrong side. There is another episode where they needed a line from William Shatner after the footage had been filmed so they simply dubbed the line over footage of Shatner with his lips not moving rather than go back and film the scene. The fact that these were late third-season episodes after the budget had been reduced and they were running out of the money they did have may have something to do with it as well. Submitted by Wiseguy70005, 10/21/13.
++ The other episode was "The Cloud Minders" [Episode 74 of 79; TWTE was # 75 & TSC # 77]. Mike Bedard 5.26.16. //
Character Names: There seems to be some dispute about the pronunciation of Alyce Aitken's first name. It is at various times pronounced Elise and Alice. As a matter of fact when Jay Robinson is on the witness stand he pronounces it each way within a span of 30 seconds. Submitted by PaulDrake 33, 29 July 2009.
Sightings: Seen in and around the courtroom are Quiet Old men # and #2, Pencil Mustache Man, Distinguished Gentleman #1, "Miss Carmody," and the Little Old Lady in a Hat in the back corner. Submitted by daveb, 4/5/2011.
+ Distinguished Lady #2 also appears among the spectators. At one point she walks behind Perry and Paul as they confer in the hallway. Find more about all these folks on the "Who Is That?" page. Submitted by gracenote, 7/4/2011.
+We also get a few good looks at Mediterranean Woman, wearing her white turban or kerchief or whatever it's called, seated among several of our regulars on the defense side of the courtroom, at about 47 minutes on the DVD, when Perry makes his turntable demonstration. Then she somehow levitates to the prosecution side--changing outfits along the way--when the Lori Stoner character realizes the jig is up, and starts sobbing at 48:22. JohnK, 20 November 2022
The dark little poem that Nicholson recites to taunt poor Aitken is "Richard Cory" (1897) by Edwin Arlington Robinson. Simon & Garfunkel adpated it the 1960s (years after this epsiode aired). Submitted by gracenote, 7/4/2011.
Uncredited Actors: Scowling Robert Wegner appears, as he often does, as the bailiff guarding the courtroom door. Submitted by gracenote, 7/4/2011.
In the wrap-up, everyone drinks from that ubiquitous and Curious Coffee Set. Submitted by gracenote, 7/5/2011.
This Episode has No Outdoor Scenes and NO CARS. Added by Gary Woloski, 2 Oct 2012.
Dave Willock makes his first of two appearances on Perry here playing Jay/Phillip Robinson. Dave Willock attended college in Wisconsin with Jack Carson, then teamed up with him in vaudeville. After Jack Carson became a big star with Warner Brothers, he never forgot his vaudeville buddy, and gave him work whenever he could. When Jack Carson had a starring role in his own radio show in the 40's, he hired Dave Willock as his sidekick, calling him "Tugwell". Submitted by PaulDrake 33. 17 October 2013.
In this first episode to be broadcast in 1961, the opening credits were redone for this one episode. All of the credits from "Perry Mason" to the Erle Stanley Gardner credit are displayed larger than in other episodes and the three co-stars' names are displayed diagonally rather than in the usual three corners. Submitted by Wiseguy70005, 6/26/14.
So who played the waiter at the club for authors/journalists? He is seen picking up a tray of drinks, and I think he even says a word to one of the other actors, but no credit? From Welshwoman on 11/12/14
Philip Abbott played Assistant Director Arthur Ward on "The FBI," which ran 9 seasons like PM: there were 271 Perrys & 241 FBIs (1965-74). Mike Bedard 2.5.15.
Writer Milton Krims is credited with eight PM episodes. Milton Krims served in the Army Air Corps during World War II....MikeM. 8/30/2016
This is the only PM appearance for Sara Shane. She reportedly moved permanently to Australia in the 1960's...MikeM. 8/30/2016
This is the third of four PM appearances for Barbara Lawrence, who was a photographer's model as a child...MikeM. 12/6/2016
This is the first of three PM appearances for Paul Lambert, who was a lieutenant in the Army Air Corps during World War II...MikeM. 9/5/2017
The photo of the model on the cover of Aitken's Weekly, "Women of Washington" has been photoshopped, to use the modern term. Her bra has been drawn in. The original photo was probably topless. Submitted by Kilo 6/8/2018.
Comments

Edit
I've seen this episode a half-dozen times, but every time I "remember" the murderer incorrectly! Does that ever happen to any of you? I don't know why my faulty memory should fall victim to this episode in particular. In any event, I consider this a good episode; it has: credible suspects, an interesting plot, and an absolutely great performance by James Coburn. Ed Zoerner, 5/17/2011.
+It's weird you should mention that about this particular episode -- because I, too, mis-remembered who the killer was. It reminds me of the Twilight Zone episode where a woman turns into a leopard. Both my sister and I could have sworn, from watching it years ago, that she turned into a black panther, not a leopard. Submitted by scarter, 9/1/14
+++For whatever reason, I can "forget" the murderer in many of the episodes. Makes repeat viewings that much more enjoyable.Joe B. 04/13/2020
++++I too experienced this...or really something similar: at one point I said Well, it's going to be -----, it's just so obvious why s/he's being introduced that way. And I was wrong. And tho I focused on one particular character, there were actually several for which this could be said. I believe they did a particularly good job of bringing the various tropes together, but allowing them to serve as false flags. They also didn't show the murder, or really anything connected with it, which always gives a lot of latitude in how the case is presented (one downside to this, tho, is that the arrest is abrupt and disrupts our expectations of what's going on). Notcom, 031122.
I find James Coburn to be a rather unexpected casting choice. Submitted by gracenote, 7/4/2011.
James Coburn too often plays haughty, self-absorbed people who care nothing about how their actions negatively affect others. For this reason, he has *not* endeared himself to me. I guess for me to feel this way... is like the old silent movie days, when the audience "boos" the villain each time he appears. Submitted by Charles Richmond, 10/15/2013
In the novels, and perhaps in some episodes, Perry makes a great effort to keep one client (or potential client) from knowing who Perry's other clients are, especially if there is a possibility of one knowing the other. Perry even tells the client to exit the back door before the next client comes in through Della's office. In this episode, not only does Della freely announce that Mr. Aitken is waiting while Nicholson is consulting with Mason, when Nicholson asks if that is the Aitken of Aitken Publications Mason freely admits it is even though he knows they are both publishers and already knows that Nicholson at least knows of Aitken and allows Nicholson to exit while Aitken is entering. And sure enough Nicholson follows Aitken to his club and the plot point of them being together develops. Submitted by Wiseguy70005, 6/26/14.
Paul Lambert's character Ben Nicholson is an unusual fixture in PM -- making uncomfortable forthright observations of the behavior of these wealthy big shots. I'm sure literature has a name for such a character but I don't know what it is. His poetic delivery makes it all the more extraordinary. JohnK, 27 October 2021
It's rather redundant to say "3 a.m. in the morning." Submitted by scarter, 9/1/14
Hypocrite: Mr. Aitken, whose flagship publication was a failing literary magazine, tried to belittle Ben Nicholson for publishing a low circulation poetry magazine. Submitted by H. Mason 11/5/14
Guest appearances by Sara Shane and Barbara Lawrence. The only thing needed to make this episode a true guest trifecta of beauty would have been an appearance by Lisa Gaye. Submitted by BobH, 2 January 2017.
+ Paul and Perry are always also quite alluring. jfh 17Sep2018
<< Larcenous Lady | Episodes | Resolute Reformer >>