Show107
<< Red Riding Boots | Episodes | Envious Editor >>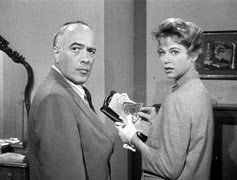 #107: The Case of the
Larcenous Lady
Original Airdate: 12/17/60
From The Perry Mason TV Show Book
A mayor's political career is jeopardized when his conniving wife goes too far. Cuckoo's Nest's Louise Fletcher plays the woman Perry must defend on a murder charge. Edward Platt, the chief on "Get Smart," also stars.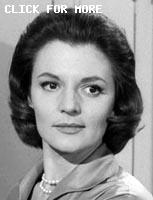 Opening
Starring Raymond Burr
in The Case of THE LARCENOUS LADY
Based Upon Characters Created By Erle Stanley Gardner
Barbara Hale as Della Street
William Hopper as Paul Drake
Ray Collins as Lt. Tragg
Trailing
Directed by Laslo Bendek
Story by Seeleg Lester
Teleplay by Sy Salkowitz
Seeleg Lester | Producer
Gail Patrick Jackson | Executive Producer
Arthur Marks | Associate Producer
Produced by The CBS Television Network in association with Paisano Productions
Jackson Gillis | Story Consultant
Raymond Burr as Perry Mason
Barbara Hale as Della Street
William Hopper as Paul Drake
Ray Collins as Lt. Tragg
Cast
Ellen Drew as Julia Webberly
Arthur Franz as Mayor Henderson
Louise Fletcher as Susan Connolly
Robert Brown as Frank Sykes
Patricia Huston as Mona Henderson
Edward Platt as Tom Stratton
King Calder as William Carter
Byron Morrow as Judge
William Boyett as Sergeant Reynolds
Myron Natwick as Desk Clerk
Christopher Dark as Prosecutor Thorne
Mara Massey as Switchboard Girl
Robert Terry as Arnold Webberly
Uncredited Actors
Ralph Brooks as Courtroom Spectator (from IMDb)
Colin Kenny as Courtroom Spectator (from IMDb)
Crew
Art Seid, A.C.E. | Assistant to the Producer
Production Supervisor … Dewey Starkey
Director of Photography … Frank Redman, A.S.C.
Art Direction … Lewis Creber
Assistant Director … Morris Harmell
Film Editor … John D. Faure
Casting … Harvey Clermont
Makeup … Irving Pringle
Hair Stylist … Annabell
Wardrobe Supervision … William Zacha, Evelyn Carruth
Set Decoration … Charles Q. Vassar
Sound Effects Editor … Gene Eliot, M.P.S.E.
Music Editor … Gene Feldman
Properties … Ray Thompson
Production Sound Mixer … Herman Lewis
Script Supervision … M.E.M. Gibsone
Sound … Glen Glenn Sound Co.
Titles and Opticals … Pacific Title
Perry Mason \ A Film Presentation
A CBS Television Network Production
This is one of my favorite episodes because of the nice little scene between Perry and Della at the end! By Welshwoman
Goof: When Mona Henderson sees her husband and William Carter to the door of her house, she seems to be wringing her hands as if she had something on them. When she shuts the door she leaves a visible hand print mark on the door frame. Submitted by billp, 25 October 2009.
Continuity: The sunlight plays some magical tricks in this show. When Mason drives up to the Henderson house at 14:37, there is a surprising amount of sunlight for an 8 o'clock appointment on an evening in March. As Henderson walks up from his car at 14:55, the trees cast early-afternoon shadows on the ground. Moments later, when Mason and Henderson meet at 15:11, their shadows fall crisply on the front door from an inexplicable light source behind them to the left. When Mason and Henderson enter the house at 15:17, you can see out the door that it has suddenly gotten very dark outside. But when Mason goes back outside at 15:30 and sees Susan Connolly's car drive away, the sun has magically returned and glints off of the trunk lid of her car. Submitted by 10yearoldfan, 10 February 2012.
Continuity: When Tom Stratton, Ed Platt, a.k.a. "The Chief" on Get Smart, is examined and cross-examined, pay attention to the spectators. When the session begins, we see Mayor Henderson, Franz, seated in the aisle behind Paul Drake, and a young man is to Drake's left. When the scene ends, Henderson has magically moved to Drake's left and the young man has disappeared and a new man is behind Drake. Submitted by billp, 25 October 2009.
+ You gotta love Ed Platt's character. No matter what is thrown at him he insists he didn't do anything wrong, had no business dealings with anyone involved and didn't meet anyone at a hotel even though he knows a photo was taken of the meeting. Submitted by Wiseguy70005, 6/12/14.
+ So often Ed Platt plays a stand-up character -- The Chief, his other PM roles -- and it's interesting to see him as a schemer. Great arching eyebrows! JohnK, 5 October 2015
Sightings: Today we find the Distinguished Gentleman #1 and Distinguished Lady #4 viewing the court room action. Bill767, 1/3/16.
Character Names: Mayor Henderson's first name is Jim (as addressed by his wife). Submitted by gracep, 10/29/2010.
The Mayor's name is James M. Henderson, as seen on the door to his office at 5:36. Submitted by 10yearoldfan, 2/10/2012.
Arthur Tragg (Ray Collins) does not appear this episode, altough his name appears in the credits. Submitted by gracep, 10/29/2010.
+ Arthur in absentia: Better than that, although Lt Tragg does not appear, he is referred to by the detective testifying about the plaster casts of the shoe prints, at about 34:50 on the DVD. John K, 13 August 2017
Location: Just an establishing shot, but that's the Washoe County Courthouse in Reno, Nevada, shown just before the trial begins. Perry may be a little too far out of town on this case! More information here. Submitted by Craig Sundstrom via email, 4/22/2011.
That shot is obviously old stock footage - the cars all look like late 1920s/early 1930s models. DOD 10/12/20
The opening scene features Mr. and Mrs. Henderson taking refreshment (and discussing the crime commission) with Carter, and they use the Curious Coffee Set. Submitted by gracenote, 7/4/2011.
A small point, but that is not the Curious Coffee set in the opening scene. Those cups are straight sided - the Curious cups are tapered. DOD 09/12/20
CARS. (1) Perry's black 1960 Ford Galaxie Special Sunliner, Lic No TVC 236, top down.
Background Cars of interest:
(a) At 14:16 an all-white 1958-'62 Simca Aronde Plein Ciel (5-passenger 2Door Sports Coupé) is parked near the Henderson home as Perry arrives for his 8pm appointment. It's always been a mystery why Simca called its Sports Convertible Océane but its Sports Coupé "Clear Sky". See Comments section Ep#51 for more on Simca.
(b) When Perry later returns to the Henderson home a '57 Ford, looking identical to "Getaway Car" (3), is parked on the street nearby. Confusing - What's it doing there?
(c) As Perry drives to see Tom Stratton (19:55-20:04) he passes a beautiful all-white 1949 Dodge Wayfarer Sports Roadster convertible, top up (same shot was seen in Ep#103).
I was a bit annoyed by the discrepancy between the appearance of Car (3) versus its colors as stated in the dialogue: the "Gray" looked White. I'm wondering why the script didn't reflect how the car would appear to viewers in B&W, regardless of its true colors. Together with the Car(b) issue, the car-wrangling appears sloppy in this episode. Added by Gary Woloski, 10/1/12.
+ On behalf of all us vintage car lovers, let me say thanks to Gary for his most informative and comprehensive contribution as regards those vehicles. They are most evocative of the era and a big part of the show's appeal to many of us. Well done, Gary. Submitted by francis, 9/07/14.
+ I agree ! I wonder how many of these vintage cars are seen/sold on Mecum Auctions ? - Submitted by HamBurger - 09/13/2014
INQUIRER SPECIAL! The coin-box for the UPTON INQUIRER Morning Edition reads "PAY HERE 10¢" but in the extreme close-up at precisely 18:07 the front page reads "PRICE SEVEN CENTS". This is the second consecutive episode in which three cents has been knocked off the price of the local newspaper. Submitted by Gary Woloski, 9 Oct 2012.
+ And as usual, the article under the headlines is nonsensical. Submitted by Wiseguy70005, 6/12/14.
Closed-Captioning: Many closed-captioning errors in the CBS/Paramount Season 4 Volume 1 set including: @28:25 during Mason and Stratton's conversation the hotel room 204 is written as 2O4 (with a letter O*); a half-minute later during Stratton and Sykes' conversation it is written correctly. @32:34 during Stratton's cross-examination by Mason, the line "in the midst of what could be interpreted..." is written as "would be." Moments later the verbs in Mason's questions are written in past tense: "Did you destroyed it?" "Did you killed for it?" @41:25 during Mason's cross-examination of Mayor Henderson he answers "At about a quarter past seven" but the closed-captioning reads "At about a 7:15." @42:13 also during the cross, Mr. Stratton is written as "Mrs. Stratton" and Miss Connolly as "Mrs. Connolly." (*This is a problem with the title Hawaii Five-0 which is sometimes written as Five-O. It should always be a zero. Both series.) Submitted by Wiseguy70005, 6/12/14.
After the commercial break, during Perry and Paul's carphone conversation, low music can be heard in the background but only during Paul's half of the conversation. The music abrubtly stops when Mason is shown. Submitted by Wiseguy70005, 6/12/14.
+ Also note this was the first time we saw Paul use his carphone. Added by H. Mason 11/4/14
+ But when Perry calls Paul on the car phone, the car phone rings. It doesn't buzz; it rings with the standard sound bite used for the landline telephones. In later episodes the car phones buzz, for example, Hudson Bradshaw's car phone in Episode #201 TCOT Frightened Fisherman. Added by Dan K, 7 December 2016.
When Mason is at Henderson's door he hears someone running from the back and escaping in Susan's car. Henderson is looking for his wife and then called Mason from the door after he finds the body. Oddly enough, Mason says "If someone was here in the house they must have run out the back way" as if he hadn't just seen it. Later Henderson testifies that he recognized Susan's car driving away. Even though he knew Susan may have been there, there's no way he saw the car driving away even if he was standing behind Mason (which he wasn't) because his view would have been blocked by the trees. Or is everyone just lying? Submitted by Wiseguy70005, 6/12/14.
Phone number: The number on the Henderson telephone appeared to be Hollywood 2-0799. Hollywood has been used as a Los Angeles exchange (story took place in Upton) and that phone number was used in episodes 79 and 99. Submitted by H. Mason 11/5/14
Louise Fletcher makes her second and last appearance with both times as the defendant. She was previously in the TCOT Mythical Monkeys. She looks thinner than in the other episode. Submitted by Perry Baby 9/29/15.
+ In both episodes, she portrays (very competently) a rather naïve and hapless secretary who is ill used in a complex plot and winds up needing Perry's services to avoid being convicted. Added by Dan K, 25 October 2019.
+ Louise Fletcher died on 23 September 2022, at age 88. Added by Dan K, 24 September 2022.
This is the second of four PM appearances for Patricia Huston...MikeM. 8/27/2016
This is the only PM appearance for Ellen Drew, who was supposedly discovered working in a Hollywood ice cream parlor by actor William Demarest...MIkeM. 12/5/2016
The first of three PM appearances for Robert Brown. He is arguably best known for his appearance in the classic Star Trek episode, "The Alternative Factor" as Lazarus (both versions). He is apparently still with us at the age of 94. Submitted by Kenmore 7/25/2021
Comments

Edit
When Perry begins his cross-examination of Tom Stratton (Ed Platt), his voice sounds hollow and stilted. Clearly he's had to be dubbed later by Raymond Burr for some reason. Also, Ed Platt turns in a good performance in this episode. I think he was a very under-rated actor. Submitted by billp, 25 October 2009.

The police matron in the courtroom is very lax in her demeanor, first sitting with her legs crossed during the morning session, then sitting casually draped across her chair on the afternoon session.

So…what was is the larceny alluded to in the title? Queried by gracenote, 7/4/2011.
Good question. Blackmail and extortion are separate crimes from larceny, and so is murder. Those are the only crimes involved here, right? (although there might be a sort of "insider trading," but that's how all cities operate their real-estate deals, right -- the insiders get rich?) cgraul 6.27.12
I believe they refer to Mona Henderson stealing the photo from Sykes. As he says on the stand to Perry, "(She) Took it right out from under my nose." DellaFan 3/25/21
When Julia Webberly drives up to Frank Sykes's house at 24:43, we see the license plate of her car, KYL 907. I'm sure we've seen that creepy plate before in another episode. Submitted by 10yearoldfan, 10 February 2012.
+ 10yearoldfan is right. At the least, "KYL 907" has appeared as follows:
Perhaps "KYL 907" was a defunct pair of real plates held by the Props Dept and used on unlicensed cars. Thanks to 10yearoldfan for bringing this out! Another multi-use Lic Number is NFL 252. It is seen on the Automobile Registration forms of four different cars in episodes 77, 83, 86 & 89 (plates not seen, just the forms). Another strange license number is the UAR 076 seen on Perry's '60 Sunliner in Ep#99. Submitted by Gary Woloski, 28 Sep 2012.
+ The plate number KYL 907 was also on Tony Davis' car in episode 41 TCOT Lucky Loser. Added by H. Mason 11/1/14
1957 Ford Model Names. In the CARS Trivia entry above, I have used descriptive names for cars (3a) & (3b). The Official 1957 Ford model-names for those cars are:
Ford confused almost everybody by varying its nomenclature every year. Here is a translation guide for 1957 Fords (limited application for other years):
Models from "Base" to "Top-of-the-line": Custom --> Custom 300 --> Fairlane --> Fairlane 500.
"Club" = 2-Door (Tudor). "Town" = 4-Door (Fordor).
"Victoria" = HardTop (no B-Pillar). "Sedan" = sedan (!) (B-Pillar at center of roofline).
The excellent website 57fordsforever.com lists 23 Ford models for 1957, excluding special vehicles. While you're there, be sure to click on "Exterior Colors" at the left and check out the paint scheme for your '57 Ford! From that site, here's a twin of this episode's Getaway Car (3), a 1957 Ford Fairlane 500 Club Sedan. Submitted by Gary Woloski, 10 Oct 2012.
I thought it humorous that after Sykes' first appearance on the stand, Mrs. Webberly states that "there wasn't a word of truth" in his testimony. Then, when Sykes' was called to testify again, the judge reminded him he was still under oath! Submitted by Wiseguy70005, 6/12/14.
And speaking of the judge, this case seems to have an unprecedented amount of interference - for want of a better word - from the judge in the proceedings: I don't recall any other episodes where the judge directs the prosecutor who to call as a witness (or tries to direct, for when the latter refuses, the judge himself calls her). The premise - that Perry had been deprived of an opportunity to cross-examine - doesn't make much sense, since he could have called her himself as his witness. Submitted by Notcom, 112415.

In this case the DA was obviously playing games. When Perry objected, during Sykes' questioning by the DA, he also requested that "...the Court admonish the District Attorney and assign the question to misconduct." The Judge said he agreed and sustained the objection. Then he asked the DA why he wasn't presenting best evidence. The DA replied about not being able to locate Mrs. Webberly, blah, blah, blah, and then added "I will promise the Court, however, that we intend to put Mrs. Webberly on the stand..." Perry delayed his cross-examination of Sykes until after Mrs. Webberly was put on the stand, and the Court agreed.
Then, when Mrs. Webberly appeared, instead of honoring his promise to the Court the DA tried to rest his case and BLATANTLY, AND DEFIANTLY REFUSED TO HONOR HIS PROMISE. This is why the Court ORDERED the DA to put her on the stand or he would. The Judge SHOULD HAVE also found him to be in Contempt of Court.
My only question is whether or not the DA WAS brought up on charges of misconduct as a result. It was the DA who was COMPLETELY out of line, NOT the Court. Burger did this before, but since he did NOT PROMISE to call the witness the Court could not force him to do so. This DA DID PROMISE THE COURT. Submitted by Arisia, 03/11/18.
+ I didn't know this episode very well, and for once followed the story rather than watch the neckties and the levitating spectators. I thought the acting was quite good -- Edward Platt's calm and determined deceit, and Byron Morrow's extended stern speeches as the judge. Which of course points to the quality of the script. The lack of histrionics, except maybe from the golf pro, and the defendant I suppose, kept the story tense. For me at least, in this viewing. Respectfully submitted by JohnK, 26 October 2021
I wonder if the prosecutor has Asperger's. He seems to have a lot of trouble making eye contact. Submitted by scarter, 8/27/14

+ No, he only had trouble making eye-contact because he was a shady character. He was relying on hearsay, and refusing to follow procedure; then, if that wasn't bad enough, he made a promise to the Court and reneged on it which prompted the Court to allow Mrs. Webberly to be cross-examined by Perry without being first examined by the DA. It was almost as if he knew who the real murderer was and was protecting him. Submitted by Arisia, 03/11/18

Audio from TCOTLL can be heard on a patient tv screen in an episode of "The Bold Ones": Perry is talking to "Mr. [Mayor] Henderson"; Raymond Burr is co-listed above "Harbour Productions Unlimited" in closing TBO credits. Mike Bedard 2.27.15.
+ More information please. Do you know the title of The Bold Ones episode? Also The Perry Mason story refered to above would be episode 107 "The Case of the Larcenous Lady". Other LL episodes were Latent Lover, Laughing Lady, Lavender Lipstick, Lawful Lazarus, Libelous Locket, Loquacious Liar, Lover's Leap, Lucky Legs, Lucky Loser, and Lurid Letter. [Reminds me of some old DC comics Superman stories.] Added by H. Mason 3/4/15
++ Sorry, I did a three hour search and couldn't find ANYTHING. There aren't even videos of complete episodes, or detailed descriptions of the episodes. Considering that Burr was in an executive capacity for that show, AND it was set in the same "Universe" as Ironsides, I would guess the episode in question would have to have been early on in Season 1 because it was probably done to unofficially link the two shows and maybe get some of PM's audience watching. Submitted by Arisia, 03/11/18

I wonder how the priority in the credits was decided. Ellen Drew gets first billing but I would guessed Arthur Franz and Patricia Huston (has that Patrica Barry look) would have been listed 1 and 2. Submitted by Perry Baby 9/29/15.
She (Patricia Huston) not only has that Patricia Barry look, her character has the same cold-blooded approach - the difference being that Ms. Barry could make a statue perspire, whereas Ms. Huston, in my opinion, is as passionate as a chunk of dry ice .. and talk about seeing, but NOT seeing, I just noticed that Ms. Huston played a similar role in #76 Golden Fraud, along with Arthur Franz, but not as his wife, but as the wife of the character who was competing with Franz for a position in the firm they worked for ... man, could that woman play an ice-cold you-know-what! I guess women were more genteel in those days ... if my wife were in the position of 'Julia Webberly' (Ellen Drew), she'd likely had kicked 'Mona Henderson's' little tail all the way back to her home! Submitted by MikeReese, 12/5/2016.
Location: Susan Connelly meets Mr. Stratton at the Highway Hotel which is clearly the Oxnard Hotel now gone but located in Oxnard a 30 minute ride up the coast from where Raymond Burr lived in Malibu. Eric Cooper 30 Aug 16
The view out the window to the judge's left seems to change. At first we see a bit of shingled roof. Later we see a shuttered window. In either case, the view has no relation at all to what we see in exterior shots. The exterior shot of the courthouse is obviously stock footage- not a car in view later than the late 1930's. DODay 09/04/2017
Despite the episode's flaws, most notably the actions of the defendant as Mason and the Mayor arrive which stretch credulity, I do like how Mona's actions are still influencing the characters well after her death. It's almost like she is still around. That is a really nice touch in an otherwise typical episode of Perry Mason. Submitted by Kenmore 7/25/2021.
<< Red Riding Boots | Episodes | Envious Editor >>