Show89
<< Bashful Burro | Episodes | Nimble Nephew >>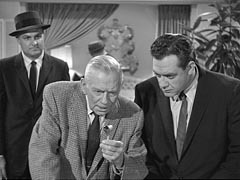 #89: The Case of the
Crying Cherub
Original Airdate: 04/09/60
From The Perry Mason TV Show Book
When a valuable Matisse painting is stolen, and the thief winds up murdered, Perry must do double duty and defend a museum employee and her boyfriend.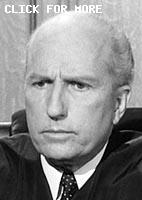 Opening
Starring Raymond Burr
in The Case of THE CRYING CHERUB
Based upon characters created by Erle Stanley Gardner
Barbara Hale as Della Street
William Hopper as Paul Drake
Ray Collins as Lt. Tragg
Trailing
Directed by William D. Russell
Written by John D. Latimer
Herbert Hirschman | Producer
Gail Patrick Jackson | Executive Producer
Seeleg Lester | Associate Producer, Story Consultant
Produced by The CBS Television Network in association with Paisano Productions
Arthur Marks | Associate Producer
Raymond Burr as Perry Mason
Barbara Hale as Della Street
William Hopper as Paul Drake
Ray Collins as Lt. Tragg
Cast
Joe Maross as David Lambert
Tom Drake as Richard Harkens
Abraham Sofaer as Sylvester Robey
Mala Powers as June Sinclair
David Lewis as Deputy D.A. Mark Hanson
Kathryn Givney as Amelia Harkens
Carmen Phillips as Liza Carson Lambert
Thomas McBride as Thomas Clark
Richard Gaines as Judge
Isabel Randolph as Mrs. Vandercord
Elvia Allman as Mrs. Forbes
Elizabeth Harrower as Woman Artist
Lee Miller as Sgt. Brice
Patrick Waltz as Policeman
Jack Perrin as Bidder #1
Mary Benoit as Bidder #2
Helene Heigh as Club Woman
George E. Stone as Court Clerk
Uncredited Actors
Robert Wegner as Other Police Officer (sighted by gracep 10/2/2010)
Crew
Art Seid, A.C.E. | Assistant to the Producer
Production Supervisor … Dewey Starkey
Director of Photography … Frank Redman, A.S.C.
Art Direction … Lewis Creber
Assistant Director … Morris Harmell
Film Editor … John D. Faure, A.C.E.
Casting … Harvey Clermont
Makeup … Irving Pringle
Hair Stylist … Annabell, S.C.H.
Wardrobe Supervision … William Zacha, Evelyn Carruth
Set Decoration … Charles Q. Vassar
Sound Effects Editor … Gene Eliot, M.P.S.E.
Music Editor … Gene Feldman
Properties … Ray Thompson
Production Sound Mixer … Herman Lewis
Script Supervision … M.E.M. Gibsone
Sound … Glen Glenn Sound Co.
Perry Mason \ A Film Presentation
A CBS Television Network Production
The title painting can also be seen in Otto Gervaert's studio in #146, TCOT Absent Artist. Submitted by Xanthippe Svanström, 11/30/2004.
+ The Crying Cherub painting can also be seen in #187, TCOT Reluctant Model, in Goring Gilbert's studio. Submitted by daveb, 7/14/2007.
I noticed an odd credit screen (see here) in this episode. It starts out with three normal credit lines, then a line that says "with" and then a line that says "MALA POWERS as June Sinclair." Why the special treatment for Ms. Powers? Are there other episodes with odd credits? Submitted by Charles Richmond, 2/19/2009.
Both Cecil Kellaway and Frankie Laine got solo credit screens. Tom Drake is best remembered as Judy Garland's boy next door in "Meet Me in St Louis". DOD 09/03/19
+ Yes, there are other episodes who give special credit to certain guest stars. Why this particular star, can't be sure. Submitted by gracep, 10/2/2010.
+ I remember that Ms. Powers was a "big star" in those days due, I think, to her film work and to advertising campaigns mounted by Howard Hughes and RKO some years before. Submitted by daveb, 10/2/2010.
Beautiful Mala Powers played defendant three times ("TCOT Deadly Toy," "Crying Cherub," and "Weary Watchdog") but in her last appearance in Perry Mason, was the victim ("TCOT Scarlet Scandal"). She and Anne Whitfield (3 episodes) were probably the two most attractive repeating actresses on the show. Submitted by CGraul, 9/5/2011.
+I can't disagree with CGraul, I'll just add Lisa Gay, in 7 episodes of Perry Mason, and Ruta Lee, in 5 episodes, to that list. submitted by DyNama, 10/29/2015.
++Yes and again yes, DyNama. The lovely Miss Gay gets my first place vote. Submitted by Rickapolis 09/30/21

TCOT Obnoxious Old Lady This is the second of Kathryn Givney's appearances as a domineering family matriarch on PM. In TCOT Dangerous Dowager, she treats her son just as she does her son in this episode, as "a vegetable that has learned to talk." In TCOT Poison Pen-Pal, she abuses her little great-niece. What an unpleasant character type to specialize in! Submitted by JazzBaby, 8/26/2019.
The opening of the show has been changed since last week. The opening now matches the opening of episode #68, TCOT Dubious Bridegroom, where Perry takes the case file from the judge, and the action then stops while the cast names are listed on the folder. The reason for this change was that William Talman has been fired, and with the exception of episode #97, TCOT Credulous Quarry, he will never again be shown on the opening credits again unlike 87 of the previous 88 shows. Even though he will be hired back starting with the show of 21 January 1961, "The Case of the Fickle Fortune," the opening of the show picturing Della, Paul, Lt. Tragg, and himself will never be used again. Submitted by PaulDrake 33, 5/8/2009.
David Lewis is rushed into the breach as Deputy D.A. Mark Hanson. This quick casting was necessitated by the firing of William Talman. Even though David Lewis would make 4 more appearances on Perry (after appearing twice previously), this is the only time that he would be the D.A. Submitted by PaulDrake 33, 5/8/2009.
When June Sinclair arrives at Liza Carson Lambert's home, she checks the registration of the car parked in front to verify that it is David Lambert's. The card on the steering column bears his name and the address 1040 N. Las Palmas. This is the same address (minus the N.) for actor-posing-as-gambler Lou Caporale (Peter Leeds) in TCOT Artful Dodger (episode #78). I suspect this may be some kind of in-joke among the Mason production team. Submitted by FredK 10 November 2009.
+ The address 1040 N. Las Palmas is used again in episode #100, TCOT Lavender Lipstick, this time for defendant Karen Lewis (Pat Breslin). Submitted by FredK 26 November 2009.
The "in-joke" FredK suspected is that 1040 N. Las Palmas was the address of the studio where Perry Mason was being filmed. See episode #78 Trivia or put "Las Palmas" in this site's Wiki Search (in the sidebar) to see photos and more info about the studio. Posted by Eric Cooper, 5 February 2010. There is more about 1040 N. Las Palmas on the Location Trivia page.
+ Lambert's Registration. Due to the lighting & angle, all we see of the registration form is:
AUTOMOBILE REGISTRATION_________NG4599?
NAME . . . David Lambert________________Code--42
ADDR REGISTERED OWNER . . 1040 No. Las Palmas
Licence No...NFL-252_______Engine No. NHY879536
The Licence No is the same as the "NFL 252" typed on the registration forms for the cars owned by Kitty Wynn (Ep#77), Denver Leonard (Ep#83) and Richard Gilman (Ep#86). Added by Gary Woloski, 8/21/12.
Anomaly: At the beginning of Mrs. Harken's testimony, Perry refers to the decedent as "Lisa" rather than "Liza," though he gets it right the rest of the time. Submitted by Ed Zoerner, 3/31/2010.
+ When Perry visits Liza Carson's apartment, he finds a note with a heading of "The Robey Galleries" that says: "Received from Lisa Carson four smiling cherubs for Auction as promised. Sylvester Robey." So this note refers to Liza as "Lisa" again. Submitted by Charles Richmond, 9 November 2010. Picture here.
+ Also notice that Perry opened the note with a brush(?) that he picked up from the bed with his uncovered fingers. In other episodes he would pull a pen out of his pocket for a similar situation. Added by H. Mason 10/29/14
Location: Another of many shots of the Stanley Mosk Courthouse about 27.5 minutes into the episode. Submitted by Eric Cooper, 23 September 2010.
Sightings: In today's episode, we find many recurring courtroom spectators. These include Little Old Lady in a Hat, Distinguished Lady #2, Distinguished Lady #3, Cute Young Lady, Quiet Old Man #1, and Distinguished Gentleman #1. Read more about them and other anonymous regulars here. Submitted by gracep, 10/2/2010.
+ And one more: Distinguished Lady #4 is sitting near #2. Submitted by gracenote, 11/16/2011.
+ One more: I am 99% sure "Miss Carmody" is the matron in court. She was also the matron in an earlier episode in season 3. Submitted by GeoffS, 2/20/12.
Uncredited Actors: Robert Wegner appears briefly (and silently) as a scowling cop. Submitted by gracep, 10/2/2010.
+ Don Anderson makes an appearance in court in back row on Perry's side after the break. Submitted by Bill767, 10/31/15.
Cars. (1) 1953 Ford Crestline V8 Convertible, registered to David Lambert, Lic No NFL 252 on form, light color, top down (4th appearance of "NFL 252" in series).
Added by Gary Woloski, 7/7/12.
Syndication cuts: Amelia Harkins asks the guard where is the painting; scene in Perry's office where David and June come to see him and it is revealed Perry had bought a painting from David previously; June sees David's car outside of Liza's and Liza takes a gun out of the drawer; scene with Richard in Perry's office; testimony of Clark, the guard. Submitted by Wiseguy70005, 8/12/12.
Anomaly: At 15:58, Perry is seen working late in his office. He has removed his necktie, his shirt collar is open, and his vest is unbuttoned. Vest? What vest? He isn't wearing a vest any other time in this episode, or most any other episode (except the previous TCOT Bashful Burro, q.v.). Submitted by 10yearoldfan, 15 Sept 2012.
+ And he seems to be enjoying an adult beverage. Kilo 11/21/2019.
Richard tells June that "Liza offered to return the picture for $25,000" but later on the stand after Hanson asks him about that Richard says "I believe she merely promised to tell me where it was." Submitted by Wiseguy70005, 1/14/14.
Mason needs to be more careful. When wiping the painting of the Crying Cherub he drips water(?) all over the floor of the courtroom. Submitted by Wiseguy70005, 1/14/14.
When June's gold clip is shown coming to rest under some furniture the legs appear to be longer (as on a table) then on the chair under which it is later found by Sgt. Brice. Submitted by Wiseguy70005, 1/14/14.
Abraham Sofaer was born in Burma in 1896...MikeM. 8/3/2016
This is the only PM appearance for Carmen Phillips, born January 1937. She has the same name as silent film actress Carmen Phillips, who died in December 1936...MikeM. 11/9/2016
Comments

Edit
The Matisse that's stolen/copied appears to be Le Tabac Royal circa 3/1943. In the early 40s, Matisse was recovering from cancer surgery. He advertised for a nurse. A student nurse named Monique Bourgeois responded and was hired. Later she was hired to model for a number of Matisse works, including Le Tabac Royal. Bourgeois later entered into Holy Orders as Sister Jacques-Marie. She died circa 2005 at about 84. For more information, read here. For an idea what it looks like, see here. Submitted by billp, 2/22/2009.
+ The painting shown at the episode's beginning is similar but not identical to Le Tabac Royal. For one thing, the guitar and the woman are on the opposite side, and they are quite different-looking besides (and so are the backgrounds). See this painting. The painting in the show seems to be completely fictitious. Submitted by gracenote, 11/26/2011.
The museum director's office has the same ceiling fixture as in Perry's office, but in chrome, not black. So what's with the mysterious woman copyist with the glasses? DOD 09/03/19
One of the most intriguing musical interludes is the jazz played over Perry discovering the body. An amazing piece, more like what one would have heard in "77 Sunset Strip." cgraul 6.1.12 //
Time Tunnel: Original viewers may have heard "Theme From A Summer Place" & "Sink The Bismarck" that week (# 1 & 5 on the Top 10 Songs, resp. takemeback.to site). Mike Bedard 7.28.16 //
The Vacant Chair: At 27:54 one cannot help but notice the way the camera stops moving and lingers for a very long time on a vacant chair in the front row of the spectators. I believe that this is a double reference to the arrest and absence of Bill Talman. As all camera movement ceases and we are faced with the vacant chair, the substitute District Attorney says, "The state has not yet accused the defendant..." which may be be a comment on the fact that Talman was never brought to trial. The vacant chair itself is, i believe, a clear reference to the lyrics of a famous song from the Civil War, "The Vacant Chair," by H.S. Washburn and George F. Root. The first verse is as follows:
We shall meet but we shall miss him.
There will be one vacant chair.
We shall linger to caress him
While we breathe our ev'ning prayer.
When one year ago we gathered,
Joy was in his mild blue eye.
Now the golden cord is severed,
And our hopes in ruin lie.
Mr. Talman did have mild blue eyes, and the lingering shot of the vacant chair silently expresses the deep feelings of loss felt by his loyal fellow-actors and the stage crew. Submitted by catyron, 11/26/2017.
Clearing Things Up I've decided to list this under Comments, rather than as a "Goof" under Trivia - since I'm not 100% sure - but I don't think Perry's dramatic revelation is technically accurate (or even possible): water soluable paints are such only until they've dried (latex paint as used on houses is a common example); once they've dried, they behave much as any other paint...and even if if there was some dissolution, it wouldn't be that dramatic. Any artists out there ?? Notcom 113017.
+ Since the object was to recover the original art at a later date, the overpainting had to be done with paint that was completely removable. Does any such water soluble paint even exist? added by TerryS, 12/28/2018.
++ Not certain, but water color paints might work as shown. There is a similar scene in the 1999 version of "Thomas Crown Affair" - spoiler alert! - in which a museum's sprinkler system does the job. DOD 09/03/19
+++ Watercolors are certainly still soluble after drying, but they are also transparent and would not obscure what was underneath. I believe tempera paint mixed with water would act as shown; tempera mixed with egg is much more permanent, especially when painted onto wet plaster. I'm pretty sure that's what both the Sistine Chapel and The Last Supper were painted with, egg-based tempera. OLEF641 1/28/21
+ I take it that by "transparent" you mean "not quite opaque". Transparent paint wouldn't do anyone any good. :-) And, it seemed to me that the painting Perry starts to clean is not the same one that he finishes off cleaning. It looked to me that the cherub was more square, the Matisse more rectangular. Clothears 12-May-2021.
I thoroughly enjoy this episode...except for having to look at those hideous, trashy cherub paintings! They hurt my eyes! Can't believe ANYBODY collected them, as we are supposed to believe. Submitted by JazzBaby, 8/26/2019.
So true of any episode set in the art world - so many laughably, painfully bad pictures! DOD 09/03/19
Extraordinarily careless that the Richard Harkens character would be smoking around expensive paintings. Even in the 1950s or early 60s, I doubt they allowed smoking in an art museum.

At 22:22, Paul Drake finishes his conversation with the security guard, patting his shoulder, smiling, and saying "Thanks." As a general rule in most episodes, Perry himself seldom is shown having a friendly encounter with the person who will eventually be revealed as the murderer; but it seems that Paul is not subject to that code of conduct. Submitted by 10yearoldfan, 15 Sept 2012.
<< Bashful Burro | Episodes | Nimble Nephew >>