Show90
<< Crying Cherub | Episodes | Madcap Modiste >>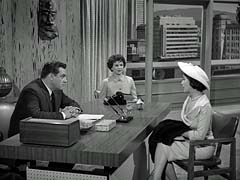 #90: The Case of the
Nimble Nephew
Original Airdate: 04/23/60
From The Perry Mason TV Show Book
When Adam Thompson tells his two nephews that a parcel of land will multiply five times in value when he develops it, he decides to test their honesty. He doesn't tell them where the land is. Instead, he locks a map of the parcel in his safe and sets up an infrared camera to photograph anyone opening the safe.
The next morning, although the safe is unopened, someone buys the land before Adam can. The buyer turns out to be Adam's foreman, who later is murdered. Because he had fought with the foreman shortly before the murder, Adam's nephew Harry (played by Bert Convy) is arrested for the crime and seeks Perry's expertise to get him off.
Opening
Starring Raymond Burr
in The Case of THE NIMBLE NEPHEW
Based Upon Characters Created By Erle Stanley Gardner
Barbara Hale as Della Street
William Hopper as Paul Drake
Ray Collins as Lt. Tragg
Trailing
Directed by Richard Kinon
Teleplay by Sy Salkowitz and Seeleg Lester
Story by Sy Salkowitz
Herbert Hirschman | Producer
Gail Patrick Jackson | Executive Producer
Seeleg Lester | Associate Producer, Story Consultant
Produced by The CBS Television Network in association with Paisano Productions
Arthur Marks | Associate Producer
Raymond Burr as Perry Mason
Barbara Hale as Della Street
William Hopper as Paul Drake
Ray Collins as Lt. Tragg
Cast
Robert Gist as Deputy D.A. Claude Drumm
William H. Wright as Adam Thompson
Carl Benton Reid as Victor Logan
Bert Convy as Harry Thompson
Crahan Denton as Frank Jarrett
Linda Leighton as Ellen Foster
Myrna Fahey as Lydia Logan
S. John Launer as Judge
Joel Lawrence as Elliott Carter
Warren Frost as Technician
Michael Fox as Autopsy Surgeon
Sam Flint as Banker
Ted Stanhope as Realtor
George E. Stone as Court Clerk
Continuity: After the discovery of Jarrett's body, Perry and Lt. Tragg have a discussion outside the garage. Watch Lt. Tragg's finger. He gently touches or prods Perry on the lapel. Tragg is then clearly seen crossing his arms. Immediately afterwards, Tragg is seen with his finger still on Perry's lapel.
The Land map of Thompson's is folded differently before and after it is seen put in the safe.
Murder defendant Harry Thompson is played by Bert Convy, making his only appearance on Perry. Bert Convy is best known as a game show host, hosting Tattletales on CBS from 1974 to 1978, winning a daytime Emmy for best game show host in 1977. Sadly, Bert Convy passed away much too early. He died in 1991 at the age of 57 of brain cancer. Submitted by PaulDrake 33.
+The lovely Myrna Fahey, who played Lydia Logan, died of cancer at age forty. Added by vgy7ujm
The combination to Adam Thompson's safe is 80-20-80, seen early in the show. Submitted by PaulDrake 33.
+When Harry was turning the dial at the safe he couldn't have been using the combination shown above (R80-L20-R80) because he was moving the dial too far each time. Added by H. Mason 10/29/14
After the firing of William Talman, there were many Assistant D.A.'s and Deputy D.A.'s tried out. In this show Robert Gist is introduced as Deputy D.A. Claude Drumm. In 1954 Robert Gist wed Agnes Morehead. At the time he was 29 and she was 54. Apparently Robert Gist was just not up Hamilton Burger standards since he only lasted this one show. Submitted by PaulDrake 33.
Claude Drumm may be the most colorless character in the series - not surprised this is his only appearance. DOD 09/04/19
>In defense (of the prosecution) tho I can't disagree with your assessment. I would submit that he was, nevertheless, the most realistic: court proceedings are, as a rule, insomnia-curing affairs and the constant theatrics of...well, practically everyone involved isn't how things really work. Notcom, 030123.
Tragg testifies that the check made out to Harry Thompson from Norman Durston is for $10,000. A closeup of the check in Tragg's hand clearly shows 75000 printed on it. DPJ 1/2/2021.
Sightings: The Thin Man plays the crime scene photographer. In court, we find the Distinguished Lady #4 in the back row. The Little Old Lady in a Hat, Cute Young Lady, and Distinguished Lady #2 are all in the second row. After lunch, Miss Carmody and the Quiet Old Man #1 join the proceedings. Submitted by Bill767, 10/31/15.
We don't see her for long, but our Cute Young Lady shows off a sharp new hairdo for this trial. JohnK, 1 October 2021
+ Read more about these and other recurring courtroom spectators here in this wiki. Submitted by catyron, February 9th, 2021.
CARS. (1) Perry's black 1959 Ford Fairlane 500 Galaxie Skyliner, Lic# RTS 277, top down;
Added by Gary Woloski, 7 July, 2012.
Syndication cuts: Scene with police investigating the murder, Mason and Tragg's conversation; a cut between Mason asking Harry if he had a girl and asking Della if Paul's been in; Part of Ellen Foster's testimony concerning a parcel of land, Durston, J & L Construction and putting the map in the safe; scene in Mason's office during court break. Submitted by Wiseguy70005, 8/16/12.
Costumes: For the first 27 minutes of this episode, Perry wears his usual button-down collars; note that when he arrives to work at 22:30 he wears an uncharacteristic striped shirt. But in court at 27:11 and for the rest of the episode, Perry wears the rounded club collar, and now he adds a collar bar - fastened a little too tightly to look comfortable. Submitted by 10yearoldfan, 22 Sept 2012.
Myrna Fahey reportedly dated Joe DiMaggio in 1964. A mental patient sent her threats because he didn't want Joe to be seen with anyone other than Marilyn Monroe, who had passed in 1962...MikeM. 8/4/2016
This is the first of four PM appearances for Linda Leighton...MikeM. 11/10/2016

Della pours coffee for Perry and Paul --- who both promptly leave before even taking sips --- from the Atomic Glass Carafe. jfh 22Aug2018.
When Paul and Perry are sleuthing for the Philadelphia businessman at the suburban house, at about 14 minutes on the DVD, Paul sniffs the air and says "Carbon Monoxide!" Surely he means car exhaust, because carbon monoxide is odorless (that's why it's so deadly).Submitted by JohnK, 27 January 2019
1221 A Street, Philadelphia, PA doesn't exist. At least in 2019. "A" street is valid but the house/business number doesn't exist. Kilo 11/23/2019.
Comments

Edit
This episode is one of the least creative and interesting of the series, but well-acted and, as with all the shows, worth the time to view. cgraul 6.4.12
+ I disagree. The mystery of how somebody could get into the locked safe without being photographed made this a very interesting story. This type of story could have been an episode of Banacek. Submitted by H. Mason 10/29/14
Howdunnit This will be the first of two consecutive episodes where explaining a seemingly impossible situation - George Peppard style - will form a key component of the plot. Tacked on by Notcom, 111216.
Is there anyone in this household who doesn't know the combination to the safe? Near the beginning of the secretary's testimony, the judge glances at Perry as if expecting an objection. Were the safe and painting not dusted for fingerprints? Jarret's office has two file drawers labeled 'C-D'. DOD 09/04/19
Opening Scene Camera Anomalies:Notice the magic camera in the opening scene. The picture shows Adam Thompson wearing different clothes than he was wearing in the scene. - BobwloCB
+ Also note that when that infrared camera's photo is being developed, the picture appears to be one you would get in a studio shoot while sitting in a chair (similar to a high school yearbook picture) instead of the back or side of his head opening the safe. - Submitted by HamBurger, 8/9/2014
One of many episodes named for Blood Relatives: a "Nebulous" Nephew will appear in #182; the "Sleepwalker's Niece" was in Episode 2. Mike Bedard 7.28.16 //

Anomaly: How could the secretary have managed to keep the map? Three men and one woman were watching her very carefully while she put the map into the safe and locked it! See for yourself at 3:10 ff. Submitted by 10yearoldfan, 15 September 2012.
+ It's called "sleight of hand." Added by H. Mason 10/29/14
++ On replay, sleight of hand seems impossible. All four people turn and watch her, but the camera cuts to the closing of the safe door, and as far as i am concerned, it's a directorial cheat. Submitted by catyron 11/27/17
+++ I agree. If she had been wearing a long sleeved dress, perhaps, but her dress is sleeveless to the shoulders. I also wonder how she wrestled Jarrett into the car by herself. DOD 09/04/19
++++I also agree. There was no need to actually show the moment that she apparently put the map into the safe. There was clearly no way she could have secreted it. They should have finessed that scene. Submitted by Wick 2/6/2022

<< Crying Cherub | Episodes | Madcap Modiste >>