Show77
<< Golden Fraud | Episodes | Artful Dodger >>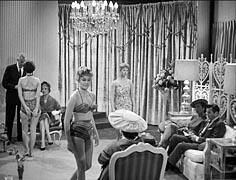 #77: The Case of the
Bartered Bikini
Original Airdate: 12/05/59
From The Perry Mason TV Show Book
A great beginning, and a portrayal of the fifties fashion scene. Pirating, not on the high seas but for bathing suit designs, sets the theme of one of the most "pop" episodes of the Mason series.
Wally Dunbar seeks Perry's help in securing ownership of his new summer line of swimwear. But the sketches are stolen, and worse yet, chief designer Rick Stassi is murdered. Dunbar's girlfriend goes to trial on suspicion of both crimes. Stassi had been blackmailing Kitty and the police think that is motive enough. Because Paul searched Kitty's car at one point, he makes an unusual appearance on the witness stand during the trial. Through it all, Dunbar stands by Kitty Wynne's side and even Perry is seen with a comforting arm around her during a trial break.
We get a look at just how faithful Della can be. She's seen sleeping on the office couch, waiting for Perry to return and do some late night work on the case.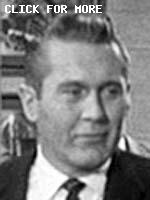 Opening
Starring Raymond Burr
in The Case of THE BARTERED BIKINI
Based upon characters created by Erle Stanley Gardner
Trailing
Directed by Arthur Hiller
Teleplay by Jackson Gillis
Story by Jerome Ross and Jackson Gillis
Herbert Hirschman | Producer
Gail Patrick Jackson | Executive Producer
Seeleg Lester | Associate Producer, Story Consultant
Produced by The CBS Television Network in association with Paisano Productions
Arthur Marks | Associate Producer
Raymond Burr as Perry Mason
Barbara Hale as Della Street
William Hopper as Paul Drake
William Talman as Hamilton Burger
Ray Collins as Lt. Tragg
Cast
John Lupton as Wally Dunbar
June Vincent as Madge Wainwright
Rita Lynn as Lisa Ferrand
Terry Huntingdon as Kitty Wynne
Paul Langton as Simon Atley
Stephen Bekassy as Rick Stassi
John Anderson as Bud Ferrand
Victor Rodman as Watchman
Herbert Patterson as Macready
Richard Gaines as Judge
Maura McGiveney as Yvonne
Robert Bice as Drake's Operative
William Idelson as Police Technician
Pitt Herbert as Doctor
George E. Stone as Court Clerk
Don Anderson as Attorney
Crew
Art Seid, A.C.E. | Assistant to the Producer
Production Supervisor … Dewey Starkey
Director of Photography … Frank Redman, A.S.C.
Art Direction … Lewis Creber
Film Editor … Richard H. Cahoon, A.C.E.
Assistant Director … Robert G. Stone
Casting … Harvey Clermont
Makeup … Irving Pringle
Hair Stylist … Annabell, S.C.H.
Wardrobe Supervision … William Zacha, Evelyn Carruth
Swim Sutis by Rose Marie Reid
Set Decoration … Charles Q. Vassar
Sound Effects Editor … Gene Eliot, M.P.S.E.
Music Editor … Gene Feldman
Properties … Ray Thompson
Production Sound Mixer … Herman Lewis
Script Supervision … M. E. M. Gibsone
A CBS Television Network Production
Does anyone else notice how the defendant's hair changes in this episode? It is very short and thin and then all of a sudden when Perry visits her in jail, her hair has become quite voluminous, though still short. There must be some awesome hairdressers in that jail! Welshwoman 10/2014.
William Idelson, better known as Billy Idelson, makes his first of three appearances here on Perry playing the police technician. Way back in the 1930s Billy Idelson was well known for playing Rush on the radio day time serial Vic and Sade. He then quit show business for a brief period before becoming a television writer. He was a prolific writer, penning scripts for among others, Dick Van Dyke, Andy Griffith, Twilight Zone, M*A*S*H, The Odd Couple and The Bob Newhart Show. His best known acting gig was as Herman Glimscher on the Dick Van Dyke Show. Submitted by PaulDrake 33, 19 August 2009.
+ He has 30 Writer/41 Actor IMDb credits; he shared the Writers Guild of America award for best Episodic Comedy Twice ("Get Smart" & "The Andy Griffith Show"). Mike Bedard 7.18.16 MeTV viewing. //
Star Trek Alert: John Anderson, who plays the lanky Bud Ferrand, went on the join the Star Trek universe many years later when he appeared in a TNG episode as Kevin Uxbridge, an omipotent alien passivist who takes on human form after falling in love with an earth girl, only to commit genocide against a bellicose alien race who kills said earth girl. He also appeared in two other Perry episodes, all buxom beauty related: TCOT Calendar Girl and TCOT Greek Goddess. Submitted by MyFavoritePolarBear, 6/28/23.
Modelling Practice ? Miss Huntingdon may have spent a similar amount of time in real life posing in swim suits: the 19-year old Mt Shasta native was the 1959 Miss California, going on to win Miss USA as well...an early example of pageant queens cutting their acting teeth on PM. Submitted by Notcom, 101315.
It's too bad Miss Huntingdon cut so little with those teeth. Her performance is flat, wooden, bad, or worse. She is painful to watch and listen to. Sorry if that sounds catty. (See what I did there? Kitty/catty? Get it? Get it?) Submitted by Rickapolis 8/16/19
Life Imitates Art? Please take a look at the Wikipedia page for Terry Huntingdon. After making her acting debut with Perry, her later life could have been weaved into several good episodes of PM....MikeM. 7/18/2016
Anomaly: Although just listed in the credits as "Macready," Herbert Patterson's character is Sergeant Macready. Submitted by gracep, 9/15/2010.
Sightings: We catch a glimpse or two (but only just) of Little Old Lady in a Hat and the Quiet Old Man (#1) among the courtroom spectators. Read more about them and other regulars here, and maybe help us find more. Submitted by gracep 9/17/2010, updated 2/4/2011.
+"Miss Carmody" is seated next to Simon Atley in the courtroom gallery. Is she portraying "Mrs. Atley"? You decide. Submitted by alan_sings, 3 Oct 2010.
+ On Burger's side we find the Cute Young Lady and in the back row we find Distinguished Lady #4. Submitted by Bill767, 10/31/15.
Location: About 14 minutes in, Paul checks out an Automobile Registration for Kitty Wynne. Often the registration addresses are inside jokes by the writers that list the address of the studio. This address 1226 N. Hayworth is for an apartment building in West Hollywood that I assume had some connection to a writer or actor. Submitted by Eric Cooper, 3 February 2011.
+ And, half-a-minute later, the house numbers to the right of Rick Stassi's front door are seen as Kitty leaves in a hurry. The numbers "226" made me do a double-take, asking "What did I just see?" & "Does Kitty live there?". This spurious source of potential confusion (Rick at 226, Kitty at 1226) should have been edited out! Gary Woloski, 8/11/12.
++The establishing shot of Dunbar early in the episode is the old Byron Jackson pump plant in Vernon CA, about 5 miles south of Downtown LA. The building, at 2317 E Vernon Ave., still stands, with some cosmetic changes. Vernon is a warehousing, distribution and manufacturing town, and does have a substantial fashion presence; 7 for All Mankind, BCBG Max Azria, Lucky Brand Jeans, and True Religion all have facilities there. Sleuthed out Paul Drake style by OldDave, 8/31/2020.
NFL 252, Addresses and Spelling. This is what Paul saw on Kitty's car registration form:
AUTOMOBILE REGISTRATION________HJT ????
NAME..Kitty Wynne__________________Code--42
ADDR REGISTERED OWNER...1226 No. Hayworth
Licence No...NFL 252_______Engine No. XY454377
Make...Ford______________Type....Convertable (sic)
First Sold...5/9/55____________________Fee $....32
First Issued...(unreadable)
This is Season 3's first of four appearances of "Licence No...NFL 252" on a car registration. All four registrations are for Convertible-type cars but the "Type" entry is misspelled "Convertable" on three of them (this ep#77, 83 & 86). In Ep#89 we can't see the "Type" entry. The "Address" entries on all four seem to be mischievously conceived, as they also are on most or all car registrations elsewhere in the series. Submitted by Gary Woloski, 18 Aug 2012.
TCOT Additional Anomaly Why does Stassi's mailbox have his FIRST name, Rick, painted on it?!? Was Stassi just too exotic a name for the postman to deal with? Funny stuff, PM crew! Submitted by JazzBaby, 8/21/2019.
CARS: (1) 1958 Thunderbird Convertible, Lic No PXY 260, Drake, black, white top up (rain).
Factory Price of the 1959 Mark IV Convertible was $7056. Production was 2,195 cars. 10,491 copies of Tragg's model of the '59 Electra 255 were produced at a Factory Price of $4,300. Yer basic 6-banger Ford or Chevy cost $2273 or $2301. Added by Gary Woloski, 8/11/12.
Verbal Product Placement. Spoken references to cars in Perry Mason are almost always generic: for example "a 1959 convertible with a torn top". In a rare naming of a specific car make or model, Perry asks the Watchman in court if he saw "a 1959 Thunderbird . . . PINK" at the Dunbar lot. We don't see this car on screen but we know that the owner could only be Madge Wainwright/June Vincent or, today, maybe . . . . Other explicit spoken and/or written references to vehicular products are:
MikeM reported that "Ford" was uttered in court at least three times during Ep#65.
"Rolls-Royce" or "Rolls" was spoken five times in Ep#198.
Submitted by Gary Woloski, 8/20/12, revised 10/29/14.
Goof: On the first day of the trial, Bud Ferrand (played by John Anderson) is wearing a BOW TIE. But, during the rest of trial scenes, and when he testifies, he is seen wearing a regular four-in-hand tie. On the second day of the trial, he is back wearing the bow tie. Obviously, when they edited this episode they mixed up the trial scenes. Via email from Alan Beck, posted by daveb, 7/24/2011.
During the trial a photo was shown supposedly showing Rick Stasis's body but the photo is of the ground. I watched this on a 42" HD screen which is about 4 times larger and much better resolution than anything back in 1960. They could have gotten away with a photo of my cat. Submitted by BeadsOBleach, 6/5/22.
This episode is unusual in that the witnesses sit on the right side of the judge rather than the left. Often the camera is placed behind the witness showing Perry's reactions to the testimony in full face view rather than three-quarter. Submitted by 10yearoldfan, 20 July 2012
Paul Drake on the witness stand: We saw Paul testify for the second time. The first time was in episode 45 TCOT Buried Clock. Submitted by H. Mason 10/25/14
+ Professional Courtesy/Mutual Respect: DA Burger thanked PI Drake for the accuracy of his/operatives' testimony; the DA was thankful for Not having to treat Paul as a "hostile" witness. Even though they were on Opposite sides of a case, Both men were on the Same side of the Law. Mike Bedard 7.18.16//
Telephone numbers: Rick Stassi's phone number was STate 1-1781. It was the second and final mention of that phone exchange in the series. In episode 17 TCOT Sunbather's Diary STate 9-1499 was a fake number. In episodes 131, 193 and 198 phone book pages are shown with several phone numbers that begin with the letters "ST". Submitted by H. Mason 10/25/14
Perry quotes Judge Learned Hand re fashions. Here's the case:"[A] man's property is limited by the chattels of his invention," wrote Judge Learned Hand in an important 1929 case involving dress designs, Cheney Bros. v. Doris Silk. "Others," he concluded, "may imitate these at their pleasure."...MikeM. 7/18/2016
This is the first of two PM appearances for John Lupton, who had a headache in a 1965 Anacin commercial...MikeM. 10/24/2016
This is the second of two PM appearances for Stephen Bekassy, who was born in Hungary in 1907 and passed in Hungary in 1995...MikeM. 10/24/2016
This is the only PM writing credit for Jerome Ross, who passed in 2012 at the age of 101...MikeM. 7/24/2017
John Lupton and Rita Lynn also appeared in TCOT Lavender Lipstick. Submitted by Steve Fox, 2/5/2023
Comments

Edit
There's an interesting bit of business in this episode, one of Don Anderson's three billed appearances in the Mason series as one of Simon Atlee's attorneys. When Mason is shown into Atlee's office, Anderson and another extra depart, with Anderson stopping long enough to nod to Mason and greet him as "Counselor". Despite listening to Burr's reply a number of times, I can't quite make out whether he calls Anderson, "Faversham", "Haversham", "Favorson" or some other variation of his actual name. Whatever it was, the name seems to have been unexpected, as Anderson nearly laughs in response, and Burr seems quite amused at his reaction. It may have been a bit of ad-libbed fun by the actors. Submitted by FredK 18 May 2012.
+ The closed-captioning on the DVD reads the name Perry says as "Stuyvesant." Submitted by Wiseguy70005, 7/07/13.
++ It sounds like Burr says "Haversham". It is implied that Perry and "Haversham" knew each other at least professionally. And it may have been an ad-lib on Burr's part, although it's difficult to tell. Submitted by Kenmore 9/07/2020
+++ Maybe it's my New York City bias, but at 29 minutes into the MeTV version I hear "Stuyvesant." JohnK, 29 September 2022
Why does Paul leave the courtroom when court is adjourned for the day? Shouldn't he see if Perry needs anything? Indeed, immediately after he leaves, Perry asks Della to call Paul and tell him to meet him at the Dunbar building. Submitted by Wiseguy70005, 7/07/13.
Third time unlucky?? This is June Vincent's appearance #3 on PM - she will eventually appear in 2 more, making her one of the show's more prolific performers - and she plays different types of people in each one: a tough-as-nails shady character in Hesitant Hostess, a quiet, standby wife in Jilted Jockey, and a flighty schemer here. Submitted by Notcom, 101315.
One of the best lines in this episode occurs right at the beginning, after Madge Wainwright calls Rick Stassi a swindler. He glances momentarily at her outfit before looking directly at her and saying, "Madam, you really should wear a tighter girdle with that." Submitted by Dan K, 8/16/17.
Narcissist? Rick Stassi's mailbox simply has the name "RICK". Submitted by Kilo 5/8/2018.
Oops! When Paul pulls up to the Bud Ferrand building at night in his Thunderbird he bangs his car door against the building when he gets out to talk to Charlie. Kilo 2/4/2019.

T-Bird Tracks. Perry's utterance of "Thunderbird" wasn't just a Product Placement; the similarity of Madge's and Paul's cars is an essential plot element providing an obscure and late clue:
Tragg testifies that he found "marks of tires similar to a car belonging to Mr Paul Drake" at the murder scene; and
shortly thereafter, Madge stands and proclaims "I do have a Pink Thunderbird!".
The word "Thunderbird" had to be written in to the script because it was part of the story. Bonus to Ford: Two Prime Time Plugs for their product. Added by Gary Woloski, 8/20/12.
<< Golden Fraud | Episodes | Artful Dodger >>