Show17
<< Demure Defendant | Episodes | Cautious Coquette >>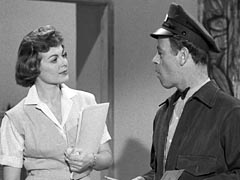 #17: The Case of the
Sun Bather's Diary
Original Airdate: 01/11/58
From The Perry Mason TV Show Book
Perry gets a phone call from a woman with some bare facts. Arlene Dowling was sunbathing when her house trailer and all her belongings were stolen. She's calling, wrapped in nothing more than a towel, from a golf course. Perry gets in hot water with Arlene. He starts out looking for her trailer, ends up defending her for murder, and is indicted for perjury for his efforts.
Opening
Starring Raymond Burr
in Erle Stanley Gardner's The Case of Sun Bather's Diary
Barbara Hale, William Hopper, William Talman, Ray Collins
Trailing
Directed by Ted Post
Teleplay by Gene Wang
Ben Brady | Producer
Produced by CBS Television in association with Paisano Productions
Gail Patrick Jackson | Executive Producer Sam White | Associate Producer
Raymond Burr as Perry Mason
Barbara Hale as Della Street
William Hopper as Paul Drake
William Talman as Hamilton Burger
Ray Collins as Lt. Tragg

Cast
Susan Morrow as Arlene Dowling
Carl Betz as Dr. Chandler
Gertrude Michael as Helen Rucker
Peter Leeds as Bill Emory
Ralph Moody as George L. Ballard
Connie Cezon as Gertie
Kenneth MacDonald as Judge
Paul Brinegar as Tom Sackett
Walter Reed as Detective Myers
Nesdon Booth as Mr. Hartsel
Jon Locke as Sam Elliott
John Pickard as Sergeant Neil
Uncredited Actors
Don Anderson as 1st Bank Employee
Lee Miller as 2nd Bank Employee
Bert Stevens as Court Reporter
Sam Harris as Grand Jury Foreman
Crew
Gene Wang | Story Editor
Production Supervisor … J. Paul Popkin
Director of Photography … Frank Redman, A.S.C.
Art Direction … Lyle Wheeler, Lewis Creber
Assistant Director … Maxwell Henry
Editorial Supervisor … Art Seid, A.C.E.
Makeup … Mel Berns
Wardrobe Supervision … Dick James
Hair Stylist … Annabell
Set Decorations … Walter M. Scott, Charles Q. Vassar
Properties … Ray Thompson
Recorded by … Alfred Bruzlin
Rerecording Mixer … Harry M. Leonard
Script Supervisor … Cosmo Genovese
This has been a CBS Television Network Production
Filmed in Hollywood by TCF Television Productions, Inc.
As a special tribute to Barbara Hale, MeTV ran this episode out of order tonight...MikeM. 1/31/2017
CARS: 1957 Ford Skyliner retractable, black, top up (Mason), 1957 Dodge Custom Royal Lancer convertible, medium color, top up, 1957 Lincoln, 4dr sedan, black, 1957 Ford Fairlane, 2dr hardtop, black, 1957 Ford 2dr sedan, black. From The Cars by Greg Cockerill.
Goof: In that scene where Perry is driving along with Arlene and the cops are following them, the view out of the rear window doesn't match that in the rear view mirror. Submitted by daveb, 4/21/2007.
+ Also, the view is backwards. That is, a mirror image would be reversed from normal view. What we see in the mirror is the same as what would have been seen through the rear window. Submitted by Wiseguy70005, 1/22/14.
Perry's office number, MA 5-1190, makes its second appearance, this time actually for Perry's office. George Ballard, reading a newspaper ad, says it aloud. The very similar MA 5-1199 was previously used as Tydings and Dawson's office number in #14, TCOT Baited Hook. Perry's number MA 5-1190 was used for the police department number in #15, TCOT Fan Dancer's Horse. Submitted by D. A. Supernaw, 6/30/2005. Edited by alan_sings, 10/01/2010.
Trailer Supplied by … BILTMORE! Arlene's trailer is quite accurately shown at the middle left of this 1956 ad for the real "BILTMORE MOBILE HOMES" (25 - 1 bedroom). More Biltmore ads from: 1956, '58 & '59. (The winged-cannonball logo appearing on the '56 ads is that of the MHMA.)
+ It is extremely rare for us to hear and see a real brand-name in a PM episode (At 7:21 of the CBS/Paramount DVD, Perry says the name as he dictates the ad to Della, then we see the ad in print, linked-to in Supernaw's para above). Was this explicit Product Placement in lieu of a "Supplied by..." trailing-credit? (Another real brand-name, "Thunderbird", is spoken twice in Ep#77. "Rolls-Royce" and "Rolls" are spoken a total of five times in Ep#198.) Submitted by Gary Woloski, 1 Apr 2012.
+ In the 1955 novel, the trailer was a Heliar, "last year's model" which would be about 1954. According to Wikipedia, the term mobile home was not in use before 1956. Submitted by Wiseguy70005, 1/22/14.
Goof: In the scene where Arlene is sitting in a car listening to a radio broadcast, the radio announcer mistakenly says that the police are searching for the murderer of Ballard, rather than Ballard. Submitted by Bob H, 1/26/2008.
Goof: I checked IMDB.com to see if there were any entries for this episode and found one to be correct (watching MeTV) and not yet posted here. I can't believe that I probably would have missed it! At the end, during the time Perry and Della are sitting at a restaurant booth, look as Della wipes her lipstick off Perry's cheek and she moves to place the check in her bag, Perry's left arm is high up on the booth back behind her head, but in the very next shot as Perry says "Amy" he is suddenly leaning on both arms on the table...then Burger comes in next for breakfast to eat some crow! LOL! Submitted by mesave31, 04/13/15.
This episode is unique in that Perry is forced to take the oath and testify. Submitted by PaulDrake 33, 2 September 2008.
+ Twice. Perry testified before the GRAND Jury & later at the Preliminary hearing; Amendment 5: "No person shall be held to answer for a capital, or otherwise infamous crime, unless on a presentment or INDICTMENT of a GRAND Jury." Mike Bedard 4.13.15
Arlene Dowling's trailer was stolen by Tom Sackett, played by Paul Brinegar. Paul Brinegar was best known for playing Wishbone for 6 seasons on Rawhide. Submitted by PaulDrake 33.
+ Paul Brinegar also played, most humorously, Mayor Jim Kelly on The Life and Legend of Wyatt Earp. Submitted by JazzBaby, 7/6/2019.
++ Sackett also delivers the second $1500 with the letter to Gertie and Della.
+++ It's actually the first $1500 delivered (How does he know what the amount should be??hmm...) Notcom 110421.
Carl Betz makes his only Perry appearance as Dr. Chandler. Carl Betz is best known for playing another doctor, Dr. Alex Stone, husband of Donna Reed on The Donna Reed Show. Carl Betz was also one of a handful of Perry alumni to appear in The New Perry Mason, "TCOT Spurious Spouse." Submitted by PaulDrake 33, 23 May 2009. Revised 21 October 2009.
+ Carl Betz also played Dr. Max Redford in "Night Gallery" episode "The Dead Man". Joe B. 5/24/19.
+ Coincidentally, Carl Betz had his own defense-lawyer show some years later, playing the title character in "Judd For The Defense."
+ The 50 episodes aired from 1967-69 & CB also appeared in an Ironside [IMDb]. Mike Bedard 4.13.15
When Arlene leaves George Ballard's house and gets back into Dr. Chandler's car she says, "I wasn't too long, was I?" and Dr. Chandler says, "Just long enough for me to finish my cigarette." This is an ironic line since lung cancer killed Carl Betz at the age of 56 in January 1978. Submitted by PaulDrake 33, 23 May 2009.
Perry receives a 500- and 1000-dollar bill by special messenger. William McKinley is on the 500-dollar bill, and Grover Cleveland is on the 1000-dollar bill. The bills seem to be real as you can see the reverse of the bills and there are no pictures on the reverse. The 500 and 1000 do not have pictures on the reverse, only numbers and scrollwork. All bills above 100 dollars were withdrawn from circulation by President Nixon in 1969. Submitted by PaulDrake 33, 23 May 2009.
+ And he took the US Off the Gold Standard in 1971 [Google search]. Mike Bedard 4.13.15
Uncredited Actors: Don Anderson appears with Lee Miller (in a non-Sgt. Brice role) here. As Paul Drake watches and waits to talk to a uniformed bank guard, Anderson and Miller play bank employees loading money bags into an armored car. Submitted by FredK, 30 September 2010.
+ This episode marks the first Perry appearance of an Australian actor sometimes credited (though never in this show) as Major Sam Harris (Ret.) A.L.H. [Australian Light Horse brigade]. He is the foreman on the grand jury, or so reads the sign in front of him. There are a few clear and lingering shots on him, especially when Perry makes a shocking declaration or two. Submitted by gracenote, 9/4/2011.
+ Bert Stevens plays the court reporter during the trial. Submitted by gracenote, 9/4/2011.
++ Heard but not seen: This is my conjecture, and we only hear his twangy voice coming out of the radio so it's probably unprovable, but I think that the sports announcer Uncle George was listening to was played by Frank Cady, who also portrayed the scamming twin brothers Joe and Hiram Widlock in #130 TCO Pathetic Patient. Away from PM, Cady also figured heavily in the CBS classics The Beverly Hillbillies, Green Acres, and Petticoat Junction. Perhaps more relevant to these pages was Cady's small part in Rear Window. JohnK, 3 August 2022
Sightings: Lots of folks from the "Who Is That?" page appear today. In the same scene as the item above, the man who drives the armored truck and impatiently toots his horn is Blue Collar Guy. The guard addresses him as Charlie. In the next scene, the man cleaning the pool table in the billiards hall and giving directions to Perry is Distinguished Gentleman #2. Later, Distinguished Gentleman #1 plays the stenographer at the grand jury hearing. At trial, he loses his toupee and plays a juror. Additionally, Distinguished Lady #2 plays the matron guarding the defendant, while right behind her sits Distinguished Lady #4. Submitted by gracenote, 9/4/2011.
+ (Also Continuity Error:) While playing a juror, the same bald Distinguished Gentleman #1 magically plays a spectator in the gallery. Right in front of him is The Thin Man. (Clearly seen when Dr. Chandler is called to the stand). Submitted by gracenote, 9/4/2011.
+ This marks the first appearance of The Thin Man on Perry Mason. However, I have noted his several appearances on "Maverick" as well, particularly in "The Long Hunt" where he appears as two different characters, one with a bad mustache and "Rage for Vengeance" where his character plays a pivotal role in the episode...however, in all of his appearances he is not credited nor does he speak. Submitted by Kenmore 7/1/2012
+ The aforesaid Gentleman reappears one last time at the restaurant in the final scene.
+ My eyes are getting old, but i am 99% that "Sasha Magaloff" (actor Mitchell Rhein) is in the courtroom, at the far back corner on the viewer's right. At one point he awkwardly cranes his neck, as if trying to see or be seen. I would love confirmation of this sighting from another viewer. Submitted by catyron, November 18, 2020.
Temperance: There was a lot of drinking going on in this series, but Mason almost always declined when someone offered him a libation. Occasionally he'd accept but not drink it; in this episode he actually downs a snort with "Uncle George." Submitted by Francis 1/9/12
This copy of the Los Angeles Chronicle was the first to show a front page photo and of course it's Perry. The first Mason client picture on the front page comes in episode 19 TCOT Haunted Husband. Added by H. Mason 9/28/14
Syndication cuts: The entire scene where Arlene calls Perry from a golf course; a messenger delivers $1500 for which Gertie signs [Gertie, again, is completely cut out]; Mason phones Dr. Chandler but speaks to his nurse who refuses to call Arlene; Chandler meets Arlene in the woods suggesting she not flee to Canada but to see Mason.
Additional Hallmark cuts: Della gives Mason the $1500 which was delivered and Mason instructs Della to tell Paul to dig up everything on the Mercantile Security theft; part of Perry and Della's phone conversation where Della reads Arlene's letter; Burger tells Mason he's at the Grand Jury hearing as an ordinary citizen who witnessed a murder and not an attorney and Mason says he didn't; another part of the testimony about Arlene's fee and handwriting; scene with Della and Mason before Paul arrives discussing Burger's next move and locating Arlene; Mason offers to explain the circumstances of the case but Burger refuses. Submitted by Wiseguy70005, 7/06/12.
The closing credits of this episode has the smaller law books in the lower left hand corner with the space there for the sponsor's product placement. Submitted by Wiseguy70005, 7/07/12.
Goof: When Perry is testifying in court he says "May I direct your attention to Dr. Chandler." There is then a shot of Arlene Dowling and Dr. Chandler looking at each other. Right before Perry starts talking again, you can barely hear (turn the sound up) someone--evidently the director--say "action." Submitted by Alan Smithee, 3/28/2014.
Telephone call: When Perry called his office from the pool hall the last two numbers he dialed were 1-1. Did he call line 2? Submitted by H. Mason 10/1/14
According to Wikipedia, Susan Morrow was the older sister of alleged JFK mistress Judith Exner. Susan Morrow's first husband was Gary Morton. That marriage was annulled after four years. Four years later, Gary Morton married Lucille Ball...MikeM. 8/1/2016
Dr. Ralph Chandler, Santa Ana, KImberly 3-6518...MikeM. 8/1/2016
WANTED -- Used Biltmore Trailer, De Luxe Model. Will pay top dollar for one in excellent condition. Phone Perry Mason, MA 5-1190...MikeM. 8/1/2016
MASON SUMMONED BEFORE GRAND JURY; Prominent Attorney Involved in Murder...MikeM. 8/1/2016
PROMINENT ATTORNEY INDICTED; Perry Mason Faces Perjury Charge; Did Perry Mason Signal to Arlene Dowling with the Window Shade at the Home of Geo. L. Ballard the Night He Was Murdered?...MikeM. 8/1/2016
In Other News... Perry scores two big headlines in the Chronicle. In the second, other front-page stories comment on the usual civic matters of committees, hospitals, taxes, and the nagging building code, but in the first, we learn of a Belgian ship sinking in a storm, as well as an American mining expert who has requested British citizenship. JohnK, 10 October 2018
This is the only PM appearance for Gertrude Michael, who studied at the Cincinnati Conservatory of Music, and who earned a scholarship to study music in Italy...MikeM. 5/14/2018
"Doctor Who?" In the original ESG novel, the modestly named Dr. Ralph Chandler's full name is Dr. Holman P. Candler, one of ESG's more creative Pitkinesque efforts. Submitted by BobH, 9 July 2018.
Location: I sure would like to know more about the Medical Arts Building at 09:27, where Chandler has his office. The bas relief on the wall looks like the work of the famed art deco sculptor Lee Lawrie, or someone of his ilk -- a crouching naked woman cradling a baby in her lap. I searched google and came up empty. There are several Medical Arts Buildings in the Los Angeles area, but none look like this one. Submitted by catyron, November 18, 2020.
Flashback - Near the end, as Tragg is pulling Perry over so he can arrest Arlene Dowling, there is a brief external shot of the two cars pulling over to the curb. Note that Perry has his arm hanging out the window. This is not just a casual action; drivers used to be required to use arm signals to indicate
- a right turn (arm out the window, bent at the elbow with the fingers pointing upward)
- a left turn (arm ditto, but outstretched and pointing left)
- stopping (just like what Perry is doing, arm down by the side of the car).
I hate to admit it, but I'm old enough to remember doing that as I drove, but I don't remember when it stopped. Hadn't thought about arm signals in FOREVER until I saw that just now! OLEF641 11/26/21
Comments

Edit
That $400,000 in stolen money would be worth about $2,867,800.83 today. The $1500 that Mason charges Arlene to find her trailer would be $10,754.25. Definitely a bit over the top as Della comments. Actually, although I realize Perry was testing her, I think he'd get in trouble today with the bar association if he did that. Arlene pays $2500 ($17,923.76) for her trailer and finds $18,000 ($129,051.04). Perry gets a $25,000 ($179,237.55) reward which he turns over to Arlene and her father. The way that girl spends money, she'll need it. Submitted by billp, 12/27/2008.
Bill Emory states "the robbery took place on Tuesday, May 3rd". This episode was part of the 57-58 season. May 3rd was a Tuesday last in 1955. But Bill Emory has only been fired for the past 10 months. Submitted by PaulDrake 33. 13 April 2015.
Anyone watching the syndicated version of this show will be puzzled about the picture on this page of Della and Paul Brinegar (dressed as the messenger), since that scene is always cut out of the televised versions. Submitted by PaulDrake 33. 13 April 2015
Dr Chandler uses Della's filing system- a single drawer for each letter. DOD 07/24/23
This episode was unusual in that the murder seemed gratuitous, and as such morally unsatisfying: as has been argued, the victims are traditionally vile persons, or in a few cases - such as Sleepwalker's Niece, where the killing is integral to the plot - the character is (simply) undeveloped; but here neither is true: Uncle George is a nice guy and little reason - perhaps no reason at all in the syndicated versions - is given for his death...but it's PM so we know "someone's gotta get it", sentiment be damned. Lamented by Notcom , 08-24-17.
The more I think about this episode, the less sense it makes. 1) How could Arlene not hear someone backing up to her trailer? 2)Why couldn't she go to the police? 3) Where was the stolen money? 4)And, yes, why was George killed? DOD 05/13/18
+ And why in the world would Bill Emory tell the police that Perry would be at George Ballard's home when he, Emory, was planning on being there at the same time? Kilo 6/9/2020. Update: see Old Dave's comment below. Kilo.
Tragg arrests Arlene and says the trial is the next day. In court both Perry and Burger have miraculously developed their cases. In fact, Burger says "the state has gone to a great deal of trouble to prepare its case". Those are two fast working attorneys! Submitted by Kilo 3/7/2018.
> Ah but we find out (see below) that's not really true...the pitfall of rushing things!! Notcom 120718.
Odd that Burger was unaware that Perry didn't lower and raise the shade as a signal when he questioned Perry in court. Tragg knew that when Perry tried to show him why he did it. Apparently Tragg kept that information to himself. Kilo 12/7/2018.

Perry placed a want ad in the paper as a way to locate the trailer. I guess we are to assume Mr. Hartsel at the Ideal Trailer Mart responded to the ad. Kilo 12/7/2018.
The "I'll throw you to the wolves without the slightest compunction" comment by Perry to Arlene is uncharacteristic. Must be a line straight from the book. Joe B. 05/24/19
In the opening scene we see the sun-bathing Arlene and her trailer in a secluded location. Where did her car go? She must have pulled the trailer there, probably with her Dodge Royal Lancer. Did someone steal her car, too? And, by the way, who tipped off Sackett that Arlene was going to be there with her trailer? It seemed like he knew right where to go. That couldn't have been just a coincidence. Kilo 9/11/2019.
I love the way Perry adds a little humor to this when Della hands the phone over to him and his client asks, "what did your secretary tell you?" and Perry responds, "just the bare facts."

Too Many Fairlanes! (See Greg C's CARS Trivia) We see Perry driving his black 57 Ford Fairlane Skyliner (Lic No HGA 056) into George Ballard's driveway in daylight at 21:50 of the CBS/ Paramount DVD. The Skyliner nameplate on the side of the roof is conspicuous. At 26:59, it's dusk and the police lurking across the street in their own black 57 Ford sedan observe a man who they ID as Perry leaving Ballard's house and driving off in a black Fairlane. . . But Hey!... The cops don't notice that it's not Perry's car! The Lic No is MNN 527 (or 521) and it's a Fairlane 2-Door Hardtop! - note how the rear roofline differs from that of the Skyliner. This misidentification is an important story element and one of the most devious & delicious plot devices in any PM episode.
Trailer Trouble. However careful the crew were in gathering their Fairlanes, details of the trailer theft were implausible:
I doubt that a Jeep could pull Arlene's large trailer out of the woods but there are contrary claims! Even so, any cops spotting Sackett on the road would have stopped him for the excessive (stolen) load.
Toaster, lamp & AirCond are seen in Arlene's trailer but Sackett didn't disconnect electrical service.
Since Sackett didn't stow anything, the interior would have been wrecked by the time he got to Ideal Trailer Mart.
Arlene would have had great difficulty getting her trailer into that wooded, sandy spot, even with her big Dodge Royal Lancer, (Lic No MLJ 766, see "1957 Headlight Oddities" at ep#3 Comments).
Added by Gary Woloski, 4/8/12.
Had to laugh when Paul handed Perry a photo of the balding, 40-something Paul Brinegar and referred to him as "the kid who swiped the trailer." Submitted by JazzBaby, 7/6/2019.
Above someone notes that Emory tipped off the cops that Perry would be at George's house. I thought the secret that Emory spilled was where Perry was meeting Arlene, allowing Tragg to pick her up. At the stakeout, the police officers engage in a "didn't that guy look familiar" discussion, before they settle on Perry. They certainly didn't expect him to be there. BTW, that ID is really definitive on the stand! Also, above someone asks why George was killed. First, it's a real shocker. You're not expecting it. Later in the series, a lot of the impact of the murder goes out the window when the victim is so despicable you are waiting for it to happen. George's killing works on a visceral level. The only plot explanation is that Emory goes there to recover the $1500 and is surprised by George. Of course, this means that Emory knows (1) that Perry is carrying the money, (2) that Perry realizes, at the house, that it's tainted, and (3) that Perry hides it in the roller blind. (Clearly, the killer took the money.) How could Emory possibly know any of that, unless he was hiding in the house and witnessed it? Then Emory left, reparked his Fairlane next to the house, and went back in the house to get the money? Of course, this leaves the great implausibility. Perry, under indictment for perjury, testifies to a timeline, otherwise uncorroborated, and everyone buys in, even without the tearful confession from the gallery. I was half expecting Burger to pop up and say, I think we'll go with our police witness's ID! Enough quibbling. This is a wonderful episode! Old Dave, 6/9/20
+ Re: Emory's tipoff. You are correct, Old Dave. A re-viewing cleared that up for me. And I agree that this is one of the better episodes. 8.5/10 on IMDB. Kilo 3/3/2021.
+ OK. One more thing. Just above Old Dave assumes the Emory must have been in the house and witnessed Perry rolling the bills up in the shade. This is improbable because Perry made a statement on the witness stand that Emory must have followed him, Perry, to Ballard's place. Emory would have had to get into the house and hide without Perry or Ballard detecting him. Kilo 8/23/2022.
++ I believe (although, as Perry says on the witness stand, "What I believe doesn't matter") that Emory followed Perry to George's house, waited outside, saw Perry "fiddling with the shade", entered the house after Perry left, George confronted Emory so Emory killed George, and Emory took the money from the hiding place. jfh 26Aug2023

The previous episode,"Demure Defendant", is one of the best written, most tightly plotted in the series. This episode is so full of questions it rather spoils it for me. Quite a contrast. Do we blame the writers or the source material? DOD 06/22/22
<< Demure Defendant | Episodes | Cautious Coquette >>