Show198
<< Ice-Cold Hands | Episodes | Nervous Neighbor >>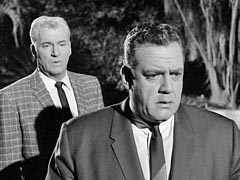 #198: The Case of the
Bountiful Beauty
Original Airdate: 02/06/64
From The Perry Mason TV Show Book (Revised)
Does murder mean never having to say you're sorry?
When Stephanie Carew is found floating in a swimming pool, everyone supposes her death was accidental. But the coroner's verdict is murder, since she actually died in the ocean. The police have just learned some unsettling information about best-selling novelist Deborah Dearborn, and it ties her in to the murder. Now Perry has a new client.
Ryan O'Neal, who brought us to tears when Ali McGraw kicked the bucket in Love Story, the biggest movie of 1970, plays John Carew.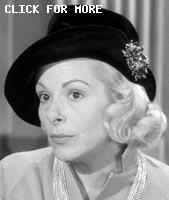 Opening
Starring Raymond Burr
in Erle Stanley Gardner's
The Case of THE BOUNTIFUL BEAUTY
Barbara Hale, William Hopper, William Talman, Ray Collins
Trailing
Directed by Irving J. Moore
Written by Robb White
Arthur Marks \ Art Seid | Producers
Gail Patrick Jackson | Executive Producer
Jackson Gillis | Associate Producer
Samuel Newman | Story Consultant
Raymond Burr as Perry Mason
Barbara Hale as Della Street
William Hopper as Paul Drake
William Talman as Hamilton Burger
Ray Collins as Lt. Tragg (credit only)
Wesley Lau as Lt. Anderson
Cast
Sandra Warner as Stephanie Carew
Ryan O'Neal as John Carew
Zeme North as Deborah Dearborn
Douglas Fowley as Rubin Cason
John van Dreelen as Gideon Long
Maxwell Reed as Chet Worth
Jean Carson as Mrs. Mitchell
John Zaremba as Medical Examiner
Sydney Smith as Judge
George Cisar as Neighbor
Fifi D'Orsay as Mrs. Davis
Lonie Blackman as Miriam Worth
Barbara Wilkin as Switchboard Operator
Fern Barry as Maid
Uncredited Actors
Don Anderson as Courtroom Spectator, Medical Attendant
Crew
"Perry Mason"
Director of Photography … Howard Schwartz, A.S.C.
Art Direction … Lewis Creber
Assistant Director … Gordon A. Webb
Film Editor … Al Clark, A.C.E
Casting … Harvey Clermont
Makeup … Irving Pringle
Hair Stylist … Annabell
Wardrobe Supervision … Ed McDermott, Evelyn Carruth
Set Decoration … Carl Biddiscombe
Properties … Ray Thompson
Production Sound Mixer … Herman Lewis
Script Supervision … Marshall Schlom
Theme Composed by … Fred Steiner
Automobiles Supplied by … Ford Motor Company
Perry Mason
Produced by the CBS Television Network in association with Paisano Productions
Check here for Perry's office address and telephone number. The girl in the scene doesn't seem to be wearing colored nail polish but the pointing finger is. The same finger is also seen in #265. Submitted by daveb, date unknown.
Check out the scene at the airport. At the very beginning of the scene, when Ryan O'Neal is all alone, you can see someone in the background, seated, reading a newspaper. Look closely, and you will see it is a man wearing a dark suit. After Ryan O'Neal and his step[jfh 16Jun2020]-mother finish conversing, she exits the airport by walking right past the man reading the newspaper. However, now the man is wearing a light colored checked suit, and lo and behold it is Paul Drake. Submitted by PaulDrake33, 8 December 2014.
+ Looks like the same checked suit and pocket handkerchief to me (during about 13:30-14:50 on the 2012 Paramount DVD), and more lighting during the end of the scene. lowercase masonite, 3/20/16.
Location: About 15 minutes in, there is a quick shot of Los Angeles International Airport with a glimpse of the Googie styled "Theme Building." It looks like a space-aged bug or flying saucer on legs. I have read it was the inspiration for buildings in the cartoon the Jetson's. I have eaten at the cool eatery at the top called the Encounter Restaurant. Also appears in Episode #177. Submitted by Eric Cooper, 8 July 2010. Some pictures here.
The Curious Coffee Set shows up next to the sink at Miss Dearborn's seaside home. Submitted by gracenote, 3/7/2011.
Sightings/Uncredited Actors: In the courtroom gallery sit Quiet Old Man #1 and Don Anderson, watching Perry work his magic. Submitted by gracenote, 3/7/2011.
And behind Perry, next to the wall, looks like Newman from "Seinfeld" ! DOD 03/03/22
+ At the airport, a blurry Distinguished Gentleman #1 smiles at his escrot as they walk in the background. Submitted by gracenote, 8/9/2011.
+At the murder scene, Don Anderson is working as a Medical attendant loading the victim and Distinguished Gentleman #1 is working collecting evidence as he kneels behind Miriam Worth. Submitted by BigBill767, 6/18/2016.
+ At least in the print that I saw, the Miriam Worth character had no dialogue at all—just a few ominous looks! Submitted by Ed Zoerner, 9/16/2011.
+ According to the dialog at around 10:59 on the 2012 Paramount DVD, she is the 5th wife of Chet Worth and apparently suspects that he is overly involved with Stephanie Carew. Miriam shows up at the end of the scene without saying anything. Maybe her lines were cut during which she told Chet to leave Stephanie alone?, thus making Miriam an additional suspect. lowercase masonite, 3/20/16.
+ Sandra "Sandy" Warner -- who plays Stephanie Carew in this episode -- is most famous for modeling album covers, particularly those for Martin Denny. She also made her own album in 1959, "Fair and Warner." Compared to her extensive activity as a front cover model, she did relatively little in the way of acting. Submitted by Uncle Dave Lewis 5/2/16.
CARS. Provision of cars seems to have been done "on the cheap" in this episode:
"Rolls-Royce" and its short-form "Rolls" occur in the dialogue a total of five times, referring to automobiles owned or driven by Chet, Stephanie or Gideon . . . but we don't get to see any of these spiffy cars.
Deborah rented a car early in the story but we only see it in the photos that Perry shows to witness "Mrs (Fifi) Davis" in court. It's a black 1963 Ford Galaxie 500 Sunliner (w/ bench seats, so it's not a 500XL).
Background cars: At 28:43 there's a location-establishing shot of the Hall Of Justice (offices of the LA County Chief Medical Examiner) viewed from West Temple St, looking across the intersection of Temple & North Broadway. It's the same camera position as the shot in ep#196 but shows different cars. Closest to the camera are a 1955 Chevrolet 210 2-Door Sedan and a 1955 Buick HardTop. Two cars cross the intersection L→R on Broadway: a 1957 Plymouth Belvedere 2-Door HardTop followed by a very pretty 1956 Plymouth Belvedere Convertible, top down.
It's amusing that the Producer/Director/Writer team must have decided that they needed the cachet of "Rolls-Royce" in the script but that "Lincoln Continental" simply wouldn't have had the same ring to it! Imagine if the dialogue at DVD 11:09 was:
Stephanie & Chet at poolside. (close-up 2-shot) Stephanie reclining on lounge chair, Chet sitting close. Stephanie playfully adjusts Chet's cravat:
: May I borrow a car once more, dear?
: I'll have Bernard bring out the Lincoln Continental.
: Oh No Thanks! But the Rolls-Royce will do, Dah-ling!
: The silver Saloon or the red Convertible?
: I think I'll marry you simply because you're so rich.
That's probably close to what Sales Executives of Ford Motor Company thought they actually heard! Added by Gary Woloski, 9/27/14.
Quebec-born Sydney Smith Judged 6 Perrys & 2 Bonanzas [IMDb]. Mike Bedard 3.16.15.
Ryan O'Neal (John Carew) is still on TV, playing the father of forensic anthropologist Temperance Brennan, a.k.a. Bones. --submitted by 10yearoldfan, 26 May 2014.
Recycled newspaper: The paper Paul had at the airport was from episode 8 TCOT Crimson Kiss. He must be a slow reader because he was perusing the same paper in episode 22 TCOT Fugitive Nurse. Submitted by H. Mason 9/29/14
Phone Book: The two people listed immediately after Perry had the addresses of names used in the page shown in episode 193 TCOT Badgered Brother. Gerald Masa (which should have been two names earlier) 6361 Las Palmas was the same as Harry Rimerman (from 193) - Gerald's phone number PO 3-0192 was used for at least three different people in #193 - Leonard Massarotti 6190 Bronson was the same as Robert Rimmer (from 193). Many of the phone numbers in this episode's page were used more than once and also used on the page in #193. Names above Perry's were repeated at the bottom of the right column. Submitted by H. Mason 3/14/15
Terrible Typography This page in the phone book repeats names, numbers, addresses, aggh! It's not even alphabetical. Making a phone call in LA must really have been a challenge. JohnK, 12 Feb 2016
+ It's Los Angeles where everything is a challenge especially the traffic so that makes sense. ;-) HamBurger 8/20/2016
Victim's Death: There have been over 200 murders in the series and I think this was the first current victim that was drowned. It was never mentioned if the first victim in #59 drowned. Submitted by H. Mason 3/14/15
I don't know if there are any comic book readers here, but Douglas Fowley's portrayal of agent Rubin Cason reminded me of a character that was almost universally thought to be a sharp mockery of Marvel Comics editor/writer Stan Lee. When Marvel creator Jack Kirby left Marvel in the early '70's to work for competitor DC, he started a number of interconnected books often referred to as the 'Fourth World' - one of them, 'Mister Miracle', introduced a character named 'Funky Flashman', and the resemblance to Stan Lee was unmistakable. Check this image:

... and this one:


... I have to admit I laughed out loud! Submitted by MikeReese, 4/9/2016.
+ I am an old-time comic book reader and an ex professional comic book editor, and yes, that speech pattern is a stone-cold takeoff on the way that Stan Lee talked at that era in his life. I thought it was funny and laughed at it myself, then came here and found that i was not the only person who noticed!. For those unfamiliar with Stan Lee, he did not always have a beard, as depicted above. The Funky Flashman character was a bit more over-the-top because that character was a mean parody of Stan Lee, but the Rubin Cason character was just spot-on and there is more to the impression than the voice -- even the body gestures were like his. Submitted by catyron, 1/9/2017.
This is the only PM appearance for Sandra Warner, who played Fess Parker's wife on the sitcom Mr. Smith Goes To Washington...MikeM. 1/3/2017
This is the second of two PM appearances for Quebec-born Fifi D'Orsay, who picked her stage name based on her favorite perfume...MikeM. 1/9/2018
This is the first of two 1964 PM appearances for Lonie Blackman. According to IMDb, these two PMs were the final two appearances in Lonie's Filmography. In her second PM appearance, TCOT Bullied Bowler, she would be billed as Lonnie, with a double "n"...MikeM. 4/23/2018
This is the first PM appearance for the smoky voice actress Jean Carson, as Mrs. Mitchell(the neighbor witness). One of Carson's more memorable TV roles was in the recurring role of "Daphne", one of the 2 Mount Pilot "Fun Girls" on "The Andy Griffith Show". The 2 Fun Girls would drop by Mayberry and double date Barney Fife and Andy Taylor. Daphne was enamored with Andy, who she would greet with her sultry "Hello Doll". This February 1964 PM episode fell between her first "Fun Girl" Andy Griffith 1962 episode and 2 later "Fun Girl" episodes in April 1964 and April 1965....Bob61571, 2 May 2018
Comments

Edit
Score another for classic overused stereotypes: the wicked stepmother. Submitted by gracenote, 3/7/2011.
This episode contains perhaps the greatest line in the series - "Someone spilled some claret on my favorite polar bear". DOD 03/03/22
The music played on the phonograph while Miss Dearborn frolics at the seashore might be from Tchaikovsky's Nutcracker Suite. Submitted by gracenote, 3/7/2011.
+ I'm almost positive it's the final bars of the "Waltz of the Flowers". OLEF641 7/1/21
Does anyone recognize the voice on the telephone, whom Long addresses as Herb? It sounds familiar… Submitted by gracenote, 8/9/2011.
+ It sounds to me a little like Phillip Terry. Maybe Herb and Miriam ran off together before shooting was finished. Submitted by masonite, 12/3/12.
++ To me, it sounded more like three-time PM guest star John Stephenson, whose voice is perhaps most famous as Mr. Slate from The Flintstones. TriviaSleuth, 8/27/19
Speaking of shooting, look at the photo that Paul took (at 22:26 on the 2012 Paramount DVD). See the text in the background? Why did Paul have the image flipped horizontally? Submitted by masonite, 12/3/12.
+ I suspect it was done intentionally since if it wasn't flipped it would have been the wrong angle from where Paul was sitting. Submitted by Kilo 12/3/2017.
Outside the door to Deborah's house is a screen with stylized stars. The same screen is in the same position at the door to Nancy's house in the previous episode, "Ice Cold Hands". DOD 03/03/22
Best of success to "20" year old Deborah Dearborn. Is her publisher trying to kill her book's sales with the blurb on the book jacket? Well well well: "The Widow speaks well for its young authoress, Deborah Dearborn. Well conceived, this novel reflects a fertile mind well-equipped to spin a novel of this nature." Submitted by masonite, 12/3/12.
Perry suggests to Rubin Cason that he could have gotten far more than $500,000 for the film rights to "The Widow". Actually, this would have been an enormous sum for a first book by an unknown writer. The rights to "Peyton Place" sold for $250,000, "Valley of the Dolls" about $200,000.
I just can't see how breaking that small window would have given Carson access to the house, or how he even knew about any papers worth stealing. DOD 01/21/19
+ Break window, unlatch window, slide window open, climb in through window. It's plenty big enough for someone to squeeze through. OLEF641 7/1/21
Paul and Perry calmly stare at the body in the pool and make comments as though they were going to leave it there for the authorities, even though the body is floating on the surface and the nose and mouth are face up. But Perry (truthfully, of course) later tells the police that Paul eventually pulled the body from the pool and attempted to revive the lady. Submitted by MikeM, 9/25/2012
Zeme North is the author of a steamy novel reminiscent of Peyton Place. Which is ironic considering one of the stars of this episode is Ryan O'Neal who would go on to become famous by starring in the TV version of Peyton Place beginning 7 months after this episode aired. Submitted by PaulDrake 33. 5 March 2014.
+ 25 year old Zeme/Deborah is about 2 and 2/3 years older than Ryan/John, and every time that she is alone in the frame she looks to me to be in slightly soft focus -- apparently not necessary for 22 year old Ryan O'Neal, soon to spend 5 years (and 501 episodes?!) in Peyton Place. Deborah does seem to grow up during the episode. In the beginning, she is an "authoress" and Perry refers to her as a "young girl" while interviewing Stephanie Carew. But at the end of the episode Deborah refers to herself as a woman. lowercase masonite, 3/20/16.
++ Soft focus was almost de rigueur for close-ups of "pretty young things" in those days; I'm not sure why. OLEF641 7/1/21
+++ Perhaps they should have kept "softening" until they reached full blur: so painful was it to watch Ms. North bark out her lines in full pout for an hour. This was her only PM appearance - and one of only a handful overall - and it takes sadly little imagination to guess why, as "looks nice, acting ability not detectable" must assuredly have been in more than a few director's notes. Snarked by Notcom, 070121.
L.A. Phone Directory: In the mid 60s L.A. had a population of over 2 million. Hard to believe that the Los Angeles phone book would only have one listing each for "Martin" and "Mason". Submitted by H. Mason 3/14/15
Pictures: Photos on the wall in Rubin Cason's office were also at the entrance to the Karl Kadar Studio in episode 196 TCOT Capering Camera. Submitted by H. Mason 3/16/15
When talking about the cape Paul said "Looking in a closet is one thing, stealing's another." What about the dresses he took from a suspect's residence in episode 193 TCOT Badgered Brother? Submitted by H. Mason 3/14/15
Paul's Phone: When talking to Perry on Deborah's porch Paul said on the night of the murder he had to find a phone. What happened to his car phone seen in episodes 107, 157 and 191? Submitted by H. Mason 3/14/15
While talking to Gideon Long Perry said "I use the same device in my office...but not the same key word." When did Perry ever use a trick to try to get somebody to leave his office? Submitted by H. Mason 3/14/15
This is the episode that I used to adopt my name "Perry Baby" submitted by Perry Baby 9/19/16
+ I loved the "Perry Baby" lines as well, PB. A good name choice. Rickapolis 01/21/19
++ My favorite "Perry, baby" is still The Case Of The Velvet Claws, which was the first Perry Mason book, the fourth movie, and the 175th series episode. jfh 03Feb2020
<< Ice-Cold Hands | Episodes | Nervous Neighbor >>