Show265
<< Tsarina's Tiara | Episodes | Unwelcome Well >>
#265: The Case of the
Fanciful Frail
Original Airdate: 03/27/66
From The Perry Mason TV Show Book
Ethel Andrews is left waiting at the altar by her fiancé, Bruce Strickland, who also left her to take the blame for a $50,000 securities theft, since her signature was on the transfer authorization. Ethel leaves town and nearly has an accident with a car driven by Peggy Sutton, who is also on the run, but from a hired killer. Peggy persuades Ethel to swap identities for a week, but then Peggy dies in an auto accident.
Ethel is terrified when she finds $50,000 in the trunk of Peggy's car. She goes to Perry for help, and he sends Paul to Lake Tahoe to find out about this Peggy Sutton. When someone kills Bruce Strickland, Ethel's masquerade is over, and Perry's job is just beginning.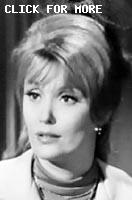 Opening
Starring Raymond Burr
in Erle Stanley Gardner's The Case of THE FANCIFUL FRAIL
Based on The Case of the Footloose Doll
Barbara Hale, William Hopper, William Talman
Trailing
Directed by Jesse Hibbs Written by Orville H. Hampton and Ernest Frankel
Arthur Marks \ Art Seid | Producers
Gail Patrick Jackson | Executive Producer
Ernest Frankel | Story Consultant
Orville H. Hampton | Associate Story Consultant
Raymond Burr as Perry Mason
Barbara Hale as Della Street
William Hopper as Paul Drake
William Talman as Hamilton Burger
Richard Anderson as Lt. Steve Drumm
Music | Richard Shores
Cast
Pippa Scott as Ethel Andrews
Barry Kelley as Mr. Park Milgrave
Arch Johnson as Frank Carruthers
Joan Huntington as Althea Milgrave
Coleen Gray as Martha Erskine
Abigail Shelton as Peggy Sutton
John Rayner as Tierney
Hunt Powers as Bruce Strickland
Phil Arthur as Pit Boss
Henry Hunter as Reverend Alford
Vera Marshe as Mrs. Alford
Roy Engel as Detective
S. John Launer as Judge
Ray Montgomery as Attendant
Timothy Blake as Waitress
Marshall Kent as Ed Thomas
Seamon Glass as Driver
Lee Miller as Sgt. Brice
Mildred Harrison as Chambermaid
Crew
Director of Photography … John M. Nickolaus, Jr.
Art Direction … Lewis Creber
Assistant Director … Gordon A. Webb
Film Editor … George Hively
Casting … Harvey Clermont
Makeup … Irving Pringle
Hair Stylist … Annabell
Wardrobe Supervision … Bob Wolfe, Evelyn Carruth
Set Decoration … Carl Biddiscombe
Properties … Ray Thompson
Production Sound Mixer … Herman Lewis
Script Supervision … Marshall Schlom
Theme Composed by … Fred Steiner
Automobiles Supplied by … Ford Motor Company
Perry Mason
Produced by the CBS Television Network in association with Paisano Productions
Check here for Perry's office address and telephone number. The girl in the scene doesn't seem to be wearing colored nail polish but the pointing finger is. The same finger is also seen in #198. Submitted by Paul Chrisney, 6/10/2004.
+This scene of looking up Perry Mason in the phonebook... seems to be the *same* piece of film in both TCOT Bountiful Beauty and TCOT Fanciful Frail. Perhaps other episodes may have used this same phonebook shot. Submitted by Charles Richmond, 8/18/2013
At time index 15:20 of the DVD for the Fanciful Frail, there is a problem with the scene. When Ethel Andrews (played by Pippa Scott) looks up Perry Mason's number in the phone book, she sees this page. Notice that the name after Perry's listing is Gerald R. Masa. The name Masa should come *before* Mason in alphabetical order, and yet Masa is listed *after* Mason. Submitted by Charles Richmond, 8/18/2013
+ Apparently whoever typed the list left out an s. The name should have been Massa. Also note in the third column after Maz, there are listings for Mac which also appear at the top of the second column. Submitted by Wiseguy70005, 8/20/13.
+ Note, too, that Mr. Masa - or Massa - lives on our old friend "Las Palmas" (though neither North nor South, and at the impossibly high address of 5351). Observed by Notcom, 062916.
Please note that the address in the phonebook is wrong! Perry's office moved to the Bank of California building a couple of years ago. Submitted by D. A. Supernaw, 9/6/2005.
+ The office didn't exactly move. See the Brent Building page for the full story.
Phil Arthur makes his last of four appearances on Perry Mason as the Pit Boss. He always seems to play the same shady character with that unique sneer. In a close up shot, his toupee is obvious. Submitted by Perry Baby 1/15/14
+ Abigail Shelton, who plays Peggy Sutton makes her third and final appearance on Perry Mason, she was also in TCOT Lawful Lazurus, where she had a wonderful drunk scene, and TCOT Crippled Couger. In both these previous episodes she spelt her name Abbagail Shelton. Submitted by Tragg 27/07/22
Location: The gas station where the two women switch cars and identities is STILL THERE! It's at Las Virgenes just before the 101 Ventura Freeway. In the episode, you can see the Ventura Freeway behind them. Submitted by Eric Cooper, 9/12/2008, posted by daveb. Some pictures and vidcaps here.
+ Incidentally, all one-shot and two-shot conversations here apparently occur in studio in front of a back-projection screen, with only the long shots taken actually at the station. Submitted by cgraul 1/19/2011.
Location: The church in the opening scene—can anyone identify it? Vidcap here. Submitted by daveb, 12/13/2008.
+The church in question is St. James Episcopal Church on St. Andrew's Place in Los Angeles. Submitted by D. Tlougan 3/14/2015.
Is it just me or does anyone else think the plot of this show is awfully close to the plot of episode number #54, TCOT Foot-Loose Doll? Submitted by PaulDrake 33, 15 September 2009.
+ Yes, it was a remake as indicated in the show's opening credits. For more about this topic, see the Repeated Episodes page. Submitted by daveb, 9/15/2009.
++ This episode of Perry Mason (TCOT Fanciful Frail) and the second season episode TCOT Foot-Loose Doll (#54, 2.15) are both based on the same Erle Stanley Gardner novel titled The Case of the Foot-Loose Doll. So this current episode is often considered to be a "re-make" of the second season episode TCOT Foot-Loose Doll. See repeated episodes here. Submitted by Charles Richmond, 26 April 2013.
This episode features some of the same music heard in episode #255, "TCOT Golden Girls". In particular, the same song later used on Gilligan's Island (see trivia of #255) plays at the beginning of this episode when Peggy Sutton is in her room alone. The only difference is that the tune features more piano playing than trebly guitar—but it's the same song. Submitted by Ed Zoerner, 9/27/2009.
As Ethel bares her soul to her new acquaintance at the garage coffee shop, she drinks from a cup and saucer from the Curious Coffee Set. Submitted by gracenote, 6/12/2011.
Goof: At the gas station, Ethel gives Peggy an extra $20 to help her out, then puts her wallet back in her purse. Then the two women immediately switch purses, making the gesture a little pointless! Submitted by gracenote, 6/12/2011.
+ This was not an actual goof, as Ethel had not as yet decided to switch. Submitted by cgraul 1/19/2012.
++ I'll have to go with 'gracenote' here...the key word being immediately. Perhaps the scene was supposed to being played to indicate Ethel was still ambivalent, but if so it wasn't done well: the donation and subsequent swapping are one unbroken motion. Notcom 101822.
Goof? When Peggy looks at Ethel's driver's license, we see that she was born November 7, but no year! No doubt this gallant omission is deliberate, to protect the lady by not revealing her age! Submitted by gracenote, 6/12/2011.
+ Good catch. ("I'm 21, bartender. Honest!") Thanks to the 2013 Paramount DVD, at 10:37, we can see that the license is as curious as a coffee set -- It doesn't include the name of the state, only that the retyped address of the driver is in California, and it was issued on "8-6" but expires on "8-3-69", not on the driver's birthday. It doesn't have "temporary", but it doesn't have either the class of license or a photo of the driver (any photos in the wallet?). Submitted by (lowercase, with a comma and period) masonite, 10/27/13.
Goof: The rear bumper and bumper sticker of Ethel Andrews car was initially damaged, but after they switched identities and cars, when she turned around and passed her car wrecked in the ditch, the bumper sticker and bumper were not damaged at all. Submitted by mesave31, 03/11/15
Goof: When the killer opens the door to Strickland's apartment there is no hole in the door frame where the latch bolt should fit into. Also, it's worth noting that the killer took a bunch of keys from Strickland's pocket, but it was only a single key that he had to open the door. Submitted by Tragg 07/30/22
+ When Ethel Andrews, gets into the car at the gas station it is obvious that the car must already be running has she half-heartedly turns the key and then pulls off unnaturally quickly. Submitted by Tragg, 1st August 2022.
Sightings: In the back row of the courtroom, Quiet Old Man #1 silently watches Perry zero in on the real murderer (again). Submitted by gracenote, 6/12/2011.
+ Also, it appears that the Thin Man doing well at the crap table, rolling the dice but not really saying anything. Submitted by Kenmore 10/31/2012
++ The young brunette makes a return in the courtroom sitting on the defendent's side behind Della. I think she was in the initial scene at Clay's. I also noticed that the courtroom spectators are not changing positions much in recent episodes during sessions supposedly the next day. I see the same thing at Clay's. Submitted by Perry Baby 1/25/14
+++ We have a brief sighting of Miss Carmody at the casino, as Paul Drake sits down for a drink with Mrs Milgrave. She sure gets around. Submitted by Clothears 23rd June 2022.
Roy Engel, who played the detective at the San Francisco airport, made six appearances as President Ulysses S. Grant over the four seasons of The Wild Wild West. Submitted by Wiseguy70005, 6/21/12.
+ President Grant served from 1869-77: TWWW aired from 1965-69 (104 episodes: "half Science Fiction & half Western" IMDb]. Mike Bedard 3.6.15.
+ Roy Engel also appeared on 18 episodes of Bonanza, mostly as Doc Martin (or another doctor). Submitted by Charles Richmond, 8/30/2012.
Most of the edits in the syndicated and Hallmark versions appear to be the same except for the scene at the Starglow Motel. The syndicated version begins with the Starglow sign, then shows a room where a flashlight is shining on the right wall. The camera then pans to the left showing a man pointing the flashlight around the room. After he walks a bit to the right he again shines the flashlight on the right side then makes a counter-clockwise movement with the flashlight until it shines on the camera. Then he walks to the left. The Hallmark version shows the Starglow sign, then jumps to the flashlight pointing at the camera. Then the man walks to the left. The music over the Starglow sign is also changed to the later music so it flows into the edited scene. Submitted by Wiseguy70005, 6/21/12.
Other common edits: Both the syndicated and Hallmark versions appear to end Act 1 (after Ethel puts the pencil in her purse after looking up Mason's number) and Act 3 (after the pit boss excuses himself to Drake) prematurely. After the Lake Tahoe and Milgrave names are shown, the music suddenly stops as Milgrave hands a martini to Drake indicating a possible edit. And an office scene with Carruthers, Erskine and Strickland between the kidnapping of Ethel and the Starglow murder scene is missing in both versions. Submitted by Wiseguy70005, 6/21/12.
The $50,000 Ethel finds in Peggy's car is worth $360,000 today. Submitted by Bill-W2XOY on 08/26/13
+ Instead the $50,000 Ethel finds in Peggy's car... turns out to be worth about 20 years in federal prison!!!, Submitted by Charles Richmond 11/09/14
+ "Congress shall have power...TO PROVIDE FOR THE PUNISHMENT OF COUNTERFEITING THE SECURITIES AND CURRENT COIN OF THE UNITED STATES," Article 1 of the Constitution says: the Original Secret Service mission was to fight Confederate attempts to compromise Union currency. Mike Bedard 3.11.15.
This is the second of two PM appearances for Pippa Scott, whose uncle was a blacklisted screenwriter...MikeM. 4/5/2017
Noun you see it nowadays when linguists talk about the transformation in how words are used, they're likely to talk about nouns>verbs. But in this episode we have something different: although frail can be used as a noun - it's a basket made of reeds - here the meaning seems to be that when it's used an adjective - susceptible to temptation...which describes Peggy quite well (and maybe even Ethel, in a way). So decades before people were texting others while they networked, PM's writer's had redefined frail, as a noun. Wordaged by Notcom, 072017.
+ The noun "frail" has another, less contemporaneously common, usage. It was occasionally used as a slang term for "woman"--possibly because women were seen as the weaker, "frailer" sex? For example, consider the following lyrics from the song "The Birth of the Blues:"
"And from a jail came the wail
Of a down-hearted frail . . ."
It's also found in Cab Calloway's "Minnie the Moocher."
My guess is that the show's writers were familiar with the word as used in this sense and were not making up a new noun when they gave this episode its title. Respectfully submitted by BobH, 20 July 2017.
++ Interesting, and correct. Who could imagine, though, that a production company so square that just a few episodes ago it depicted a gang of thieves burglarizing a house attired in coats and ties, would be conversant in slang...then again, they did know "shamus". With thanks, Notcom 072117.
+++ Sorry guys -- referring to a woman as a frail was pretty commonplace in the "old days". In my experience, though, it's seldom an accurate description... JohnK, 22 July 2017
This is the final of four PM appearances for Coleen Gray, whose first (of three) husbands was writer, producer, director Rod Amateau. After Gray and Amateau divorced, he married Sandra Burns, daughter of George and Gracie...MikeM. 4/11/2018
Milgrave's Menorah Mailbox: Park Milgrave is not a notably Jewish name, and Barry Kelley is not a notably Jewish actor, yet at 22:16 we see a cast metal mailbox mounted on a wooden post, surrounded by sprays of pine needles -- and it is a mailbox that typically only a Jew would have. On the lid of the mailbox in white paint, we read "MILGRAVE RT. #2 TAHOE" and on the face of the mailbox we see the rampant lions of Judea flanking a Jewish synagogue menorah (candelabrum) surmounted by a royal crown. This menorah-within-a-menorah design is a common feature of Jewish Hanukkah (Chanukah) menorahs. See here and here and here and here. Submitted by catyron, August 14th, 2018
Comments

Edit
I think I may prefer this later version of the Gardner story to the original (broadcast in the 1950s)—somehow it seems to flow better and is easier to follow, but that may be a function of the editing of the syndication print. Submitted by gracenote, 6/12/2011.
Interesting camera work in this episode. Right after the murder, we are looking at everything from the killer's point of view. From the murder's perspective, we see the body being searched, the wallet extracted, the keys taken, the victim's apartment searched, and the money burned. The shaky, handheld camera work gives an eerie feeling to the scene. Submitted by Bill-W2XOY on 08/26/13.
That three light floor lamp with the stripe shades magically transports from Peggy/Ethel's motel room to Strickland's apartment. Another plot that hinges on rather laissez faire identification of a body. The crashed car didn't burn, in fact looks in fairly good shape. Surely the body wasn't that mangled. Why does the hitman take Peggy/Ethel to San Francisco? And how did the police track her there? Submitted by DOD 04/10/18
Quiet, Please! I love this scene, for its nervousness, but will make a small quibble about the firearm. The killer used a revolver with a silencer attached. I'm no expert, but I have read that silencers only really work on automatics, where the firing is all contained within the gun. JohnK, 17 April 2017
+ Looks like it only works on some specific models. See this link. Submitted by HamBurger, 07/08/2017
The camera work (handheld rather than on a dolly?) reminded me of that of "Lady in the Lake" from 19 years earlier, only more nervous. However, how about the stacks of bills in the money box? The money changes at least twice from the time the box is opened (29:30 on the 2013 Paramount DVD) until the money is burned 25 seconds later. When the box is opened, there are 3 unbanded stacks, topped with 10-, 50-, and 100-dollar bills. When the bills are dumped into the urn the stacks are banded with what look like stacks of 500, 1000, and 1000. And while the cigarette lighter is lit the stacks re-arrange themselves in the urn and now include at least 1 5-dollar bill. Not to mention that the physical appearance of the bills also changed. Submitted by (lowercase, with a comma and period) masonite, 10/27/13.
+The stacks of bills in the money box begin as "real" U.S. currency. Somehow when the shadowy stranger pours the money into what appears to be an ice bucket... the money is magically changed to "stage" money!!! See pictures here.
Submitted by Charles Richmond, 11/08/14
+ "Of the $1/2/5/10/20/50/100 bills, www.treasury.gov says, 'The basic...designs...were selected in 1928...A committee made those choices...However, our records do Not suggest Why certain presidents and statesmen were chosen for specific denominations,'" We The People 1 Preamble 6 Purposes 95 Propositions observes (Xlibris books, 2012). Mike Bedard [WTP 1P6P95P author] 3.11.15.
TIME TUNNEL Perspective: March 27, 1966 viewers may have heard the News about Anti-Vietnam War demonstrations in the US, UK & Australia that day. takemeback.to website. Mike Bedard 3.5.15.
Seamon Glass gets to use his auto repair skills from last year's "Runaway Racer". DOD 06/21/23
SLOW NEWS DAY Ethel Andrews Killed in Auto Crash is the banner headline in the Chronicle: keep in mind this was an accident some eighty miles from LA - according to the road signage shown - and the (presumed) victim was unknown to the world but for an embezzlement - in a similarly remote town - which had just been discovered. Although the treatment wasn't completely consistent, most PM epsisodes had the good sense to depict media coverage of stories such as this in a realistic manner ( i.e. inside page story). Commented by Notcom, 063016.
Freedoms for Frails? In other news, that front page of The Chron (1966) carried a small item about equal rights for women. A constitutional amendment granting equal rights to men and women was passed by both the U.S. House and Senate in 1972, but not ratified by three-quarters of the states by the 1982 deadline. JohnK, 17 April 2017
Perry almost let the cat out of the bag. When he's questioning Strickland at the funeral he says "You mean the notion of a wedding, of getting married to you, is all in her mind?" (note: the close-caption says was but to my ear he's saying is.) Kilo 5/16/2020.
Missing Person I've always thought it strange that Ethel, didn't tell Perry that it wasn't her who found the bundle of money, but a guy who stopped to change her flat tyre. She in fact told PM specifically that it was her who had found the money in the trunk. I wonder if this 'Good Samaritan' originally played a bigger part in the script, but was edited out? The actor Seamon Glass was even given a credit as "Driver"?
++++I am watching the MeTV version. Does the DVD set better inform us who actually killed Peggy Sutton, causing her to wreck? Or do we have to still "assume" someone (the hitman, Bruce Strickland, or Milgrave?)? It is too weird if she just happened to lose control on her own and die. ;-> Thoughts? Submitted by mesave31, 03/11/15.
+ The DVD provides no additional clue as to why Peggy drove off the road. Apparently it was just an accident. Submitted by Kilo 2/9/2018.
+ + I thought it was a tire blow-out, just like the post-accident blow-out that Ethel suffered in the car that she was driving. Both cars had been damaged in the accident, and both cars were hastily repaired. If the car that Peggy was driving also suffered a post-accident blow-out, but while on that cliff-side, it would have easily gone over the edge. Submitted by catyron, August 13th, 2018.
+ I agree that Peggy Sutton's fatal crash was probably accidental. After Ethel Andrews discovers the package of money, she turns around and heads back south to catch up with Peggy. As she does so, the hired gun (Tierney) pulls into the service station and speaks to the attendant, presumably asking about Peggy. At 12:20 on the DVD, Ethel passes the service station and Tierney's car is still there, so it's unlikely he had anything to do with the accident scene Ethel is approaching. Added by Dan K, 19 August 2018.
+ One other oddity about the crash. As the body is being loaded into the ambulance, there's a woman standing next to the ambulance watching the body being loaded. She was so obvious, I thought she was going to be part of the plot. But, alas, she was just a nosy passerby. Kilo 11/14/2018.
<< Tsarina's Tiara | Episodes | Unwelcome Well >>