Show54
<< Glittering Goldfish | Episodes | Fraudulent Foto >>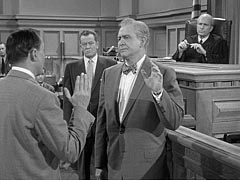 #54: The Case of the
Foot-Loose Doll
Original Airdate: 01/24/59
From The Perry Mason TV Show Book
Perry accepts a thirty-eight-cent retainer from shapely Millie Crest, posing as Fern Driscoll, and played by the beautiful Ruta Lee. Unbeknownst to Perry, Millie has taken on this identity from the real Fern Driscoll (who is supposedly dead), to shield herself from a troubled past.
As Fern Driscoll, she runs into even bigger trouble when she stabs a man in self-defense, and goes on trial for murder. When Carl Davis turns up dead, from poisoning of a stab wound to his arm, a friendly witness points to Millie, now Fern.
Opening
Starring Raymond Burr
in Erle Stanley Gardner's
The Case of THE FOOT-LOOSE DOLL
Barbara Hale as Della Street
William Hopper as Paul Drake
William Talman as Hamilton Burger
Ray Collins as Lt. Tragg

Trailing
Directed by William D. Russell
Teleplay by Jonathan Latimer
Ben Brady | Producer
Produced by CBS Television in association with Paisano Productions
Gail Patrick Jackson | Executive Producer
Sam White | Associate Producer
Raymond Burr as Perry Mason
Barbara Hale as Della Street
William Hopper as Paul Drake
William Talman as Hamilton Burger
Ray Collins as Lt. Tragg
Cast
Barton MacLane as Senator Baylor
Robert Bray as Carl Davis
Ruta Lee as Millie Crest
Betty Lou Gerson as Marjory Davis
Eve McVeagh as Laura Richards
Sam Buffington as Fred Ernshaw
Richard Gaines as Judge
Susan Dorn as Grace
Helene Stanley as Fern Driscoll
Jim Kirkwood, Jr. as Johnny Baylor
John Bryant as Bob Wallace
Jan Harrison as Patient
Charles Meredith as Doctor
Carol Byron as 1st Girl
Lee Miller as Sgt. Brice
Jack Harris as Court Clerk
Uncredited Actors
Don Anderson as Courtroom Spectator
Crew
Gene Wang | Story Consultant
Production Supervisor … J. Paul Popkin
Story Editor … Alice Young
Director of Photography … Frank Redman, A.S.C.
Art Direction …
Lyle Wheeler
Lewis Creber
Editorial Supervision … Art Seid, A.C.E.
Film Editor … Otto W. Meyer, A.C.E.
Assistant Director … Robert G. Stone
Casting … Marvin Schnall, Harvey Clermont
Makeup … Richard Hamilton
Hair Stylist … Annabell, S.C.H.
Wardrobe Supervision … Dick James
Set Decoration … Walter M. Scott, Charles Q. Vassar
Properties … Ray Thompson
Sound Editor … Gene Eliot, M.P.S.E.
Production Sound Mixer … Robert O'Brien
Script Supervision … William E. Orr
Perry Mason
Filmed in Hollywood by TCF Television Productions, Inc.
A CBS Television Network Production
CARS: 1957 Ford Fairlane Club Coupe 2dr hardtop, white; 1956 Buick Special Convertible, white, black top up. Cameo: 1956 Buick Century 4dr hardtop, dark color & white. From The Cars by Greg Cockerill.
This episode of Perry Mason (TCOT Foot-Loose Doll) is based on an Erle Stanley Gardner novel of the same name. The season nine episode titled TCOT Fanciful Frail (#265, 9.24) is also based on this same ESG novel. So this ninth season episode is often considered to be a "re-make" of TCOT Foot-Loose Doll. See here. Submitted by Charles Richmond, 26 April 2013.
The same setup shot is used for the Dr. Barnes Seaside Hospital as in #30, TCOT Screaming Woman. See here. Submitted by Charles Richmond, 6/2/2004.
+ Funny in that Ruta Lee is in both episodes at "Dr. Barnes Seaside Hospital" this one and #30, TCOT Screaming Woman. Submitted by HamBurger, 5/31/2021
TCOT Rare Reporters. During the trial scene in which Senator Baylor (Barton MacLane) testifies, there are two very visible extras on Mason's side in the front row who busily write in pocket-size notebooks, obviously portraying reporters. When Baylor drops the bombshell that he was the one stabbed by Mildred Crest, the two and another extra in the second row bolt from the courtroom to call in the story. Despite the many political and show business bigwigs involved in the Mason cases, this is the only instance I know of where this happens. Submitted by FredK, 1 Nov 2009.
Sightings: During the hearing, sitting next to the Senator himself, is the Little Old Lady in a Hat. She can be first seen when Mr. Burger raises ad objection and then moments later when the courtroom gallery is all a-twitter after a shocking revelation. On the second day of the hearing, a different lady is sitting next to the Senator, but the Lady is across the aisle. Submitted by gracep, 8/13/2010.
+ The same Little Old Lady in a Hat can be seen for a split second exiting the Claymore Apartment Hotel, just as Perry enters. She wears the same hat in court later on. Submitted by Evelyne, 1/25/2011.
++ Joining our Little Old Lady in the courtroom gallery are Quiet Old Man #1, Distinguished Gentleman #2, and a somewhat hidden Distinguished Gentleman #1. Earlier "Miss Carmody" collects Miss Crest's and Miss Richards' dirty dishes in the L.A. restaurant. Lastly, at the Seaside Hospital, the silent nurse is played by Distinguished Lady #1, who also turns up as a spectator when court reconvenes. Submitted by gracenote, 2/28/2011.
+++ The Distinguished lady #4 sits next to the Senator at the second hearing. Submitted by BigBill767, 2/4/17.
++++ Our Miss Carmody also shows up in the courtroom, seated in the back row of the defense side, to the right (viewer's POV) of Sen. Baylor before he is called to the witness stand. Submitted by JazzBaby, 8/13/2019.
Uncredited Actors: In one shot, the courtroom spectator sitting behind Laura Richards (Eve McVeagh) is Don Anderson. In other shots of the courtroom that include Ms. McVeagh and more extras, there is a different actor in this seat. I can only guess that the director decided to add a reaction shot of McVeagh at some point and had to press a couple different extras into service to fill the area behind her. Submitted by FredK, 2 October 2010.
Character Names: Millie Crest's real first name is Mildred, which actually seems to be used more than Millie. Submitted by gracenote, 2/28/2011.
Senator Baylor stayed at the Claymore Hotel Apartments. In the previous episode Donna Sherwood said she lived there. Submitted by H. Mason 10/16/14
+ "Harriman" was also the 1st name of Admiral Nelson on Voyage To The Bottom of the Sea. Mike B. 6.15.16 MeTV airing.
++ There was an actual Senator Harriman: W. Averell Harriman --yelocab 29NOV18
+++ A minor correction, thanks to 21st century technology: W. Averell Harriman served in many political and diplomatic positions over an incredibly long career, including as Governor of New York. But he never served as a Senator, U.S. or otherwise. Submitted by BobH, 29 November 2018.
Same picture?: The painting outside the door of the apartment shared by Millie and Laura was on the wall outside of Helen Reynolds' apartment in episode 52 TCOT Borrowed Brunette. Submitted by H. Mason 10/16/14
Perry's Birthday In the final scene Della brings in a telegram and Perry asks, "Somebody sending me birthday greetings?" jfh 21Jun2017
Unsolved mysteries: What happened to Robert Wallace? Submitted by H. Mason 10/16/14
And why did he call Mildred in the first place? DOD 07/03/18
> Presumably to give her a chance to flee (aka "become a fugitive from justice") Notcom 121120.
This is the only PM appearance by Jan Harrison, who was once married to Carroll Shelby...MikeM. 9/21/2016
This is the first of four PM appearances for Barton MacLane (Senator Baylor), who is known for his recurring role as General Peterson on the television series "I Dream of Jeannie". Barton MacLane passed in 1969 at the age of 66...MikeM. 7/3/2018
+MacLane also played Lt. Dundy in The Maltese Falcon, a film that had quite a few actors also on Perry Mason, including Elisha Cook Jr. (2 episodes), Jerome Cowan (2 episodes), and even an uncredited role by our own William Hopper. Submitted by Vladimir Estragon 3/2/21.

This is the first of six PM appearances for John Bryant (here as "Bob Wallace") who reminds me of Gig Young. jfh 03Jul2018

Richard Gaines as Judge has three Perry credits, all as judges. Richard Gaines was a busy actor during Hollywood's Golden Era, most notably IMHO starring alongside Edward G. Robinson, Barbara Stanwyck, and Fred MacMurray in "Double Indemnity". jfh 29Jul2020
Comments

Edit
Millie Crest is a very fortunate young lady. She is the driver of 1957 Ford that travels down a very steep hill, wrecking and catching on fire. Not only does she survive this disastrous wreck without a broken rib, cut, scratch, or bruise, but the automobile obligingly throws both of her suitcases out before it catches on fire so she will have clothes to change into. Submitted by PaulDrake33, 26 June 2008.
+ A Sign of the Times: Had Millie's accident occurred today with California's mandatory seat belt law, she probably would have been trapped in the burning vehicle and suffered the same horrible fate as "Fern Driscoll." Submitted by 65tosspowertrap, 5-21-2014.
++ Actually, she was VERY VERY lucky. In such an accident, unbelted, she would have been knocked unconscious well before the car ended at the bottom of the hill (think about how hard the interior surfaces of a '50's era car was - I remember my dad's '57 Fairlane) and been unable to get out, at least right away, on her own power. She also might have been killed by being thrown out of the car; moving at the same speed the car was, even a 30 mile an hour speed would have given her extremely bad injuries once she hit the ground, worse if it was rocky. The likelyhood that you'll be trapped in a seat belt is eclipsed by the certainty that bouncing around in a speeding car going out of control will kill you, or injure you VERY badly. Submitted by MikeReese, 9/25/2016.
Agreed no one could have survived that car wreck--seatbelt or no seatbelt. Don't forget the frame would have been bent up, possibly jamming the doors and keeping them from being opened. --yelocab 29NOV18
Laura's weekly income was "$85 Take Home." Mike B.
+ A little over $700 in 2017. OLEF641; 10/11/2017.
Dr. Barnes Seaside Hospital is currently Cher's house. No kidding! The Malibu estate has been on and off the market in 2008 at $41 million. As noted by Charles Richmond, the same location was featured at the beginning and mid-point of another episode, "TCOT Screaming Woman." Posted by Eric Cooper, 19 November 2009.
Cher's house update: Zillow says the $41M listing was removed in February 2010. Zillow estimates the current value at about $18M. Submitted by MikeM, 10/26/2012.
What I Learned from this Episode: Don't pick up hitchhikers. Submitted by 65tosspowertrap, 5-21-2014.
For the seventh time in the first fifty-four episodes:
"Heaven has no rage like love to hatred turned
Nor hell a fury like a woman scorned."
Submitted by 65tosspowertrap, 21 May 2014.
Despite some of the usual slight plot problems, this is a very entertaining episode that has it all - hard boiled dames, amnesia, Paul's "Hi, beautiful!", Tragg's "It has my mark on it", stolen identity (two of them), young love thwarted by a crotchety father, flaming car crash, and a swell dramatic confession. Who could ask for more? DOD 07/16/19

Goof: TCOT Inconsistent Injury. Mason's deduction about Baylor being the one wounded from the waving photo is an excellent decisive clue. However, someone in continuity should have reminded Barton MacLane about his injury in the earlier scene of Mason's visit to his hotel. Despite being stabbed in the shoulder the night before, Baylor/MacLane uses his right hand quite freely, opening the door easily, gesturing expansively during the conversation and even reaching across his body, taking a cigar from his breast pocket and lighting it without any sign of injury. Submitted by FredK, 1 Nov 2009.
+ It is possible that the initial injury with the ice pick wasn't very serious, and, due to the multiple layers of heavy clothing (undershirt, shirt, suit coat, heavy lining in the suit coat, etc), it was possibly somewhat superficial at the time, but, due to the possibility of the injury being reported to the police, it was not treated. Therefore, it wasn't serious the next day when Perry visited, however, by the time the case went to court it had become badly infected, and he could barely use it, or raise it. - Lazarus Long 05.27.2016
Senator Baylor used his right hand to raise his hat at the airport. But, after being wounded, he used his left hand to answer the phone and raise it to his ear. And he raised his left hand to take the oath. The wound may have bothered him most when he raised the right arm above his shoulders...MikeM. 6/15/2016
Perjury: Did Senator Baylor get charged for his lies or did his position cause the officials to overlook his falsehoods? He was in a re-election campaign that surely would have given lots of ammunition to his opponent. Submitted by H. Mason 10/17/14
Did the Senator actually lie? It was Burger who told the judge he had bursitis. The bigger shock is that he was willing that an innocent woman to be tried for murder.
+ Seems like Senators back then were lying posers just like they are today. Submitted by HamBurger, 7/5/2021
Surgical precision: How was Marjory able to kill Carl with one stab to the right shoulder with the ice pick? Did she know exactly where to stab or was she lucky? Submitted by H. Mason 10/17/14
+ Maybe I'm confusing this with a similar story I once read, but, I'm sure the reason he needed 30 minutes to decide whether or not to see Perry's doctor was because he needed to have a real wound. I think he wanted Marjory to inflict that wound, and she killed him instead. If you look at his fake bandages when Perry visited, they were closer to the heart than his shoulder; more like he was pretending to be stabbed in the chest. So, maybe he even pointed to where his heart was so she could hit him anywhere else but there. Talk about irony, huh? - Lazarus Long 05.26.2016
++ It was Perry who gave Davis 30 minutes to decide about the doctor. OLEF641; 10/12/2017.
Surely the medical examiner would be able to distinguish a fresh wound from one at least 48 hours old. DOD 07/03/18
Since Perry saw the bandage in the upper right chest area, Marjory had to wound Carl at that location. She was "lucky" that the wound proved fatal and that she was able to re-establish the scene so that Perry would be fooled when he returned to the room....MikeM. 6/15/2016
The Case of the Phony Photo, Version 2.0 (See my comments regarding Episode #51 (TCOT Shattered Dream)): Another fishy photo in this episode, this time of Sen. Baylor "getting off an airplane" and waving. It's quite clear that two separate photos-- one of actor Barton MacLane (in the foreground) and the other of the plane (in the background)--have been clumsily melded into one. Submitted by BobH, 15 June 2016.
+hey, this is 1950s darkroom technology, after all. And most people would have been watching on a 20" TV. It's not the worst phony photo I've seen on PM. --yelocab 29NOV18
+ In the next scene the paper that Perry and Della are looking at has the picture without the photo of the senator pasted on. Also you'll notice the word "CAMPAIGN" is in a different font than the other words in the headline. It looks to be cut out and pasted over another word. Kilo 1/13/2019.
The Case Of The Confusing Credits: Ruta Lee....Mildred (Millie) Crest aka Fern Driscoll / Helene Stanley....Brenda Scobie aka Fern Driscoll mistaken for Millie Crest / Jan Harrison....the real Fern Driscoll. Submitted by H. Mason 10/16/14
Alaska became the 49th State the same month & year F-LD premiered: January 1959. Senators appear from time to time on Perry; the title derives from a Latin term for "Old Man": the Framers modeled the US Senate on the Ancient Roman Senate (Art. 1, Sec. 3). Mike B. 6.15.16.
So easy in the 1950s to change your identity, I guess. But why did Millie use the name of the woman who died? She could have just as easily picked another name with initials FD (and she didn't know if Fern running from another crime herself). And Fern really packed light, just a few negligees and one bra(?). I pack more when I go on a 3-day business trip. --yelocab 29NOV18
> I think it's actually quite realistic: suddenly a pair of letters is thrown at you and you have to come up with a name; we all know ESG probably would have come up with something like 'Futura Delaney', but most of us, I imagine, would instinctively respond with the name we had just heard. A bigger problem, I think, is why Millie's assailant had done the same: her actions were premeditated, after all - so she would have ample opportunity to think of something - and assuming the identity of someone you'd just assaulted, who you knew people would be looking for, makes little sense; I guess psychopaths don't always think everything thru tho. Notcom, 121120.
<< Glittering Goldfish | Episodes | Fraudulent Foto >>