Show53
<< Borrowed Brunette | Episodes | Foot-Loose Doll >>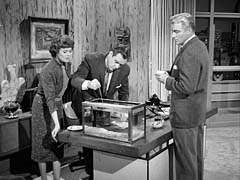 #53: The Case of the
Glittering Goldfish
Original Airdate: 01/17/59
From The Perry Mason TV Show Book
Tom Wyatt has discovered a cure for a fatal fish disease called gill fever. It's worth a small fortune, so much so that Wyatt's boss, Jack Huxley, claims the formula, since it was made in his company.
Wyatt disagrees and tells his story to Perry, flying into a rage in the process, saying Huxley doesn't have the right to live. Somebody must have heard him, because sure enough, Huxley is later poisoned and dies. Tragg drags out heavy evidence against Wyatt. But despite how it looks, Perry takes the man's case and wins this fish story. And he gets a chance for a little tale on the side: During Perry's investigation, Huxley's secretary flirts with our dynamic lawyer and even invites him home to "question her."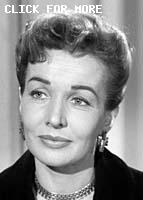 Opening
Starring Raymond Burr
in The Case of THE GLITTERING GOLDFISH
Based upon characters created by Erle Stanley Gardner
Barbara Hale as Della Street
William Hopper as Paul Drake
William Talman as Hamilton Burger
Ray Collins as Lt. Tragg

Trailing
Directed by Gerd Oswald
Story by Milton Krims
Teleplay by Miltron Krims and Gene Wang
Ben Brady | Producer
Produced by CBS Television in association with Paisano Productions
Gail Patrick Jackson | Executive Producer
Sam White | Associate Producer
Raymond Burr as Perry Mason
Barbara Hale as Della Street
William Hopper as Paul Drake
William Talman as Hamilton Burger
Ray Collins as Lt. Tragg
Cast
Cecil Kellaway as Darrell Metcalf
May Wynn as Donna Sherwood
John Hudson as Tom Wyatt
Jacqueline Scott as Sally Wilson
Catherine McLeod as Nora Huxley
Willard Sage as Dan Myers
Gage Clarke as Frederick Rollins
Murvyn Vye as Jack Huxley
S. John Launer as Judge
Rusty Lane as Harry Tiller
Olan Soulé as Clerk
Chuck Webster as Sergeant Brice

Uncredited Actors
Lee Miller as Police Officer (submitted by bigbill767, 2/4/17)

Crew
Gene Wang | Story Consultant
Production Supervisor … J. Paul Popkin
Story Editor … Alice Young
Director of Photography … Frank Redman, A.S.C.
Art Direction …
Lyle Wheeler
Lewis Creber
Editorial Supervision … Art Seid, A.C.E.
Assistant Director … Morris Harmel
Casting …
Marvin Schnall
Harvey Clermont
Makeup … Richard Hamilton
Hair Stylist … Annabell, S.C.H.
Wardrobe Supervision … Dick James
Set Decoration …
Walter M. Scott
Charles Q. Vassar
Properties … Ray Thompson
Sound Editor … Gene Eliot, M.P.S.E.
Production Sound Mixer … Robert O'Brien
Script Supervision … William E. Orr
Perry Mason
Filmed in Hollywood by TCF Television Productions, Inc.
A CBS Television Network Production
CARS: No cars. From The Cars by Greg Cockerill.
Nora Huxley's apartment in this episode is the same apartment that was occupied by Grant Reynolds in the previous episode, "TCOT Borrowed Brunette." They have added different furniture, but the large plant is the same as well as the statuette of the bull on the table by the door. Submitted by PaulDrake33, 25 June 2008.
Gill fever is an actual goldfish ailment. Submitted by Craig, 3/27/2010.
Cecil Kellaway's cousin is the accomplished Edmund Gwenn, who played Kris Kringle in A Miracle on 34th Street (1947). Kellaway was initially offered this part, but he turned it down. At least they kept in in the family! Submitted by gracep, 8/12/2010.
Sightings: The ubiquitous Little Old Lady in a Hat quietly appears in the courtroom gallery next to Darrell Metcalf. Distinguished Gentleman #1 is in the back row near the door. Submitted by gracep, 8/12/2010.
+ Little Old Lady #2 is also there. Submitted by JazzBaby 8/8/2019.
++ The following day, the Gentleman reappears next to the Lady and behind the victim's widow. Quiet Old Man #1 is also there to watch Burger play with some fish in court! Submitted by gracenote, 2/21/2011.
Where's Lee? Another episode where the stoic Sgt. Brice is played by Chuck Webster. Still wondering why the homicide sergeant in the script wasn't given another name if Lee Miller wasn't available. Submitted by francis, 07/09/14.
+ Lee Miller plays a homicide police officer with Tragg. I guess he has not yet been promoted to Sgt Brice at this point in the series. Submitted by BigBill767, 2/4/17.
Cecil Kellaway received credit on a card all by himself, the way Raymond Burr does throughout the series. (He was rather an important character actor at the time.) Only a few guest stars were honored in this way. Submitted by gracenote, 2/21/2011.
+ Bette Davis, Michael Rennie & Hugh O'Brian were honored in a different way: at the opening credits after the regular cast. Mike Bedard 6.13.16
++ Frankie Laine also got a separate credit. DOD 07/15/19
Quotation: The poetry Metcalf recites ("Awake!") when he stumbles into Huxley's office and addresses Huxley is from the Rubáiyát of Omar Khayyám. The script adds the phrase "promiscuous Prometheus," which is a literary way of saying "slutty trickster"! OldDave, 7/30/20
Zoom! The director featured a lot of zoom shots in this episode including one on Myers as he walks in on Huxley and Sally, one on Metcalf as Huxley brings the fish mixture to him, one on Nora as she tells Myers to get out and even Perry gets a zoom as he objects to Burger's question to Tragg. And although not technically a zoom, after Rollins ends his phone conversation with Mason, he almost walks into the camera so that all we see is an extreme closeup of his tie. Submitted by Wiseguy70005, 8/05/12.
Also several unusual angles, especially in the courtroom - a few dramatic shots looking up at the judge and another with the camera looking straight up the main aisle toward the bench. The closing scene with Perry and Della chatting in the dark is also unique. All in all, the director seems to be using all the tricks in the film noir playbook. DOD 07/15/19
Jerry Goldsmith's Jazz Theme pops up again in this episode as Mason tests his fish mixture in his office and again as Metcalf testifies. Submitted by Wiseguy70005, 8/05/12.
Syndication cuts: Huxley goes to Metcalf's office, drinks the whiskey, sees Huxley dead and phones Myers; scene with Perry, Paul and Della joined by Metcalf, Perry asking him who could have killed Huxley and Metcalf telling Perry of Huxley's women. Submitted by Wiseguy70005, 8/05/12.
Closed-captioning: When the judge refers to "parlor games" in his discussion with Burger and Mason, the closed-captioning reads "power games." Submitted by Wiseguy70005, 8/05/12.
+ I should point out that the previous comment concerns the syndicated version's closed-captioning. The DVD's closed-captioning has the correct wording. Submitted by Wiseguy70005, 7/29/13.
Judge: In some of the stories the judge was given a name in the credits. In this episode the judge had his name, Thomas J. Hood, on the courtroom door and not in the credits. Submitted by H. Mason 10/16/14
+ In the third season's "The Golden Fraud" another shot of the door with "Thomas J. Hood" is seen at case involving a judge played by S. John Launer. On the other hand in "The Grumbling Grandfather" in the fourth season, a different shot of the door with the same name is seen but John Gallaudet plays the judge. Which (if either) is actually playing Thomas J. Hood may be impossible to determine. The name was apparently affixed to the door on the set (and on the fictional courtroom) no matter which actor (or judge) was presiding over the case. Submitted by Wiseguy70005, 11/03/14.
Gifts: This was the second time Perry received a gift from the murderer after the court case. It also happened in episode 6 TCOT Silent Partner. Submitted by H. Mason 10/16/14
This is the second of four PM directing credits for Gerd Oswald, who was born in Berlin , Germany, in 1919. He was the son of German film director Richard Oswald...MikeM. 9/20/2016
This is the only PM appearance for May Wynn (Donna Sherwood), who started her film career acting under her birth name of Donna Lee Hickey. After landing the role of May Wynn in the 1954 film "The Caine Mutiny" Hickey began acting under the name May Wynn. She was secretary Liz Clark on all 24 episodes of the 1956-1957 television series "Noah's Ark". Now age 90, May Wynn is said to be the only surviving cast member of "The Caine Mutiny"...MikeM. 7/2/2018
--- As an aside regarding May Wynn's name change: Dawn Evelyeen Paris changed her name to "Anne Shirley" after playing that character in "Anne Of Green Gables", and Byron Elsworth Barr changed his name to "Gig Young" after playing that character in "The Gay Sisters". jfh 15Jul2019.

This is the second of three aapearances for Jacqueline Scott (Amelia Armitage in the Daring Decoy #28 3/29/58; here; Kathi Beecher in the Violent Village #80 1/2/60) She reminds me of Mercedes McCambridge who starred with Elizabeth Taylor and Rock Hudson in Giant. jfh 21Jun2023

TCOT Substitute Coffee Cups: While we await the arrival of the Canonical Curious Coffee Set, we are treated the Substitute Set #2, which my husband and I are becoming convinced is the Syracuse China airbrushed restaurant ware pattern called "Aquarium, which features seaweed and fishes, and would be quite appropriate for this episode. (For the record, the other early cup sets are the art deco conical set with striped rings and 7-shaped handles, and the rather fussy set that came complete with sugar, creamer, tea pot and plates and seems to feature hand-painted chickadees.) Submitted by catyron, December 27th, 2020.
Check Your Maps - During his questioning of Myers, Perry says "So you drove almost 50 miles to see the deceased at his home in Santa Monica . . ." It's 25 miles from Pasadena to Santa Monica by the route most likely back then. I guess Perry meant, "So you drove almost 50 miles round trip . ." OLEF641 1/8/22
Non-Gavel Use - Instead of using his gavel or his pencil to rap for order, the judge uses his eyeglasses. This is probably a good place to comment on what occurred to me as I have been conducting this survey: I'm guessing that pencils came to be used more and more as time went on because, since the judge is supposed to look as though s/he is taking notes, a pencil is often in his/her hand, easier to just use that than putting it down and then picking up the gavel. OLEF641 1/17/22
Comments

Edit
When Lt. Tragg makes his first visit to the suspect's house, he wistfully flirts with Della Street, uncharacteristically to the point where he forgets himself. Submitted by gracep, 8/12/10.
+ It's hard to tell whether Lt. Tragg is embarrassed by his effusiveness, or whether Ray Collins forgets his line and, wiley old pro he was, moves to his next line to save the take. In any case, a delightful moment. OldDave, 7/30/20
++ I agree, i watched with amazement and amusement wondering where the script was going to go, and then -- whoosh -- everything was back on track again. Kudos to the director for keeping that odd little scene intact. Submitted by catyron, December 27, 2020.
That rogue Paul Drake! He stole Della's coffee cup about 2/3 into the episode. He eats her sandwich, too! Submitted by gracenote, 2/21/2011.
+The roguish Mr. Drake can barely keep a straight face when Metcalf goes off on his fish speech in Perry's office. Or is Bill Hopper breaking at Cecil Kellaway hilarious performance? In any case, a delightful moment. OldDave, 7/30/20
Hopper was a child of show business. I suspect we are seeing his undisguised delight at watching a beloved and highly respected old pro at work. DOD 09/12/23
I had a new bit of amusement at Cecil Kellaway's fish speech this last evening's viewing of this episode. I didn't pay a lot of attention to all of his dialog the first few times I heard it; but this time, a word/name leapt out at me. 'Shubunkin'.
""Shubunkins are similar to the common goldfish and comet goldfish in appearance. They were first bred in Japan, from crossbreeding the calico telescope eye goldfish (Demekins), comet goldfish, and the common goldfish c. 1900. They have streamlined bodies with well-developed and even fins.""
Now, I'll explain WHY that name leapt out at me. I was trying to sleep a couple of nights ago, and I flipped to the movie channel, and chanced on a film entitled 'The Gangster'. The Gangster (aka Low Company) is a 1947 American crime film noir directed by Gordon Wiles. The drama features Barry Sullivan, Belita, Joan Lorring and Akim Tamiroff. The screenplay was written by Daniel Fuchs, based on his novel Low Company. Now, when I saw Barry Sullivan's name, I was intrigued: was this a good movie? Well, I'll come back to that ... but the reason why 'Shubunkin' grabbed my interest was because the name of the character Sullivan played in this movie was .... SHUBUNKA! Now as far as the movie is concerned, I'll just say that I MUCH preferred his performance in the PM episode he starred in ... I got about a half-hour in, before I threw in the towel and tuned to the Cooking Channel! Submitted by Mike Reese, 12/10/2020
Someone sure has a cough during the courtroom scenes either quietly (before Metcalf says 'I do" before being sworn in), or during dialog (when Burger says "Cross examine" to Perry after questioning Sally Wilson) or otherwise when changing witnesses or other breaks in dialog. Submitted by Wiseguy70005, 8/05/12
Why isn't this episode considered to be an official adaptation of a novel (The Golddigger's Purse)? Because the title character was dropped and the title had to be changed? Years later "The Mystified Miner" was officially based on The Spurious Spinster. "The Glittering Goldfish" certainly has as much in common with The Golddigger's Purse as "The Empty Tin" has with The Empty Tin. Submitted by Wiseguy70005, 7/29/13.
Wiseguy70005 is right! I've wondered about this for years. Submitted by Bill-W2XOY
Goofs: In two separate scenes, the actor's voice was heard without the lips moving. The first scene was at the office when Donna Sherwood comments about the Beta fish order.
+ "Miss" Sherwood isn't the one talking. Huxley is talking to Miss Wilson. Watch carefully. You can see him turning away from Miss Wilson in the next shot. OLEF641; 10/11/2017.
Not to question the looks or acting of Murvyn Vye, who played Huxley, but his character doesn't look as though he has any interest in fish ... just money. I guess that's the point? Submitted by MikeReese, 8/26/2014.
Question: Did Mrs. Huxley and Myers retain the rights to the formula or were they returned to Tom? Remember, Perry said he "found a nice lovely flaw in paragraph three" of the contract. Submitted by H. Mason 10/16/14
Equipment Visible: Boom mic shadow can be seen on the wall behind Burger's first witness ("officer"). Submitted by Kilo 6/21/2017

When Darrell Metcalf discovers Huxley's body, he seems genuinely surprised that Huxley is dead. Since no one else is present in this scene, Metcalf has no reason to be deceptive. Why is Metcalf surprised if he himself did the deed? Submitted by EricM, 12/13/09.
+ Probably the reasoning is that he may have been too drunk to remember his actions! Submitted by Wiseguy70005, 7/29/13.
+ A good try, but if Metcalf is too drunk to remember killing someone, why is he sober enough to remember not to drink out of the glass with the poison in it? Yes, the glass might be empty, but his choice of glasses was considered damning evidence by Perry. And there are at least two other episodes where the people who discover the body, and act shocked, turn out to be the killers, and they, too, are alone when they do so, meaning there's no reason for them to act so surprised. Maybe it's the screenwriters who had too much to drink. Submitted by Scarter 12/14/13
+ I don't think this was one of those murderer-faking-surprise-finding-body moments (which presumably are required to keep their identity concealed from us, the viewers). I think Metcalf had to be sure his dose of morphine had worked. He was being cautious in case Huxley was only passed out and might wake up. Once he confirmed he was dead, he grinned. Worked for me! Submitted by JazzBaby, 8/8/2019.
++ Alas, this is a straight-up cheat. Metcalf clearly had no idea when he touches the body it's going to be cold. This is the second time in just three episodes where we've had murderer surprised by the body in private, although at least in episode 50 there was the chance someone could have been observing from afar. But who cares? Cecil Kellaway is so splendid, why dig for quibbles? I agree with BobH's comment below that this may be the best guest performance in the run of the show. OldDave 7/30/20
Supposedly Perry reaches his conclusion of who the guilty party is based on the fact that Metcalf drank from the glass with the lipstick leaving his prints on the glass. Maybe the fact that the other glass and the bottle are both empty might have something to do with that as well. Submitted by Wiseguy70005, 7/29/13.
Another clue is Metcalfe's not listing the morphine in his analysis, because he used it on Huxley, which is why Perry's test failed. Why not list it, anyway? DOD 07/15/19
+Must be that as part of his analysis, he refined the morphine out of the mixture. If he put it on his list, he would have been acknowledging he had access to morphine.
The Best Performance by a Guest Actor in Series History?: The great character actor Cecil Kellaway turns in a terrific performance as Darrell Metcalf, particularly during Perry's cross-examination of him. His regretful summary of his qualifications as a chemist is masterful, getting more out of the three words "Yes, I'm qualified," after summarizing his educational background, than anyone could possibly imagine. He manages to be both sympathetic and scary as he explains his motive for committing the murder. Submitted by BobH, 18 June 2016.
Pardon me for just reading Wikipedia into the transcript, but I was curious about Cecil Kellaway, and found that he was a really busy actor, for many years. He did a lot of Australian theatre and movies, and then a zillion character parts for several US studios and TV, earning two Oscar nominations, hanging in there until the early 1970s (and his 80s). JohnK, 11 August 2021
In "Hush, Hush, Sweet Charlotte", Cecil Kellaway shares a closing scene with William Campbell. Both played the guilty party on PM. DOD 09/12/23
<< Borrowed Brunette | Episodes | Foot-Loose Doll >>